How to add value to your kitchen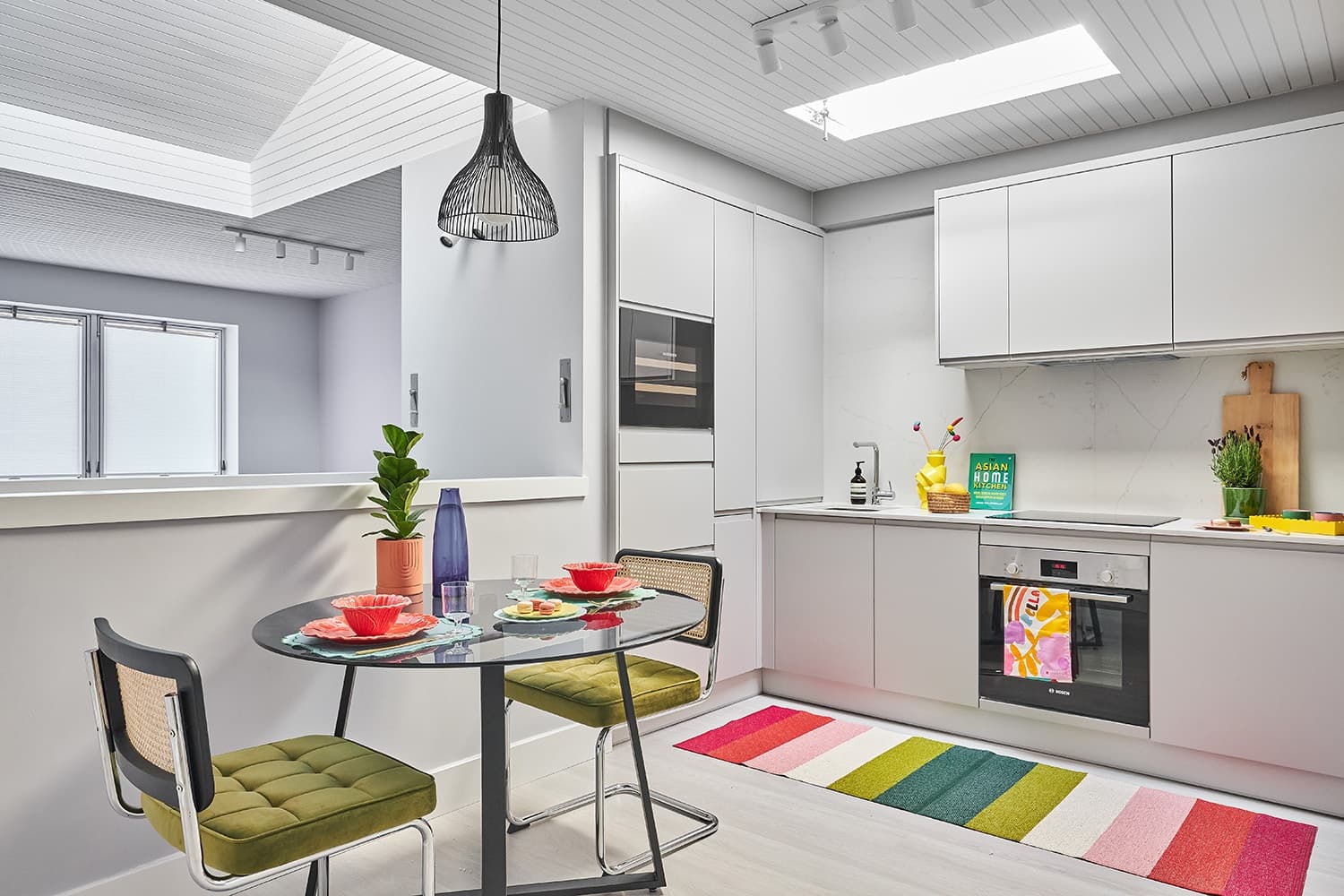 As homeowners, it's only natural to seek ways to add value and functionality to your kitchen space as it's a room we spend a substantial amount of time in. A well-designed and upgraded kitchen enhances your daily cooking experience and boosts your property's overall value when it comes to selling your property.
Oliver J Newby MNAEA from Stephenson's Estate Agents and Chartered Surveyors states: "The property's kitchen is often its heart and stand-out feature. Installing a quality kitchen with luxury work surfaces will help elevate the home's value and provide huge saleability and a 'wow' factor. A high specification kitchen is often at the top of many buyer's wish lists, and therefore investing in high-quality units and worktops, that are built to last, can regularly result in a quicker sale".
Let's take a look at all the ways you can add value to your kitchen, including upgrading your surfaces.

Adding value to your kitchen
Timeless aesthetic
Soft shades and neutral colours are ideal for adding value to your kitchen due to their timeless and versatile appeal. Marble effect quartz worktops are a great way to incorporate these natural tones into your kitchen design. Soft golds and light grey veining add a timeless yet modern aesthetic to the kitchen design. With endless design options and styles, there is something for every kitchen.
These hues create a calm and inviting atmosphere, making the space warm and welcoming. Neutral colours, such as whites, beiges, and creams, offer a sense of sophistication and elegance, appealing to a broader range of tastes and preferences.
Additionally, these soft and neutral tones uniquely make the kitchen appear more spacious and lighter, enhancing its overall aesthetics and perceived value. As trends come and go, these classic colours will remain a safe and attractive choice, ensuring long-lasting appeal and increased marketability of the kitchen space, allowing the space to easily be reworked to suit various personalities and design styles.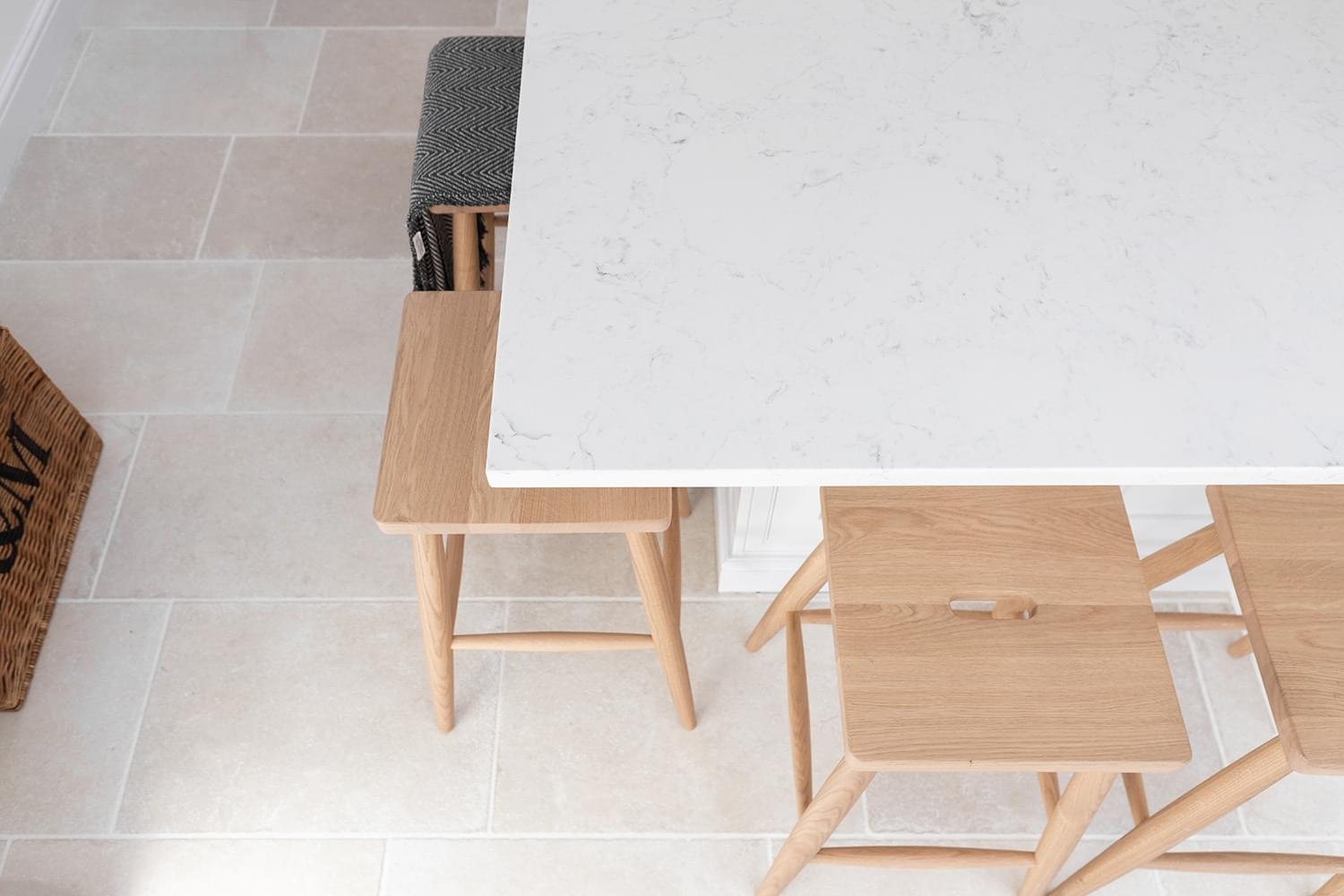 Lighting Matters
Lighting is an essential element in any kitchen design, and it can greatly enhance the overall value and functionality of the space. Proper lighting illuminates the entire area and adds a touch of style and elegance to the kitchen. LED lighting is something that can be installed on the underside of the worktop to provide functional lighting in the kitchen workspace, particularly in areas where overhead lighting may not be sufficient.
The soft, diffused light can help to reduce eye strain and make it easier to see what is in the drawers under the worksurface when opened. This lighting adds a touch of luxury to the space and is a subtle way to add value to your kitchen design.
By strategically placing different types of lighting fixtures, such as task lighting for food preparation areas, ambient lighting for creating a warm and inviting atmosphere, and accent lighting to highlight certain features or decorative elements, you can create a visually appealing and highly functional kitchen and this, in turn, can often create a sense of space.
Storage Solutions
A cluttered kitchen can be frustrating and unappealing and by maximising storage space you can organise your kitchen, drawers and cupboards which allows more worktop space. No matter the size of your kitchen it's vital to optimise all the space.

You can do this by adding cabinets, drawers, and shelving to display your accessories and kitchen decor. Custom-built cabinets can be tailored to your specific needs, making the most of every inch in your kitchen.
Floating shelves are a great way to take advantage of your wall space. You can add quartz shelving to match your worktops, this not only creates a cohesive space but allows you to display your kitchen items, this is a great way to add a feature to a plain and unused space. Clever storage solutions, such as pull-out racks and deep drawers, help keep everything organised and easily accessible.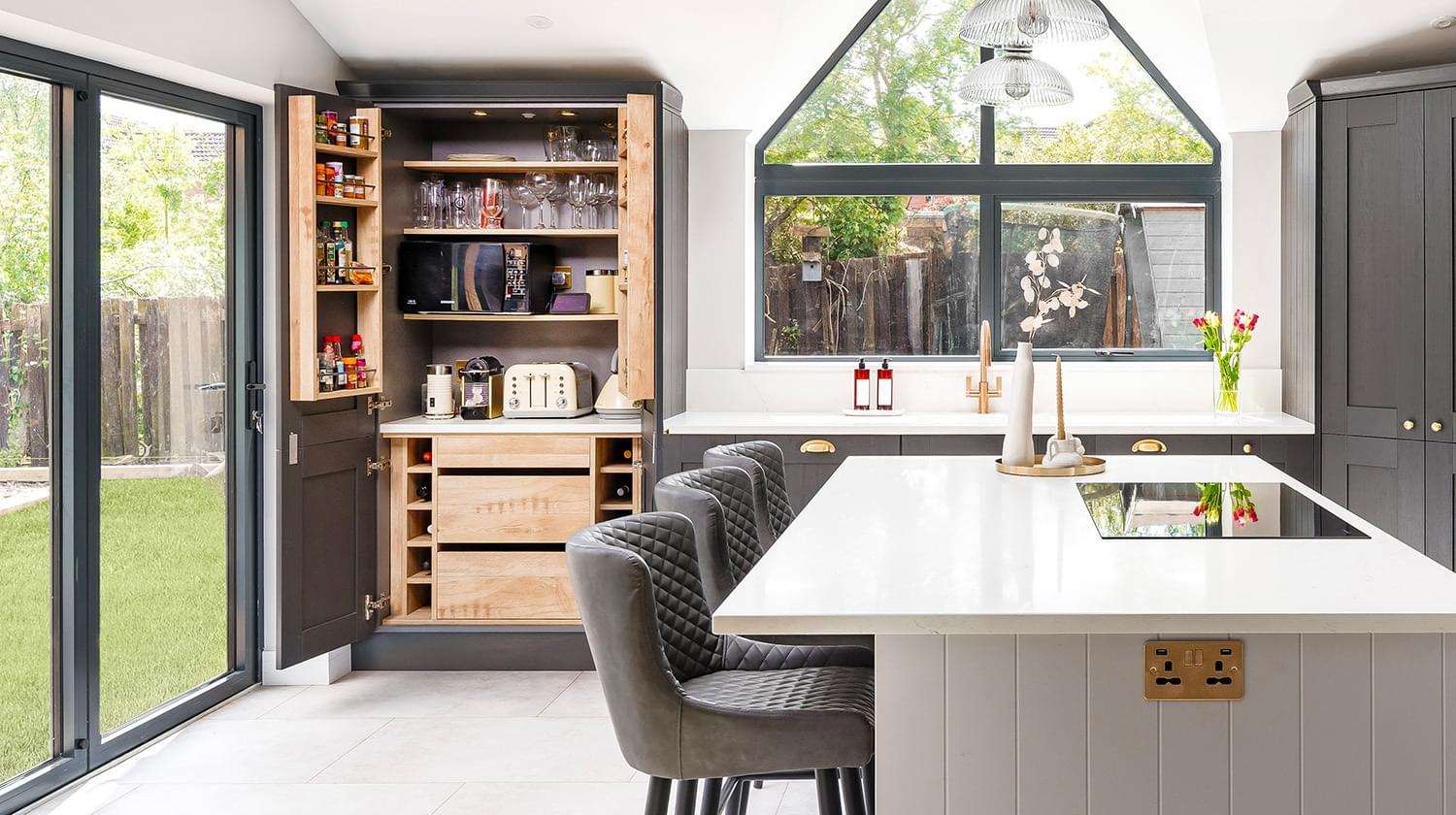 Incorporating Smart Technology
The integration of smart technology can significantly enhance the functionality and efficiency of your kitchen. Investing in modern, energy-efficient appliances is one of the most effective ways to elevate your kitchen's value.
BORA hobs are a revolution in home cooking appliances, their sleek, modern design is sure to create a stylish space. The mission from the start was to end the "aesthetically dubious" extractor hood, tailored to meet individual lifestyle and cooking preferences. Stainless steel or smart appliances like the BORA hob, add a sleek and contemporary touch and have lasting durability.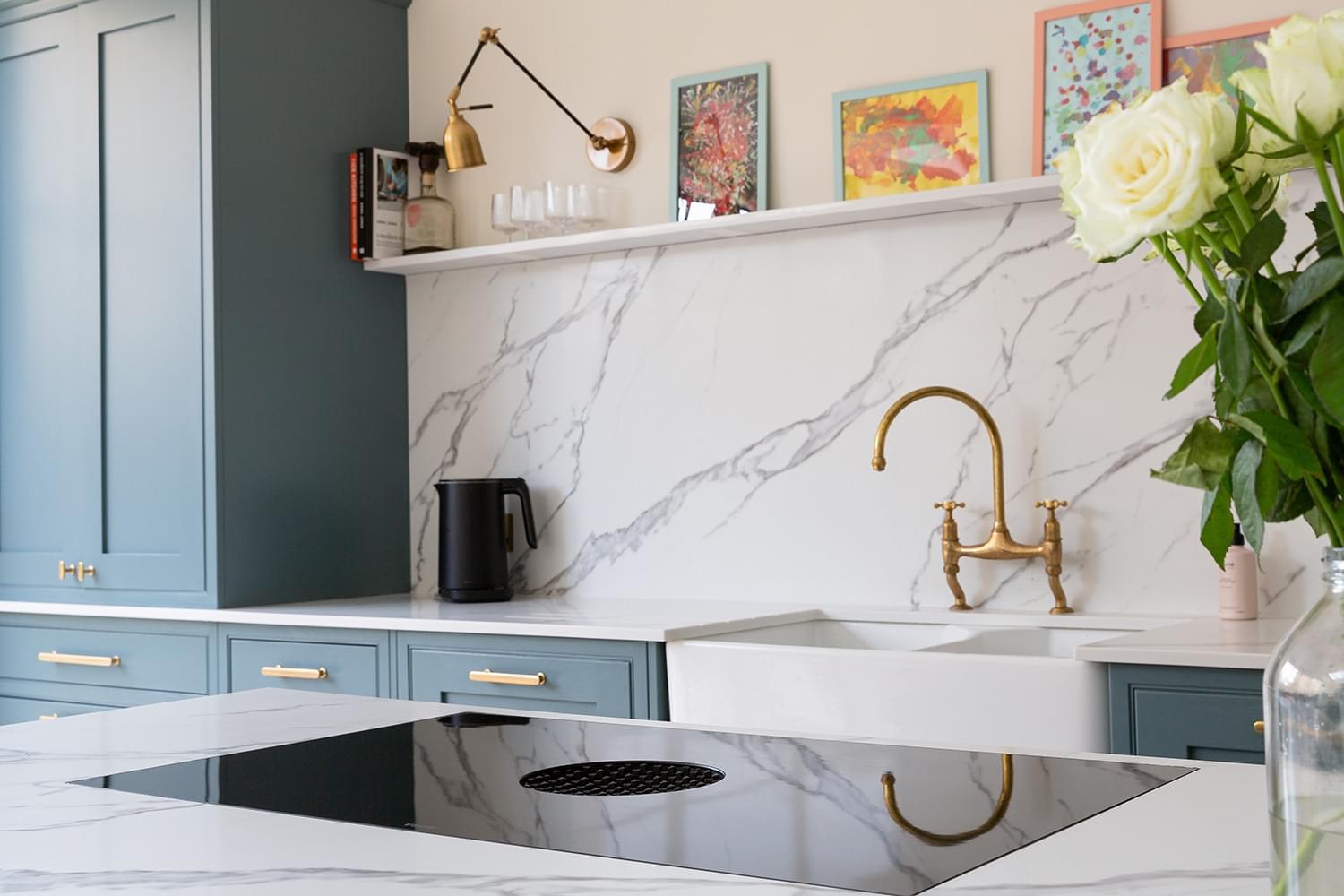 Stylish and Functional Worktops
Worktops are the centrepiece of any kitchen, and choosing the right material can make a substantial difference in both aesthetics and usability.
Quartz is a popular choice due to its durability and elegance. Quartz worktops are highly recommended due to their non-porous surface, low maintenance requirements, and resistance to stains and scratches, not to mention the beauty they add to the space.

Add a Kitchen Island
There are lots of benefits to having a kitchen island (if space allows), the most obvious is creating a central point. A kitchen island is a multifunctional addition that adds extra countertop space, storage, and seating as well as a range of design options.
From waterfall end panels, and floating overhangs you have the option to create your perfect kitchen to suit your kitchen space. The island serves as a great place for meal preparation, casual dining, and socialising. Whether it's a small or large island, it will undoubtedly become the focal point of your kitchen, elevating its overall practicality and functionality.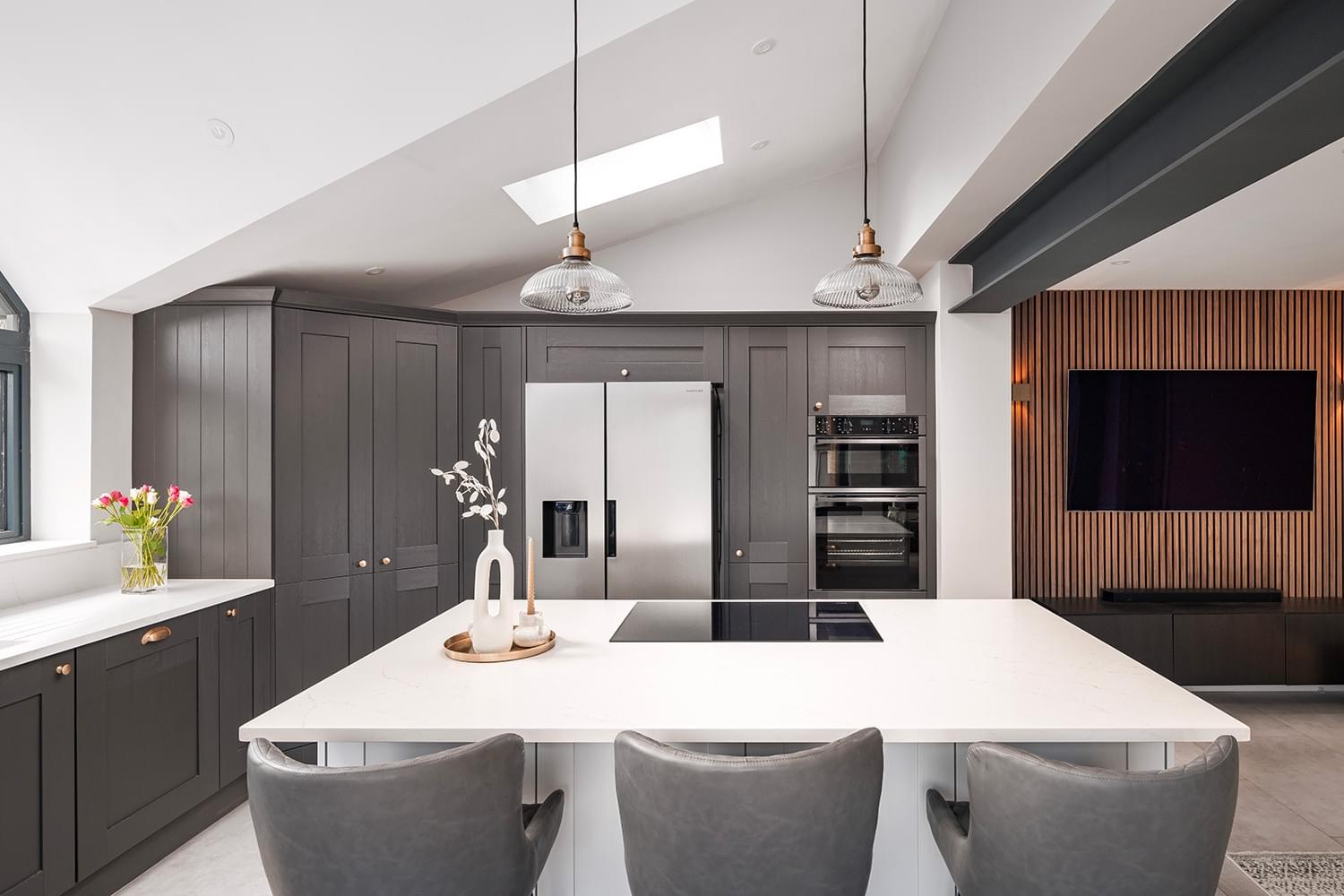 Perfect pairings- sinks and taps
If you want to emphasise your worktops and kitchen design further, adding a modern sink and tap is sure to complement this. These kitchen sinks and taps are designed with advanced features and functionalities that make kitchen tasks more convenient and efficient.
A Quooker tap provides instant boiling water, eliminating the need for a kettle and saving time in daily cooking routines. These features enhance the overall functionality of the kitchen and are highly desirable for homeowners.
High-quality sinks and taps from 1810 and Schock are often visually appealing and well-designed. They come in various styles and finishes that can complement any kitchen design, from traditional to contemporary. The aesthetic appeal of these fixtures can significantly enhance the overall look and feel of the kitchen space.

Transforming your kitchen into a valuable and inviting space doesn't have to be an overwhelming task. Investing in these upgrades can significantly increase your kitchen's value while creating a space that inspires and delights.
Remember, the key to a successful kitchen upgrade is finding a balance between functionality and aesthetics, making your kitchen a true reflection of your lifestyle.
Request a worktop quote
Interested in a quartz worktop for your kitchen? Get in touch for a free, no-obligation quote today.

You may also like...