A simple guide to marble effect quartz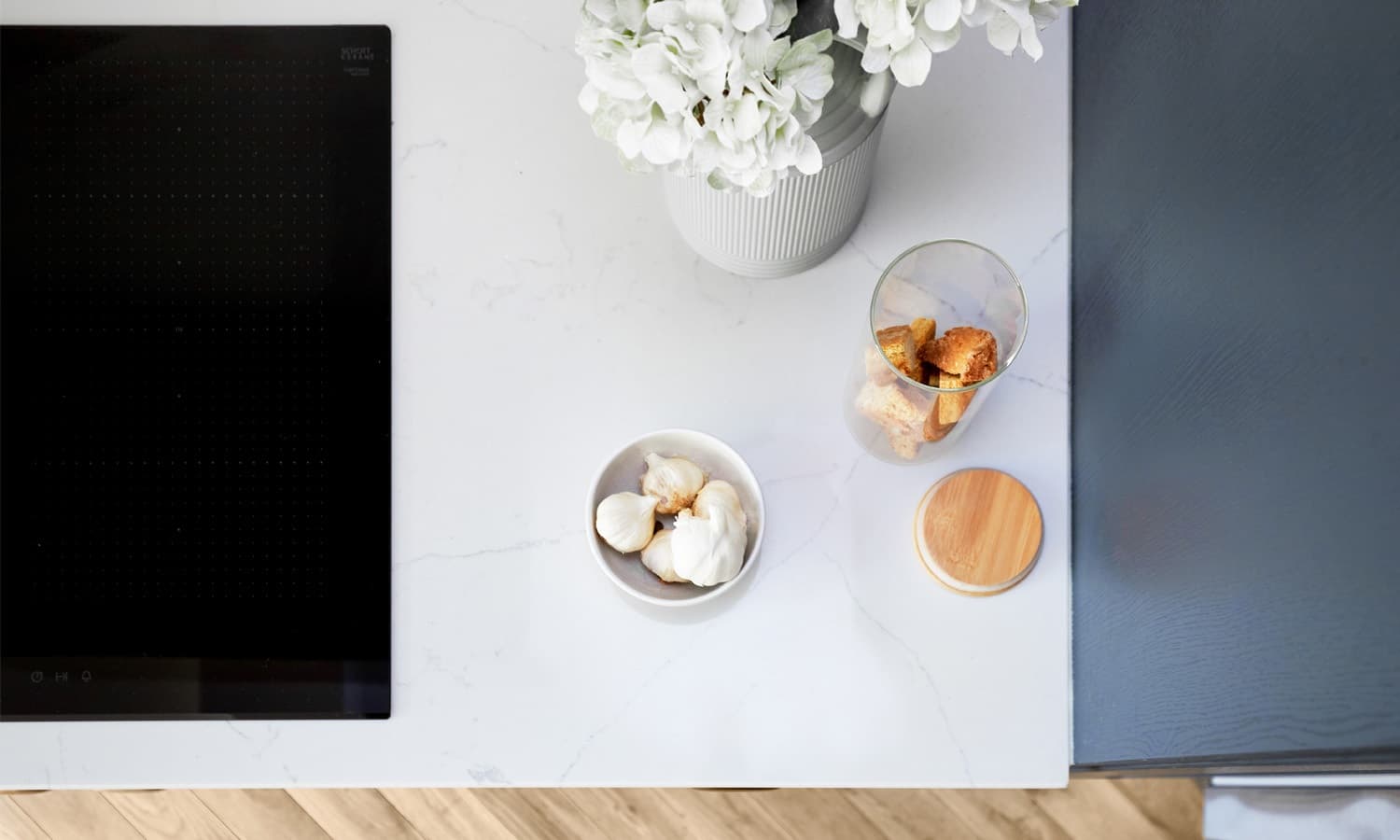 Marble effect quartz is a beautiful and durable material that has become increasingly popular in modern kitchen design. It is a synthetic material made by mixing natural quartz with resins and pigments to create a product that looks and feels like natural marble but is more durable and easier to maintain.
Many homeowners like the idea of natural marble worktops for their kitchens due to the visual aesthetic, although natural marble is beautiful, it does have its limitations, such as its porous nature, they require more maintenance and is susceptible to scratches and chips due to its soft material.
There are many varieties of marble that we have taken influence from when creating our quartz surfaces. Like marble, our quartz materials differ in their qualities, such as the amount of veining, style, and thickness. When designing our marble effect quartz, our aim is to replicate the world's most beautiful and natural marbles, from soft shades and subtle veins to rich, bold, and dramatic veins that are sure to take centre stage.
The most popular types of natural marble can be divided into five varieties. They are Carrara, Calacatta, Statuary, Emperador, and Crema Marfil.
As there are numerous types of marble it can often be difficult to tell them apart, but what is the visual difference?


Marble Effect Quartz Styles
Carrara
Carrara marble is a classic white marble with a grey-blue vein that runs throughout. It's commonly used in sculptures and architectural applications.
Statuario

Statuario marble is a white marble with distinct grey veining. It is white but comes in a more translucent finish for extra 'drama'. It also has a glossier feel to it than Carrara. It's commonly used in sculptures, countertops, and flooring.
Calacatta

Calacatta marble is a white marble with thick, bold veins of grey and gold. It's one of the most prized marbles and is often used in high-end applications such as worktops and flooring.

Emperador
Emperador marble is a brown marble with white veining. which is often used in flooring and worktops.
Crema Marfil
Crema Marfil is a beige-coloured marble with light veining. It's often used in flooring and bathroom applications.
In terms of design, our marble effect quartz can be used in a variety of ways in a kitchen. They can be used to create a classic, elegant look by pairing them with traditional cabinetry and fixtures or used to create a modern, minimalist aesthetic by pairing them with sleek, contemporary elements.
Additionally, it can be used to create a statement piece by choosing a bold, vibrant colour or pattern and using it as a focal point in the kitchen.
One of the primary benefits of marble effect quartz is its durability. Unlike natural marble, which can scratch and stain easily, quartz is incredibly hard and resistant to scratches and stains. This makes it an ideal material for kitchen worktops subjected to a lot of wear and tear.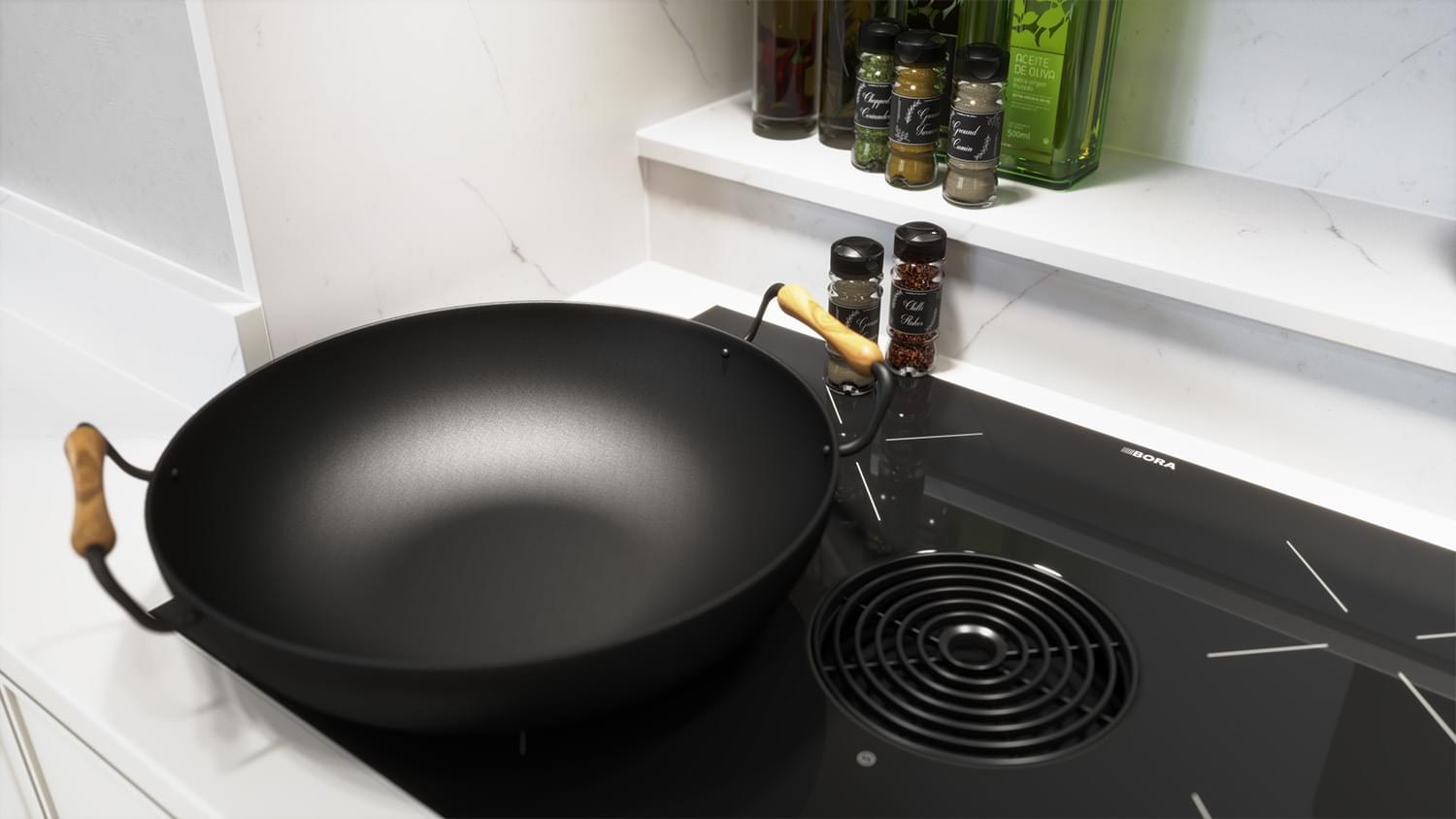 Marble effect quartz is also resistant to heat and moisture, making it an ideal choice for use in a busy kitchen. Most often homeowners choose white marble effect quartz for their kitchen interior because it matches almost any colour and theme and adds a classic clean look to the design.
Although some of our most popular marble quartz have white or cream backgrounds, our quartz is extremely versatile with a range of different colours to choose from, with different veining, backgrounds and styles. This makes it easy to find a colour and pattern that will complement the design of any kitchen.
Additionally, because it is a synthetic material, it can be moulded and shaped to fit any design requirements. This means that it can be used to create curved or angled worktops, or even to create a seamless look by joining multiple pieces together.
How to use marble quartz surfaces in your kitchen design
Worktops
Quartz countertops are a popular choice for both traditional and modern kitchens. They provide a sleek, sophisticated look that's easy to clean and maintain. One of the main draws of marble is its elegant, timeless appearance.

Splashbacks
Quartz splashbacks add a beautiful, luxurious look to any kitchen. They can be used to complement or contrast with the worktops, depending on the desired effect. They can often be used behind sinks and hobs to create a standout feature within your space.
Islands
Quartz kitchen islands are a popular addition to larger kitchens. They provide a large, durable easy-to-clean work surface that's perfect for food preparation and entertaining.
Waterfall Breakfast Bars
A quartz waterfall island adds a modern and sleek aesthetic to your space and can complement a variety of kitchen styles. This style of island is characterized by a single slab of quartz material that extends vertically down the sides of the counter, giving the appearance of a "waterfall" cascading down to the floor.
These islands are a popular choice for homeowners who want to add a touch of elegance and sophistication to their kitchen design.
Shelving
Floating quartz shelves are a beautiful addition to your kitchen. They match your countertops and look sleek and offer space to store and display your kitchen essentials. They can add a touch of elegance and consistency to your space creating a sleek and clean aesthetic.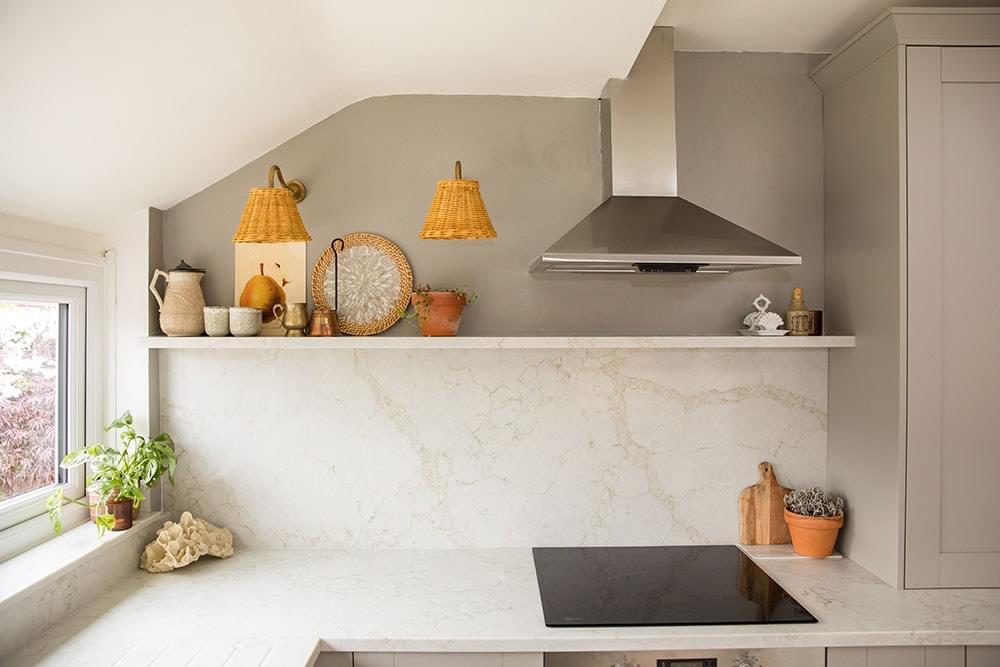 In addition to their beauty and durability, quartz marble countertops are also a hygienic choice for kitchens as quartz is a non-porous material that does not allow bacteria to penetrate its surface.
This means that it is easy to clean and sanitize, making it a safe and healthy choice for food preparation areas. Unlike natural marble, which requires regular sealing and polishing, quartz requires very little maintenance.
It can be cleaned with soap and water or a mild household cleaner, and it will retain its shine and beauty for many years with minimal upkeep.
Overall, quartz marble worktops are a beautiful and practical choice for any kitchen. They offer timeless beauty, luxury, and durability, and are hygienic, making them a popular choice for homeowners and designers alike.
If you are considering a new marble countertop for your kitchen, be sure to explore the many benefits of quartz marble and choose a type that suits your design aesthetic and lifestyle needs.
Our Gemini Quartz marble effect countertops take the unique, natural veining of marble and combine it with all the high-performance qualities that our Gemini Quartz material has to offer.
Explore the Marble Quartz Collection
Discover the perfect blend of natural beauty and practical functionality that combines the allure of marble with the superior durability of Gemini Quartz.
You may also like...