Where to begin: Choosing the Perfect Worktop Material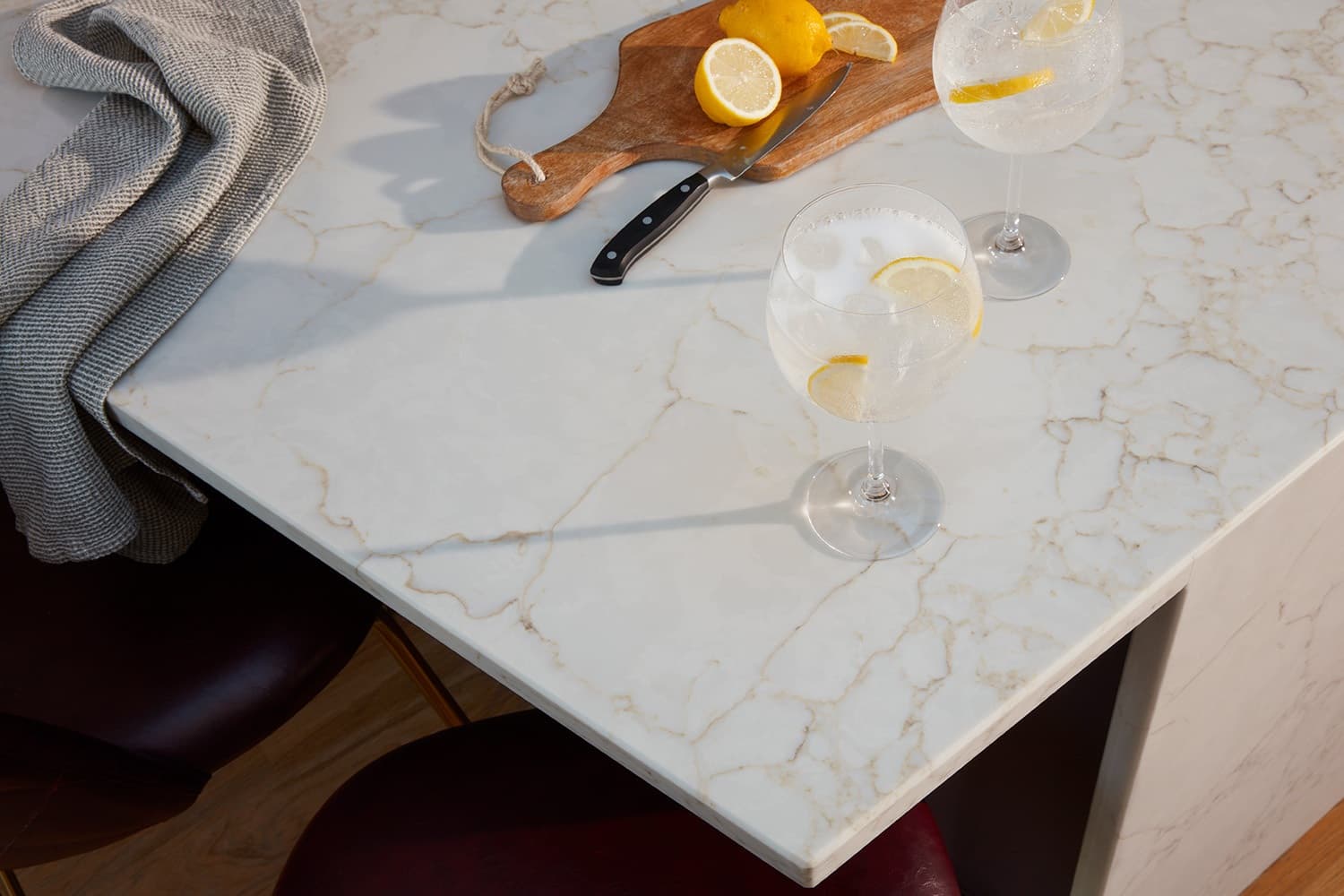 Embarking on a self-building or renovation project is an exciting time, and one of the key decisions you'll face is selecting the right material for your kitchen worktops. With an array of options available, it's crucial to consider the factors that align with your vision and lifestyle.
We know for most, the biggest factor when it comes to choosing a surface is its appearance, but it's important to consider the material outside its visual appeal. If you're not planning on changing your worktops for a long time, you entertain frequently or have a busy household it's important to choose a high-performance material with long-lasting, durability benefits.
In this blog, we'll discuss the pros and cons of various worktop materials, highlighting why quartz stands out as superior choice for kitchen worktops.

Choosing a Worktop Material
Quartz Worktops
When it comes to quartz, you're looking at modern engineering. Crafted from natural quartz aggregate and bound together with resins, quartz worktops dazzle with their stunning resemblance to natural stones like marble and granite.
With a wide variety of colours and patterns to choose from, quartz effortlessly adapts to various kitchen styles. Its durable, scratch-resistant and heat-resistant nature, coupled with easy maintenance, makes it a great choice for your kitchen worktops.
While it does come with a premium price point and require specialist installation, buying direct from Gemini will ensure you're receiving the very best value and long-lasting quality which more than justifies the investment.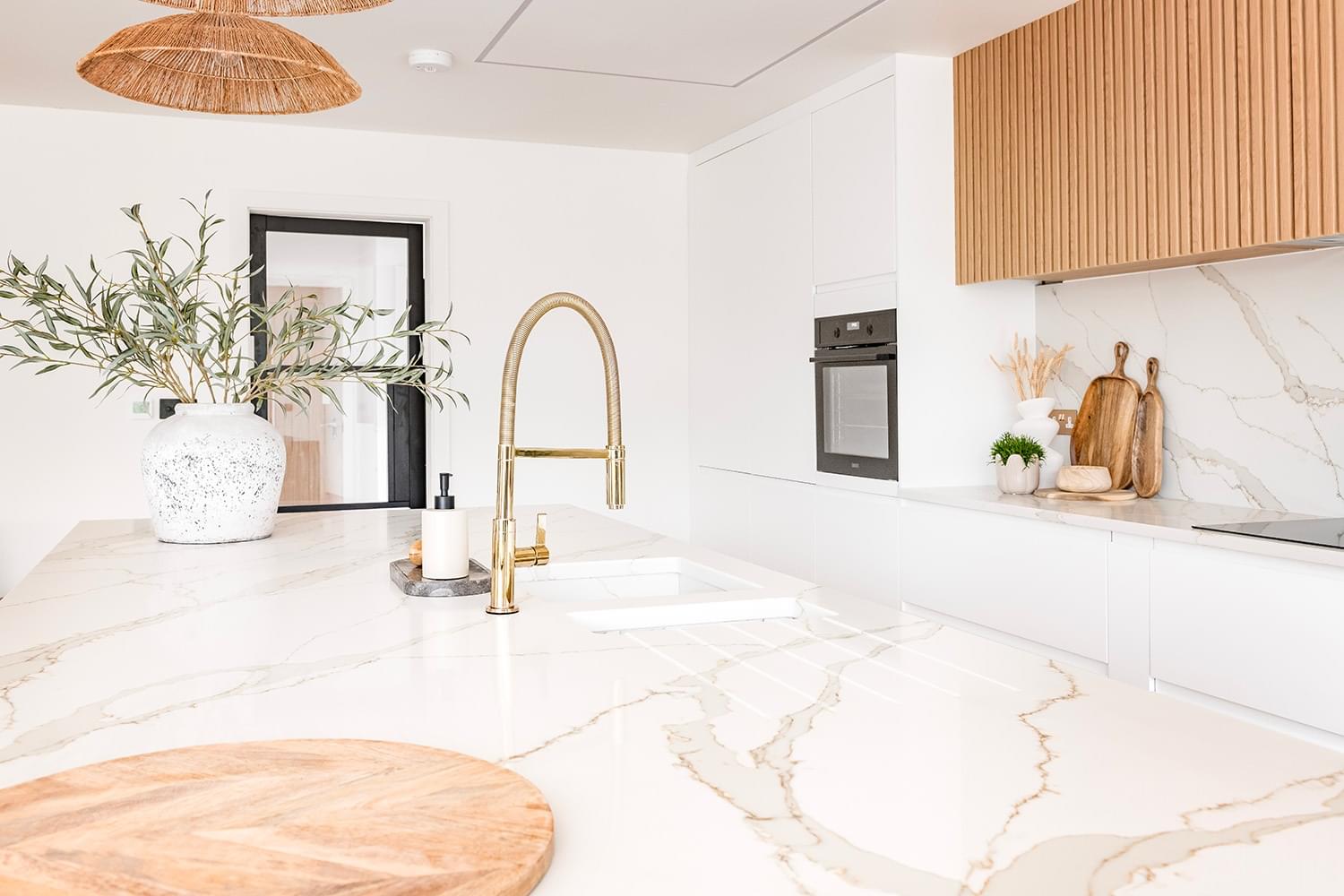 Acrylic Worktops
Acrylic worktops are made from acrylic polymer and alumina trihydrate. Acrylic worktops, such as our own Gemini Solid Surface, boast a seamless look and the material is best known for its smooth joints and integrated sinks.
They're highly durable and available in an array of colours and patterns, however the high gloss finish can sometimes reveal scratches.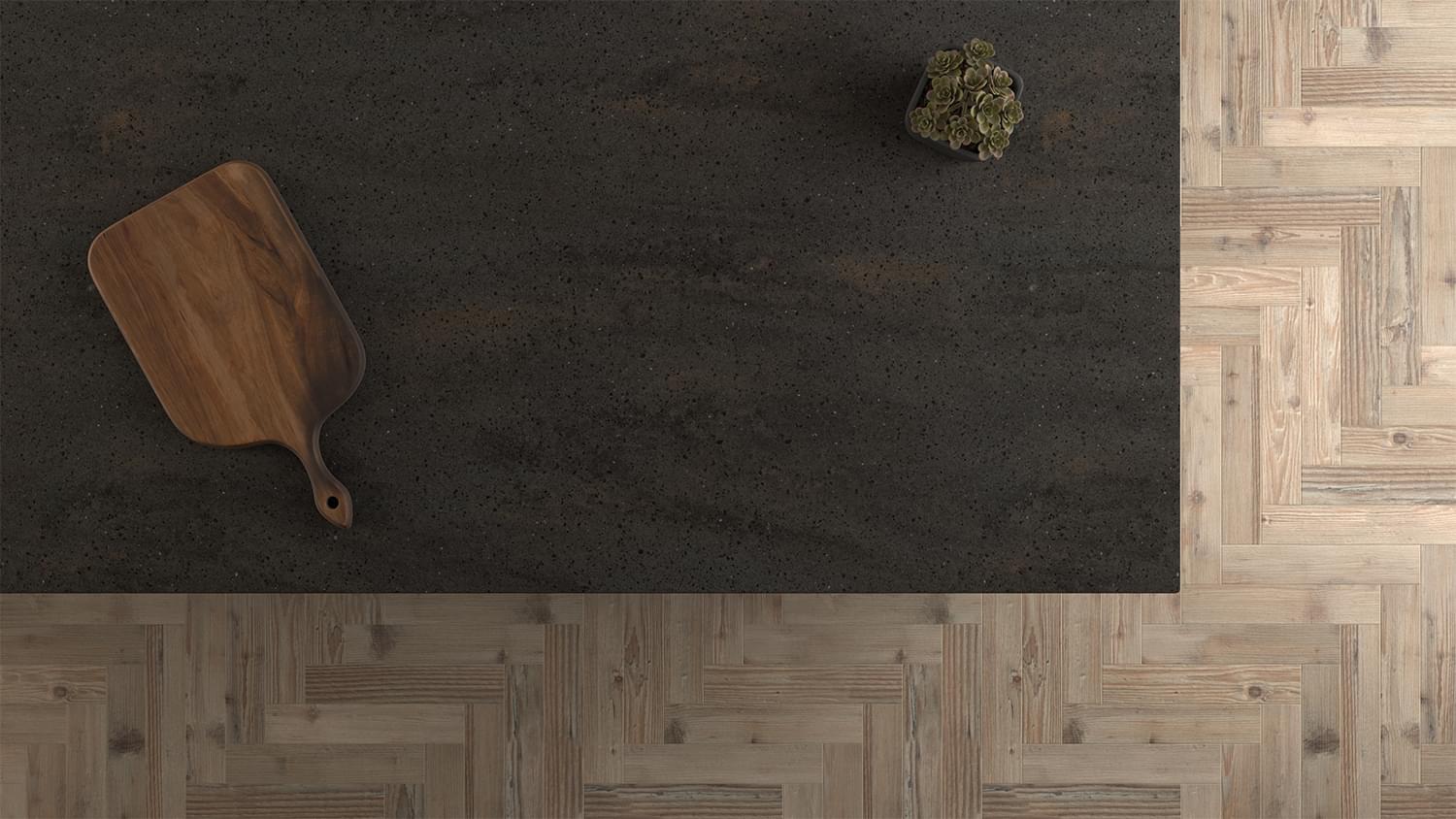 Granite Worktops
Granite is an igneous rock, generally quarried from the mountainside. Each piece boasts unique colours and veining, creating a distinctive aesthetic. Scratch, chip and stain-resistance elevate granite's appeal, and it's available in both high gloss and textured finishes.
However, keep in mind that with granite worktops specialist installation is required, natural flaws in the material are common and certain varieties can be porous unless treated with sealants.
Like the granite look? Shop our Gemini Quartz, Granite Collection.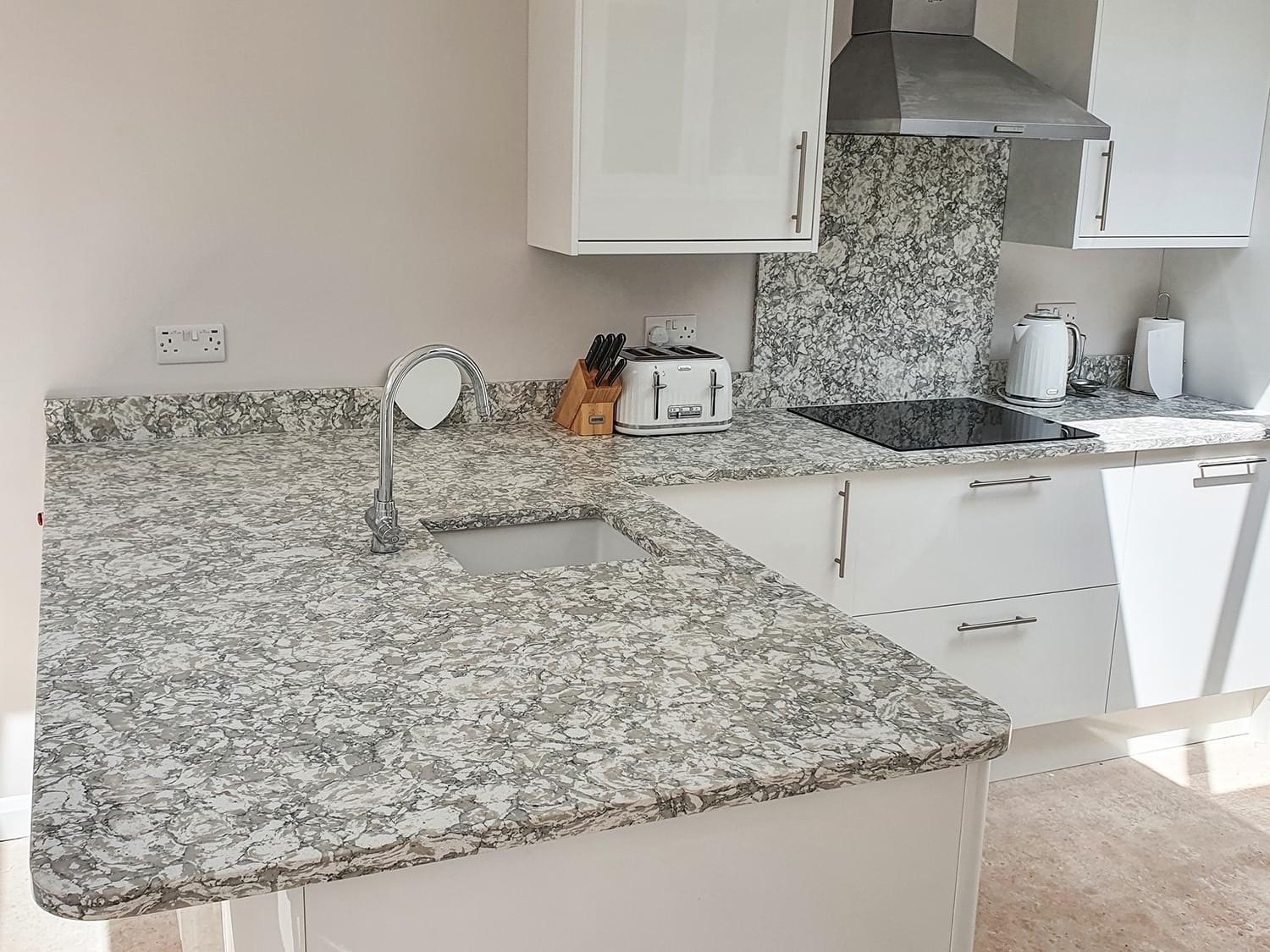 Solid Wood Worktops
The aesthetic appeal of natural timber as kitchen worktops ensures its enduring popularity. Nevertheless, wooden worktops demand significant upkeep to maintain their pristine appearance. It is most effectively integrated into new kitchen designs as a standout feature, like a captivating breakfast bar or a stylish island centrepiece. The natural charm of solid wood worktops adds warmth to your kitchen. However, regular maintenance is essential to ensure they retain their look.
Laminate Worktops
Laminate worktops are known for their affordability and come in a variety of colours and finishes. They're a popular choice due to their cost-effectiveness, standard installation and low maintenance, but keep in mind that the durability and lifespan of laminate work surfaces might not match up to other materials.
Marble Worktops
Marble exudes luxury and elegance, with its dramatic colours and patterns and this serves as a wellspring of inspiration for various other worktop materials, with quartz surfaces drawing particularly strong influence from marble's captivating aesthetics. although marble is not as dense as its natural counterpart, granite, its porous nature and brittleness make it less ideal for high-traffic areas like the kitchen. Specialist installation is required and can often be expensive in comparison to other materials.
Like the marble look? Shop our Gemini Quartz, Marble Collection.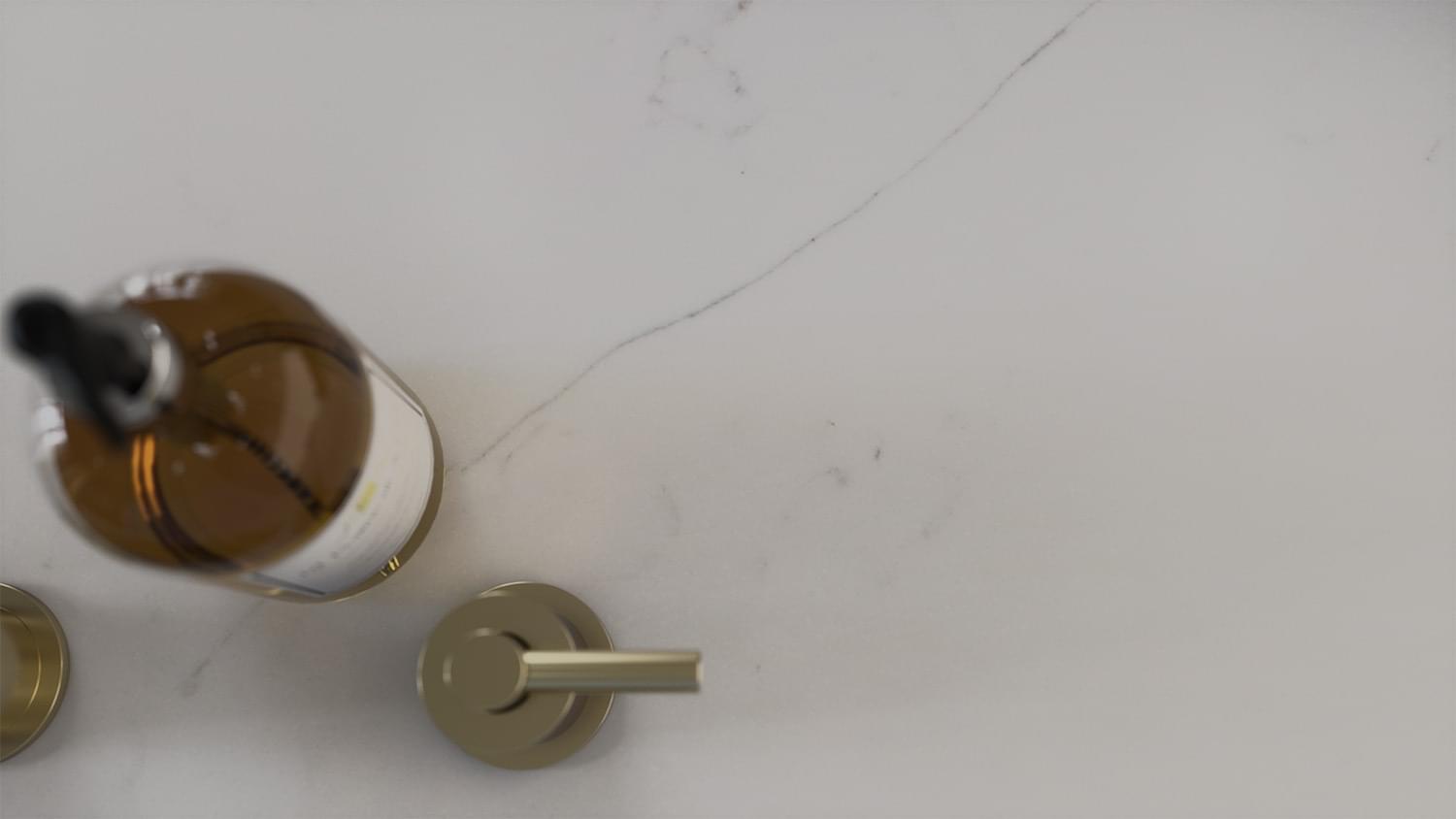 Ceramic Worktops
Ceramic is a recent addition to the worktop market. Offering good durability including scratch, stain, and heat resistance. Although Ceramic offers a wide variety of colours and patterns, these are not full-bodied and only sit on top of the surface. Ceramic is also susceptible to chipping and cracking, along with a higher price point.
Steel Worktops
Stainless steel's durability shines, especially in commercial kitchens. However, its clinical appearance might not suit all aesthetics and steel can often look out of place in domestic kitchens. Steel worktops do offer good durability when it comes to heat and scratches and they are easy to maintain, but often specialist installation is required, and this type of material can be expensive.
Making the Right Choice
The journey of selecting the perfect kitchen worktop material begins with careful consideration of factors like durability, aesthetics, maintenance, cost, and environmental impact. Among the options, quartz or acrylic surfaces are our top recommendations, both materials allow you to get the look you desire alongside the durability you need.
And while this material may come at a higher initial cost in comparison to a laminate alternative, their exceptional attributes in terms of durability, design flexibility, and hygiene result in zero maintenance and replacement costs.
Request a worktop quote
Interested in a quartz worktop for your kitchen? Get in touch for a free, no-obligation quote today.

You may also like...