It all starts with transformational design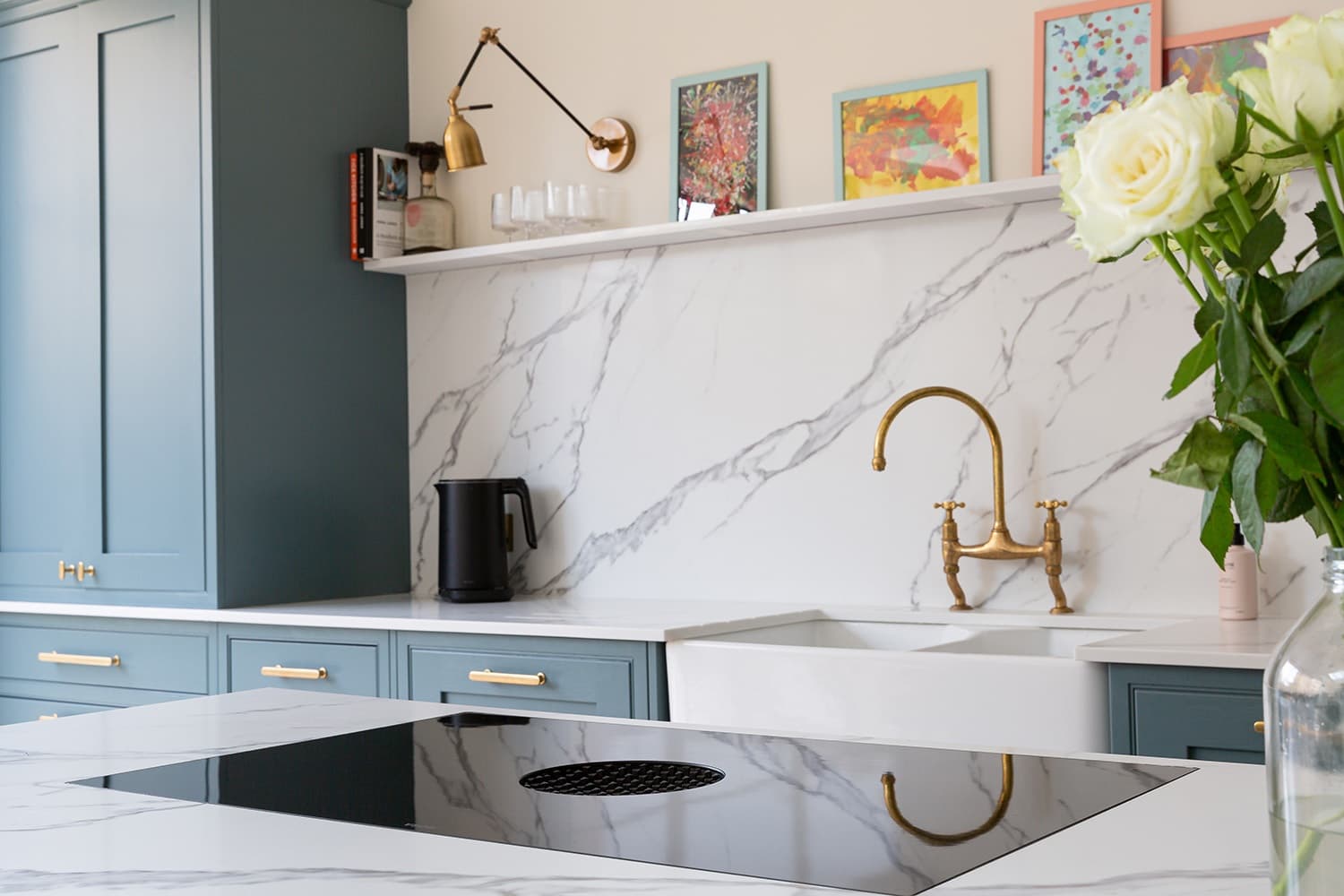 The design and purchase experience of stone surfaces in the kitchen industry has come a long way in the last three decades. In the early 1990s, my family's stone masonry business was the first to start working for national kitchen retailers, including MFI and Magnet as well as independent kitchen studios. This was a departure from the luxury commercial and residential project work we had been doing for architects and interior designers. It was also a new product category for the kitchen companies.
The initial contract with the kitchen retailers was to fabricate and install showroom displays. MFI's first venture into stone worksurfaces started with us making over one hundred Balmoral Red granite worktop displays to go into their showrooms across the UK. Even in the early 1990s this was a brave design decision. We sold almost zero and discussions were around whether to abandon the kitchen retail category all together.
Instead, we opted to try a different approach. This involved doubling down on our investment and installing a similar number of black sparkling quartz worktops. Within months we had to double the size of our factory.
The customer experience at this time was markedly different to today's digital world. The buying process was for a customer to visit a showroom. They would first get a design for their new kitchen and a price for the cabinets and appliances. At this point if the customer wanted quartz, granite, or solid surface worktops the kitchen designer would send the kitchen plan to our quotations team who would produce an estimated price. This process, via fax, could take days.
As digitization developed, planning software systems allowed for faster, or even instant quotation of stone worktops. This enabled the customer to make a quicker buying decision, however, it also introduced problems. For the first time there was a disconnect during the sales process between the kitchen designer, the customer, and the stone supplier. The challenge with most kitchen designers selling stone worktops is that stone is unlike adding cabinets and appliances to an order. There are no 'SKUs' for stone worktops. Every kitchen design gets a bespoke stone worktop, with each piece made individually.
It felt like the customer experience was taking a step backwards. With digital technologies, we recognized as the "makers" of the product we now had a new opportunity to go direct to the buyer through a creator-to-consumer business model. In doing this we could address four major problems that enabled us to offer a transformational design service for stone surfaces.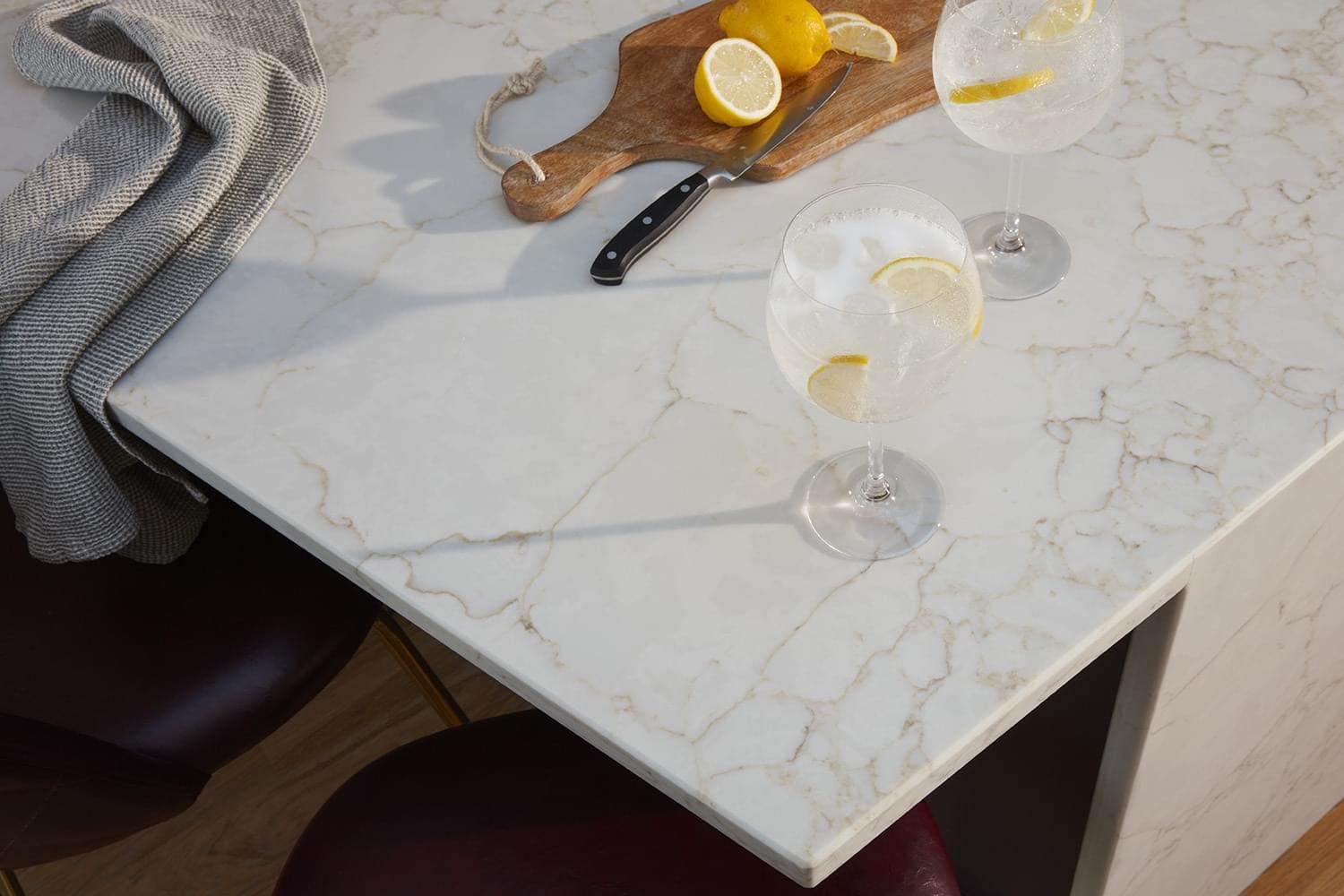 Expert Design
An expertly designed stone worksurface will be the difference between a poor or average looking kitchen design and an outstanding kitchen design. Stone worktops as a category (quartz, granite, porcelain, or solid surface) have features and individual characteristics that lend themselves better to certain kitchen designs than others depending on the customers' priorities.
For example, a young family might want a more hygienic design, and minimal hard or sharp edges to reduce accident risks. An aspiring chef may want the most hardwearing and durable surface they can find whilst an Instagram influencer might prioritize something aesthetically striking and eye-catching.
Certain kitchens might have tricky or awkward spaces that with special attention can transform into amazing features. A deep understanding of stone surface material characteristics, alongside all the technical requirements, was a problem we continued to face repeatedly working with the kitchen retailers. The result was so often an unnecessary disappointment for the customer as, by the time the kitchen was already in situ, there was little we could do to remedy design errors.
One of my principal objectives with establishing Gemini as a direct-to-consumer business was ensuring we could offer the best customer experience for buying stone worktops. This must start with customers speaking to a knowledgeable stone surface designer.
Kitchen designers have thousands of technical and product details to consider and it is highly unrealistic for retailers to expect individuals to be experts across all areas of a kitchen renovation design. Every Gemini customer gets their own stone surface designer. Our designers come mostly from a kitchen retail background and one of the first things they say once they have completed our training is how little they ever actually knew about stone.

Transparent Prices
The process of purchasing a stone worktop consists of getting a quotation during the kitchen design stage. The worktops quote is based on the cabinet sizes and overhangs, plus design options such as sink and hob cut outs, sink grooves, shaping and wall coverings etc. plus the template and installation service. The order is repriced after template and before it is issued into production.
Overall, most kitchen designs will enable a fairly accurate quotation for the stone worktops. However, when we were working with the kitchen retailers and from industry experience, we found that on average a customer's worktops would increase £250 (and by as much as £2,000).
The primary reason is missing items and more material required. There were then the little extras such as notch cut outs for soil pipes, smoothing the visible area on the underside of island or breakfast bars and rounded corners on exposed worktop ends. We found that retailers and independent stone companies alike do not tend to provide a transparent price breakdown. It makes the quotation look more competitive at the design stage and what choice does the customer have but to pay the extra £250+ when they are waiting for the worktops?
For this reason, we developed a comprehensive quotation system that allows us to provide a transparent price breakdown of every piece, design option and service included on the worktops. More than this, however, we also wanted to ensure features that our customers would not necessarily know they needed became automatically included.
We have practical material tolerances to account for any minor changes such as worktop overhangs or service void areas. We do not charge for small rounded corners or smoothed undersides or a care kit, or add extras for glues and silicones to complete the installation. We want every Gemini worktop to have a premium finish without unexpected price increases at the point the budget has already been allocated.

Special Features
Stone worktops should be the crowning glory of any kitchen design. As trends have evolved, and techniques have developed there is more scope than ever to create incredible designs that make the kitchen a unique reflection of a customer's style. Whether this be minimalist spaces brought to life by stunning stone wall coverings, or feature islands and peninsular breakfast bars enhanced by floating monolithic stone slabs, there is an almost unlimited variation of design that can unlock and truly personalize a new kitchen.
At Gemini we have developed the most comprehensive range of design options for stone worktops, all completed to exact standards. It has also been our mission to develop stone surface design options that go beyond the ordinary.
Where appropriate we partner with local experts such as metalworkers to extend the capabilities of what we can achieve with stone in areas such as unsupported or floating islands and shelving. Every design feature we offer goes through our own Gemini design and new product development team to ensure that it is the best in aesthetics, safety, and durability.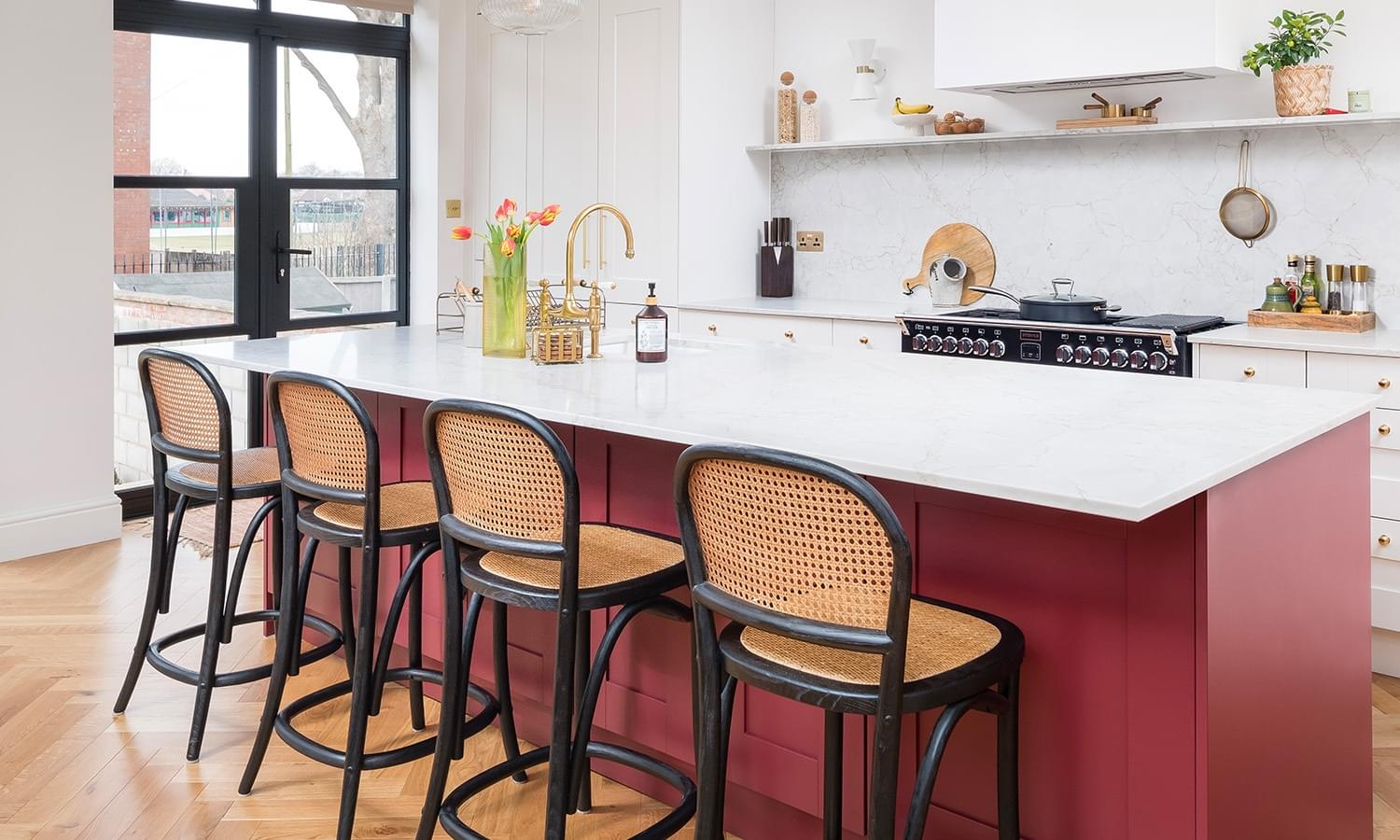 Complementary Accessories
As the industry matures, so too have specialist accessory suppliers. Major kitchen retailers ordinarily have a limited supply chain to simplify operations. As their core market purchase laminate worktops, the selected accessory suppliers accompany that price point with the correlating quality standards. At Gemini, we are the first company to focus solely on worktop accessories that complement the quality and standard of a premium stone worktop.
This is why we have partnered with The 1810 Company for sinks and taps. 1810 stainless steel sinks are on average over 50% thicker and heavier than brands used by the major kitchen retailers. This not only makes them far more durable but is noticeable in details such as the reduced amount of sound a running tap makes when hitting the sink base. Schock sinks are the original innovators of the composite sink and have maintained their premium market lead with the environmentally conscious as well as aesthetically impressive product portfolio.
We have BORA as a brand partner, the original innovators of the venting hob and we share their mission to eliminate the kitchen extractor hood to improve kitchen lifestyles. Quooker are the original innovators of the boiling water tap and the only brand to offer 100c boiling water on tap. InSinkErator are the original innovators of the waste disposer, and their latest products are helping reduce household waste. EVOline are the innovators of the pop-up socket and are still the best-made brand for design conscious and reliable electrical socket and cabling solutions in the kitchen.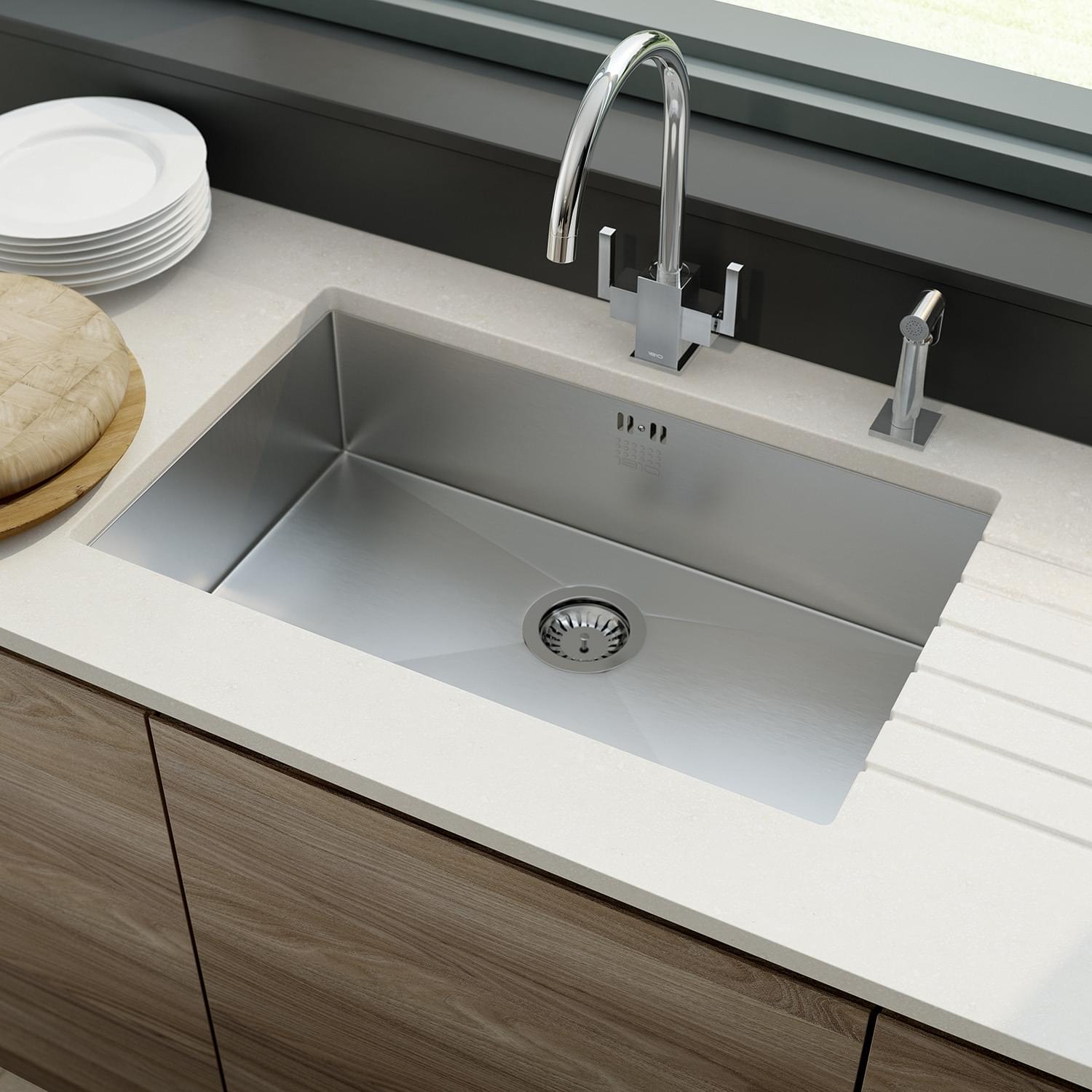 Here at Gemini, our purpose is to make our customers' homes more beautiful, more stylish, and more inspiring, through authentic, innovative, and sustainable craftsmanship.
Your dream kitchen starts with an exceptional and transformational stone worktop design. I hope you can take advantage of our expertise by speaking with one of our friendly and knowledgeable stone worktops designers.
Read the next article "From quarry to kitchen – sourcing the world's most beautiful surfaces" to find out why sourcing the perfect raw material is so important to realizing the kitchen of your dreams.
More from our founder...