A heritage of craftsmanship meets state-of-the-art technology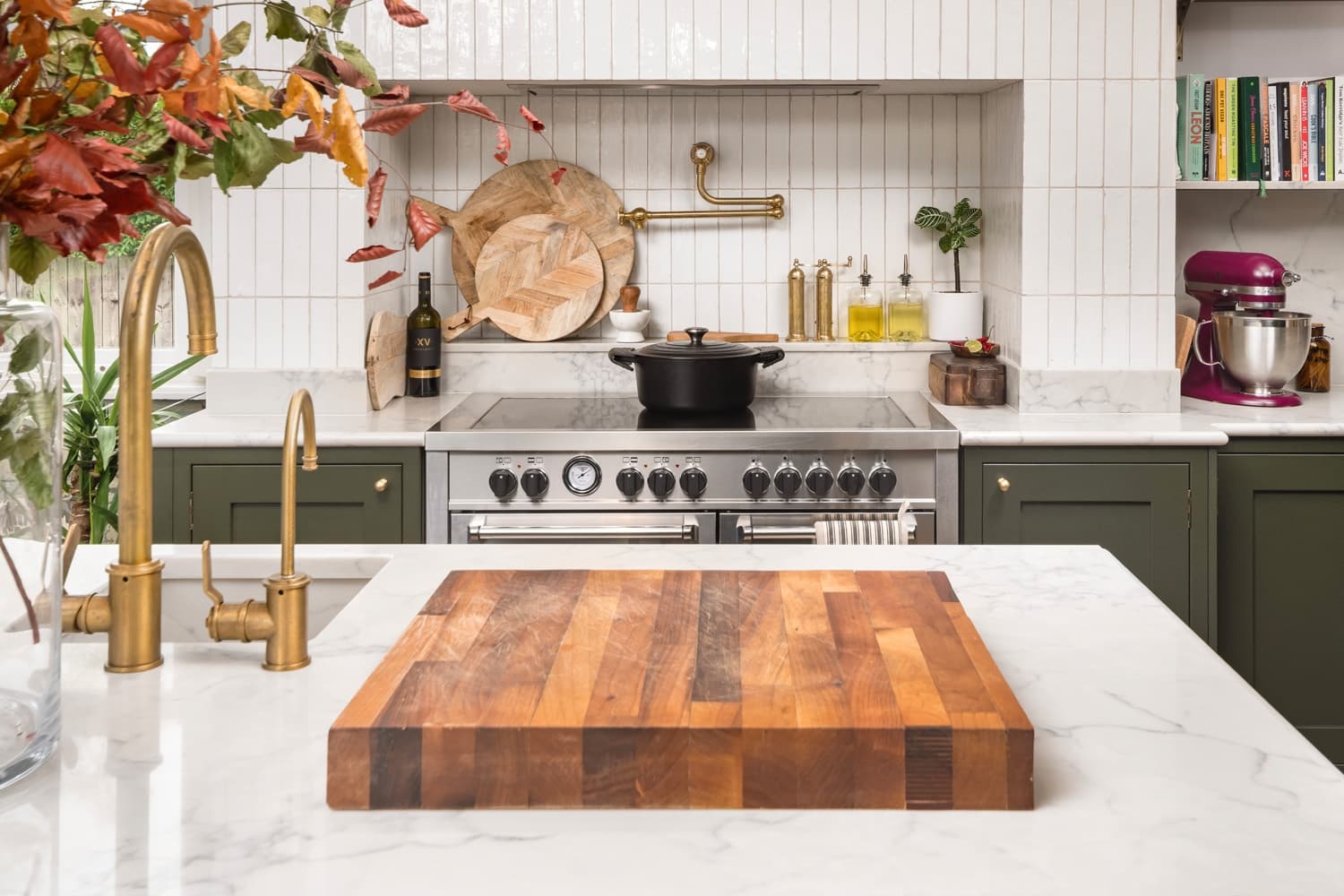 The industrial revolution passed the stone industry by. The biggest impact was mechanization of machinery for quarrying stone blocks but in terms of finishing and fabricating stonework it was not until the 1970s that innovative technologies developed.
When my father entered the business in 1973, the process of cutting a stone slab involved a (very) large two handled saw. With one of them at each end, they would mark out the saw line and manually cut as accurately as possible.
Once the piece of stone was cut-to-size, they would then turn to adding the design finishes. An ornamental edge profile, for example, would involve making a wooden template jig, with the material then cut away until it matched the contour. At this point finer tools could be employed to shape, smooth, and finally polish to the desired finish.

A tradition of quality
Traditional stonemasonry techniques took time to learn and develop. There could be a large degree of variance in the quality and speed of a mason and from experience working with my grandfather, he expected both from his trainees. Our heritage is unique in the stone industry in that we developed our skill set across both large dimensional stone (known as scants) and thin stone sheets (known as slabs). Dimensional stone is what we would use for architectural and monumental work. Typically, this involves a much greater level of skilled masonry than working slab stone, as used in kitchen and bathroom residential and commercial work.
Like how a Formula One car may require more advanced engineering that feeds into ordinary road cars, we have found over the years that our more skilled masonry capabilities have enhanced our commercial and residential stonework. This manifests itself in both the broad range of stone design options we can offer, specialist feature products such as our unique island and breakfast bar designs, and in the care and attention to detail that characterizes every Gemini stone surface.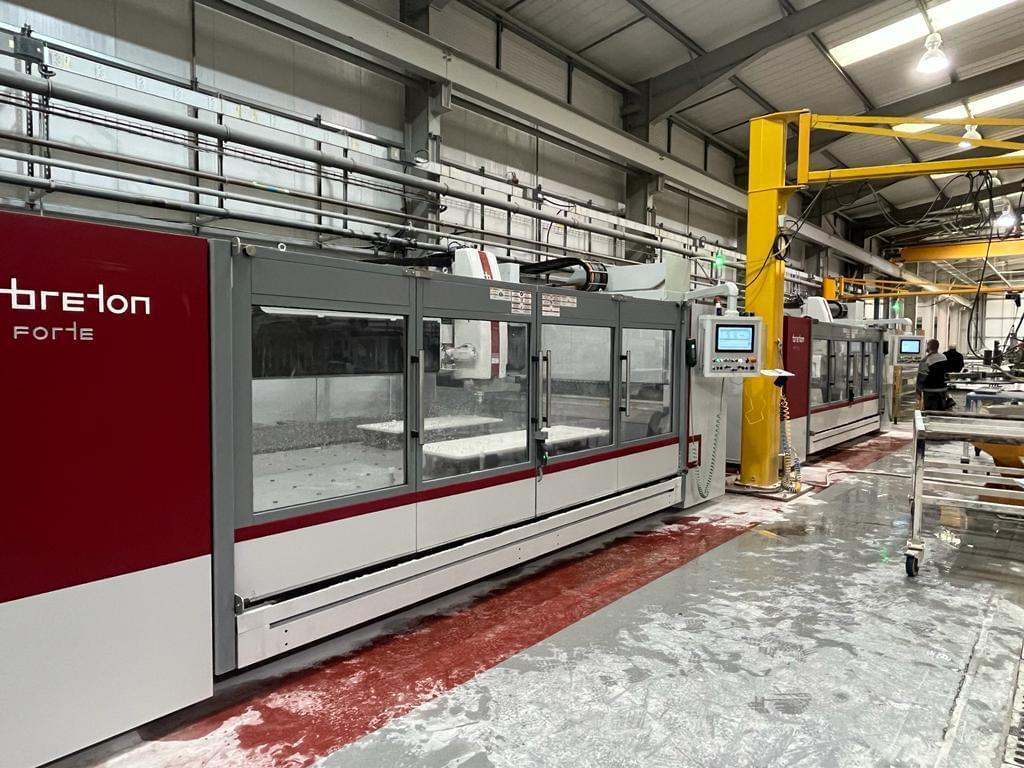 Technological innovations
Prior to fabricating stone kitchen surfaces, we produce a template. This is the exact specification of the worktops that go into production, including dimensions for the worktops and wall coverings and the exact locations of any design options such as sink cut outs, grooves and shaping etc.
Historically templates were produced using hardboard or MDF. There were many issues including the hardboard shrinking in vans during winter months and a multi-stage process of having to manually digitize the template when it got back to the factory. This process added extra time and labour and quality risks into completing a job.
This is why we were the first company in the UK to adopt digital laser templating when the technology developed sufficiently to become more dependable, faster, and accurate than physical templating. We now have highly advanced systems for our digital laser template processing that, developed over the last 15 years, significantly improves the customer experience.
Following the template, from when an order enters the factory, there are notable innovations we have created over the years that have advanced our stonemasonry techniques. We first invested in a mechanical bridge saw in 1979 and were the first company to develop a roll-on, roll-off slab feeding system. Whilst our latest saw systems are more automated, the original essence of the design is still what all the major stone technology companies offer as the standard format across the world.
The first process when fabricating stone worktops is to cut them to size using a saw machine with a diamond tipped blade. Once this is complete, the cut-to-size pieces then go through an edge polishing machine. Here, the visible edges of the worktops go from their raw stone finish to the stone slab surface finish using multiple polishing grits that range from highly textured to exceptionally smooth.
The final technology involved is the CNC (computer-numerically-controlled) router. We were the first company in the UK stone industry to purchase a CNC router in 1988. These are the machines that cut, shape, and polish the worktop design features, such as sink cut outs and grooves as well as any ornamental edge profiles.
There is still a large performance discrepancy in our industry between companies who have in-depth technical skill sets and those that do not. We call our experienced operatives SMEs (subject matter experts). To be an SME in our business equates to being the most experienced operative in our industry in the UK. This may sound like a boast, however, when it comes to recruitment, we must train our staff internally to our standards as the skillset is not available elsewhere.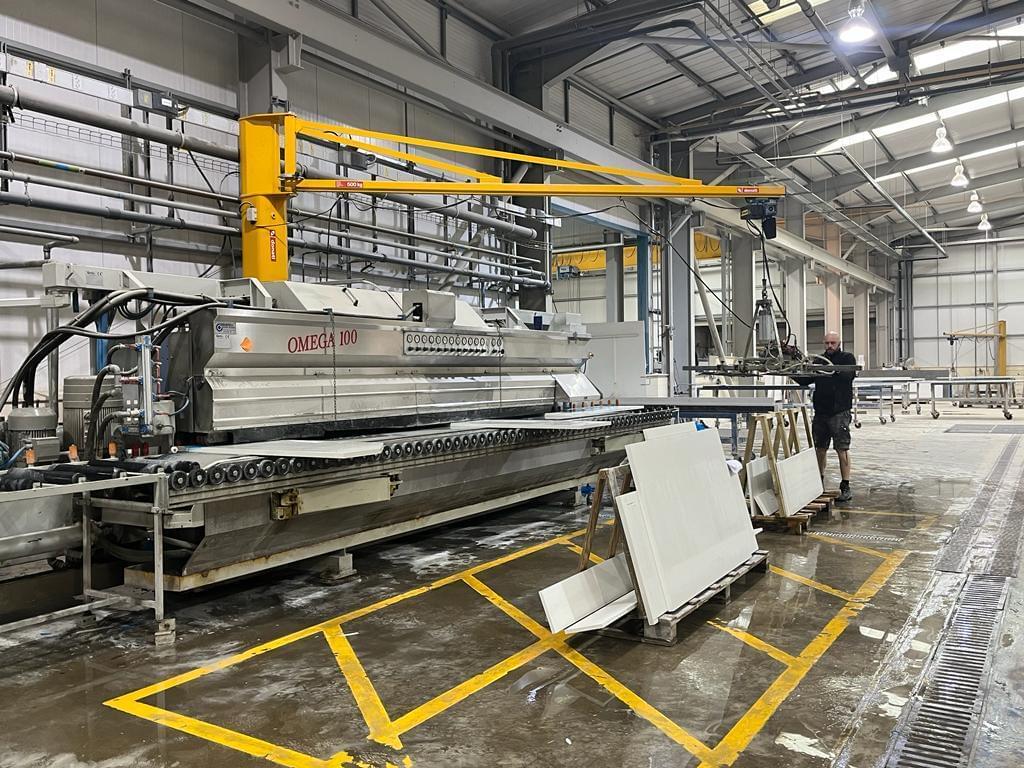 A synergy with time-honoured craftmanship
Once the worktops have passed through the machine processing stages of production, they are hand finished by one of our masons. Whilst we use the latest CNC saw and router technologies, including advanced techniques such as oscillating heads on our machines that create hand finished polishing standards, there are still finishing touches that can only be achieved through a skilled human touch.
We will push the boundaries of how far we can take machine fabrication, but we will never sacrifice the quality standards of the master craftmanship I grew up with learning under my grandfather. Quality is represented in detail, and it is the little things, like having the worktop underside smoothed back 50mm. This prevents a raw finish to the underside of the worktop that when opening drawers, you may feel or might snag on your clothes.
It is also there in edge profile finishing where internal corners should have a crisp, tidy finish to them. It means sink grooves are polished, not simply waxed to hide the rough finish and will wear off after a few months of use. Steve Jobs has been quoted when working on the Apple Macintosh: "I want you to make the outside of this computer very beautiful. But also make the inside of the computer so stunning that when people look at it, tears will come down their eyes." Beauty is in attention to detail.
The final stage of the worktops production journey in the factory is independent quality control. This is important to ensure all quality details get checked. For this reason, our quality team are independent of our production team. It is always frustrating when a job is pulled from production by our quality team.
Due to short lead times, this can often result in delays for the customer, and sometimes a full remake of the worktop pieces for the production team. However, there is no circumstance in which it is better to send out a faulty piece of workmanship. Standards must be adhered to, and we operate by the mantra of only sending out quality we would accept in our own home.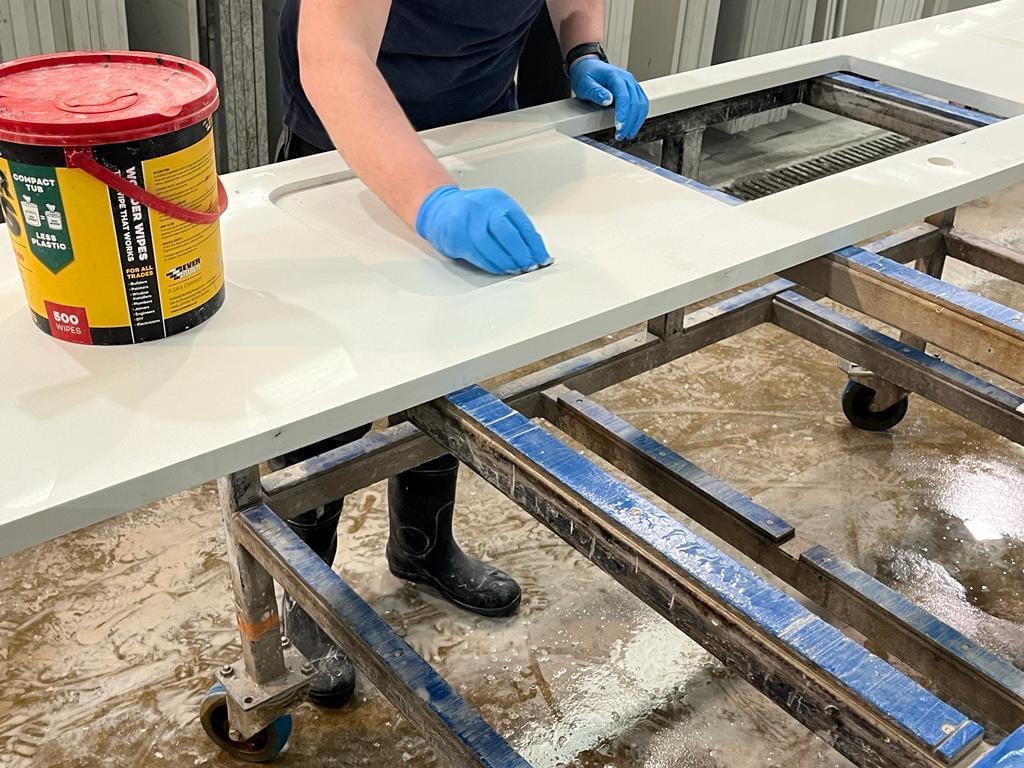 The perfect fit
The final part of the worktops journey is the installation itself. By now you have gathered that stone worktops are a very specialized product requiring trained skillsets to produce. It would be easier and quicker if we were able to deliver the worktops direct to our customers' homes and let the kitchen fitter install them at their own convenience. Unfortunately, this is not recommended as the world's most beautiful worktop, badly installed, will be an ugly worktop. For this reason, all our worktop installers are trained stonemasons.
All Gemini surfaces go through a glue and silicone colour match control process. This enables us to find the closest matching glues and silicones that are available to ensure that glue joins, and silicone beading look as smart as possible. All our Gemini fit teams are also equipped with Seamsetter join technology. This is a technology that allows us to compress adjacent pieces of worktop together whilst adding the join bonding glue. The result is much finer and stronger joins than using traditional methods.
I believe we are living through one of the most exciting times our industry has been in. Technological developments when integrated correctly are facilitating greater accuracy and speed which in turn is increasing affordability in real terms and improving the customer experience. At Gemini, our ethos is continuing to innovate with modern technologies, but also to create a synergy with our traditional stonemasonry skillset. We believe this is where we add the greatest value to our customers and their homes.
In the final article in this series, I focus on how our family values have influenced the customer journey and our initiatives to offer every customer a 5-star experience.
More from our founder...