Lucy Carter: The grand reveal!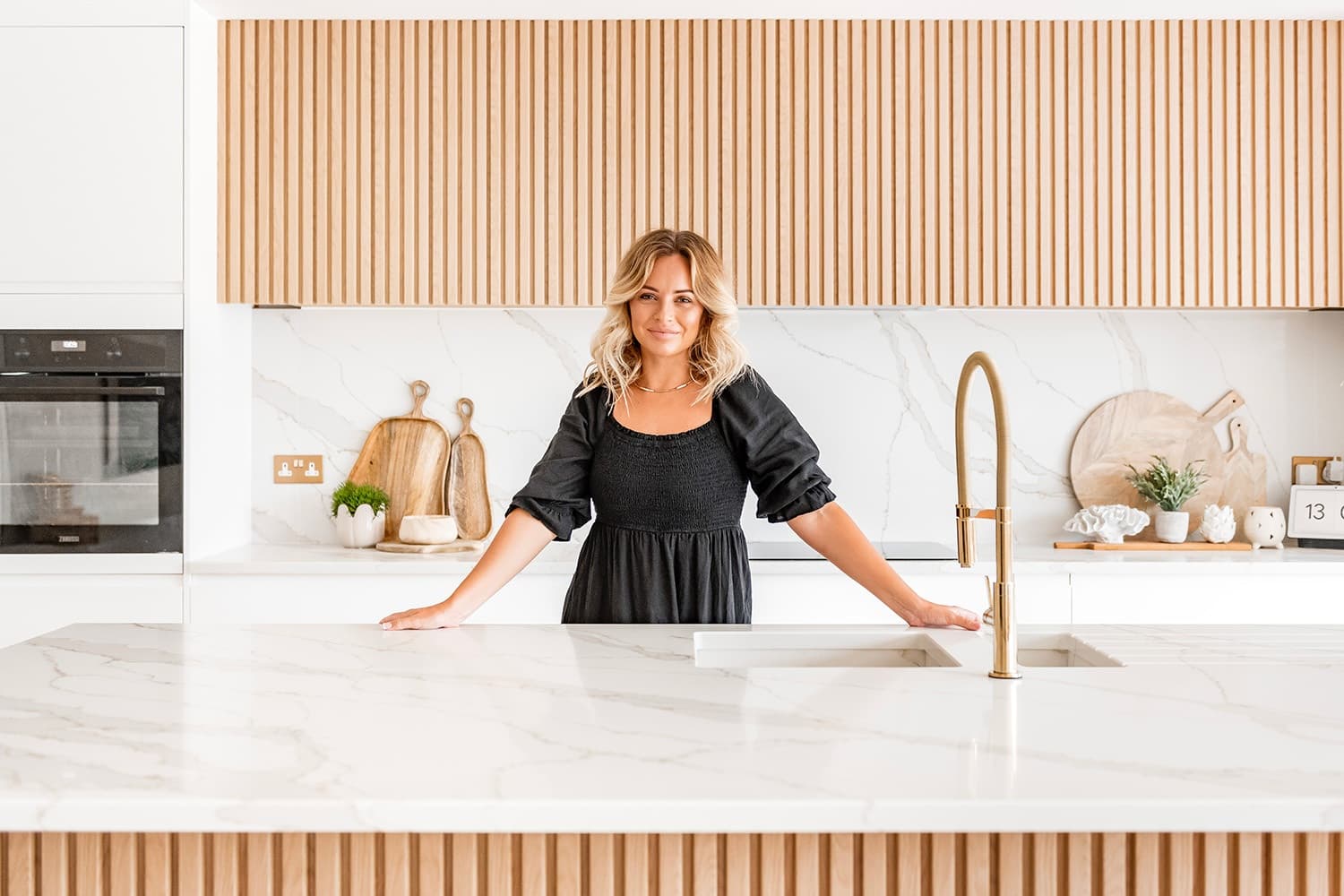 This summer we've had the pleasure of working with Lucy Carter (@lucyjessicacarter), Content Creator for all things lifestyle, fashion and home interiors, interior design enthusiast and of course Mum to four young, beautiful children.
With such a busy household every material and every design choice needed to be life-proof, standing the test of time - particularly in her kitchen, the heart of the home whereas a family they'll cook, clean, craft and chill together for years to come.
Here's what Lucy had to say about her experience with Gemini Worktops.
We started following Lucy and her husband Jordan's renovation journey a year ago as they took on a remarkable project, rebuilding and renovating their dream, forever family home, which they document on her home account (@thecartersrenovate). From the initial design stages to carefully selecting top-quality materials, Lucy has been committed to sharing her expertise in interior design to inspire others on their renovation journeys.
Most recently, Lucy has been actively sharing her kitchen progress, recounting her experience with Gemini worktops and how we have contributed to the creation of her perfect, family-functional kitchen.
If you've not yet read, you can read part one to see where her journey started: Lucy Carter Kitchen Story Part 1
Get the look with Calacatta Grand Imperial
Interested in a Calacatta Grand Imperial worktop for your kitchen? Get in touch for a free, no-obligation quote today.
An organic natural ambiance
From the very start, Lucy had a clear vision of designing something modern and timeless, embracing an organic and natural ambiance that perfectly aligned with the Japandi style. After ordering a range of samples it was the Calacatta Grand Imperial that Lucy fell in love with.
The off-white hue, highlighted by captivating veins of gold, radiates a beautiful charm that flawlessly matches the natural elements that Lucy wanted to incorporate into her design.
"The Calacatta Grand Imperial went perfectly with this style and when they brought it in to install it was just stunning and I fell in love completely!"
As a busy Mum of four, her primary goal was to have a spacious and open area that offered both functionality and practicality, allowing her entire family to spend quality time together.
Lucy's focus for her kitchen was to not only reflect her personality but also to craft a kitchen with warmth and creativity – a space that would undeniably become the heart of their home. Having white as the foundation of the kitchen gives it a fresh and versatile look, easily complementing any decor.
This uncomplicated colour palette gives Lucy the freedom to introduce charming customisations and pair exquisite accessories depending on the season. To add a personal touch and stay true to the Japandi style, Lucy decided to enhance the original white cabinets by integrating tasteful wood panelling into the overall design.
Throughout the kitchen, this panelling is prominently showcased, bringing not only warmth but also a delightful texture to the entire space.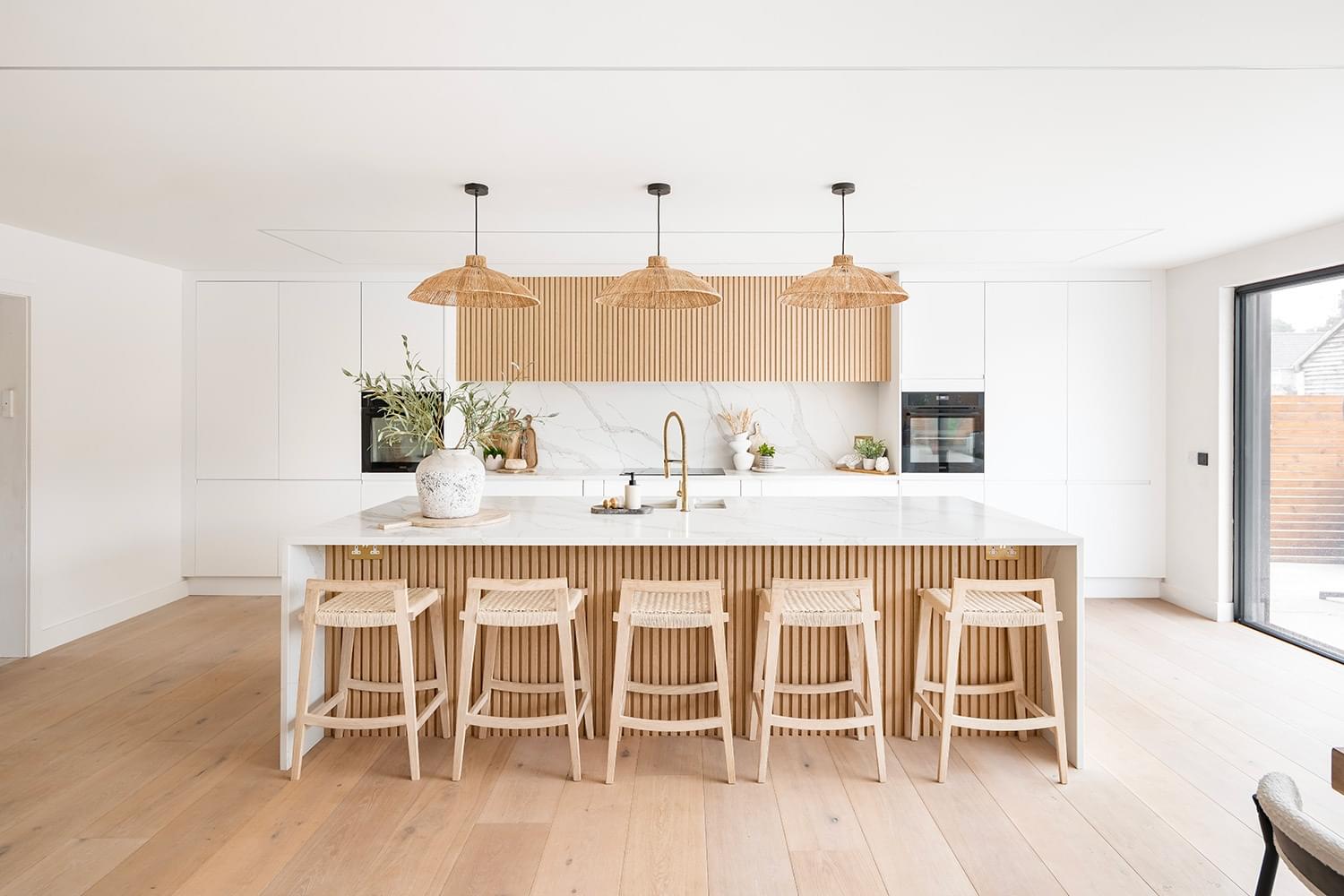 It's all in the design details
Lucy dreamt of having a spacious kitchen with a stunning kitchen island as the centrepiece. This would not only serve as a practical and functional addition but also make a bold statement in harmony with the kitchen's overall aesthetic.
After much deliberation on the style of the island Lucy opted for a symmetrical linear island design with a striking waterfall end, infusing a modern touch of elegance into the entire ambiance.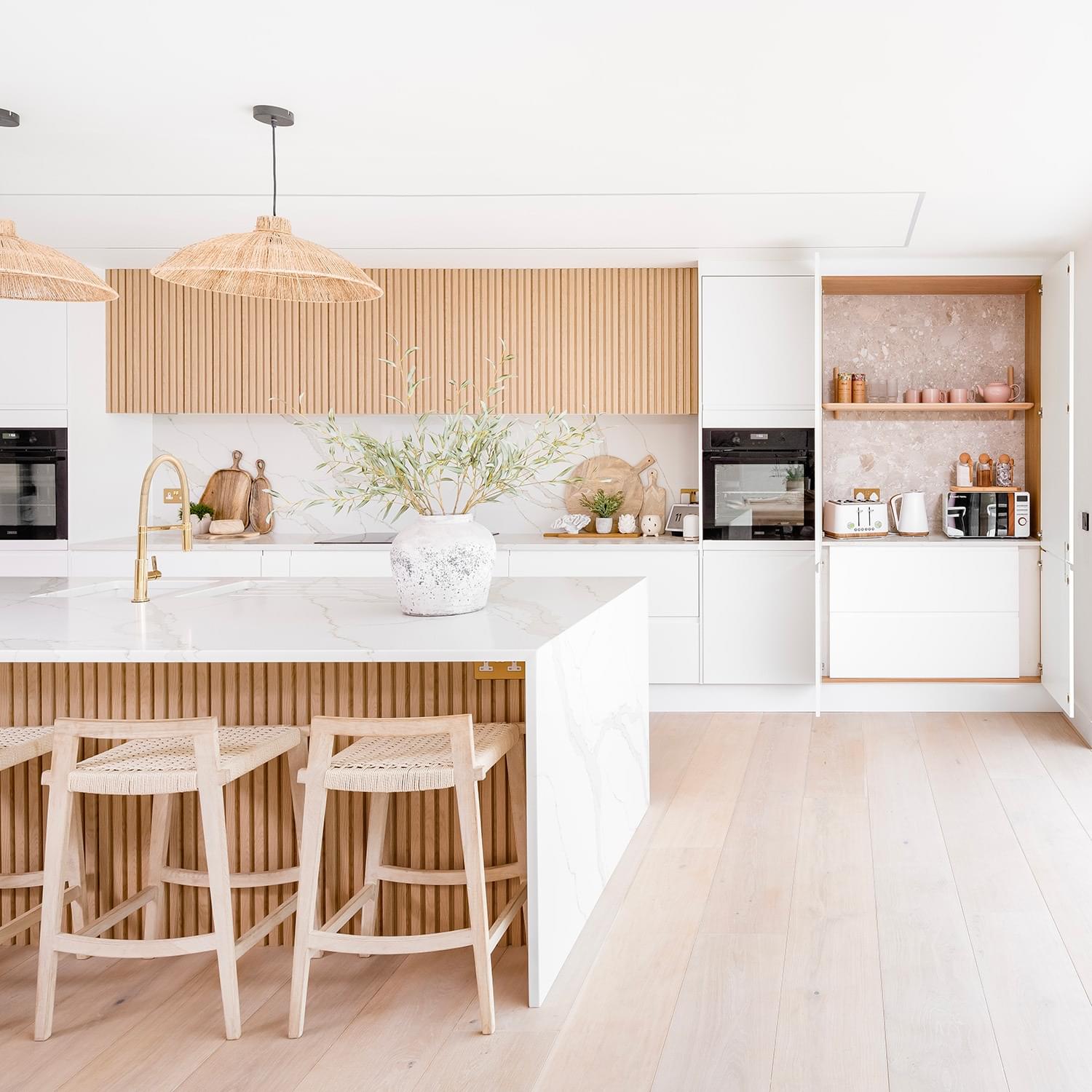 Quartz beyond the worktop
Gemini Worktops offers a variety of ways to incorporate quartz into your space, and Lucy was enthusiastic about exploring these design features. Staying true to her modern and cohesive design vision, Lucy decided to extend the use of Calacatta Grand Imperial quartz beyond her kitchen worktops.
Not only did she use it as a windowsill, but she also had it installed as a full-length splashback along the back wall. This choice not only adds elegance and continuity to the space but also makes maintenance easier compared to a tiled splashback.
The same exquisite material was thoughtfully incorporated into a pantry, where it now serves as a sleek and cohesive shelf. By seamlessly integrating quartz into this functional element, it ensures that every corner of her kitchen shows a harmonious aesthetic, creating a sense of unity and refinement throughout the entire space.
The perfect pairing
To complement this design, Lucy selected an AXIX sink, flawlessly blending the Calacatta Grand Imperial quartz with a gold base. This purposeful choice enhances the visual appeal and achieves a sense of balance and elegance within the kitchen.
In perfect harmony with the sink and the gold veining in the worktops, Lucy also chose an 1810 tap finished in gold, ensuring a perfect match that ties all the elements together with a touch of sophistication.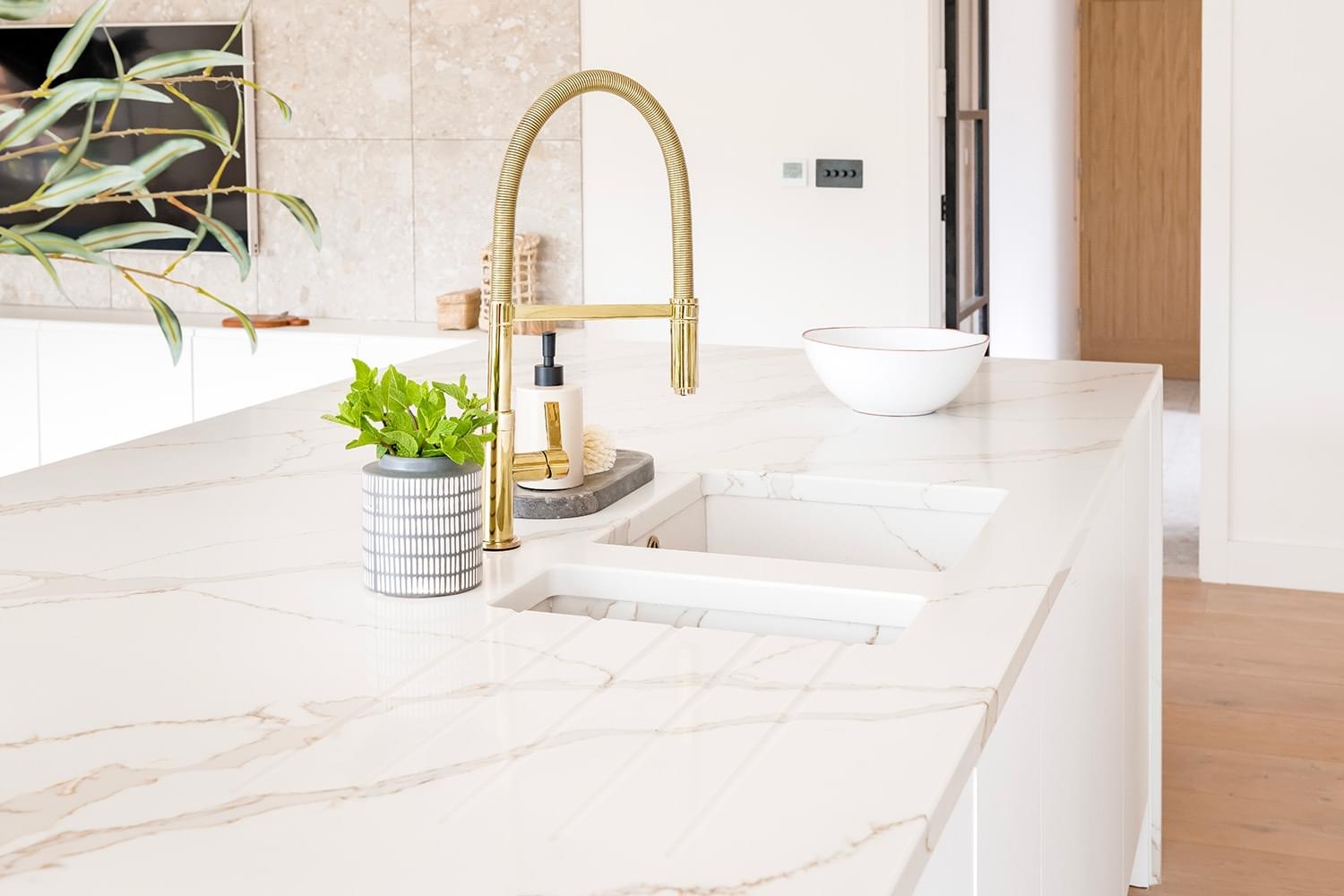 Utility of dreams
Here at Gemini Worktops we know how busy family kitchens can be and how crucial a utility room can be to bring extra storage and practicality to an insta-worthy kitchen design, which is why we were keen to help Lucy bring her utility vision to life too.
Ensuring a seamless flow from kitchen to utility was important to Lucy who chose a neutral, wood tone cabinet and selected the same Gemini Quartz Calacatta Grand Imperial from our range for the worktops, upstands and quartz windowsill.
Gemini Quartz makes the perfect worktop for utility rooms, its durability is unmatched - scratch resistant, heat resistant, impact resistant and stain resistant and for extra peace of mind, we offer a 5-year installation guarantee and 25-year material warranty.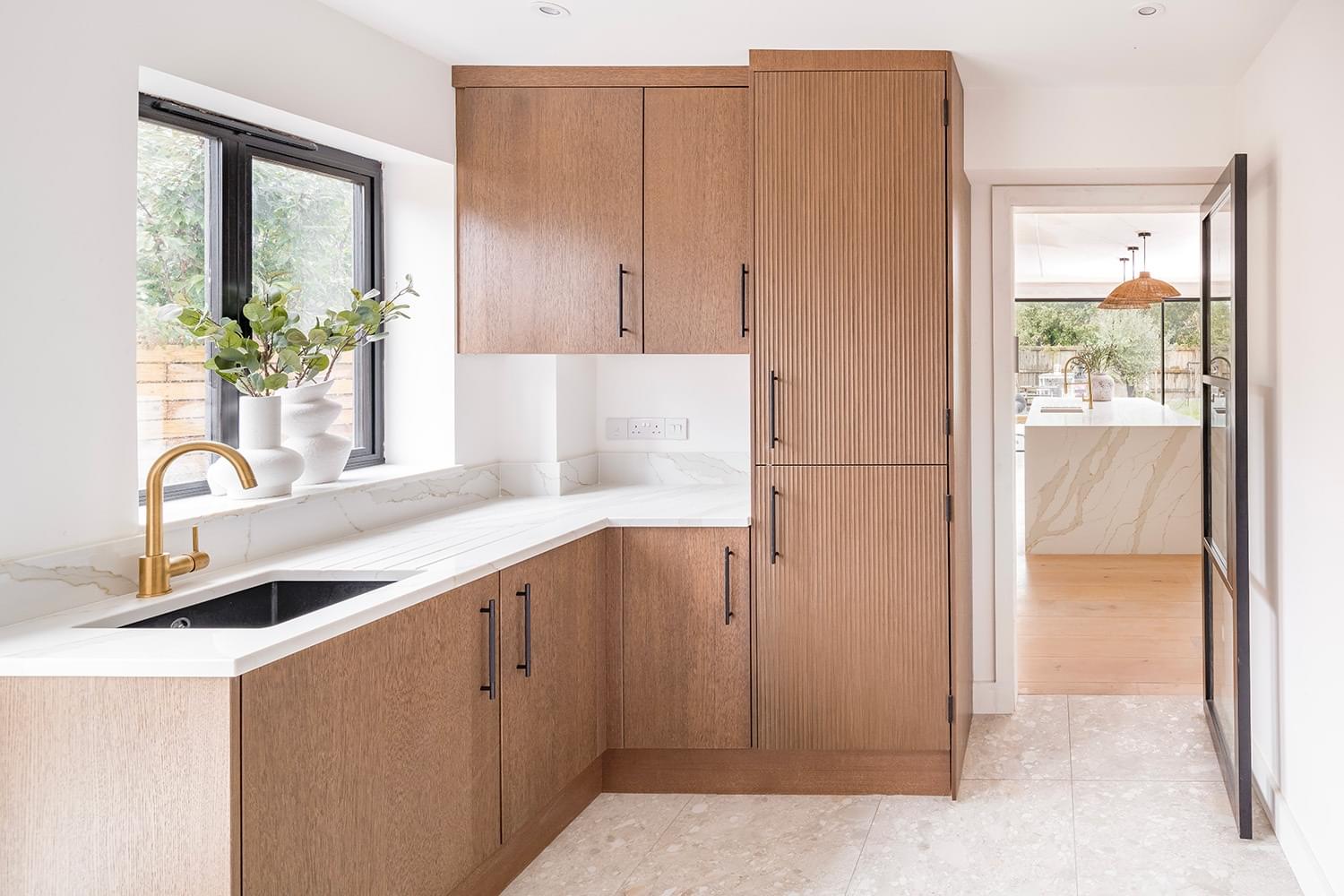 Designed for a lifetime of memories
Lucy's kitchen has undergone an incredible transformation, reflecting her passion for interior design, her devotion to her family, and her unwavering commitment to creating a space that truly captures her vision.
From the very beginning, Lucy had a clear goal of crafting a modern, timeless, and warm kitchen that would serve as the heart of her home. Lucy's kitchen story is not just about a beautifully designed space; it's about the love, care, and passion she poured into every detail, making it the perfect environment for her family to cherish for years to come.
Being part of Lucy's renovation journey and helping to create her dream kitchen for her and her family is what Gemini strive to do, helping customers create their perfect kitchens and bring their visions to life.
We can't wait to see Lucy, Jordan and family enjoy their Gemini worktops for years to come.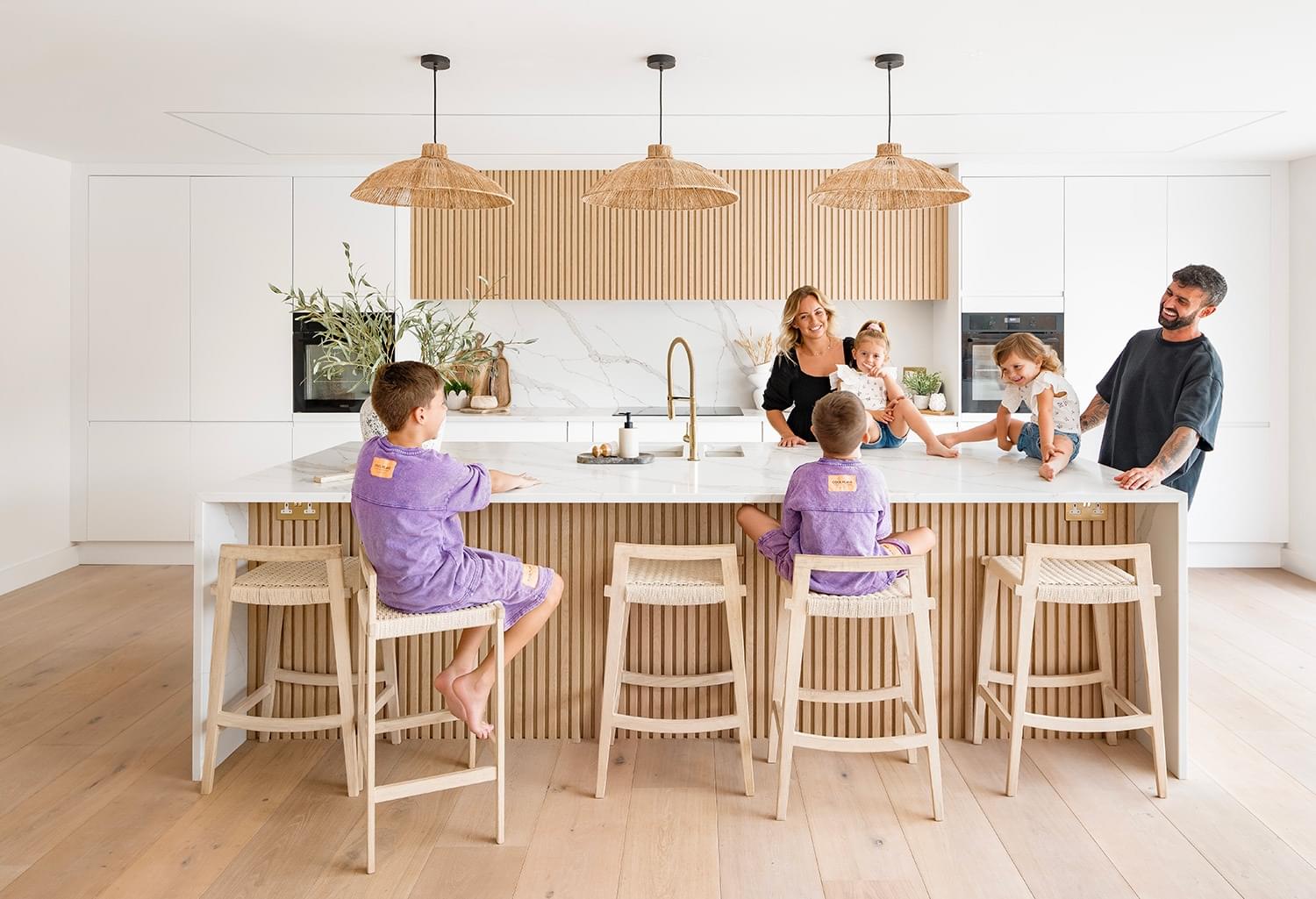 Request a quartz worktop quote
Interested in a quartz worktop for your kitchen? Get in touch for a free, no-obligation quote today.

You may also like...