How to create a Japandi Inspired Kitchen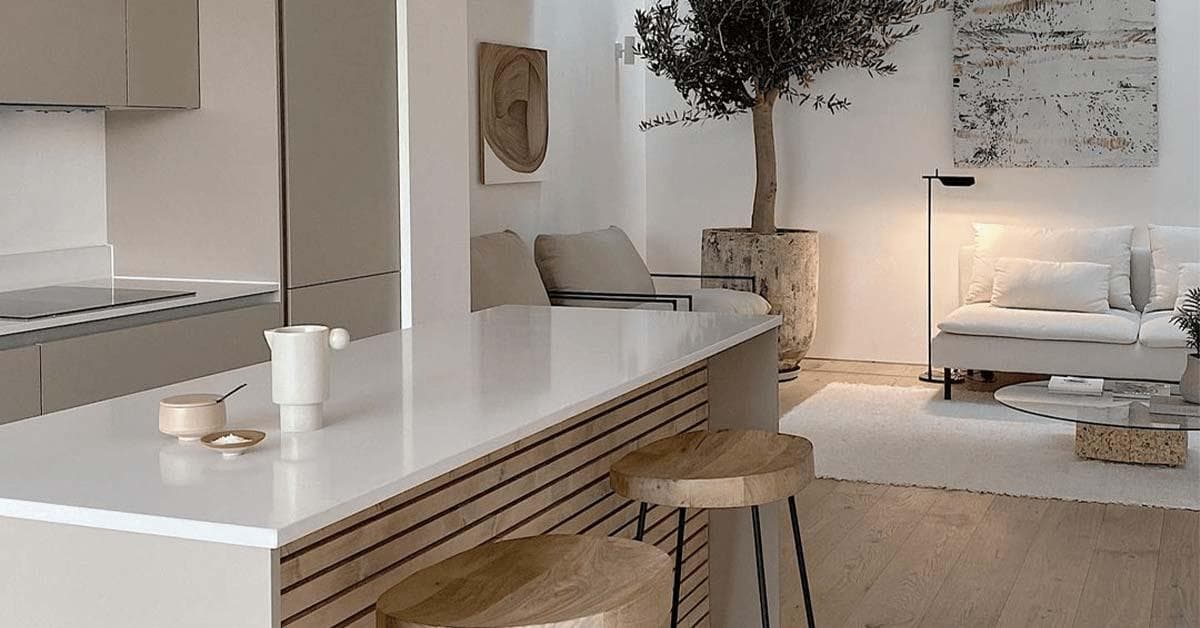 Japandi or the blend of Japanese design and Scandinavian minimalism is a rising interior trend this year. Think neutral shades, minimal open shelving and a mix of calming neutrals and warm natural materials. It's the comforting, cosyness of hygge mixed with the Japanese interior sentiments of celebrating natural materials and the beauty of craftsmanship.
This trend has been popping up all over the interior space but what about in the kitchen and which worktops best bring this trend to life? We've curated some of our Japandi inspired quartz worktops for you along with some Japandi inspired kitchens we've spotted on Instagram for inspiration
Worktops for your Japandi inspired kitchen
This interior style is all about natural textures and neutral colours. We've highlighted here some surfaces from our granite and marble collections, each bringing the depth and richness of natural stone and marble. We've also picked out cool cement for the irresistible intrigue of cool, misty grey tones and aspen ice if you're after a more minimal, clean white surface for your kitchen.
Japandi is all about choosing quality craftsmanship over fast furniture. It's about opting for quality materials that will stand the test of time, continuing to bring joy and be cherished over years to come.
At Gemini Quartz we bring our four generations of experience in working with quartz to the table and craft our surfaces using the purest raw materials. Each surface is then finished by hand to ensure the highest quality finish that will last and be cherished for decades to come in the heart of your home.
Get the Japandi look with Gemini Quartz
Five Japandi inspired kitchens along with some Gemini Quartz surfaces to get the look
Create the Japandi look with warm wood tones, clean lines and textured surfaces for a calming space. For your worktops, choose Gemini Quartz Timberwolf. This warm, neutral surface features beiges, fawns and creams with depth and richness.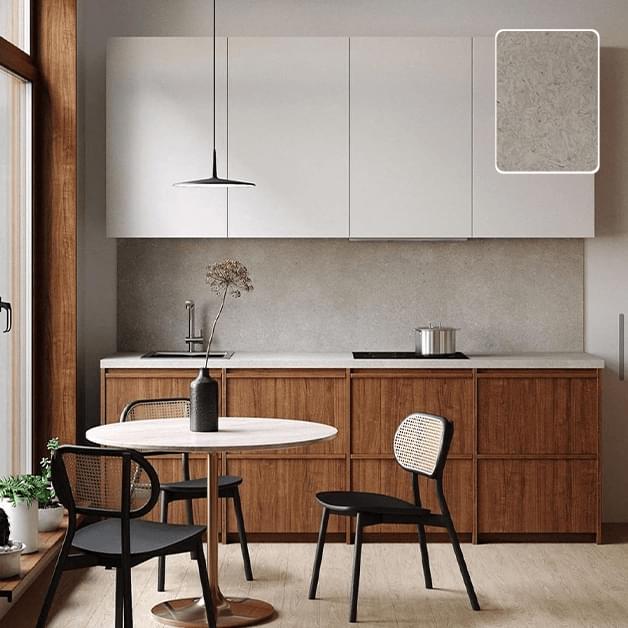 Wooden slats are a Japandi signature style and adding them to your kitchen island is a great way to bring this trend into the kitchen. Complete the look with a minimal clean white worktop for a tranquil, peaceful space. Choose Gemini Quartz Aspen Ice for a beautiful white surface that will reflect the light and brighten the space.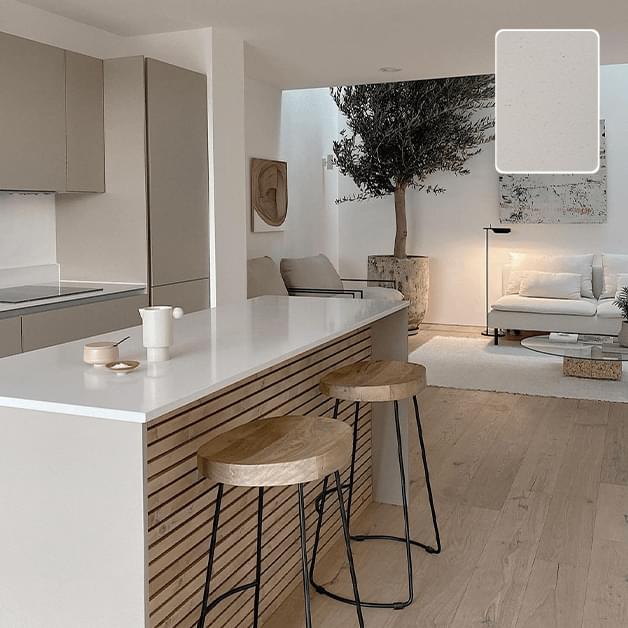 Request your free quote
Interested in one of our Japandi inspired quartz surfaces? Get in touch for a free, no-obligation quote today.
Bring in minimal open shelving to display favourite pieces and contrast this with a de-cluttered work surface. Choose Arabescato to add a touch of understated luxury, featuring dramatic grey veins against a light background bringing dynamic and generous movement.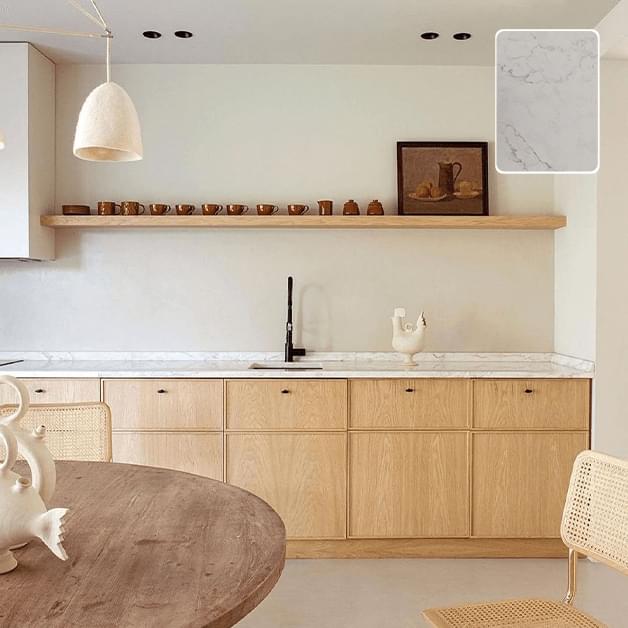 A textured grey surface is the hero of this Japandi inspired kitchen. Get the look with Gemini Quartz cool cement. A sleek, modern surface, featuring all the cloudy, misty grey tones of genuine concrete but without the inherent drawbacks of opting for the real thing.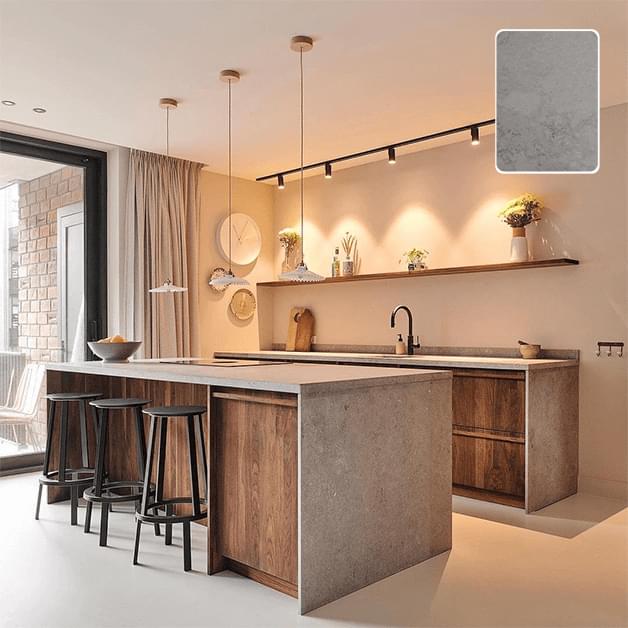 Finally, in this Japandi inspired kitchen, a calming mix of warm wooden tones and pale greys balance perfectly with a richly detailed worktop surface. Gemini Quartz Atlas White is the surface to choose for exquisite detailing through grey and white tones provoking the depth and richness of natural stone.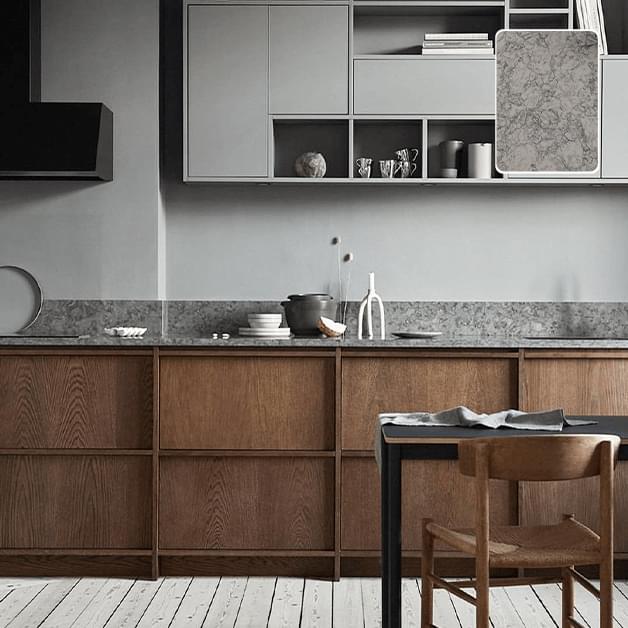 Request your free quote
Interested in one of our Japandi inspired quartz surfaces? Get in touch for a free, no-obligation quote today.
Three ways to bring the Japandi style into your kitchen
Open shelving

Minimal open shelving is a Japandi signature. Pair it back and display some favourite hand crafted pieces that spark a little joy whenever you walk past.
Less is more
Japandi is all about minimalism. It's the thought-through process of curating and keeping only that which is functional and joy-bringing for a peaceful, calming, space.
Neutral colour palette
Opt for a warming neutral colour palette and don't be afraid to embrace some contrasts. Pair blonde wood with dark wood, or mix clean straight lines with a highly detailed work surface and bring it all together with a cohesive neutral palette.
Can't decide between a Japandi or Scandi design style for your kitchen refresh? Check out our Japandi vs Scandi guide to learn more about the subtle differences that make then unique.
You may also like...