Japandi vs Scandi kitchen design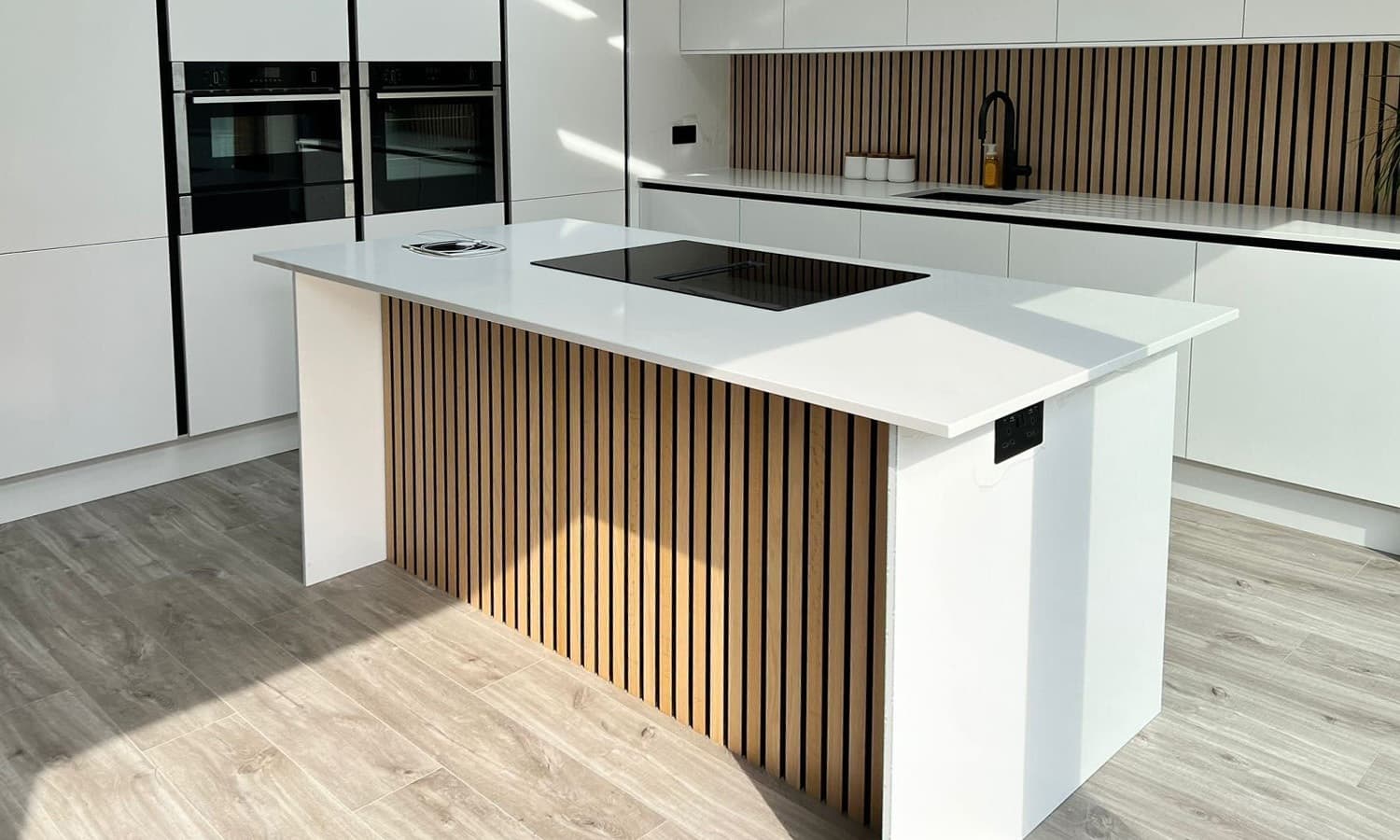 When it comes to interior design, there are many styles to choose from, but two of the most popular are Japandi and Scandi. These styles are very similar, but there are some subtle differences that make them unique.
Both of these styles are known for their minimalist and functional approach, as well as their emphasis on natural materials and neutral colours.
However, while they may share some similarities, there are also some key differences that set them apart. Japandi, a fusion of Japanese aesthetics and Scandinavian style, have both emerged as popular interior trends this year but what sets them apart?

What is the difference between Japandi and Scandi?
Colour scheme
One of the most significant differences between Japandi and Scandinavian kitchen designs is the colour palette. Scandi kitchens typically feature light tones, including whites, creams, and light blues or greys.
Whereas Japandi kitchens, on the other hand, feature a more muted colour palette of warm neutrals and natural shades. While both styles incorporate natural materials such as wood, Japandi design often includes a warmer, more muted colour palette, compared to Scandi which often features lighter, cooler tones.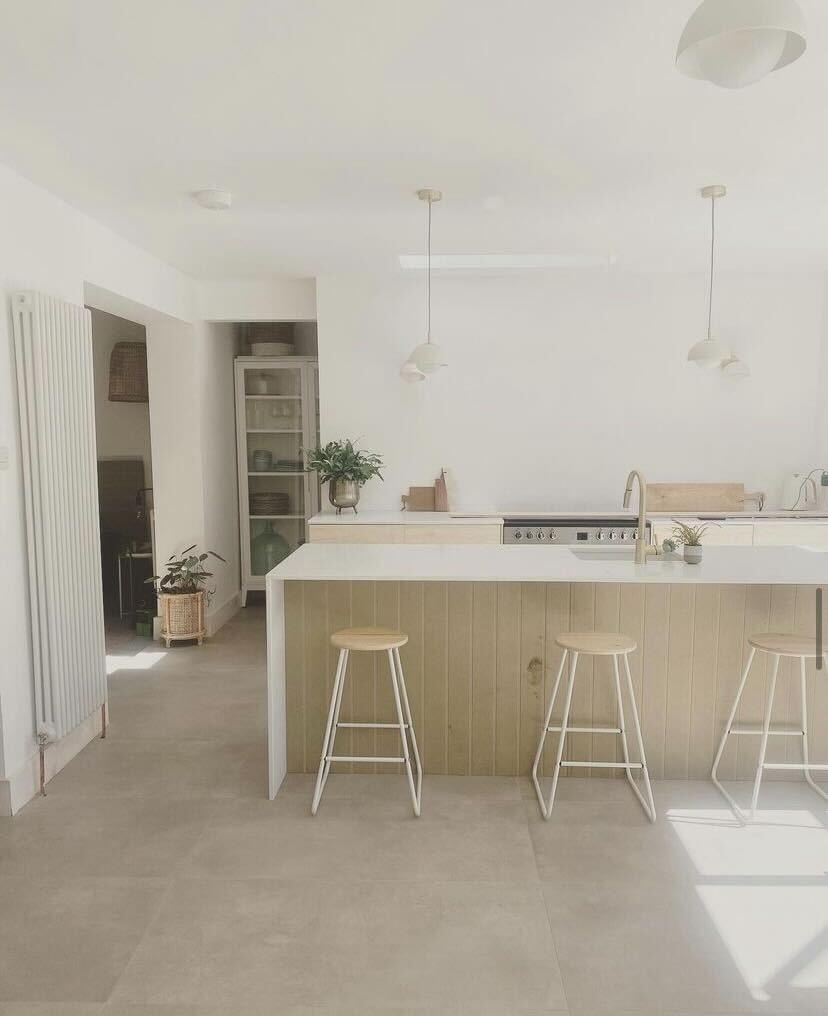 Our Gemini Quartz Arabescato is the perfect addition to a Japandi or Scandi-style kitchen, offering a classic and timeless appeal. With its light background and soft veins, this material blends seamlessly with the aesthetics and neutral tones of these kitchen styles, while adding a subtle and understated touch of classic elegance to the space.
The generous movement of the grey veins against the light background creates a sleek and minimalist look that perfectly complements the neutral tones of the kitchen. With its impeccable style and functionality, Gemini Quartz Arabescato is an ideal choice for any modern kitchen design.
Ornamentation
While both Japandi and Scandi design styles emphasize simplicity and minimalism, the Japandi style often incorporates more elements of traditional Japanese design, such as intricate patterns and textures. Scandinavian kitchens, on the other hand, tend to have clean lines and minimal ornamentation.
The use of slatted walls and panelling can be found in both Japandi and Scandinavian design styles, and they are often used as a way to create a simplistic and functional space, with clean lines and a focus on natural materials.
The addition of the slatted wall in these designs may be used as a way to create texture and add warmth to a space. Ultimately, whether a slatted wall is more Japandi or Scandi depends on how it is incorporated into the overall design and how the other elements are used alongside the design.
Natural wood and handcrafted items are often used to add texture and visual interest to the space, as well as to create a warm and inviting space.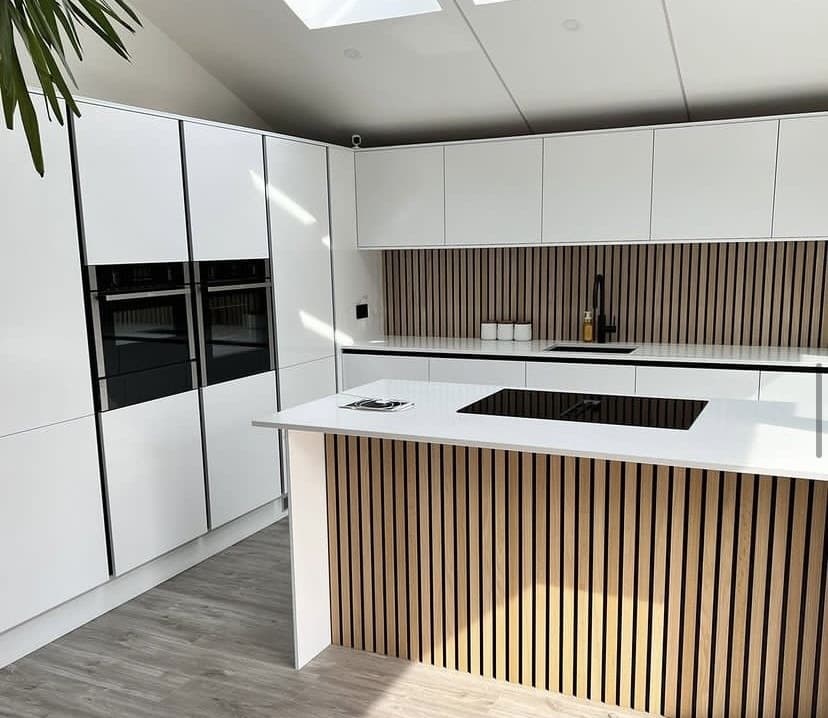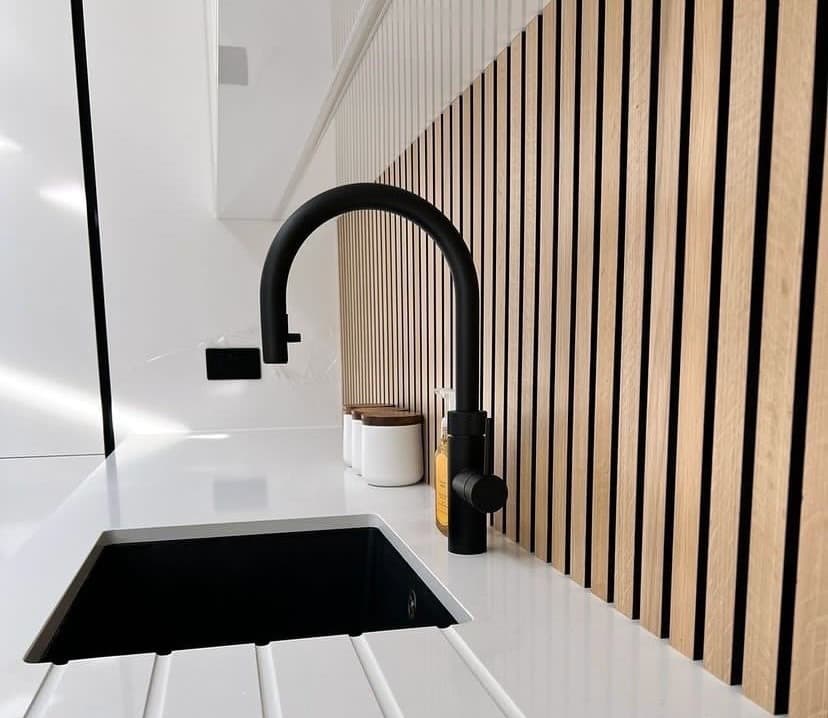 Gemini Quartz Aspen Ice is an excellent addition to any Japandi kitchen, thanks to its natural stone look and sleek modern appearance. When it comes to Japandi and Scandi kitchens, natural stone worktops, like quartz, are a popular choice.
These materials blend well with the minimalist aesthetic of these designs, and their natural variations in colour and texture provide a visually appealing touch.
With its subtle and understated style, Gemini Quartz Aspen Ice perfectly complements the minimalist design of a Japandi kitchen, while also offering durability and practicality for everyday use.
Decor
Plants and other natural elements are key features in Japandi and Scandinavian designs. Potted herbs, succulents, or even a small tree can help bring the outdoors inside and add a sense of calm and tranquillity to the space.

Functionality
Both Japandi and Scandinavian design styles prioritize functionality and organization, with plenty of storage options and efficient use of space.
In Scandinavian kitchens, this often takes the form of minimalist cabinetry and open shelving, while in Japandi kitchens, traditional Japanese storage solutions such as open shelving and sliding doors may be used. Overall, both styles aim to create a bright, airy space that is both functional and inviting.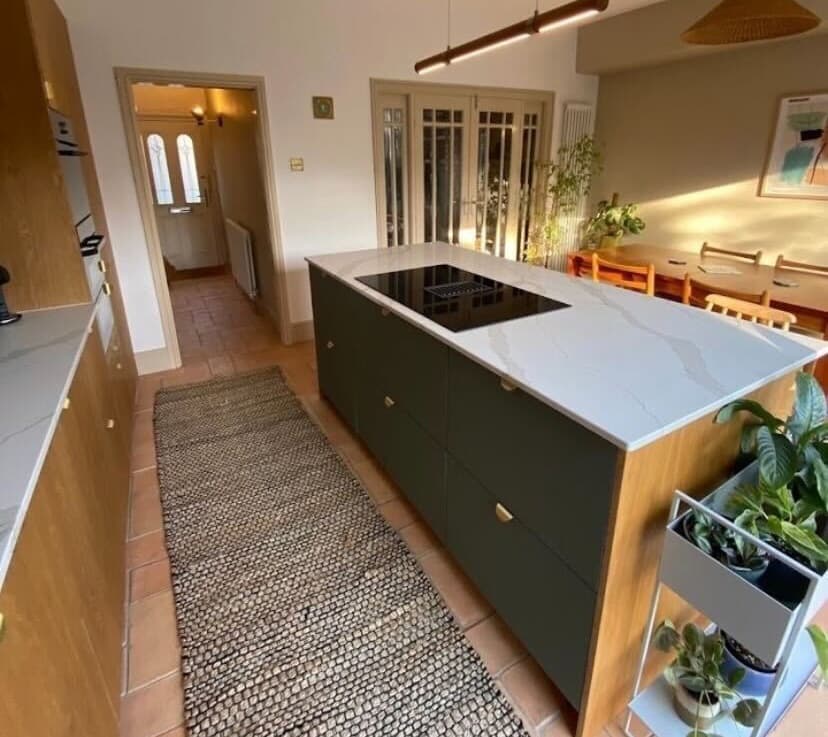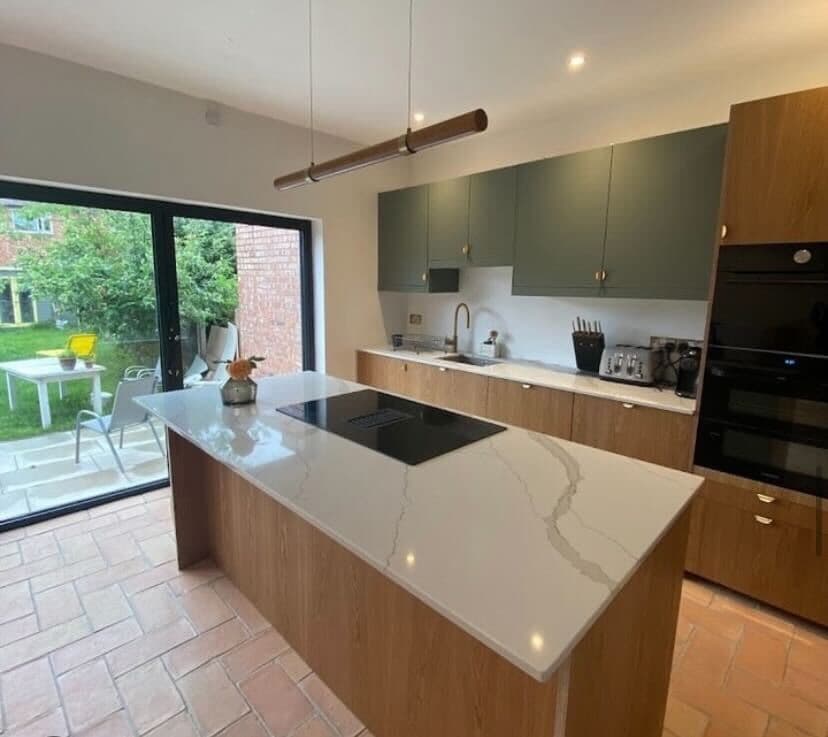 Gemini Quartz Calacatta Eternal is an exceptionally beautiful and authentic material that captures the essence of classic Italian marble. With its stunning veining and marbling, this surface is an ideal addition to both Japandi and Scandi-style kitchens.
The grey veining and marbling beautifully complement the natural tones of the wood and enhance the neutral colours that are characteristic of these kitchen styles. With its timeless elegance and durability, Gemini Quartz Calacatta Eternal is a perfect choice for any kitchen design that values both style and functionality.
There are some key similarities between Japandi and Scandi kitchen design. Both styles emphasize the use of natural materials, neutral colour palettes, and a minimalist approach, prioritising functionality and simplicity over ornate details and flashy design elements. These designs place a strong emphasis on the use of natural light, large windows and skylights, allowing natural light to flood the space and create a feeling of warmth and openness.

Quartz worktops for a Japandi or Scandi kitchen design
In conclusion, while Japandi and Scandinavian kitchen designs share some similarities, such as a focus on simplicity, functionality, and natural materials, there are also some distinct differences between the two.
Japandi design incorporates more elements of traditional Japanese design and a warmer, more muted colour palette, while a Scandinavian design has a lighter, cooler colour palette and a more minimalist aesthetic.
Ultimately, the choice between Japandi and Scandi design comes down to personal preference and the desired atmosphere of the space.
Request a Quote
Interested in a quartz worktop for your kitchen? Get in touch for a free, no obligation quote today.

You may also like...