Timeless Tones: Crafting Your Kitchen with Subtle Grey Hues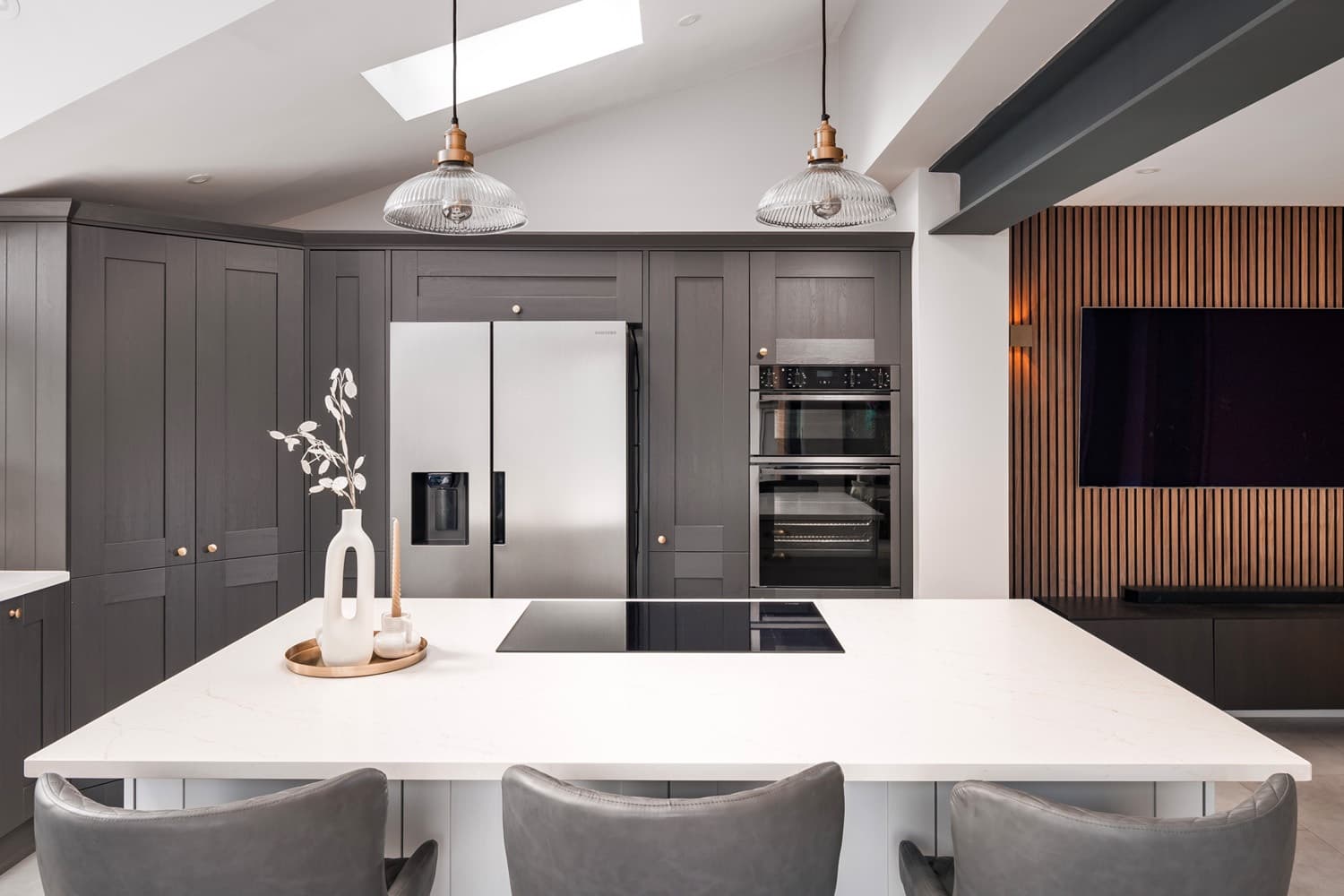 Grey kitchens have firmly established themselves as a beloved choice for homeowners and designers alike.
From classic elegance to modern minimalism, the various shades of grey offer a canvas for crafting kitchen designs that suit a wide range of tastes and preferences.
In this blog, we will look at the different ways to incorporate grey into your kitchen design, exploring why they have become a staple in contemporary homes and how you can harness the power of grey to create a kitchen that's as stylish as it is functional.
Whether you're planning a kitchen renovation or simply seeking inspiration, join us as we delve into the enduring appeal of grey kitchen ideas and discover the art of incorporating this versatile colour into your space.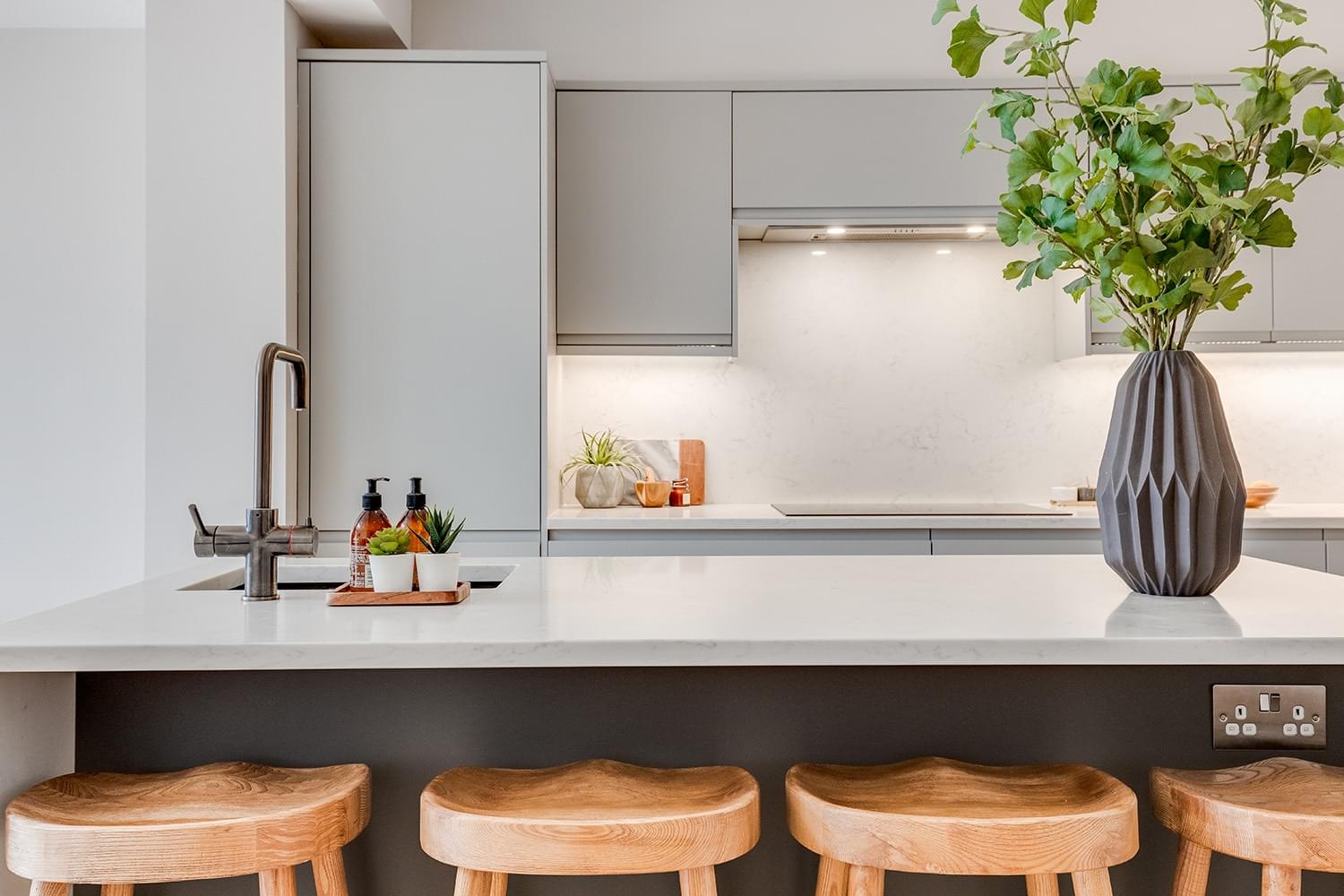 The Versatile Neutral
Grey, in all its shades and hues, embodies the essence of neutrality. It's the perfect colour, making it an ideal canvas for crafting your kitchen's aesthetic. Whether you lean toward a traditional or modern kitchen, grey possesses the unique quality of adapting seamlessly to any style.
This kitchen presents a light grey colour scheme featuring handle less cabinets, elevating its modern appeal. The gentle grey tone of the kitchen beautifully complements our Venetian White marble-look quartz. This quartz boasts delicate grey veining set against a subtle off-white backdrop, which glistens with an iridescent shimmer.
This quartz worktop serves as an ideal addition to a minimalist, contemporary design, becoming a standout feature in the kitchen, especially when used on a waterfall island.
Unlike more fleeting trends, grey kitchens have proven their popularity among homeowners. Their enduring popularity makes them a practical choice, meaning they will remain relevant and stylish for many years to come.
Shades of Adaptability
The range of grey shades available allows for a diverse array of design possibilities. Whether you opt for a soft, light grey to create an airy feel in a small kitchen or prefer the depth and sophistication of dark charcoal grey, the colour adapts to your preferences.
The ability to choose from a spectrum of shades is a key factor in grey's popularity; it offers homeowners the freedom to customise their kitchen to their unique tastes.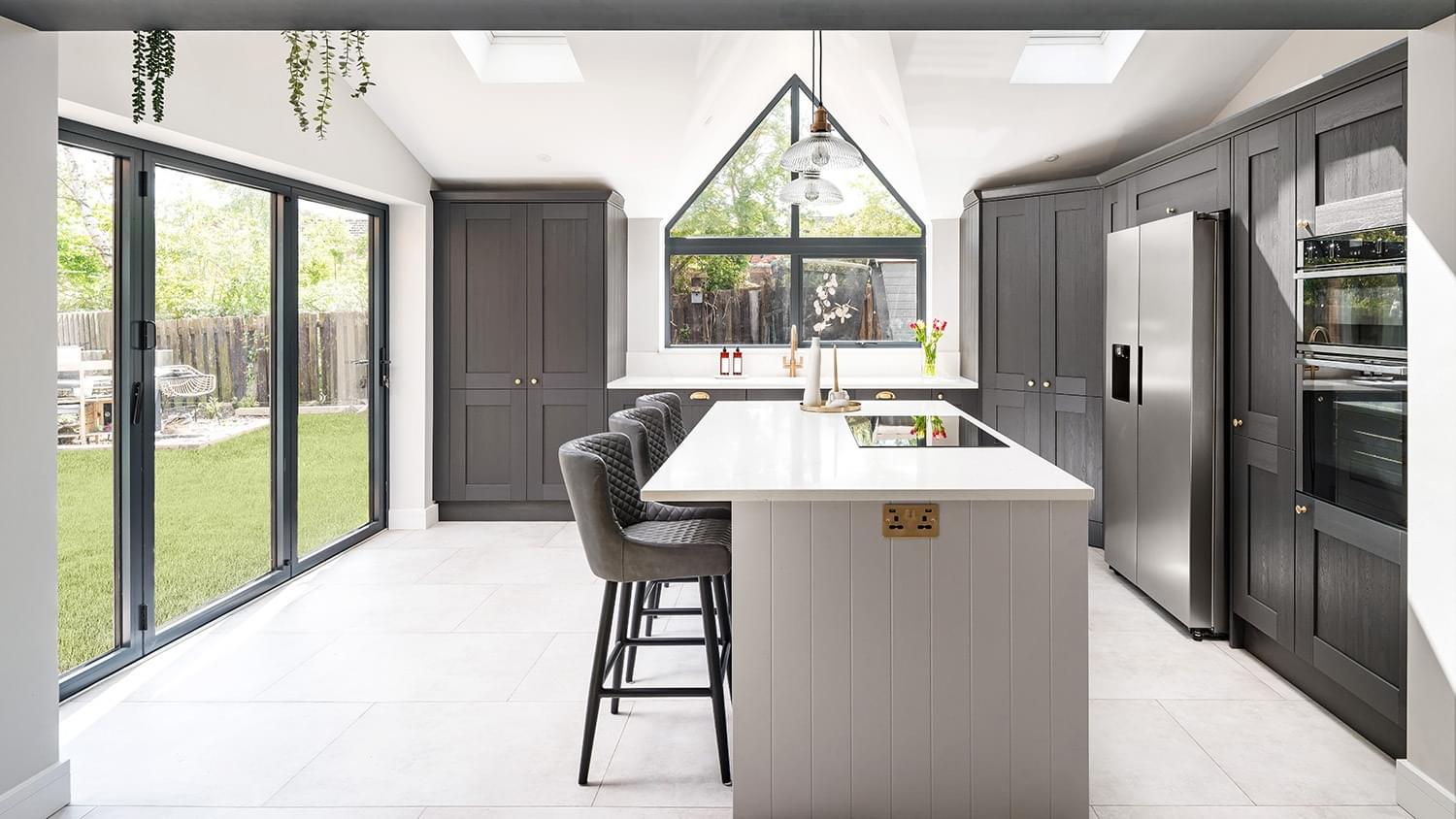 With the variety of shades available, you have the option to mix and match different tones. This kitchen showcases darker greys and shows how you can incorporate a variety of shades into your space with decor and accessories. This use of layering is a great way to add texture to your space.
With darker tones and dark grey cabinets, it is important to create a contrast with your worktops to give the illusion of a bigger kitchen. Siena Gold quartz worktop is the perfect choice for this, the delicate white background with the natural nude and gold marble veins add a subtle touch of luxury to your kitchen.
Big windows and natural light are also a great way to enhance the aesthetics and functionality of your kitchen.

Playing with Colour Accents
One of the hallmarks of grey kitchen designs is their ability to play well with other colours. Grey serves as the ideal backdrop for introducing splashes of colour through accessories, cabinet hardware, or backsplash tiles.
Whether you prefer vibrant and bold accents or a more subdued and elegant palette, grey's neutral base provides the perfect stage for your chosen colour scheme.
This kitchen is the perfect example of adding pops of colour to your space. You can enhance the elegance of your grey kitchen with vibrant tea towels, vases and rugs, which is the perfect way to personalise your space.
This kitchen features our stunning Statuario Ice quartz splashback and worktops.
The subtle, marble veining and crisp white background of the splashback provide the perfect canvas for infusing your kitchen with personality and character.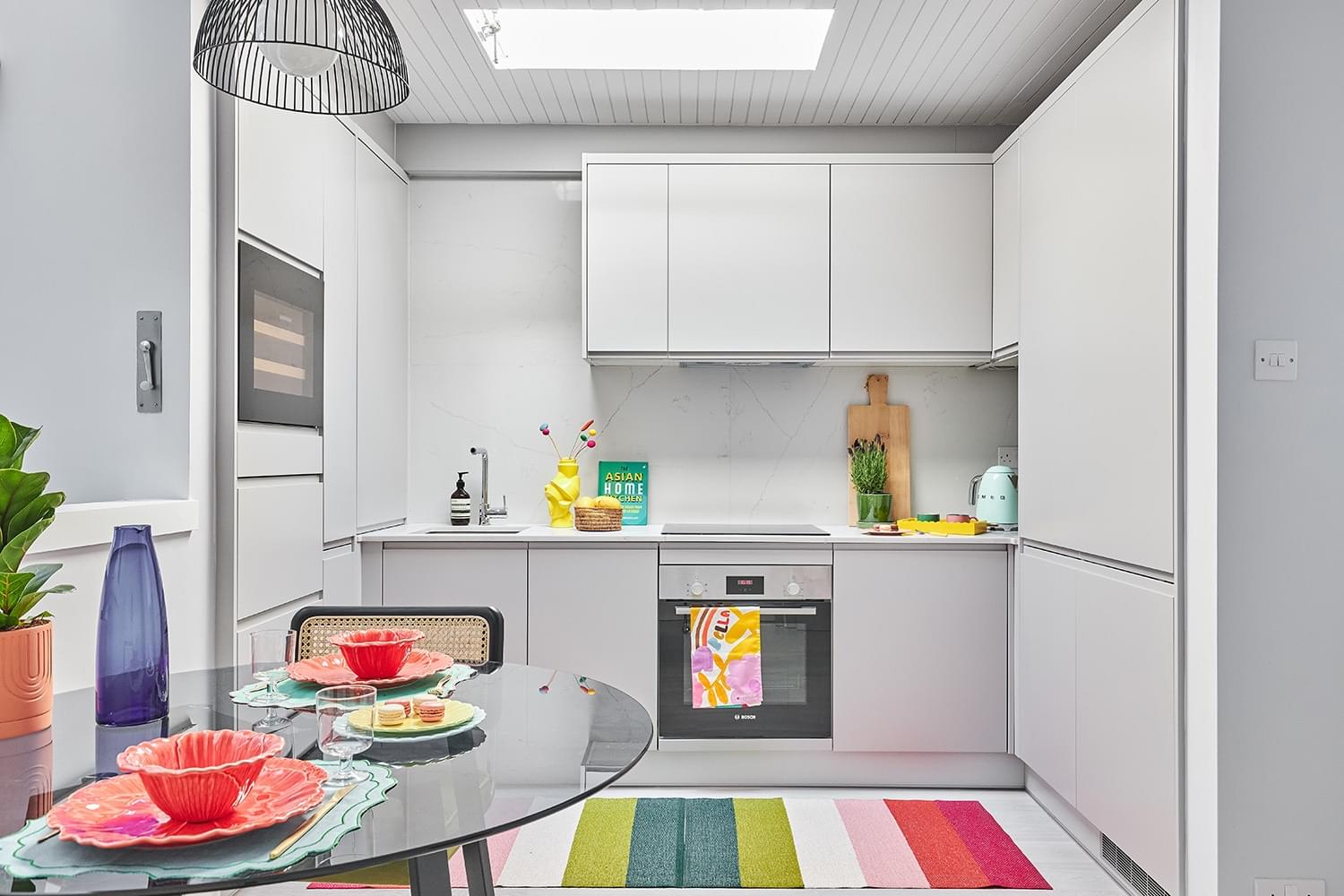 Adding Texture and Warmth
Gemini quartz worktops are known for their smooth and glossy finish, which pairs seamlessly with the modern aesthetics of grey kitchens. To introduce texture and warmth, consider incorporating natural elements like wooden accents, open shelving, or a textured backsplash. These touches will create a sense of balance and comfort in your kitchen's design.
Transform your grey kitchen into a cosy and inviting space by pairing it with our Calacatta Gold Superior quartz worktop.
The warm, golden veining and creamy hues in the Calacatta Gold Superior worktop beautifully contrast with the coolness of the grey, creating a harmonious blend of contemporary and traditional aesthetics.
Whether you choose wooden accents, copper fixtures, or earthy textiles, this pairing allows you to infuse your kitchen with a sense of warmth and sophistication that's truly inviting.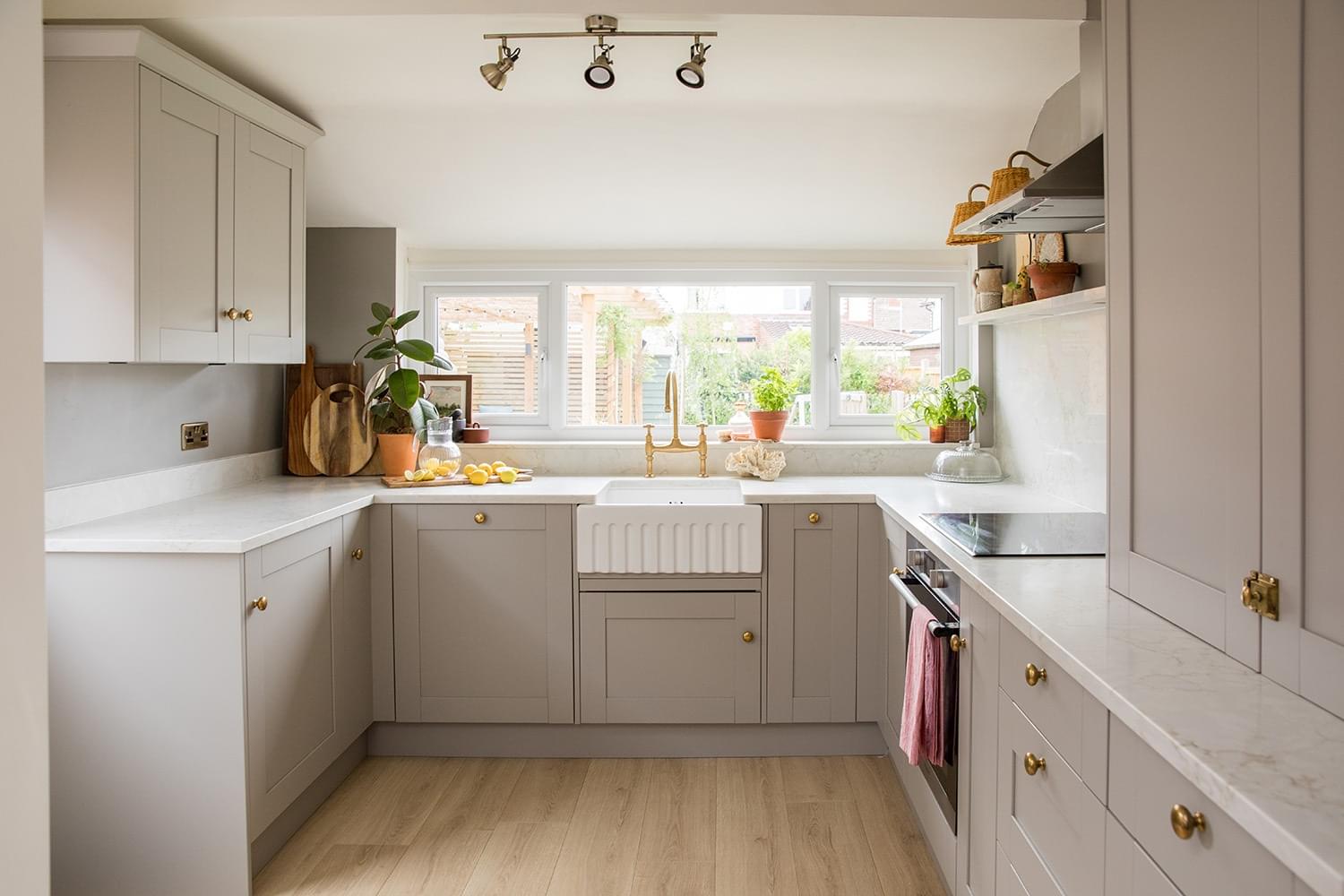 Dark and Dynamic
Elevate your kitchen with the sleek and sophisticated Taurus Grey quartz worktop, a rich and dark shade of grey that exudes modern elegance. Its deep, charcoal-like tone creates a striking focal point that pairs exceptionally well with various design styles, from contemporary to industrial.
The Taurus Grey worktops' durability and resistance to wear and tear make it not only a stunning design choice but also a practical one, ensuring your kitchen remains both stylish and functional for years to come.
This worktop complements other grey tones and is the perfect addition to creating a dark and dynamic space and is a versatile addition to any kitchen space.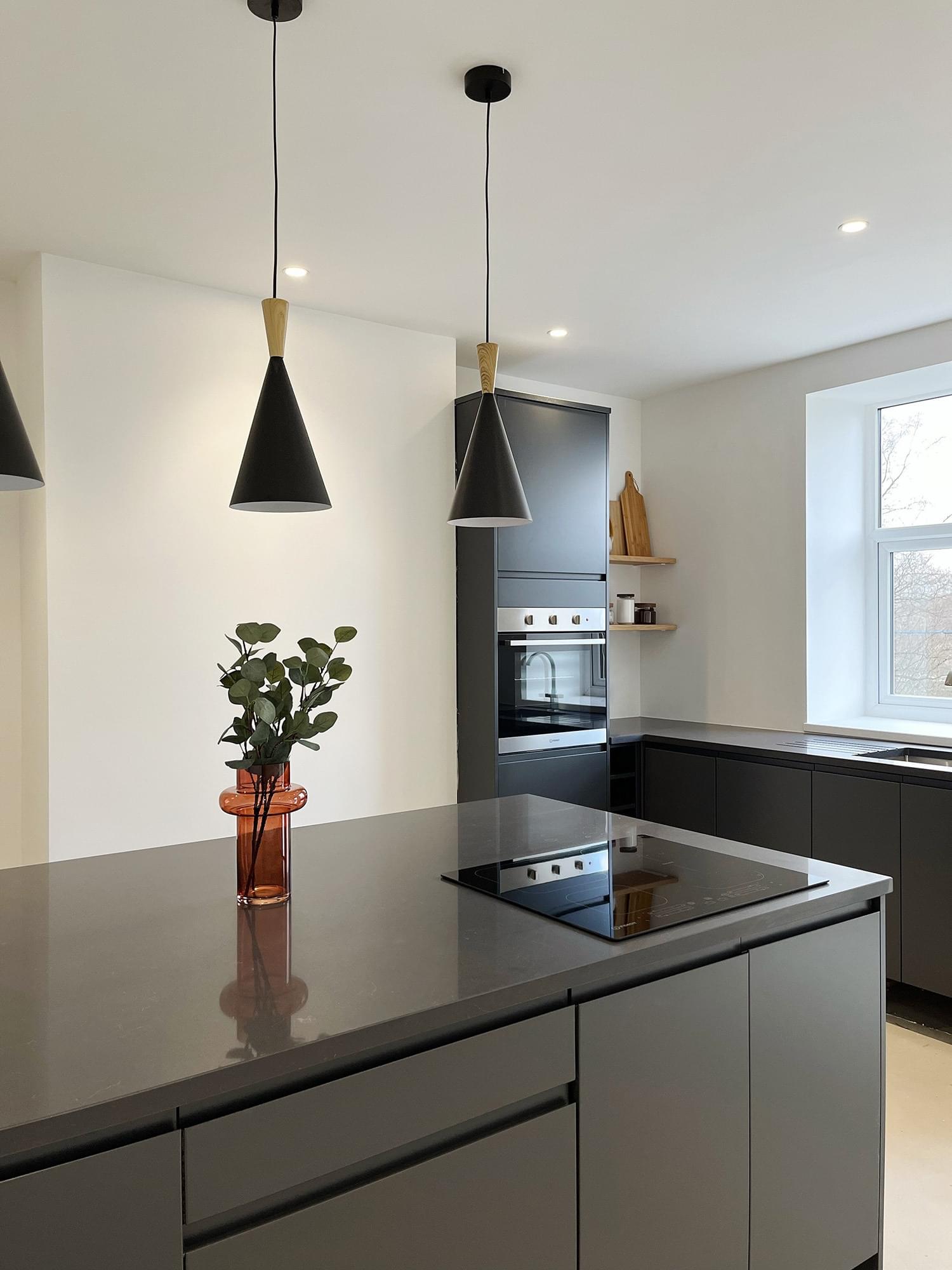 Grey kitchen designs have cemented their place as a beloved choice for homeowners, thanks to their timeless appeal and adaptability.
When combined with the elegance of quartz worktops, these kitchens reach new heights of sophistication and luxury.
Whether you favour classic, modern, or eclectic styles, grey kitchens with quartz worktops offer an enduring canvas for your creativity and personality, ensuring your kitchen remains a captivating space for years to come.
Get the Look
Gemini quartz worktops come in a stunning array of colours and patterns. To create a harmonious look with your grey kitchen cabinets, consider selecting a quartz countertop with subtle grey veining or a solid grey surface.
Request a worktop quote
Interested in a quartz worktop for your kitchen? Get in touch for a free, no-obligation quote today.

You may also like...