The Function Of The Kitchen Island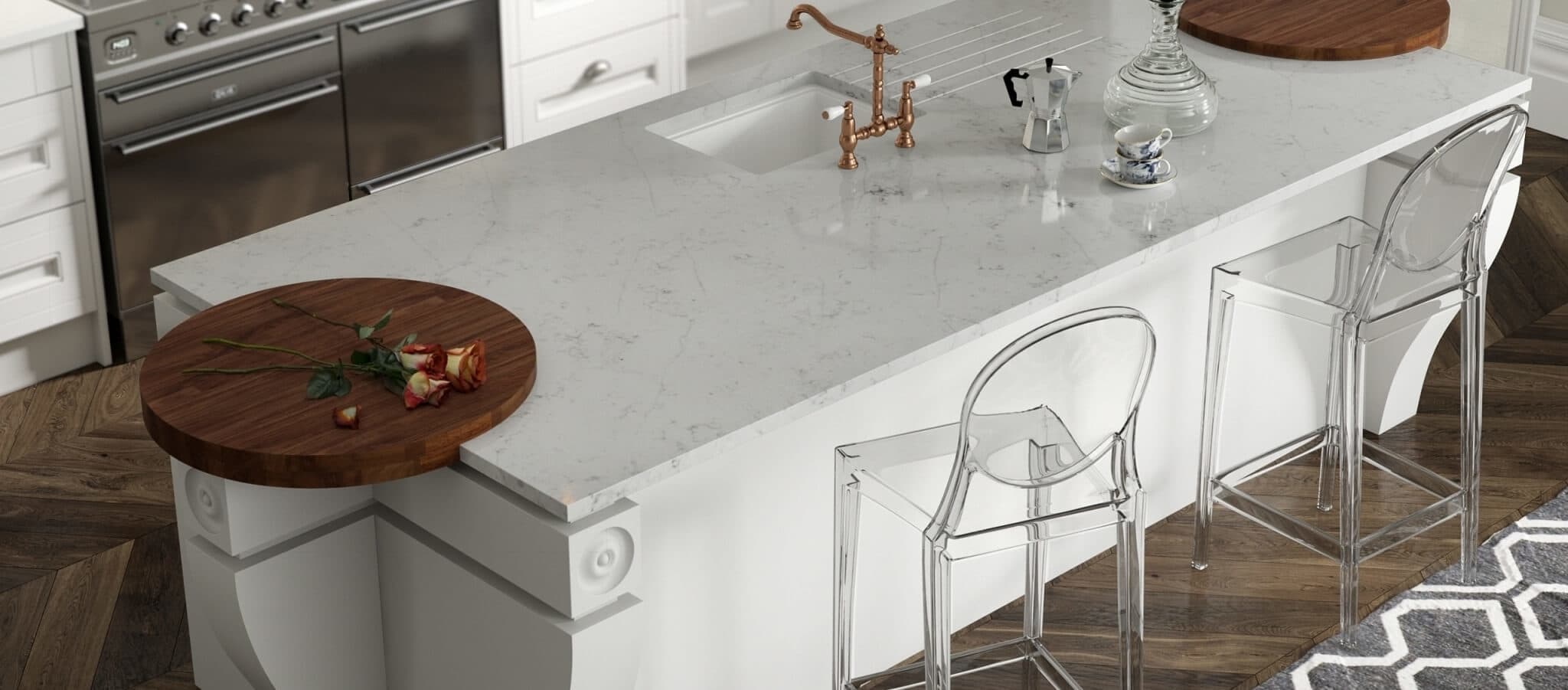 The evolution of the kitchen island dates back to the functional structures that used to take its place in the centre of servants kitchens. Cooks and domestics would use the island as a central surface for getting food prepared for the Lords and Ladies of the house and their guests. Kitchens weren't built for entertaining but originally, were built for the function of serving.
Today, A kitchen is no longer a room in which you just cook, it is a place where your household unites, entertains or where you simply kick-back and relax. With this in mind, the aesthetics of the kitchen island have evolved to please interior tastes.
A kitchen island offers many benefits such as extra worktop space and storage. Whether your kitchen use is mainly functional, social or a mix of both; we have gathered some great design ideas to inspire you.

Kitchen Island Ideas
Kitchen Islands That Give Storage
If you're looking to maximise space in your kitchen, a double-sided kitchen island could be the best choice. By making use of all sides of an island you will have a larger amount of storage space which will instantly add that extra utility in the area.
Take time to think about design and adapt the space to the specific needs of your household. You could choose to use the extra space for additional seating, drawers, a drinks fridge or perhaps open storage like a wine rack or extra shelving. As well as being functional, a mixture of storage like this can look visually appealing.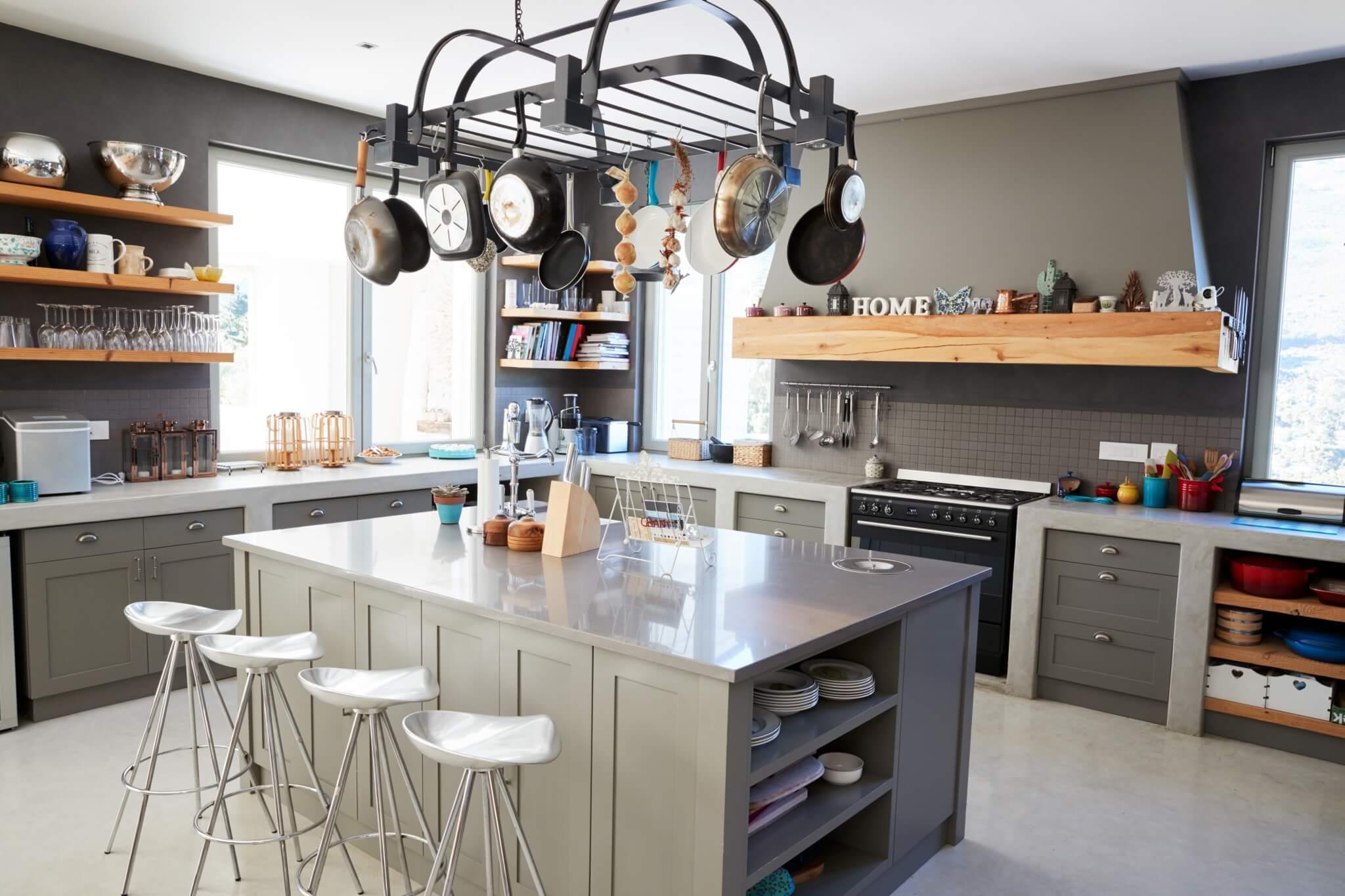 Make A Statement With An Island
We've covered that the kitchen island was originally built for function and this role still plays a big part. But in the modern kitchen there is also importance placed on how it looks. There are plenty of design ideas that can help you make a statement with your kitchen island, in keeping with your style and personality:
A good way of expressing your style is with your colour choice; mix it up and contrast the cabinets on your island to the surrounding carcasses in the rest of your kitchen. A current trend is going for dark shades on your kitchen Island and lighter for the surrounding colour scheme. We especially love the lush dark navy shade that we're seeing a lot of recently, so dark they're almost black.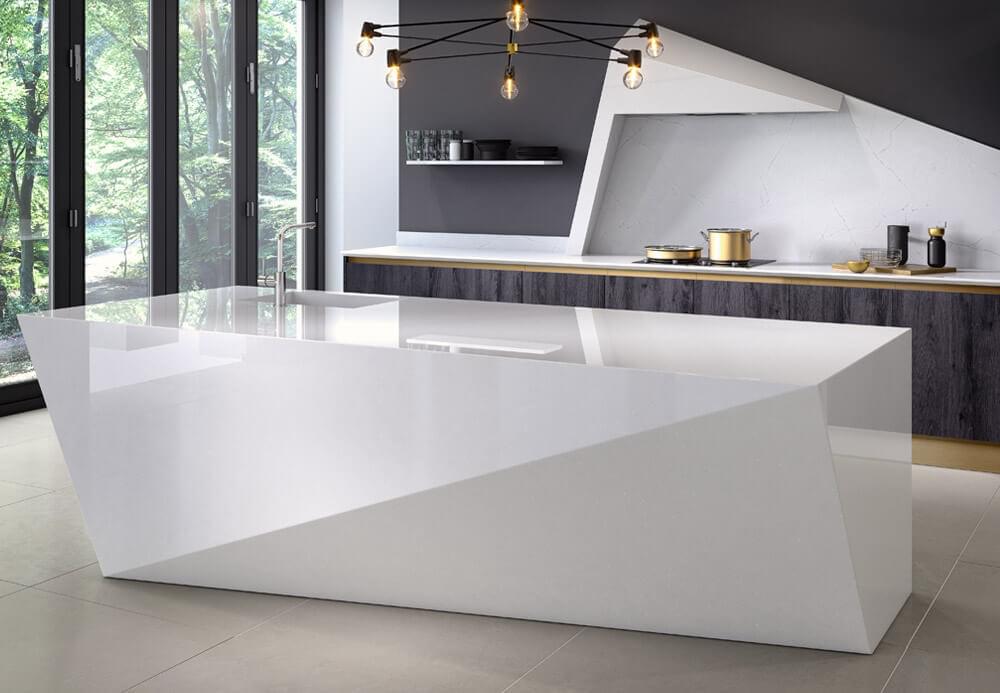 To take this theme further, you can also contrast with texture. For example, a worksurface with a leathered finish against gloss cabinet doors would make for a sensational finish. Or, how about a dark matt paint against the pureness of white polished marble quartz surface? There are plenty of striking options to add your personal touch.
For the ultimate statement, transform your kitchen with an artistic masterpiece. Select a specifically designed kitchen island which combines interior art with function. Take a look at this angled quartz Island that sets the room alive with intrigue and a stunning uninterrupted view of its surface texture. This would definitely add the wow factor to your social space.
Split-Level Kitchen Island
With the kitchen now at the social centre of the home, breakfast bars have become increasingly popular – they are accommodating spaces for family and visitors alike. They're the stage for a bustling breakfast times and intimate dinners.
The traditional breakfast bar is the worktop peninsular at one edge of an island or worksurface, protruding out enough to fit bar stools and obliging leg space underneath. However, an increasingly popular trend sees splitting kitchen islands into different levels to accommodate dining and social alongside kitchen function even better.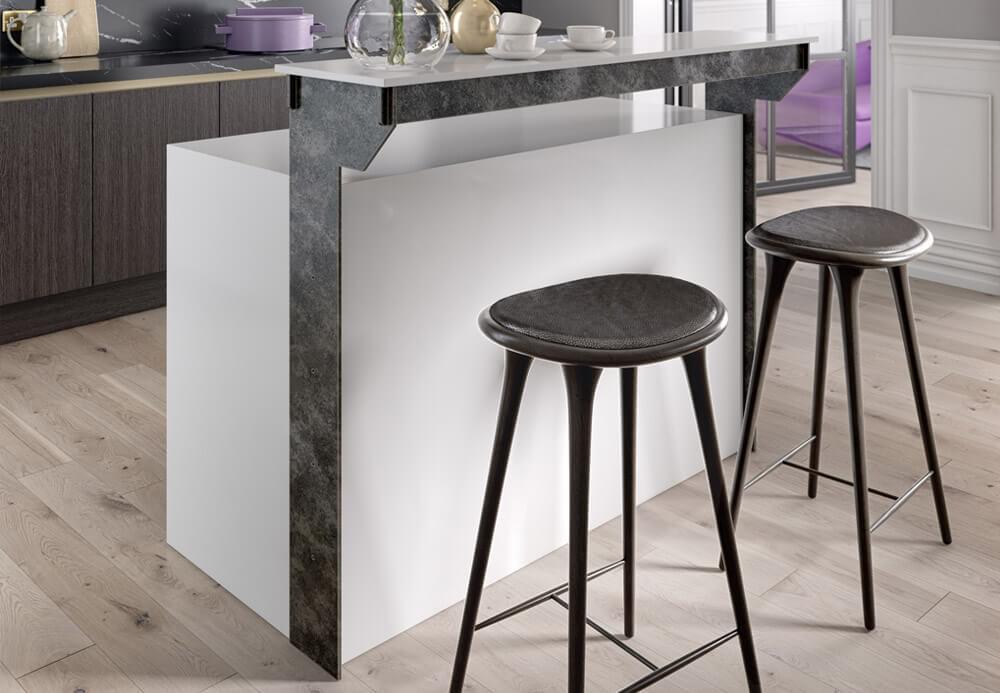 Adding a worktop at a lower level down the kitchen carcass, accommodates a comfortable place to sit for meals or catching up on work. Not only is this design socially hospitable, it can look really unique and stylish. To take the style statement further, why not play around with colours and textures by having your breakfast bar fabricated in a contrasting worktop from the rest of the Island. For example, If your main island worktop is a quartz surface, contrast with a slick Solid Surface worktop for your breakfast bar.
As an end note, be aware that the position of your breakfast bar is key. Aiming your breakfast bar looking into into the kitchen means you can cook and entertain at the same time or even catch up on work whilst your food is cooking.
Kitchen Islands With Extra Function
Returning back to that functional old-fashioned kitchen, some are often drawn to having a kitchen island with a built-in appliance. This function not only gives more worksurface space to the surrounding area, but also allows the ability to interact with the guests whilst prepping or cleaning up.
Maybe you could use your island as the location for the hob or even a prep sink that enables you to be more flexible when preparing food and sharing the space. Or, for those who host dinners and like to entertain, a cooker or stove is a great addition to a kitchen island. You can keep your guests entertained, whilst still focusing on cooking. If you are looking to introduce a prominent kitchen island design feature into your home, whilst also ensuring full practicality, this combination will work for you.
All in all, functionality remains at the core of the kitchen islands place in the home. It's just that those functions have shifted somewhat towards a more social purpose as the epicentre of the home.
You may also like...