The Function Of The Kitchen Island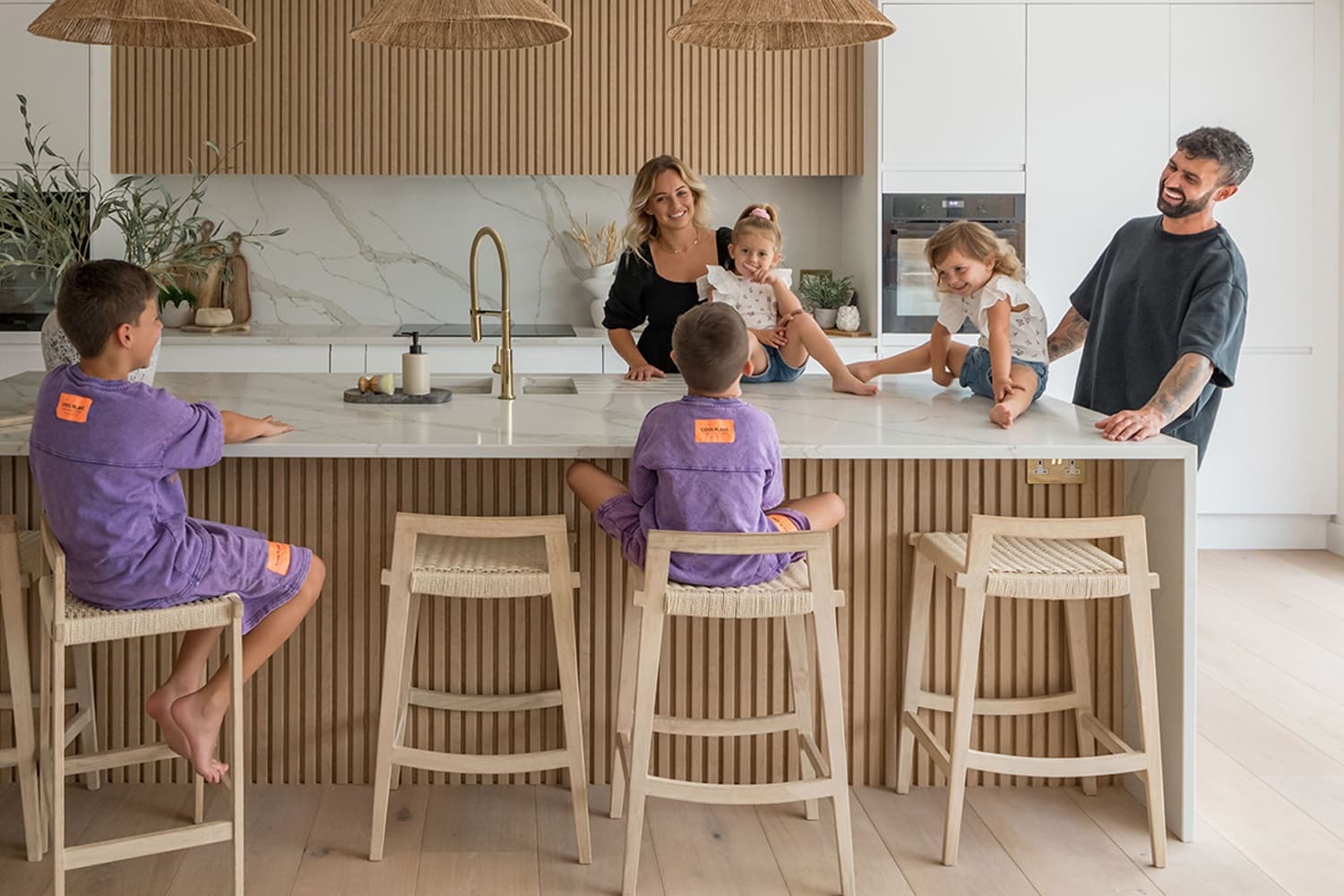 The evolution of the kitchen island dates back to the functional structures that used to take its place in the centre of servants kitchens. Cooks and domestics would use the island as a central surface for getting food prepared for the Lords and Ladies of the house and their guests. Kitchens weren't built for entertaining but originally, were built for the function of serving.
Today, A kitchen is no longer a room in which you just cook, it is a place where your household unites, entertains or where you simply kick-back and relax. With this in mind, the aesthetics of the kitchen island have evolved to please interior tastes.
A kitchen island offers many benefits such as extra worktop space and storage. Whether your kitchen use is mainly functional, social or a mix of both; we have gathered some great design ideas to inspire you.

Kitchen Island Ideas
Kitchen Islands That Give Storage
If you're looking to maximise space in your kitchen, a double-sided kitchen island could be the best choice. By making use of all sides of an island you will have a larger amount of storage space which will instantly add that extra utility in the area.
Take time to think about design and adapt the space to the specific needs of your household. You could choose to use the extra space for additional seating, drawers, a drinks fridge or perhaps open storage like a wine rack or extra shelving. As well as being functional, a mixture of storage like this can look visually appealing.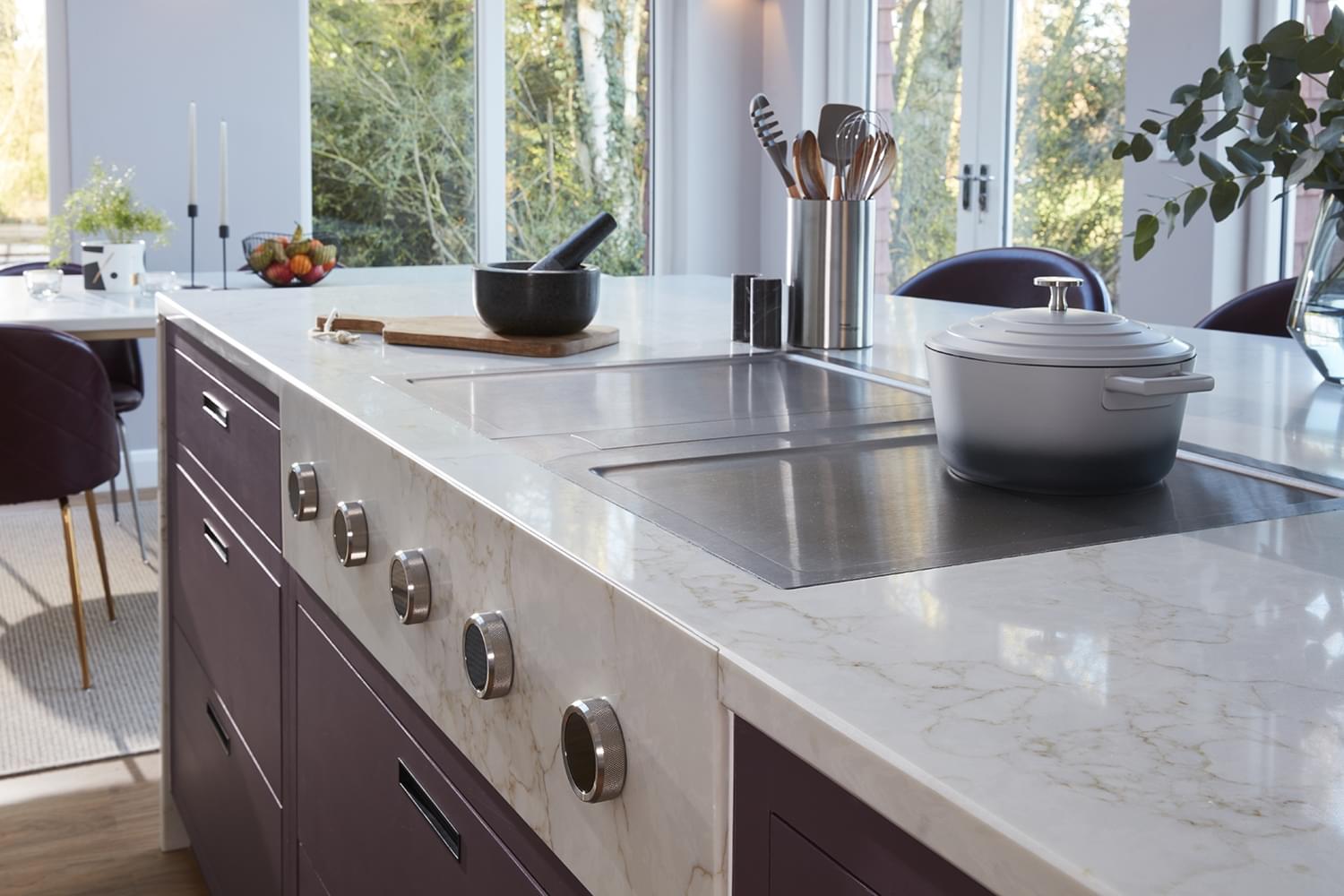 Make A Statement With An Island
We've covered that the kitchen island was originally built for function and this role still plays a big part. But in the modern kitchen there is also importance placed on how it looks. There are plenty of design ideas that can help you make a statement with your kitchen island, in keeping with your style and personality.

To take this theme further, you can also contrast with texture. For example, a worksurface with a leathered finish against gloss cabinet doors would make for a sensational finish. Or, how about a dark matt paint against the pureness of white polished marble quartz surface? There are plenty of striking options to add your personal touch.
For the ultimate statement, transform your kitchen with an artistic masterpiece. Select a specifically designed kitchen island which combines interior art with function. Take a look at this angled quartz Island that sets the room alive with intrigue and a stunning uninterrupted view of its surface texture. This would definitely add the wow factor to your social space.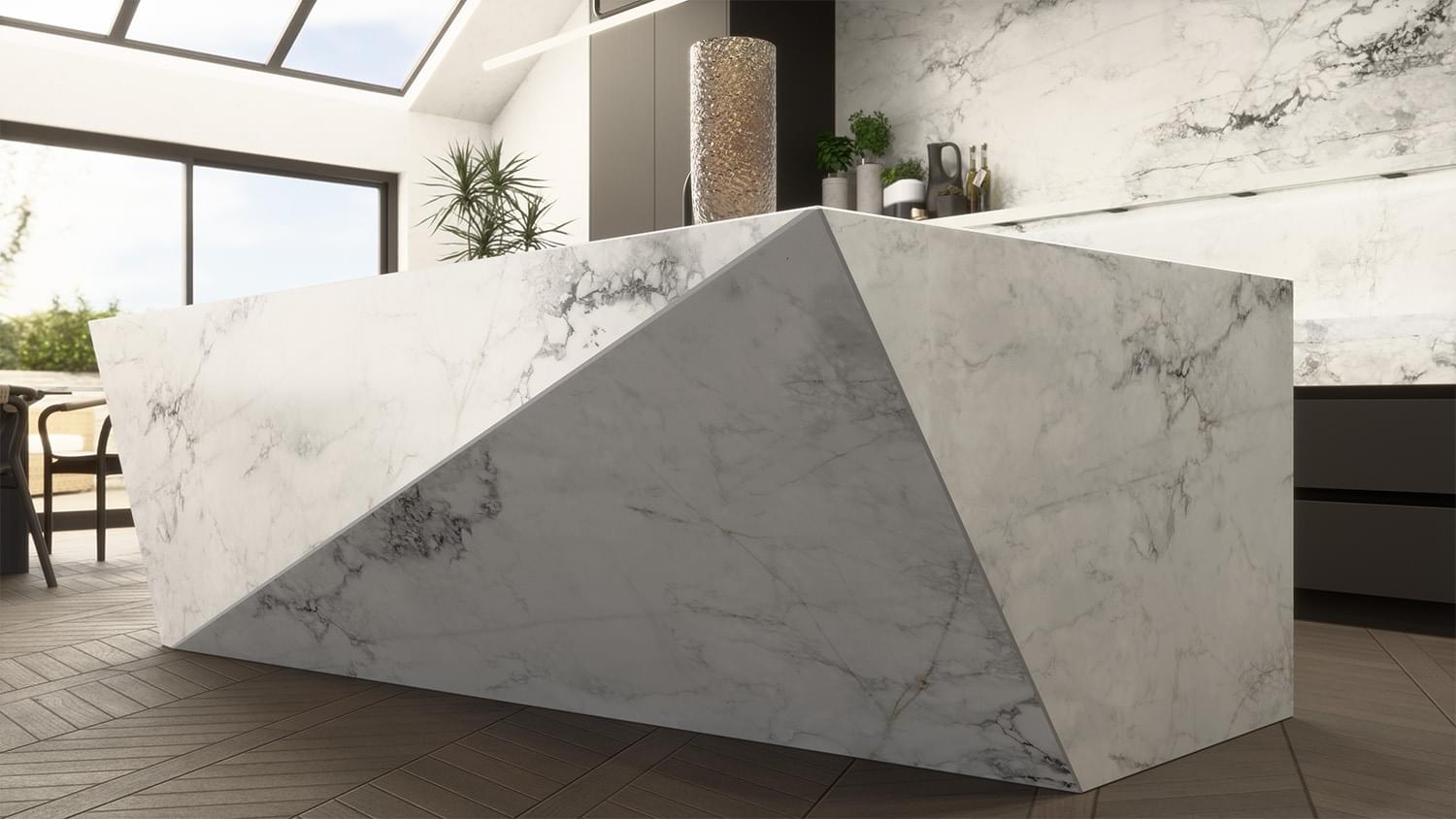 Waterfall Kitchen Island
While the kitchen island has always served a functional purpose, the modern kitchen places a significant emphasis on aesthetics. Elevate your kitchen design by adding a stunning quartz waterfall island, this design trend not only introduces a touch of elegance but also seamlessly integrates functionality with style.
The cascading countertop material flowing down the sides of your kitchen island not only creates a visually striking effect but also offers a unique opportunity to showcase your Gemini quartz worktops.
Whether you opt for a sleek, modern design or a more traditional aesthetic, the versatility of a waterfall island ensures it complements your chosen style. With the added potential for increased seating and the ease of maintenance due to its seamless surface, this design choice elevates your kitchen, adding value and sophistication to your home.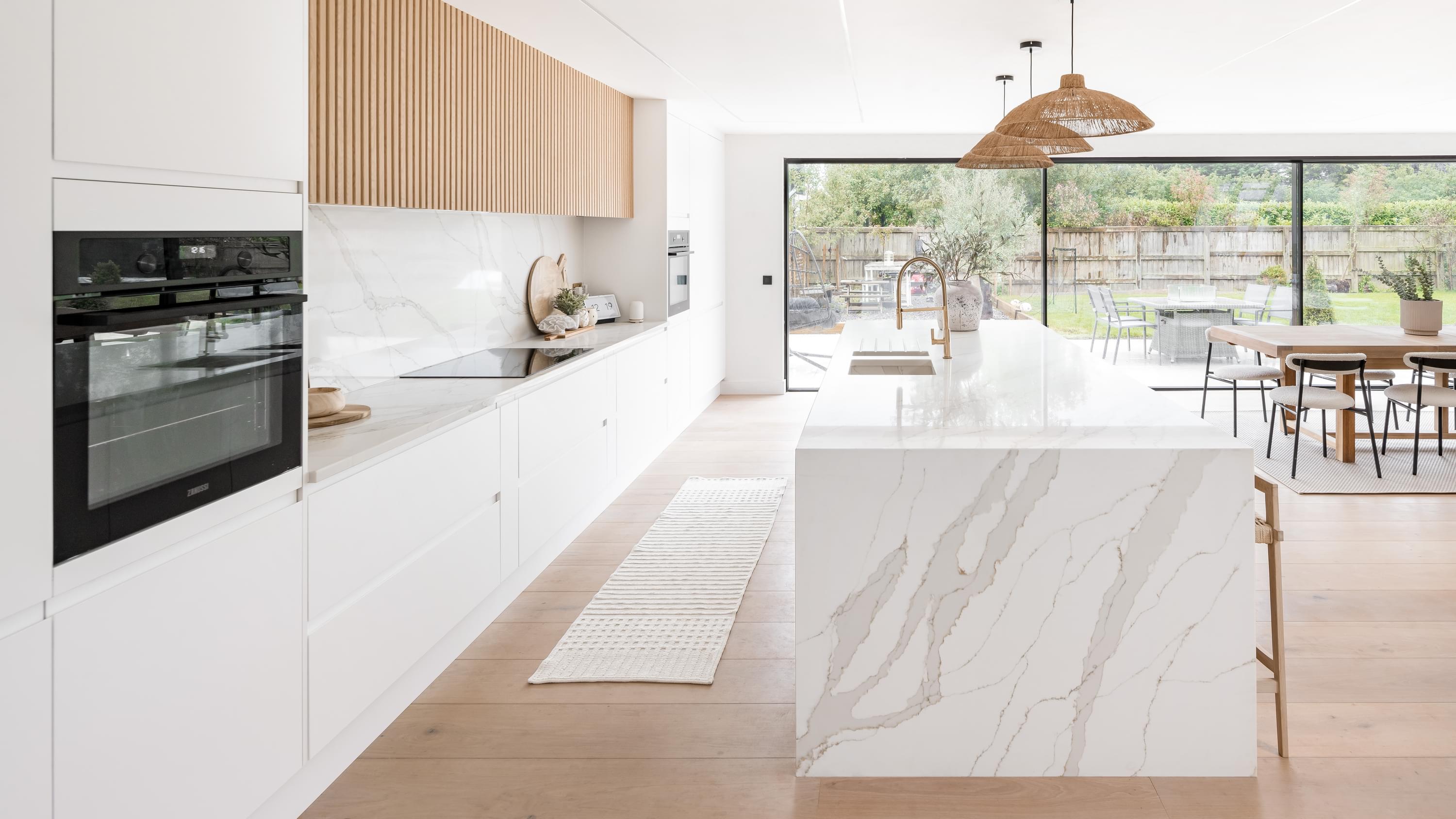 Another way to make a statement with your island is to use contrasting colours and tones. Express your style by playing with colours; consider mixing and contrasting the island's cabinets with those in the rest of your kitchen. Embrace the latest trend of opting for darker shades on your island while keeping the surrounding colour scheme lighter.
Kitchen Islands With Extra Function
Returning back to that functional old-fashioned kitchen, some are often drawn to having a kitchen island with a built-in appliance. This function not only gives more worksurface space to the surrounding area, but also allows the ability to interact with the guests whilst prepping or cleaning up.

Maybe you could use your island as the location for the hob or even a prep sink that enables you to be more flexible when preparing food and sharing the space. Or, for those who host dinners and like to entertain, a cooker or stove is a great addition to a kitchen island.
You can keep your guests entertained, whilst still focusing on cooking. If you are looking to introduce a prominent kitchen island design feature into your home, whilst also ensuring full practicality, this combination will work for you.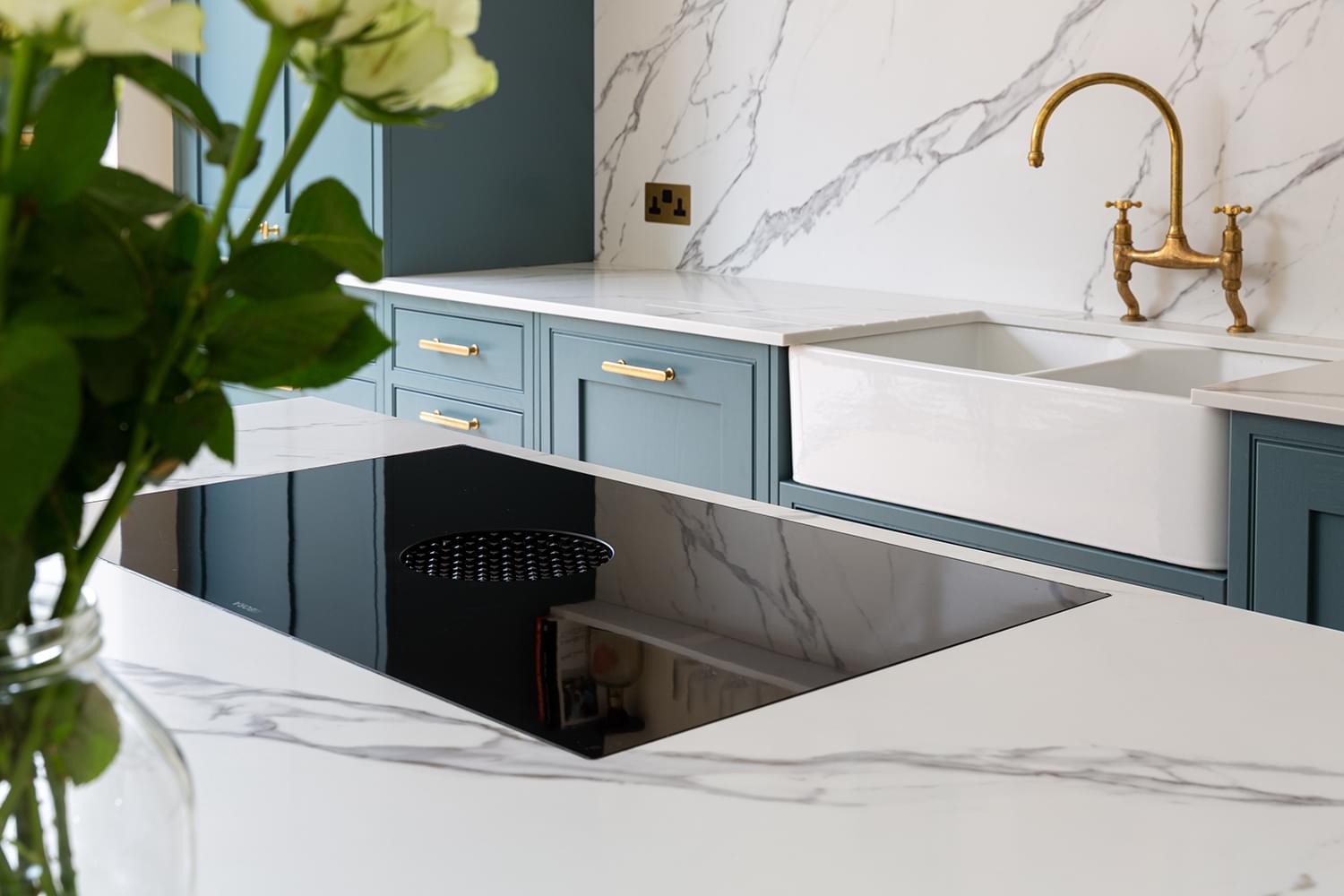 The functions of a kitchen island extend far beyond mere practicality, weaving seamlessly into the fabric of modern lifestyles and designs.
As the focal point in the kitchen, a place for meal preparation, and social interaction, a well-designed kitchen island enhances both the functionality and aesthetic appeal of the heart of your home.
Article Updated: 20/11/2023
Request a Quote
Interested in a quartz worktop for your kitchen? Get in touch for a free, no obligation quote today.

You may also like...