Ways to incorporate pink into your kitchen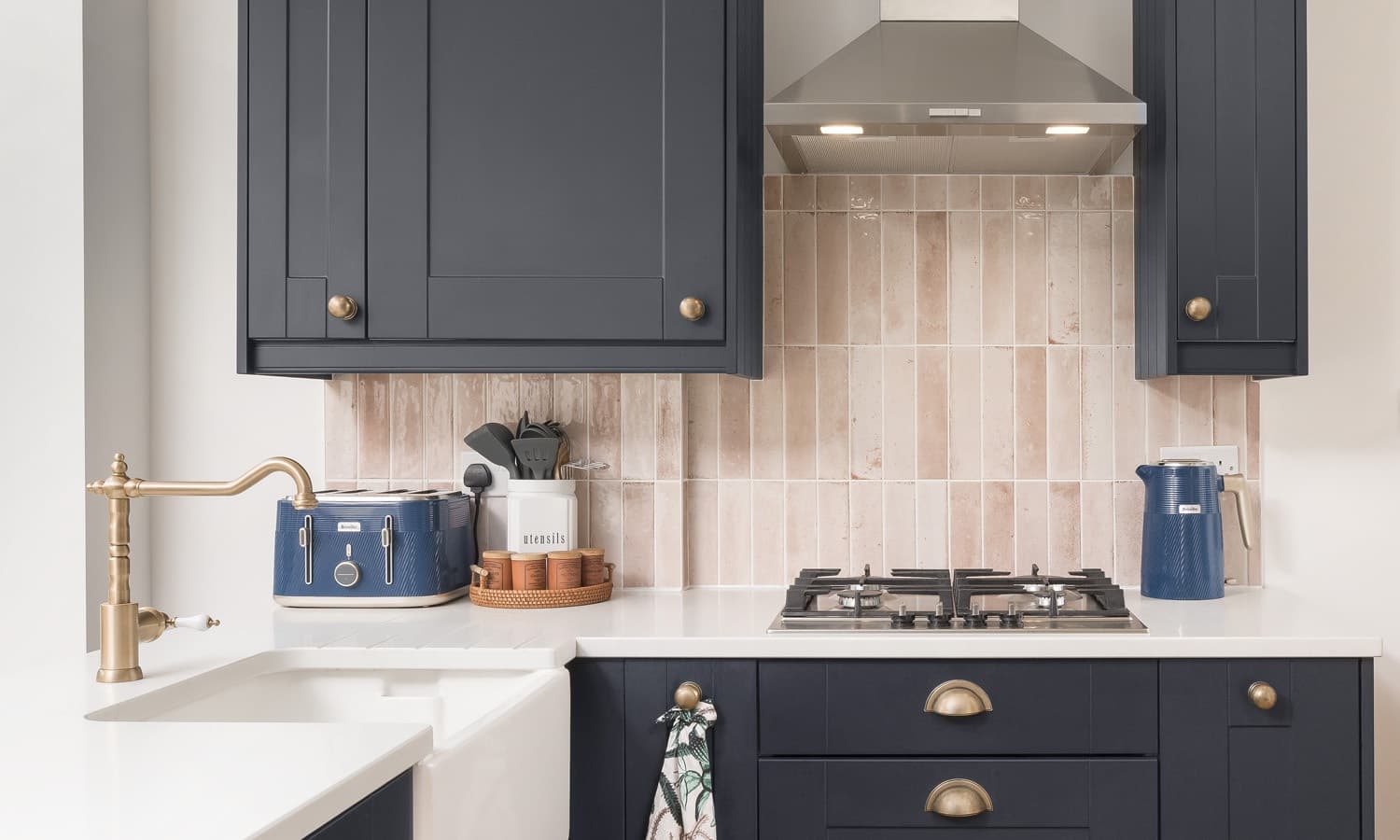 The colour pink brings a touch of warmth and personality to your kitchen and there are many different ways to incorporate this colour into your kitchen design.
Whether you want to make a bold statement or simply add a touch of colour, there are many options to choose from.
From a pastel pink accent wall and pink cabinetry to pink splashbacks, accessories, furnishings, and décor, you can create a functional kitchen that is inspiring and uplifted by incorporating this cheerful hue.
Pink is associated with feelings of happiness, playfulness, and warmth, making it a popular choice for spaces where people gather to cook and socialize.
When used in the right way, pink can add a pop of colour and personality to your kitchen, making it a warm and inviting space in the kitchen. However, it's important to consider the overall style of your kitchen and choose a shade of pink that complements the other colours in the space.

How to incorporate pink kitchen ideas into your design
Kitchen Accent Wall
Enhance your kitchen's interior design with bold pink walls. It is an easy and fun way to brighten up your kitchen and add colour to a minimalist design.
If you're looking for a more subtle look, opt for a soft blush pink on the wall instead of a vibrant colour, however, a bright pink hue is a perfect addition for creating a statement backdrop in your design.
Incorporating pink into your kitchen is a new and upcoming trend that is quickly gaining popularity.
Pink is a warm and inviting colour that is associated with feelings of happiness and playfulness and when paired with other colours creates a space that is unique. In addition, pink is a versatile colour that can be paired with many other colours and works perfectly alongside white worktops.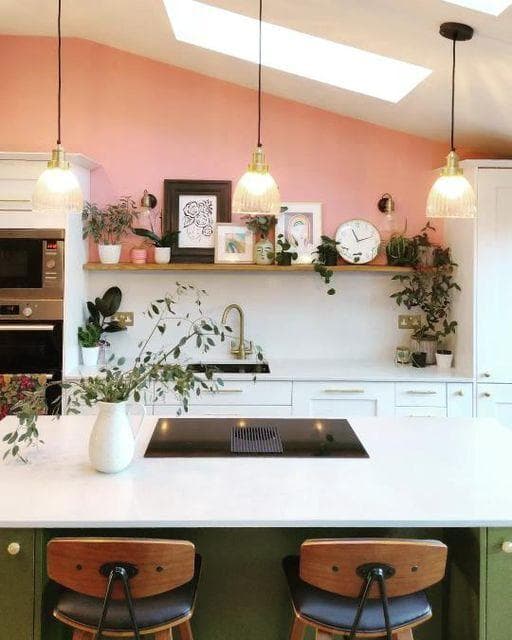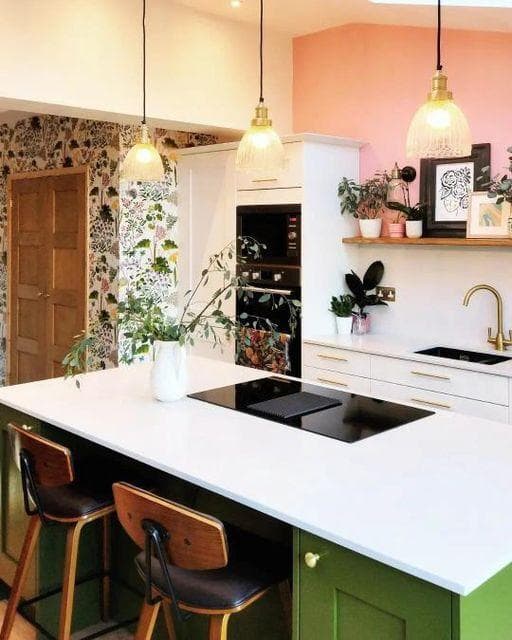 Add a Splashback
Another way to add this colour to your kitchen is by installing a blush-coloured splashback. This is a great way to add a pop of colour without it being too overwhelming.
Consider pale pink if you're using it alongside a darker hue to create contrast. Choosing pink tiles for your splashback is a novel way to incorporate a splash of pink into your kitchen and is the perfect addition when paired with navy cabinets, brass hardware, and accessories.
This colour combination is a creative way to add contrasting colours of light and dark into an open space. The subtle pink tones within the splashback add a gradient to the hob area, adding texture to your kitchen interior.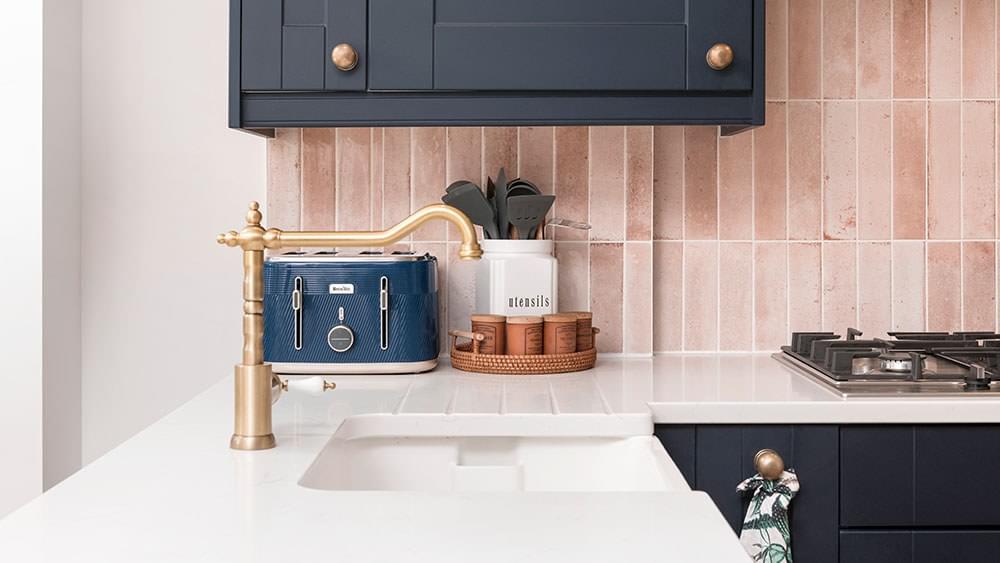 When pairing with bold paint colours and wallpapers, it's important your worktop is subtle and soft in colour, Gemini Quartz Capri White keeps an elegant feel.
This surface has a stunning white background which is brought to life through natural dark grey veins that have all the hallmarks of the classic Italian marble.
This classic worktop is a perfect addition to a colourful kitchen and matches our pink designs perfectly. Using a white surface will offset the bright pink colour and will create an elegant focal point within your busy, family kitchen.
Incorporate accessories, appliances, décor and furniture
Accentuate your kitchen with pink accessories and accents for a more subtle way to incorporate pink. This can be anything from pink draining racks to pink flowers and vases.
This is a great way to incorporate pink design features into the space without it being too overwhelming and is a great way to add a pop of colour without making a permanent change to the space.
If your kitchen design has neutral tones and white walls touches of pink can help to add elements of colour and feature areas within your kitchen space.
Pink Furnishings are another way to add pink to your white kitchen. This can be anything from pink kitchen chairs and stools to pink kitchen rugs.
This is a great way to add colour and comfort to the space of a neutral kitchen. Choose a bold shade of pink for a statement-making look or a soft pink for a more subtle touch.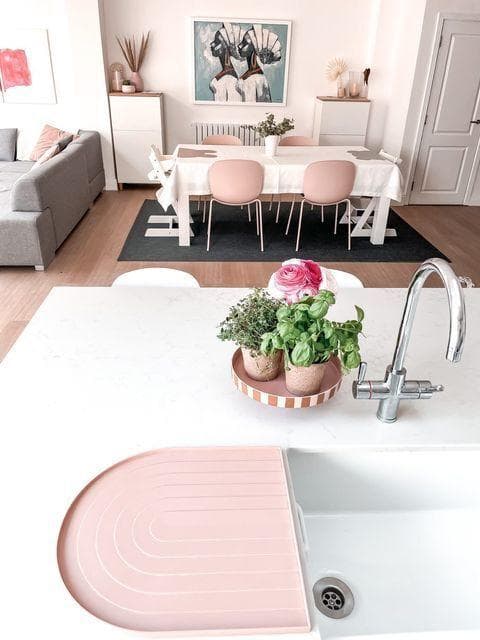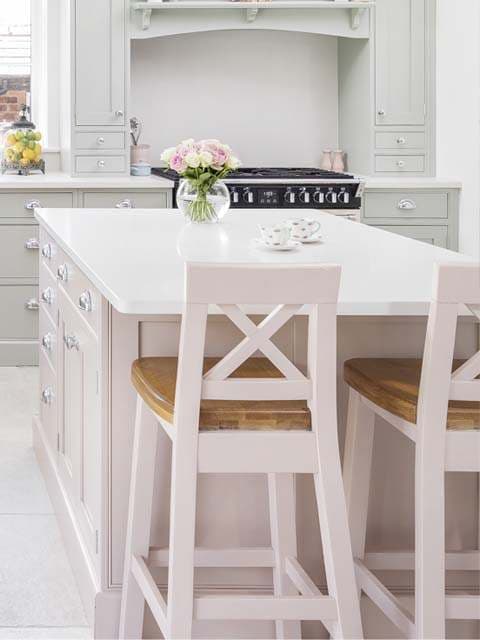 Our Venetian White surface has soft, feathery grey veining set against a slightly off-white background. This worktop features an iridescent shimmer which reflects the light beautifully.
White quartz worktops are a classic choice when paired with colourful designs as they are a timeless choice for any kitchen, whether modern, traditional, or shaker style, they look fresh and clean, brightening up your space.
Make a feature with your island
Islands don't have to have the aesthetic of traditional wood or granite—you can opt for a pink hue like this modern shaker kitchen.
Painting the island in a shade of pink is a bold and impactful way to add colour to your kitchen as well as create a focal point.
Choose a bright or pastel colour palette for your pink island to match the rest of your space, this will help to create a design that is consistent and cohesive.
It's important to choose a shade and style that complements the rest of your kitchen, with the right touch, a pink kitchen island can add a cheerful and inviting atmosphere to your space.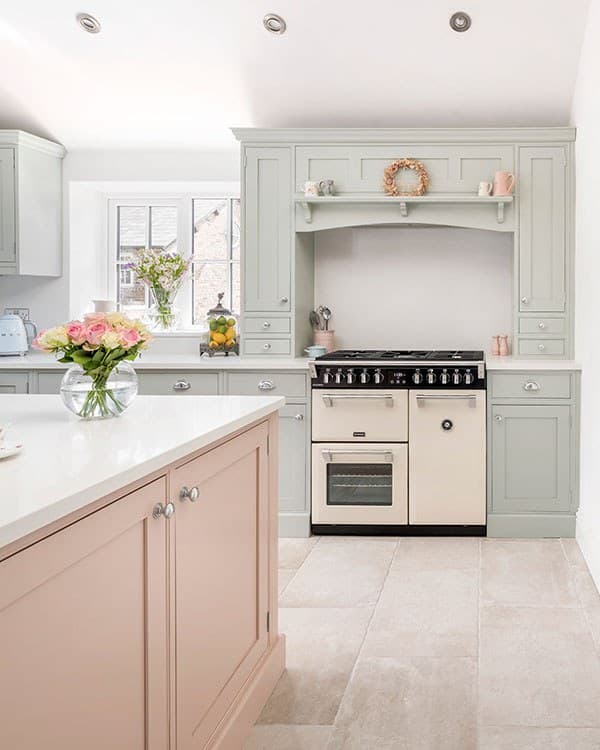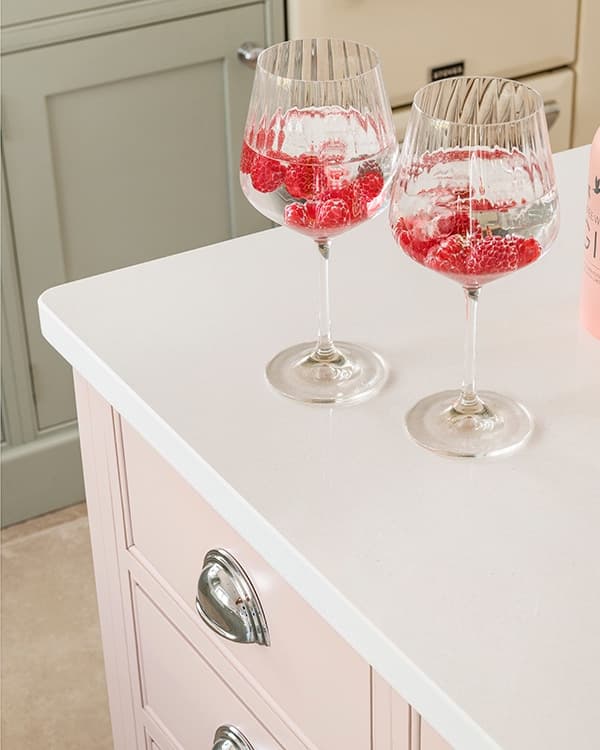 If you want to add a guaranteed wow factor, our Aspen Ice from our sparkle collection is the best choice.
The original and only authentic white shimmer quartz is a classic choice for a bold design style. A pastel colour palette can benefit from a white surface as it brings a calm and neutral touch, softening an otherwise bold kitchen.
In conclusion, adding pink to your kitchen is a great idea because it can bring a touch of cheerfulness and personality to the space.
Whether it's through painted walls, pink units, backsplash, decorations, or furnishings, there are many ways to incorporate pink into your design.
Pink is a warm and inviting colour that is associated with feelings of happiness and playfulness, making it a perfect choice for a space where people gather to cook and socialize. By incorporating pink into your kitchen, you can create a space that is not only functional but also inspiring and uplifting.
Choose the method that best fits your personal style and the look you're trying to achieve, and get creative with your kitchen design.
With a little bit of effort and creativity, you can have a kitchen that is uniquely your own and that makes you smile every time you enter the room.
Quartz Worktops to compliment a kitchen with pink features
Request a free quote
Interested in a quartz worktop for your kitchen? Get in touch for a free, no obligation quote today.

You may also like...