Choosing quartz when on a budget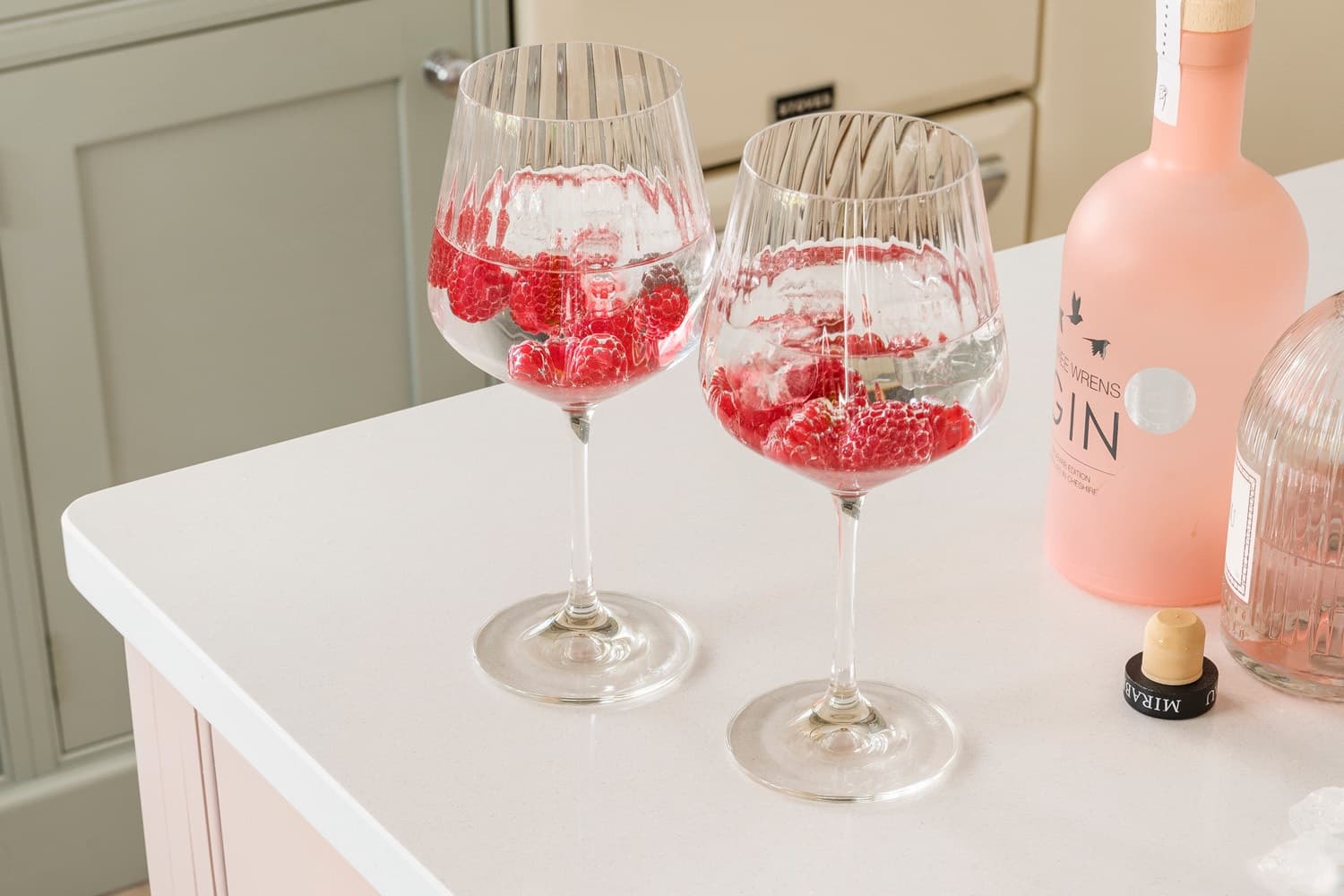 In the world of interior design, quartz has emerged as a sought-after worktop material choice, seamlessly blending elegance with practicality.
Quartz worktops are a popular choice for homeowners looking to create a stylish and durable kitchen. However, with the misconception that quality quartz always comes with a hefty price tag, this often leaves budget-conscious homeowners feeling hesitant.
At Gemini Worktops, we offer the highest quality, beautiful quartz, stone worktops for every budget. How? We're the only company in the UK that designs, sources, makes and installs our own stone surfaces. This unique creator-to-consumer business model allows you to buy direct from the people who make it, bringing you unmatched quality and value.
Our quartz surfaces are known for their high quality and luxurious appearance, and we offer affordable options that can help you achieve the look you desire without breaking the bank.
Opting for simpler designs and colours can help lower the cost, as more intricate patterns and rare colours tend to be more expensive. Choosing a more neutral, plain surface, also creates a more timeless design scheme allowing you to decorate around your quartz worktops as seasons and trends come and go, saving you money for decades to come.
With affordable options priced under £200 per square metre. Here's a guide to show you how to get your dream kitchen with the addition of stunning quartz countertops all within budget.
Unveiling the Beauty of Budget-Friendly Quartz
When selecting your kitchen worktops, the different styles and options can be daunting, making the decision harder than necessary.
At Gemini, we firmly believe that you don't have to compromise quality or aesthetic appeal, even when working within a budget. We are committed to offering a diverse range of options that blend both quality and beauty seamlessly, still offering the highest quality, and helping you bring your vision to life on a budget.
So, let's take a look at some of the affordable quartz kitchen worktops we offer: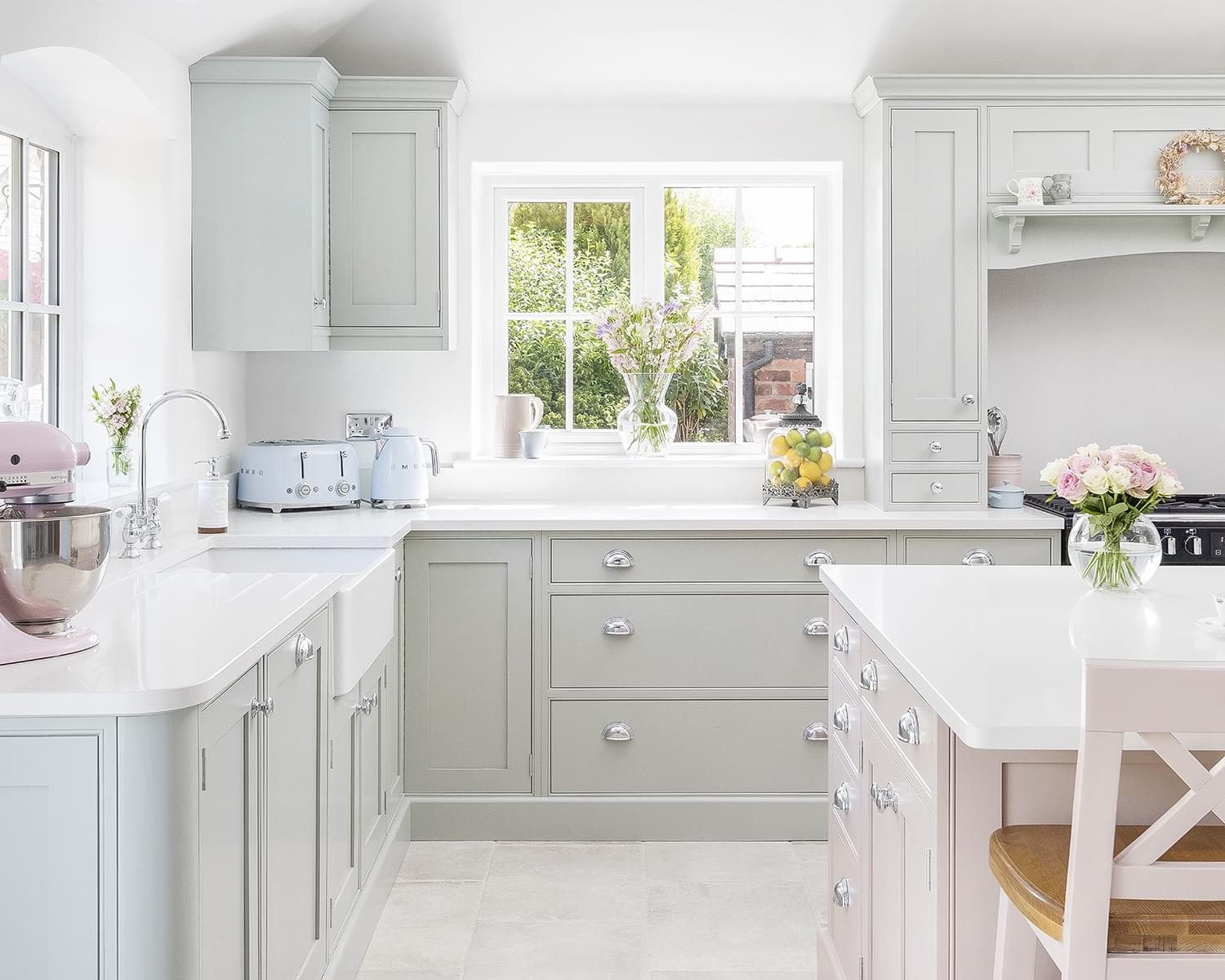 Aspen Ice
Our Aspen Ice quartz is a guaranteed wow factor and is sure to add an understated statement to your space. This white shimmer quartz not only brings a touch of luxury to your space but also exudes a modern, clean aesthetic.
The versatility and affordable price of £192 per square meter, make the white quartz an ideal choice for any kitchen design, particularly those featuring a variety of colours. Its ability to enhance the natural beauty of quartz and seamlessly contrast with various colours makes these white quartz worktops a popular choice and versatile option for your kitchen.
With Aspen Ice, you can effortlessly match it to any design, making it the perfect worktop for elevating the overall appeal of your space.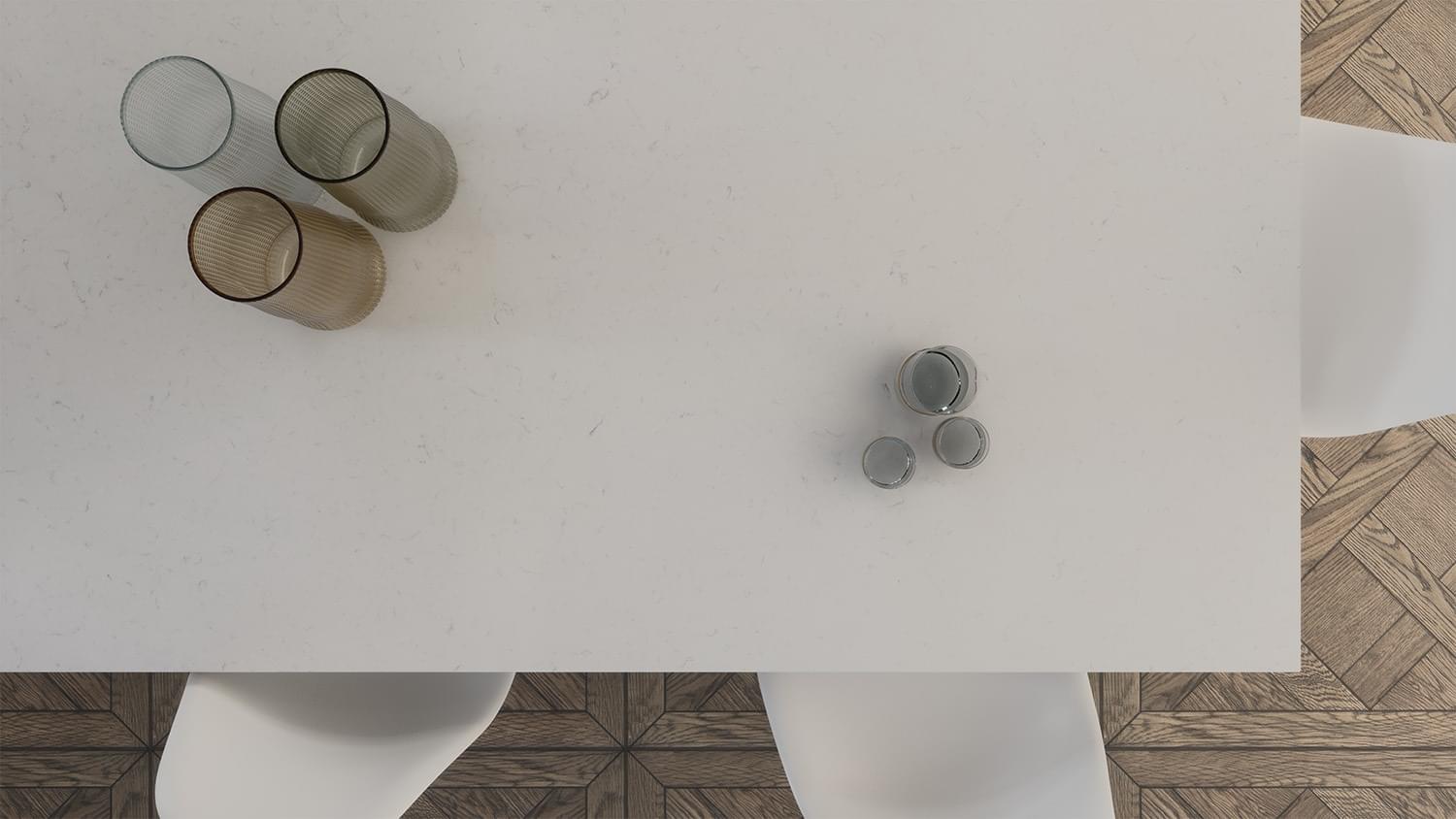 Amalfi White
Amalfi White is a captivating cool marble quartz with a white background, enhanced with subtle grey veining that adds a touch of class to any space. This quartz offers an exquisite and luxurious finish to any kitchen design, elevating its aesthetic appeal.
Priced at £192, Amalfi White provides a touch of beauty without compromising on price, making it a stylish choice for those seeking to enhance their surroundings with a premium quality material that is sure to make a statement.
With its grey veins, this quartz is an affordable compromise on marble without the price tag.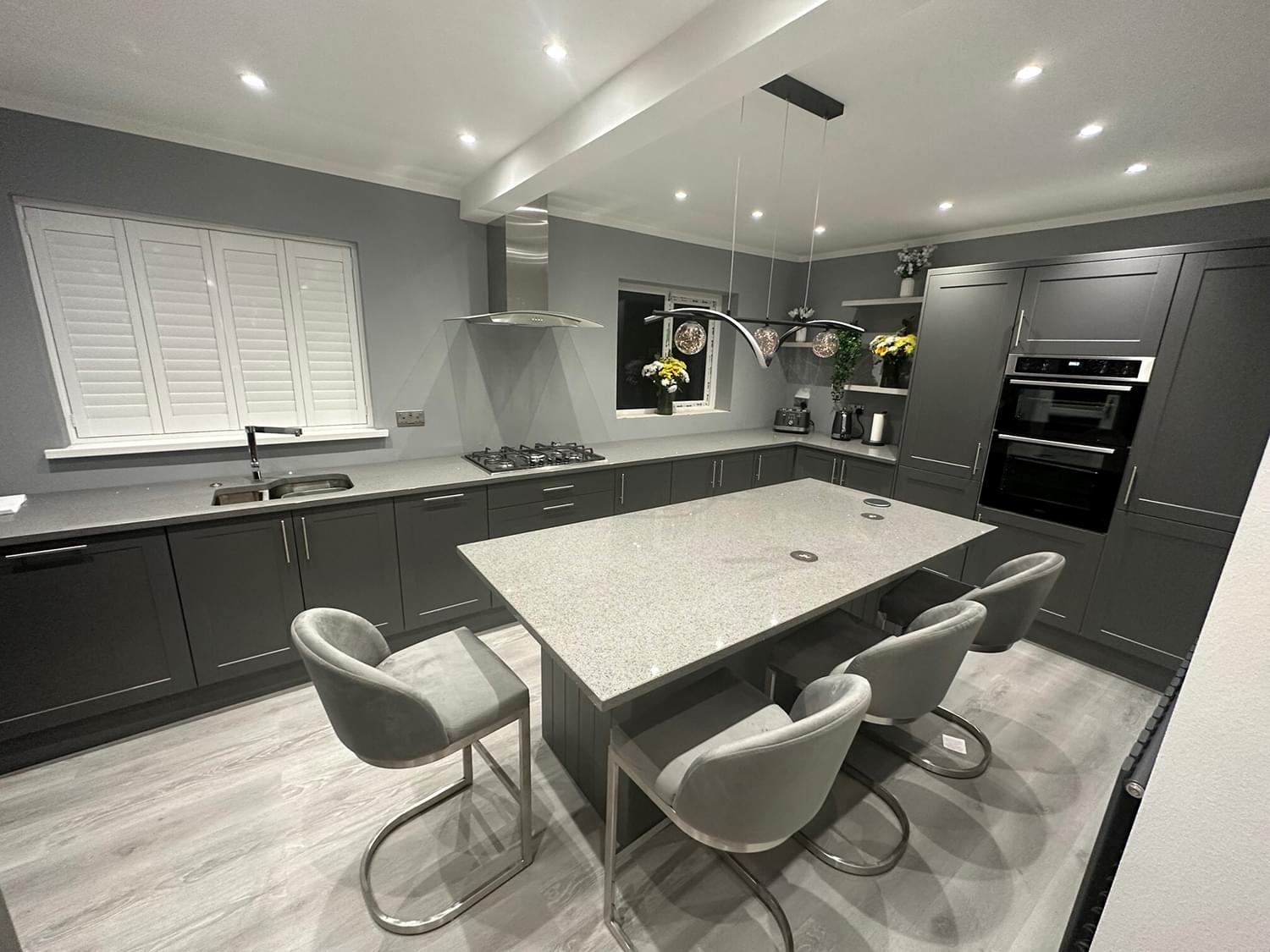 Silver Starburst
Discover the charm of Silver Starburst, an attractive blend of grey and silver that offers a versatile aesthetic that effortlessly complements any space. The soft sparkle adds a touch of elegance, making it a standout feature in any room.
Priced at just £168 per square metre, Silver Starburst proves that style doesn't have to come with a hefty price tag, offering an affordable option for those seeking a touch of quartz-inspired luxury on a budget.
Transform your space with the elegance of Silver Starburst, and let its understated glamour enhance your kitchen design.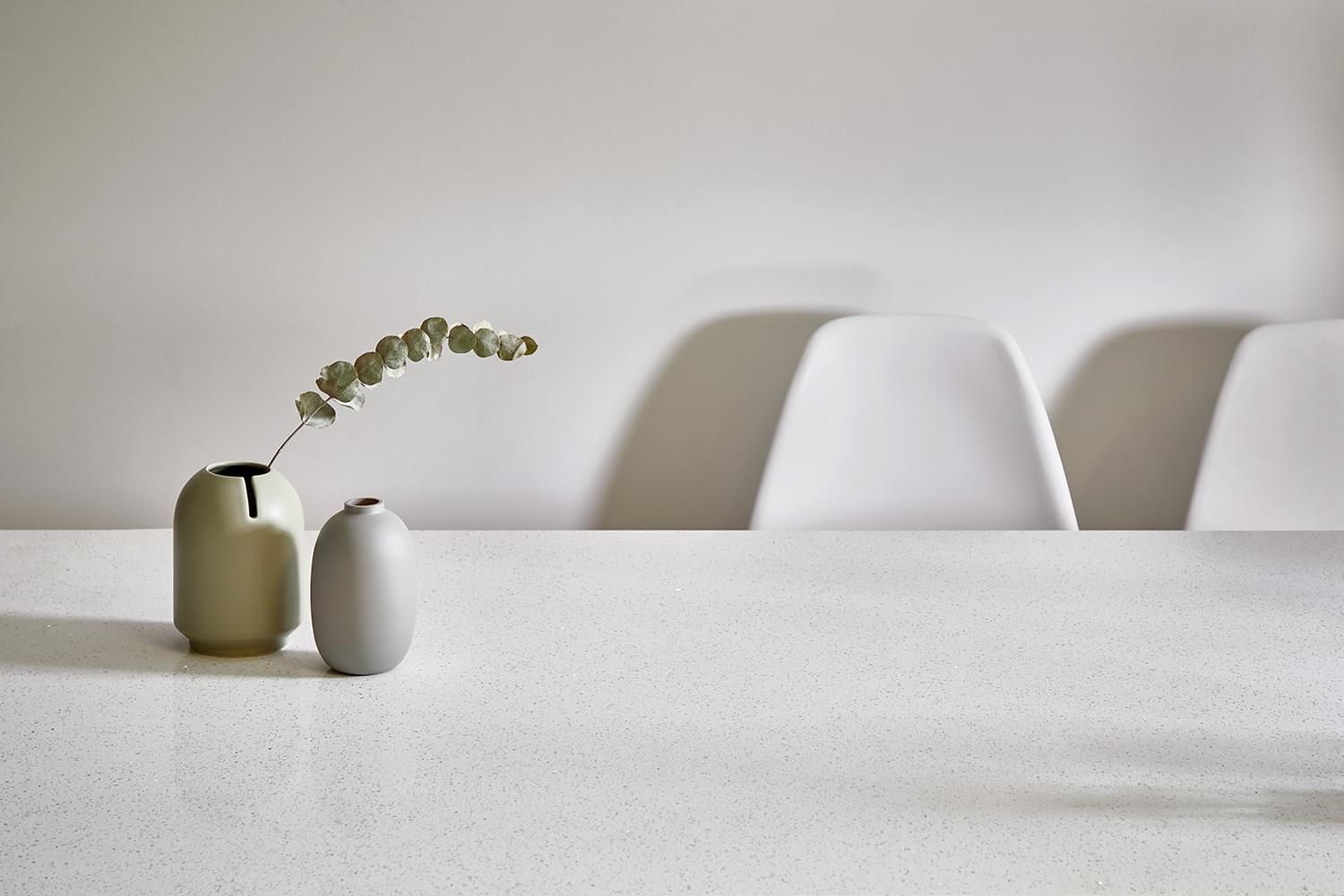 Arctic Starburst
Transform your space with Arctic Starburst – a quartz worktop that is an infusion of cool, clean, white decor enhanced by translucent quartz particles and mirror flecks.
This design not only displays sophistication but also adds a touch of sparkle to your space, which will surely add a wow factor to your kitchen.
Priced at just £168 per square metre, Arctic Starburst offers an affordable yet stylish solution to elevate your home aesthetic. Embrace the modern allure of this design and bring a touch of elegance to your living space without breaking the bank.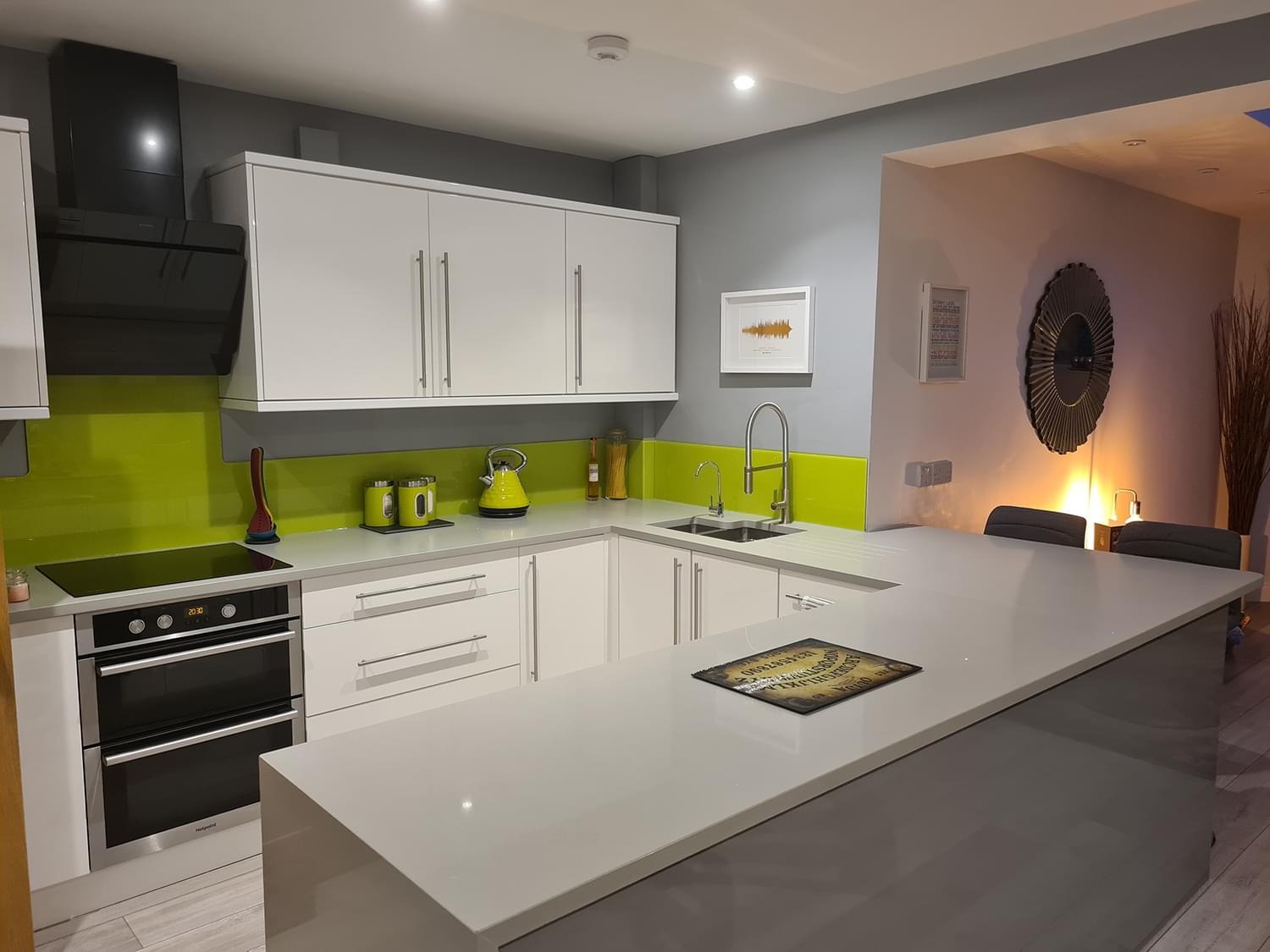 Falcon Ice
Falcon Ice a modern grey quartz worktop embodies a gentle and soft ambience, accentuated by its shimmering finish.
This versatile quartz worktop effortlessly harmonises with any colour scheme, making it a perfect fit for a range of designs.
Priced at £192, Falcon Ice is an affordable option for those looking to infuse the space with an elegant yet classic aesthetic.

Get the look with Gemini Quartz
So, what are the rules to follow when looking for quartz on a budget:
Set a Realistic Budget
Before you embark on your quartz worktop journey, it's essential to establish a realistic budget. Determine the maximum amount you're willing to spend and stick to it. Having a clear budget will help you narrow down your options and make informed decisions.
Explore Affordable Quartz Options
Contrary to popular belief, affordable quartz options do exist without compromising on quality. At Gemini, we offer a range of quartz worktops priced under £200. Explore these budget-friendly options to discover stylish choices that won't strain your finances.
Opt for Simplistic Designs.
In the realm of quartz worktops, simplicity can be incredibly chic. Consider opting for worktops with clean lines and neutral colours. These timeless designs not only exude elegance but also tend to be more budget-friendly than intricate patterns or bold colours.
Gemini Worktops breaks the mould by offering quartz options that don't compromise on quality. Priced under £200, these worktops redefine affordability without sacrificing the inherent beauty and resilience that quartz is renowned for.
Gemini's collection showcases a wide range of different styles and designs. Whether you're envisioning a sleek, modern kitchen or a timeless, classic aesthetic, there's a budget-friendly quartz option waiting to transform your space.
Elevate Your Space with Gemini Quartz
Achieving a sophisticated and luxurious look for your home doesn't have to break the bank. Gemini Worktops opens the door to a world where budget-friendly quartz stone worktop options coexist with uncompromised quality and aesthetic appeal.
Transform your space, redefine your budget expectations, and let Gemini Quartz Worktops help you on your journey, offering beautiful quartz worktops for the best price.
Request a Quote
Interested in a quartz worktop for your kitchen? Get in touch for a free, no obligation quote today.

You may also like...