Choosing the right worktops for your kitchen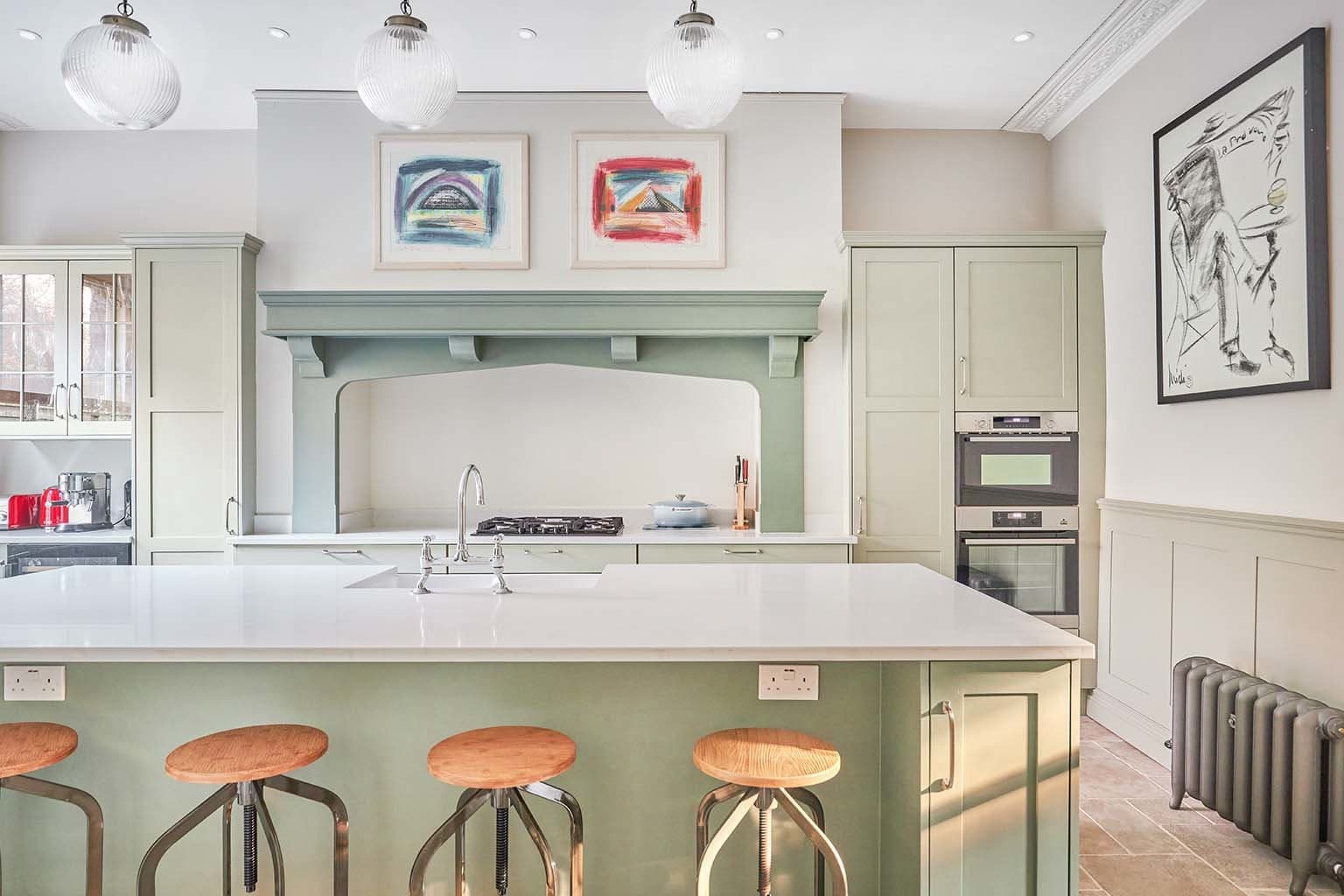 When it comes to choosing your kitchen worktop, one thing is guaranteed. That is, you won't find yourself limited by options! So, how do you know what is the best kitchen worktops material from the millions of options to choose from?
To help make this difficult choice a little bit easier, we have compiled a summary of all the major material contenders with the main advantages and disadvantages of each material. There is no one kitchen countertop material that is ubiquitous. It's best to focus on what's important to you and define the main features you require. For example, "looks like marble" or "must be durable and hardwearing". Then choose the exact colour, pattern and texture that fits your design.
Quartz Kitchen Worktops
Quartz, also known as engineered stone, is a man-made surface manufactured using mostly natural quartz aggregate and made purposefully as countertop materials. Typical quartz countertop colours are composed of approximately 90-94% inorganic components, namely quartz and silicone. Modern production designs have enabled quartz surfaces to replicate natural counterparts such as marble and granite with total accuracy.
Kitchen decor trends and styles can change quite dramatically, the timeless nature of natural stone means the kitchen can be updated around it. Add to this that quartz has outstanding durability and is easy to maintain and it's easy to see why quartz has become the number one choice for so many kitchens.
Advantages
Wide variety of colours and patterns
High gloss and textured finishes available
Timeless and long-lasting
Full bodied: colours and patterns run through the worktop edges
Good durability: scratch, stain and chip resistant
Heat-resistant
Easy maintenance
Disadvantages
Specialist installation required
Some brands are expensive
Granite Kitchen Worktops
Granite is an igneous rock generally quarried directly from the mountainside where it has formed slowly over millions of years. Colour and veining changes along with the geological characteristics and mineral composition of each geographical area. This means that each and every installed kitchen worktop in granite will be unique. But it also means there is a natural limitation on the range of granite colours available due to its natural origins.
Advantages
High gloss and textured finishes available
Good durability: scratch, stain and chip resistant
Full bodied: patterns run through the worktop edges
Easy maintenance
Disadvantages
Specialist installation required
Some brands are expensive
Porous unless treated with nano sealants
Natural flaws in the material are common
Wood Kitchen Worktops
Wood worktops come in a variety of different species. Typically, a wooden countertops are manufactured from 40mm staves that are finger-jointed together. This prevents significant movement of the wood as it goes through production and acclimatizes to the kitchen environment once installed.
The beauty of natural timber for kitchen worktops means it is an ever-popular surface. However, wood does require a lot of maintenance to keep it looking right. It's often best incorporated into new kitchens designs as a feature element such as a breakfast bar or island.
Advantages
Variety of natural species
Broad range of price points
Takes on ambient room temperature
Disadvantages
Poor durability
Sink areas can become discoloured
Requires regular maintenance
Laminate Kitchen Worktops
Laminate has long been one of the most popular kitchen worktops surfaces due to its low price point. Laminate worktops are typically made from a plastic coating adhered to a chipboard subframe. There is a huge variety of colours and finishes. Some of the latest advanced laminate decors now approaching the same price point as solid wood or quartz.
Advantages
Low price point
Standard installation
Large variety of colours and finishes
Easy maintenance
Disadvantages
Poor durability
Shorter lifespan
Surface can de-laminate
Inferior appearance to solid surfaces
Marble Kitchen Worktops
Marble is a metamorphic rock that has maintained its popularity as a building material since ancient civilizations. It is known as a material of luxury and elegance. Although marble is not as dense as its natural counterpart, granite, it is a lot more porous and brittle.
As a result, it is generally not considered a good kitchen worktops material. The natural formation of marble does provide a vast collection of dramatic patterns and vivid colours. From this many other kitchen worktops materials, especially kitchen surfaces made in quartz, derive their inspiration.
Advantages
Dramatic and unique colours
Good for food preparation
Disadvantages
Poor durability
Highly porous
Specialist installation required
Expensive
Ceramic Kitchen Worktops
Ceramic is a recent addition to the kitchen worktops market. Whilst ceramic has been around a long time in tiles, the technology to develop large format slabs that are suitable for kitchen worktops has only recently been developed. A digitally printed layer is added to the ceramic material to provide a range of colours and patterns.
Advantages
Good durability: scratch, stain and heat resistant
Wide variety of colours and patterns
Easy maintenance
Disadvantages
High tension in material can lead to chipping and cracking
Not full bodied: colours and patterns only on the top surface
Polished finishes can scratch easily
Expensive
Specialist installation required
Acrylic Kitchen Worktops
Acrylic worktops are made from acrylic polymer and alumina trihydrate. Originally created by DuPont, Corian was the original brand of acrylic kitchen worktops. Corian still retains its lead in the market today, although other competitors have entered the market. The material is best known for its seamless joints and integrated sinks. Gemini Solid Surface has been developed to deliver all the benefits of acrylic at the highest quality.
Advantages
Seamless appearance
Homogenous integrated sinks
Good durability: stain resistant and scratches can be repaired
Wide variety of colours and patterns
Disadvantages
Gloss finish will show scratches
Specialist installation required
stain resistant
Expensive
Steel Kitchen Worktops
Stainless Steel worktops are known to be extremely durable. Whilst they are able to take knocks and bangs without ever cracking or chipping. This is what has made them a popular choice for most commercial kitchen worktops. However, they can look a bit clinical in domestic kitchens. Industrial designs can work well with a steel worktop element added, either as a food preparation area or feature piece.
Advantages
Good durability: heat, staining and chip resistant
Easy maintenance
Disadvantages
Poor scratch resistance
Show bumps and dents
Can look clinical
Specialist installation required
Expensive
Concrete Kitchen Worktops
Cement or poured concrete worktops have been a very recent design innovation. Concrete work surfaces are handmade and unique to each kitchen design. They can be poured into an amazing array of shapes and designs. As such, they can be costly to install and fraught with challenges. The qualities of cement make the surface quite porous and susceptible to moisture and heat damage. The countertop will need professionally sealed and resealed on a regular basis.
Advantages
Good durability: heat, stain and scratch resistance
Design feature
Disadvantages
Porous
Specialist installation required
Expensive install costs
High maintenance - regular sealing required
We hope you've found the answers you needed here. If you need more advice, speak to one of our friendly worktop design consultants today!
You may also like...