Life's a peach (or nectarine) Tart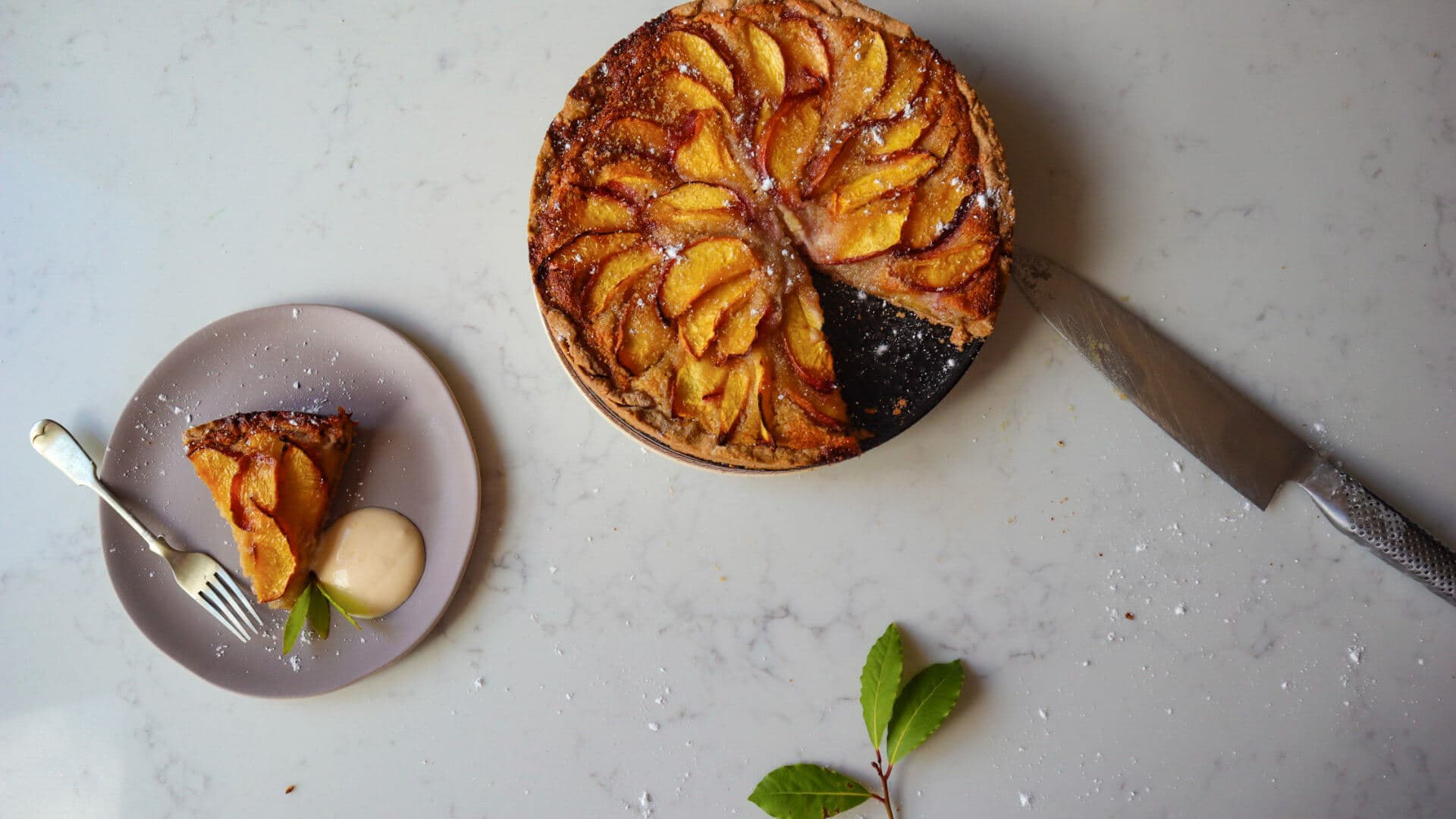 A Gemini Worktops and Gem's Wholesome Kitchen Collaboration
Life is all about balance and that includes treating ourselves from time to time! Roasting the peaches or nectarines for this tasty tart takes a little while, so this is one for a relaxed Sunday afternoon gathering. It really melts in the mouth – and you can add an extra layer of decadence with a generous amount of ice cream or custard.
Ingredients
For the pastry
200g plain flour, sifted (I use wholemeal), plus more for dusting
a pinch of sea salt
1 tsp ground cinnamon
2 tbsp icing sugar
60ml olive oil
a little coconut or olive oil, for greasing
For the filling
200g ground almonds
75g brown sugar
1 tsp ground cinnamon
3 tbsp almond milk
1 tsp almond extract
3 or 4 ripe peaches or nectarines, sliced evenly
2 tbsp peach or apricot jam, dissolved in 4 tbsp water to make a glaze
Method
Grease a 20cm round cake tin with baking paper with a little coconut or olive oil.
In a bowl, mix together the flour, salt, cinnamon and icing sugar. Add the olive oil and mix with your hands to form crumbs. Add 3 tablespoons water and bring together into a dough. (Add a little more water if needed.)
Flour your Gemini work surface, then roll out the dough into a circle about 5mm thick. Chill on the lined baking tray in the fridge for about 1 hour.
Preheat the oven to 180 ̊C. In a bowl, combine the ground almonds, sugar, cinnamon, almond milk and almond extract.
Remove the pastry from the fridge. Spread the filling across the dough, leaving a 2cm border. Arrange the peach or nectarine slices on top, making sure there are no gaps between the slices. Pinch the pastry around the fruit. (You can trim the edges, but I like a rustic look.)
Using a pastry brush or the back of a teaspoon, apply half the apricot glaze to the pastry and fruit. Cover with foil and bake for 45 minutes, then remove the foil and cook for another 15 minutes to allow the pastry to brown.
Once out of the oven, top with more glaze and serve with a dollop of cream.