Kitchen Trends: Traditional vs Contemporary Kitchens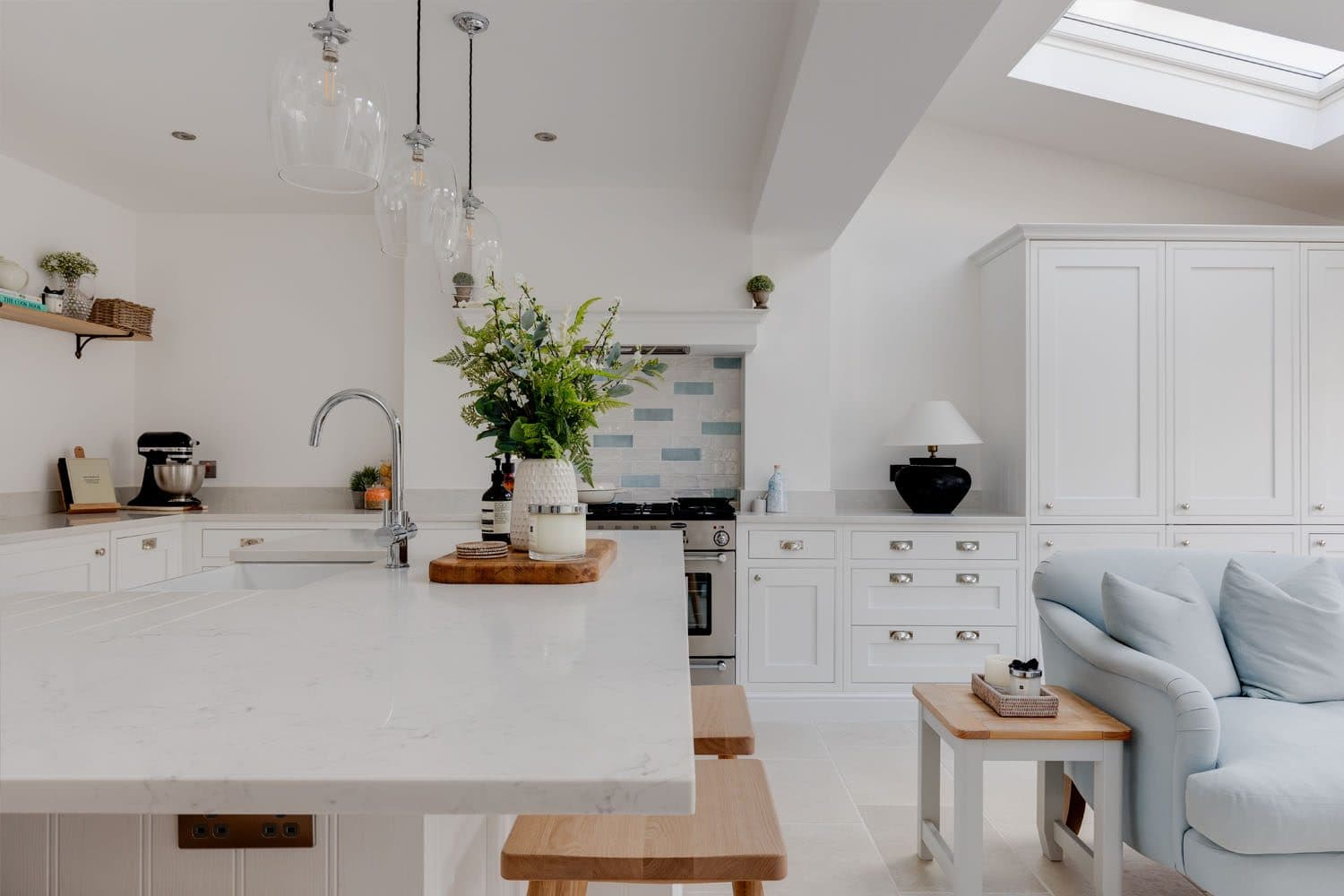 When choosing a design style, each person has their own preferences. Some choose a more traditional finish and others prefer a clean, contemporary design, but what makes them different?
Contemporary designs are minimalistic, sleek, and effortless. Contemporary kitchens are characterised by smooth finishes and clean lines, usually with flat panel doors.
Since appliances tend to be hidden, the smooth finish creates an uncluttered feel. By concealing appliances such as ovens, dishwashers, microwaves, fridges and freezers, they create a seamless look, so they appear integrated into the worktop and kitchen units. Aside from smartly concealing appliances and integrating them into the design, contemporary kitchens often create the illusion of a larger space by using ingenious horizontal lines.
However, a traditional kitchen typically features a lot of real wood with popular colour schemes such as grey or cream. The classic and luxurious aesthetic of this style of kitchen is characterised by details and ornamentation. Many of them have framed cabinets with inset doors, butler sinks, and statement cookers. Traditional kitchen designs often use natural materials such as wood and stone, as opposed to contemporary kitchens which often use man-made materials.
First things first, what options do you have for your contemporary and traditional kitchen?
The traditional kitchen style tends to feature beige, white and greys, with wood and stone as accents. This provides a great blank canvas to introduce a splash of colour. You can create the perfect traditional-style kitchen with the use of natural materials, soft muted colours and decorative details such as raised panel cabinets and crown moulding. The traditional style remains one of the most popular styles today, the open space and natural elements can still provide an appeal that rivals sophisticated contemporary designs.
Similarly, to traditional kitchens, contemporary kitchens are often decorated in cool neutral tones. These kitchens usually feature grey, white, and blue colours. This combination of colours creates a sleek and modern appearance, and you can use these colours together or pair them with warmer shades to add contrast. There is no doubt that white is the most classic kitchen colour, regardless of the kitchen design and using white in various ways can achieve very different looks. It creates a bright, airy atmosphere in any kitchen, and it looks great on its own or paired with other colours.
Quartz worktops from Gemini Worktops are sourced direct from the raw material quarries and are fabricated here in the UK. As a fourth generation family stone masonry business we guarantee unparalleled quality and performance. With our surfaces, you can make the most of your kitchen.
How to bring the contemporary and traditional style into your kitchen with Gemini Quartz
Need more advice?
Book Worktop Consultant Callback
Infinica
This work surface is perfect for a traditional style kitchen. The striations that stretch across the canvas add a dynamic feature to your work surfaces. Paired with a pastel blue colour creates a classic traditional style and a feature in your kitchen. From soft baby blues to dark navy, blue is one of the most versatile kitchen colour combinations that there is. This surface is from our Gemini Quartz Ultra HD collection, this stylish design adds a dramatic touch to your traditional design.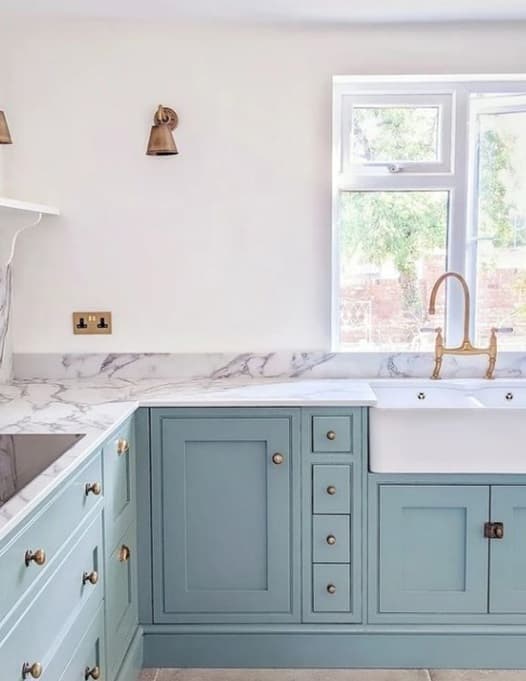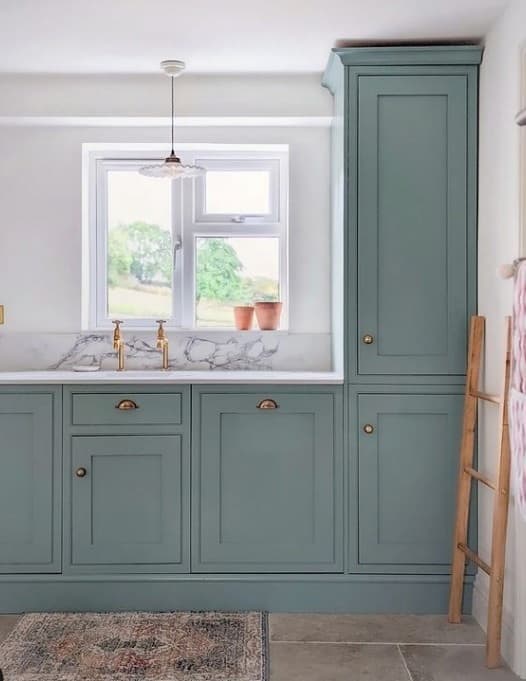 Arabescato
A white kitchen exudes elegance and class so it's the perfect colour to complement the traditional style. The Arabescato work surface has a dynamic and dramatic design, featuring grey veining against a light background. This quartz worktop has a subtle marble design which adds to the elegant nature of the kitchen. The delicate hints of blue in the tile backsplash injects colour into the space adding a subtle contrast to the white kitchen.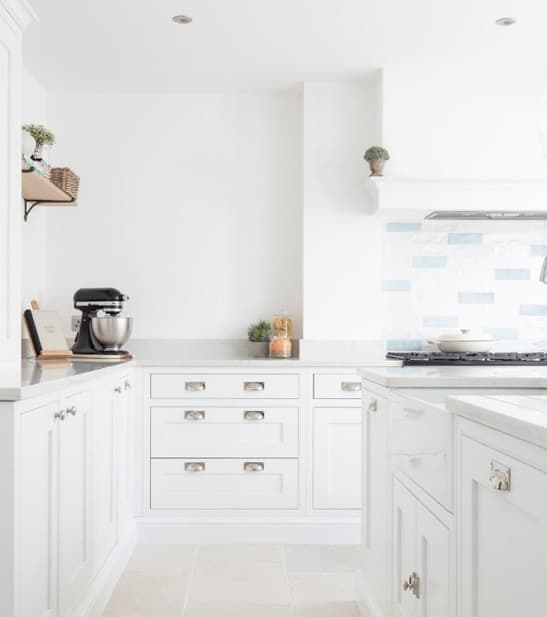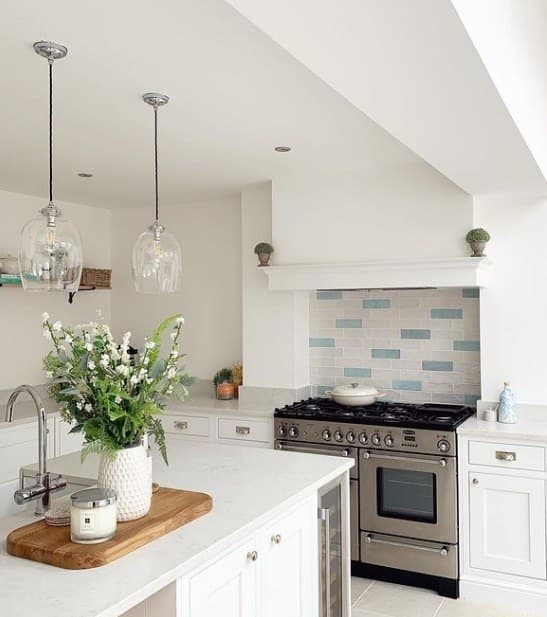 Aspen Ice
Modern panelling can bring texture and detail to an otherwise ordinary space whilst also creating a feature within the room. Paired with white flat front cabinets creates a sleek streamline look. The handleless cabinets are the perfect addition to the contemporary style as they create a smooth, slick interior. The Aspen Ice worktops match with the white cabinets to add consistency to the space.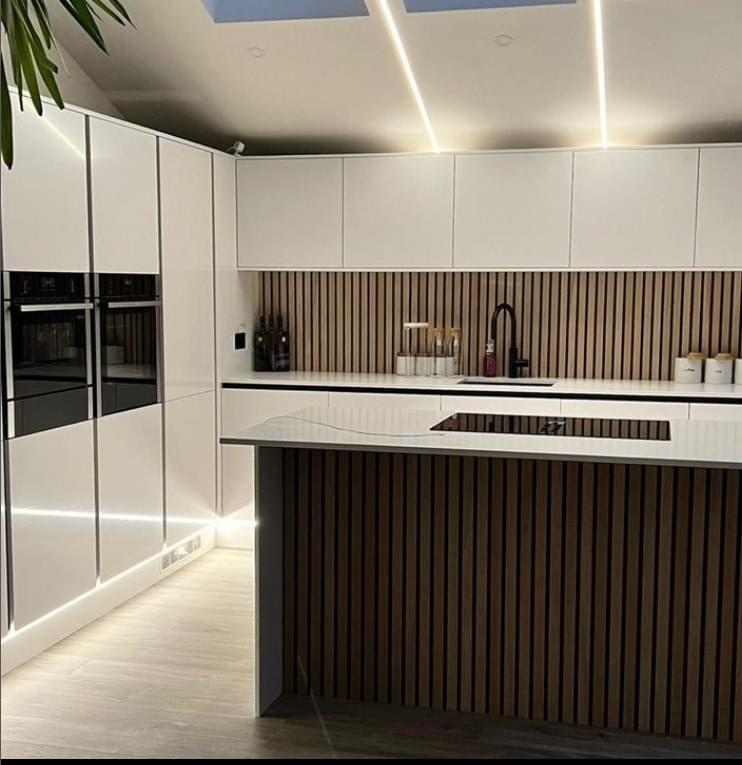 Michelangelo White
The use of neutral colours is an expected feature within the traditional style and when paired with wooden accents it adds texture and colour to a simplistic space. It can also help to add a feature to a room that has a minimalistic style. Traditional Kitchen cabinets tend to have an antique style, with frames around the doors and drawers. Michelangelo White is from our marble collection, with its stunning white background and subtle grey veining it adds a classic look to your space. The understated design creates a timeless look in your kitchen. The white worktops reflects light, giving the impression of a larger space.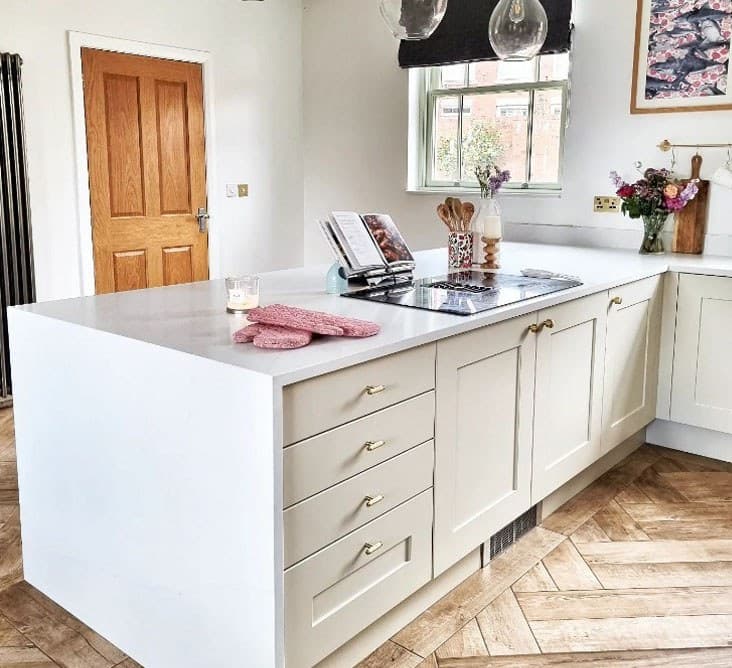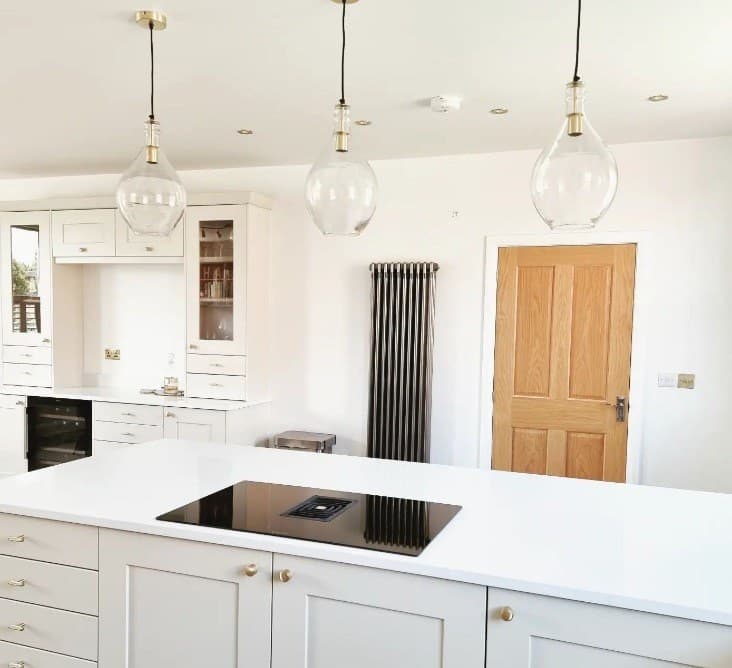 Calacatta Eternal
Panelling a whole wall is an affordable, versatile and eye-catching way to instantly transform your space. It converts your kitchen into an inviting space with a touch of individuality and a dollop of durability. A stunning design idea that adds a contemporary aesthetic as well as a feature to your kitchen. The Calacatta Eternal worktop is an evolution of a timeless, classic Italian marble. A bright white background with the most stunning and dramatic veining which adds a dynamic style to your kitchen.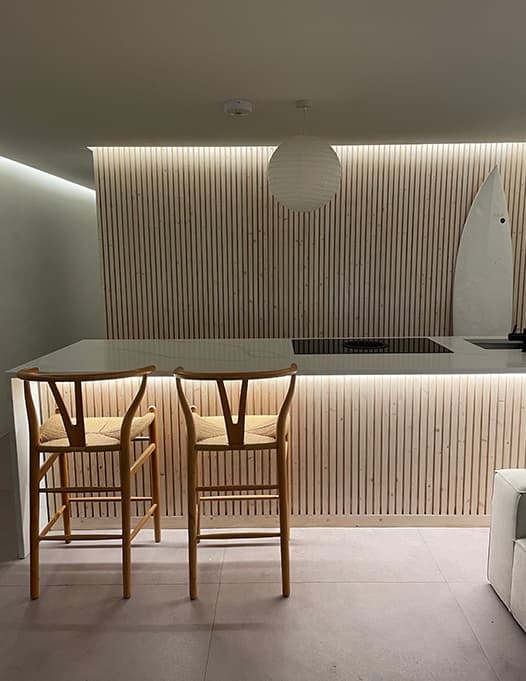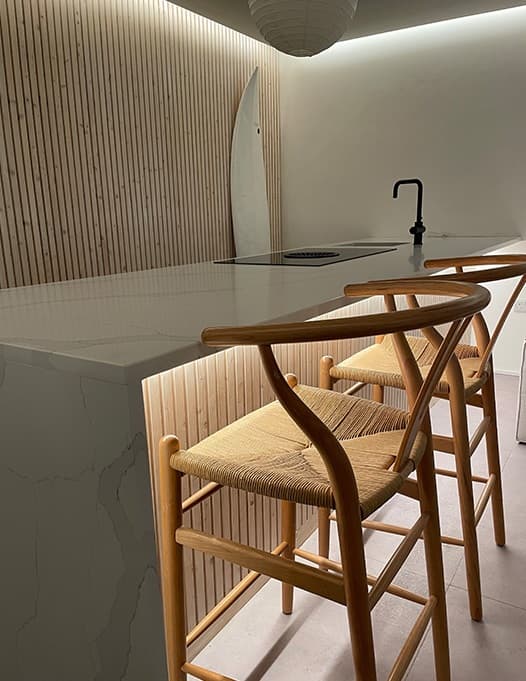 Calacatta Gold Superior
The traditional kitchen embraces the elements within the space, the oven set within an alcove creates a frame around the oven which adds a focal point to the kitchen. The use of neutral colours is expected and amplifies the classic aesthetic. The Calacatta Gold Superior adds a subtle hint of colour to the space and compliments the brass elements perfectly. Calacatta Gold is the perfect surface to create a dynamic and impressive aesthetic in your kitchen, adding subtle wooden accents and open shelving adds a timeless style to the traditional kitchen.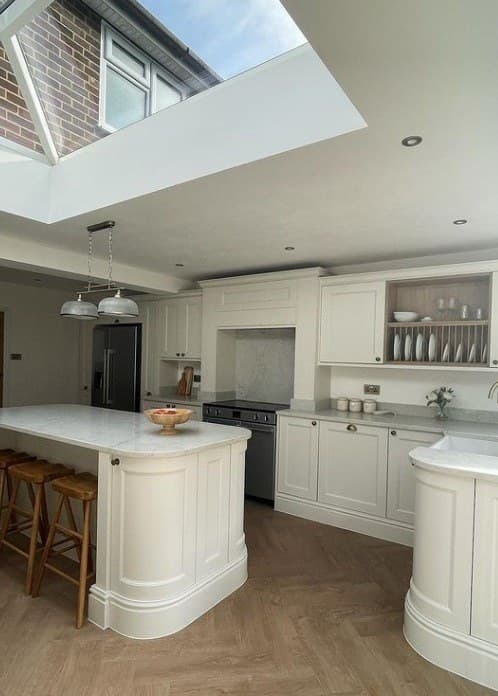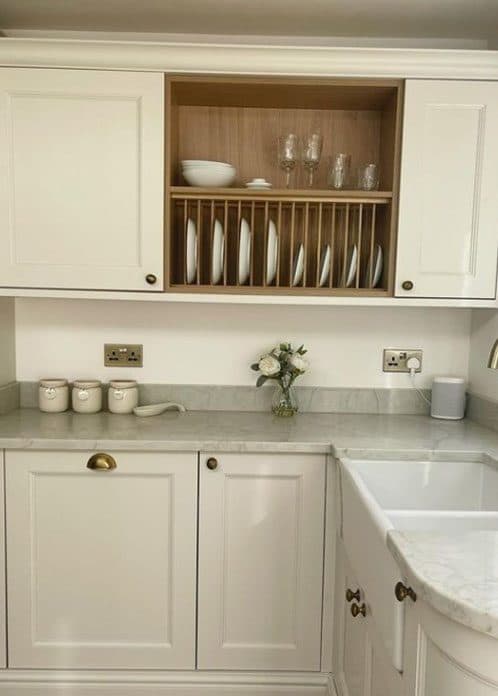 With some overlapping features within traditional and contemporary kitchens you are not short of design ideas when it comes to renovating and redesigning your space. From classic colours and must have features, these are some of the ways you can add the traditional or contemporary style in your home. These styles are often used together to create the perfect, timeless kitchen aesthetic.
Get a Quote
Interested in one of our quartz surfaces for your kitchen? Get in touch for a free, no obligation quote today.