Kitchen Trends: Pastel and two-tone kitchens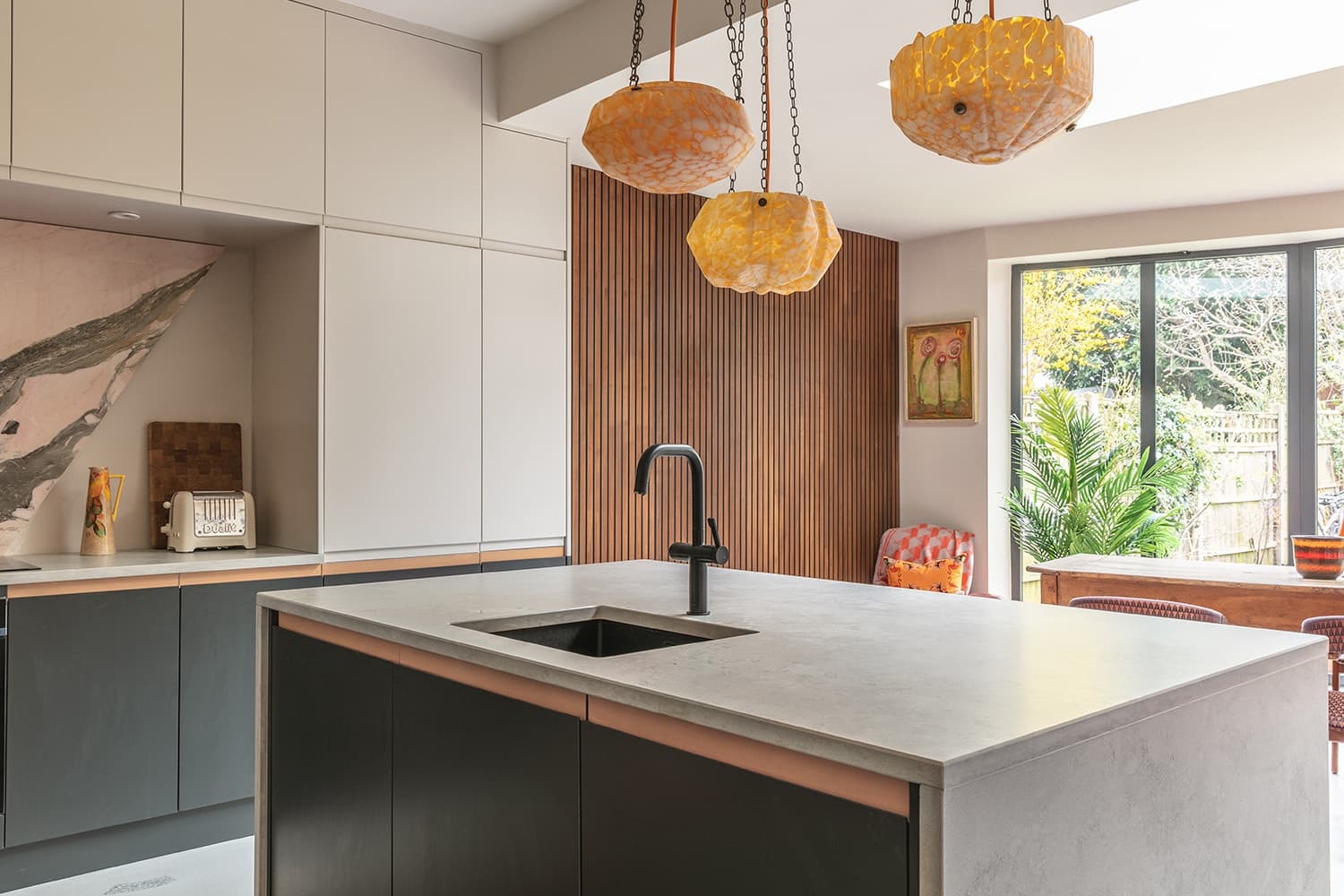 Deciding on your kitchen colour scheme can be a struggle, so why restrict yourself to one colour when you could pick two? With this latest trend, designers can create bespoke kitchens with personality and character by combining different colour combinations and finishes.
Whether you are looking to do a full renovation or simply update your decor, a two-tone style can be the perfect way to breathe life into any space. Changing the colour of your cabinets is a simple yet affordable way to change your kitchen aesthetic. This design style enables you to incorporate contrasting colours, from soft and subtle, to bold and bright.

First things first, what options do you have for your two-tone kitchen?
Need more advice?
Book Worktop Consultant Callback
Two-tone-inspired kitchens paired with Gemini Quartz surfaces to get the look
Greys, whites and neutral tones are often the go-to for a clean and classic kitchen aesthetic. However, more people are overlooking the classic look and focusing on more colourful hues. More designers are choosing to step away from tradition and are focusing their colour schemes on soft pastel tones that offer a trendy yet stylish appearance. It is believed that these types of colours can have a positive effect on our mood and well-being, and what better place to have them than in the heart of the home.
Our Aspen Ice surface offers a guaranteed wow factor, an original and authentic white shimmer quartz that brightens and opens any space. This classic white surface pairs beautifully with most kitchen designs and colours due to its simplicity. When paired with pastels it creates a bright inviting space. The use of colour in your kitchen can help to define your style or aesthetic. Sage green makes the perfect backdrop for warm and cool tones, it gives a sense of bringing the outside in and adds peace and serenity to the space.
Adding a contrasting colour such as blush pink gives a warm and playful touch. Pink is a versatile shade to use for a kitchen and has been used for the island with matching stools, this creates a feature and a key focal point in your kitchen. Using two colours in your kitchen enables you to provide visual interest and create an elegant yet relaxing look. Incorporating a two-tone design into your kitchen is a great way to enhance the space.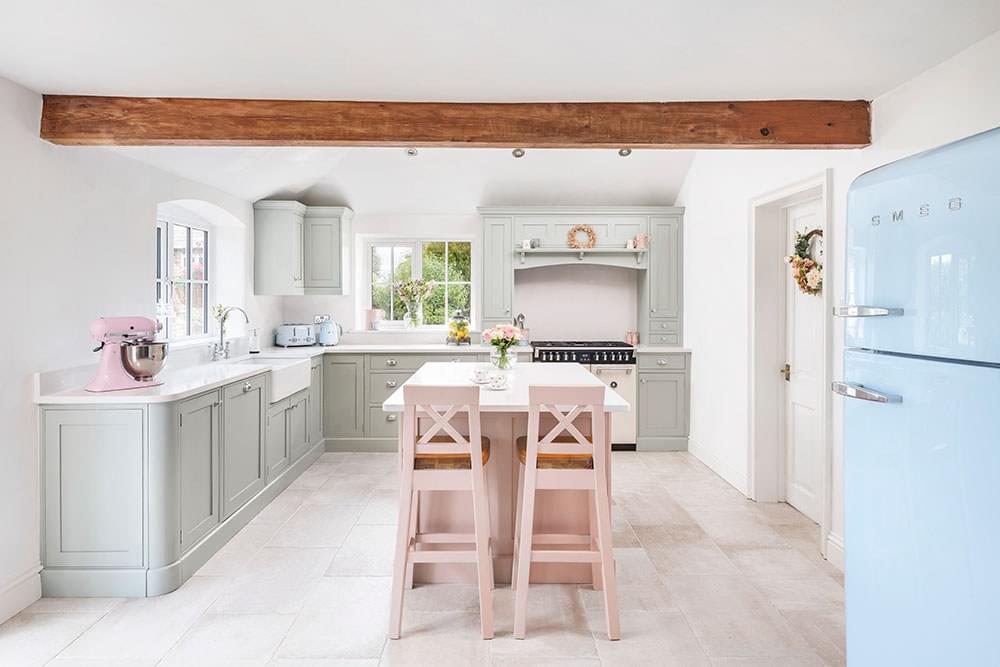 If you want to create a more traditional and classic style, stick to neutral tones such as grey and white. Soft colours allow you to add a complementary tone that enhances the aesthetic of your design. Combining it with our Aspen Ice surface creates a clean and sleek look, enhancing the darker colours of the island and making it a standout feature in the room. Two-tone designs have traditional elements but are often influenced by personality and character.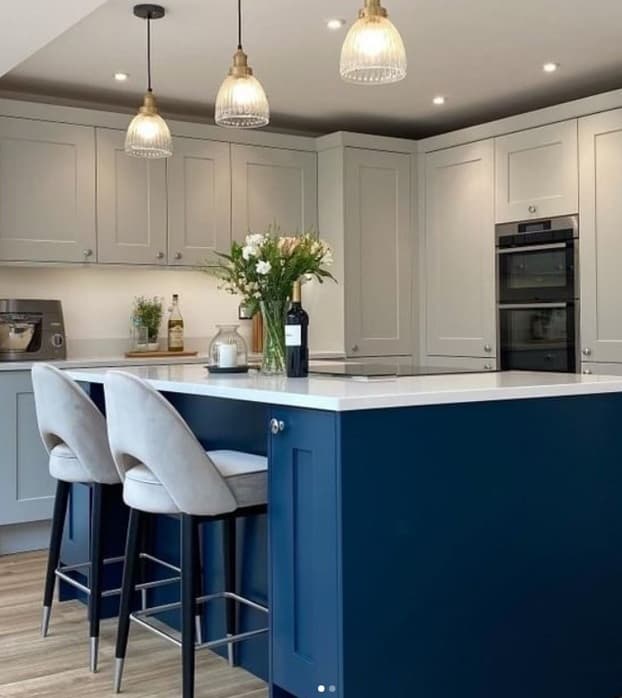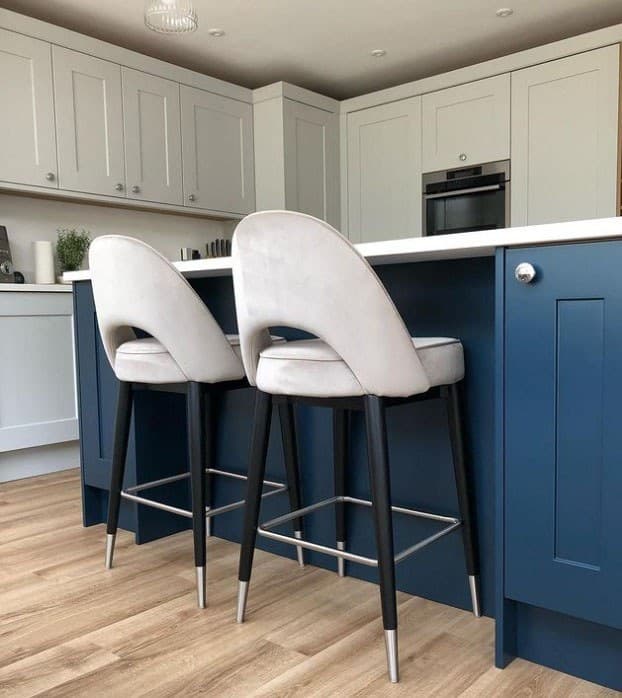 It is predicted that green tones will be a dominant colour trend throughout 2022, especially in the kitchen. More people are experimenting with earthy or sage green tones. This colour palette adds a vibrant and positive atmosphere, this year is all about prioritising colour ideas that look good but also make us feel great.
Our Venetian White surface is from our marble collection, with soft, feathery grey veining set against the off-white background that adds a subtle elegance to any home. Light worktops are a great choice for two-tone kitchen designs since they open up the space and provide a clean, sophisticated look. Having a light worktop allows you to be as bold or subtle with colours without fear that it won't match. The light cabinetry enhances the deep green tone as well as creates more open space in the kitchen.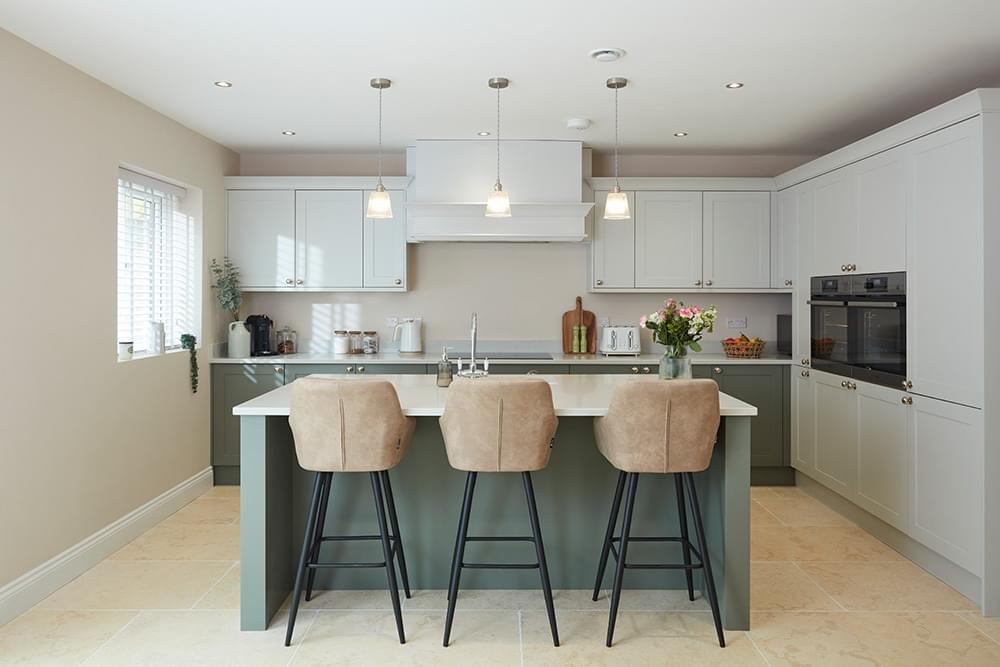 The two-tone style is about individuality and personal preference, this style of kitchen reflects personality and character giving you the freedom to experiment with a contrasting colour palette. Adding a pop of colour to a predominantly neutral kitchen draws your eye to the centre of the space, adding a focal point. This splash of colour allows you to link your accessories adding bursts of colour in a neutral setting, despite their loud hue, the colours paired together make the room look cohesive and balanced. Featuring a range of textures creates interest in the space and brings all the elements together.
There is no right or wrong way to create a two-tone kitchen; it's based on experimenting with colours to get the desired effect. If you are featuring textures such as wood and metal choose a worktop with an industrial look to bring all the design elements together. Our cool cement worktop features cloudy grey tones making it the perfect match for a two-tone kitchen. Its subtle yet stunning design has a sleek finish which adds a modern touch to any space.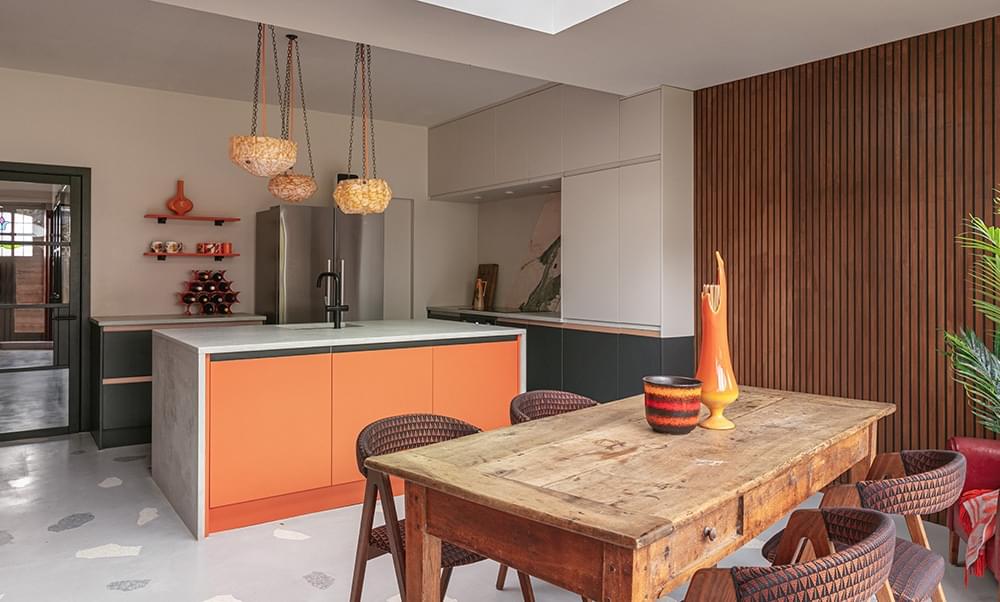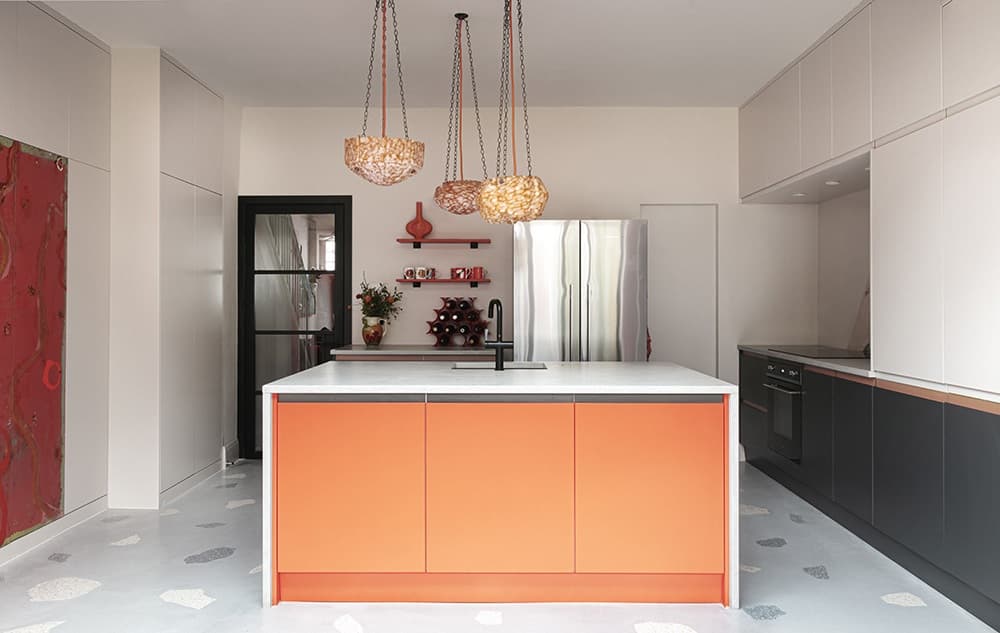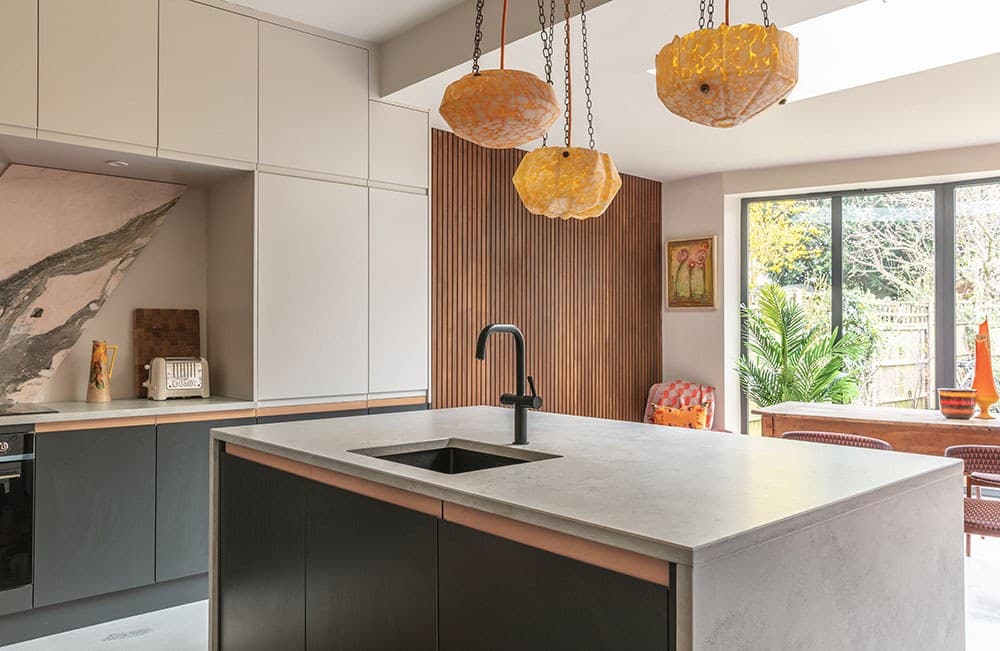 Tips for bringing two-tone cabinetry into your kitchen
Choose your focal point
If you want to design a two-tone kitchen, the first step is to decide which area is going to be your focal point. This section will be a different colour from the rest of the kitchen. Most designers choose the island, but another option is to choose a section of cabinets that is separate from the rest. Depending on the size of the space and what elements are included, you will be able to decide what options to use.
Select colours
Even if you have a colour palette in mind, finding two shades that complement one another can be quite challenging. Look at our kitchens for inspiration or browse Pinterest for ideas. A bold pop of colour can look great, but bright and bold may not be for you. The most popular choice for a classic look is to pair light cabinets with a darker shade. Most often, it is the subtle colours that make the biggest impact.
Go darker on the bottom
You can incorporate the two-tone kitchen trend into your home by painting your lower cabinets darker and your upper cabinets lighter. It helps to define your kitchen space when your bottom cabinets are darker, while a lighter colour can act as an accent around the room, keeping the room feeling spacious and light.
Request a free quote
Interested in one of our quartz surfaces for your kitchen? Get in touch for a free, no obligation quote today.

You may also like...