Kitchen Trends: Modern Style Kitchen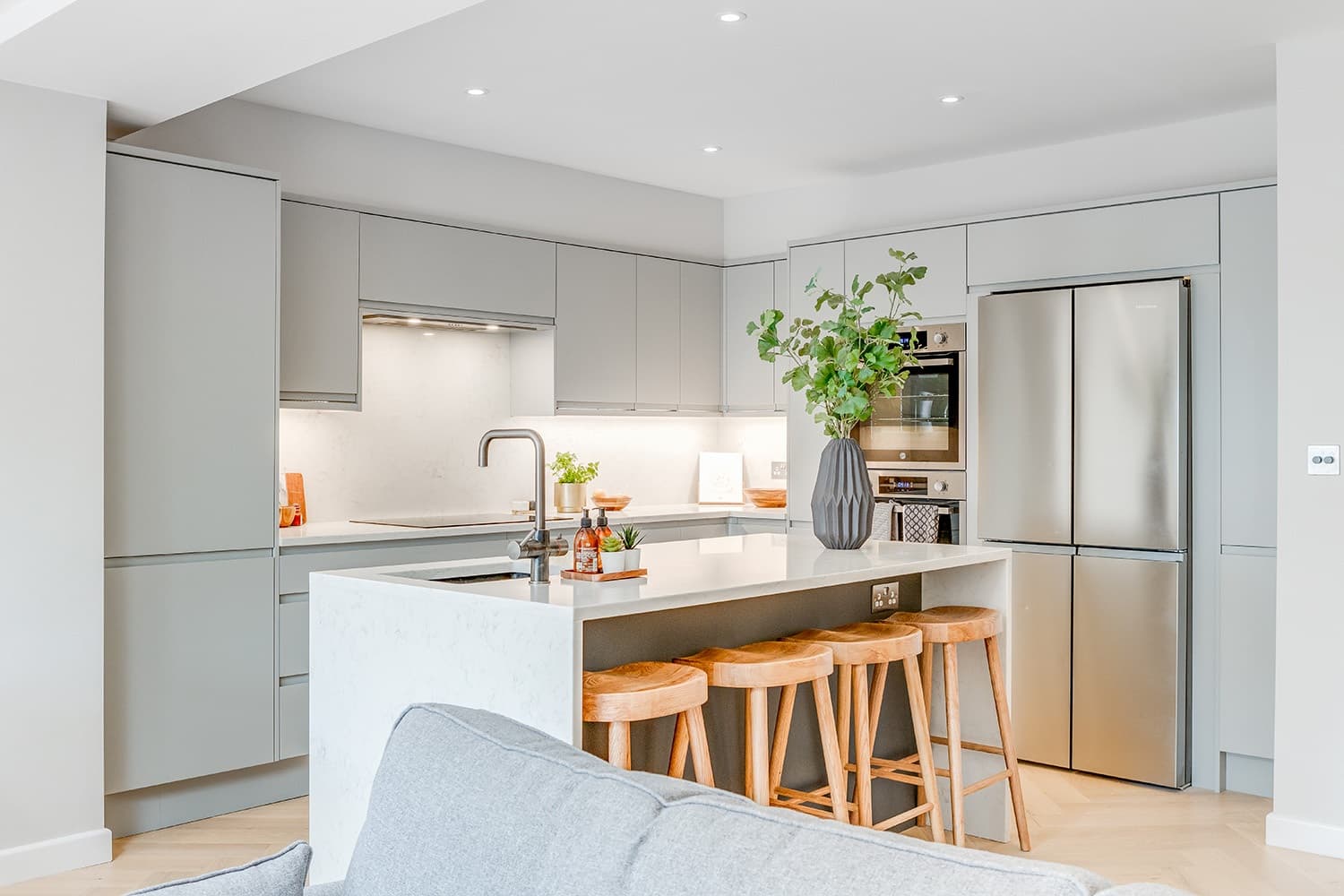 The modern kitchen is characterised by a minimalistic and clutter-free look, a design that is loosely categorised as a design style between traditional and contemporary. Modernism originated in the latter part of the 19th century and was known for abstract thinking in a search for new forms of expression. A modern style kitchen is simple and clean looking encompassing all that is sleek and streamlined. The key to developing a modern kitchen that makes a lasting impression is to incorporate both form and function.
First things first, what options do you have for your modern kitchen worktops?
A modern kitchen is usually characterized by a monochromatic colour scheme and clean lines, with large windows allowing for plenty of natural light. In modern kitchens, open-plan areas create a more welcoming atmosphere where the area transforms into a dine-in space. With its clean lines and sleek appearance, the Modern style is a great option for creating a minimalist kitchen. Creating an idealistic space for families to gather, this simple but beautiful kitchen feels spacious and airy.
With Gemini Worktops, quartz surfaces are sourced from quarries and produced in factories that produce the finest quality worktops with unbeatable performance. the surfaces we offer have a range of advantages to help you make the most of your kitchen.
Get the Modern style look with Gemini Quartz
Request Samples
Choose from our range of original, exclusive and timeless colours
Product Visualiser
Use our product visualiser to compare and choose the best colour for your project
A modern kitchen is one of the most popular and cherished spaces in a house. It is where families gather to cook meals, relax after a long day, and celebrate special occasions. With all the options available today, it can be hard to know which kitchen is right for you. A modern kitchen is all about efficiency, from the materials used to the design, a modern kitchen is designed to be functional, beautiful, and minimal. We will look at some of the ways to bring the modern kitchen into your home.
Five Modern inspired kitchens along with some Gemini Quartz surfaces to get the look

Cool Cement
The cloudy, misty tones of light grey in this work surface represent the sleek and streamlined design that the modern kitchen focuses on. This beautiful concrete design matches perfectly with the modern style, its subtle, yet captivating design is guaranteed to be a talking point of any island.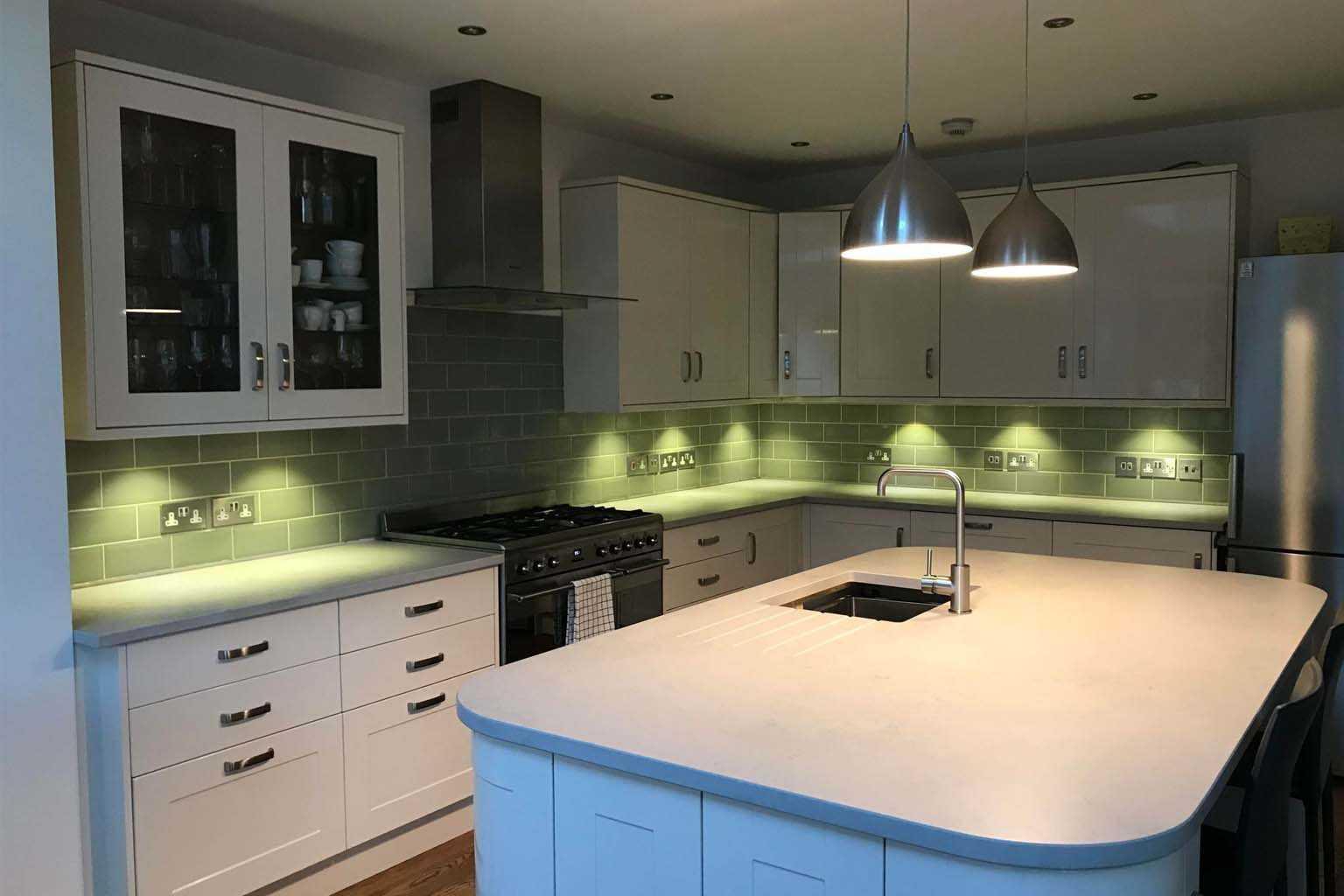 Venetian White
Venetian White is the ultimate surface to pair with an open-plan space. A luxurious and dynamic design that adds a sense of depth to muted tones and colours. Venetian White is from our marble design which adds elegance and class to a simplistic kitchen. If your kitchen features big windows and skylights the veins that run throughout are sure to stand out! Paired with a limited palette of muted tones creates a simplistic and timeless look that will never be outdated.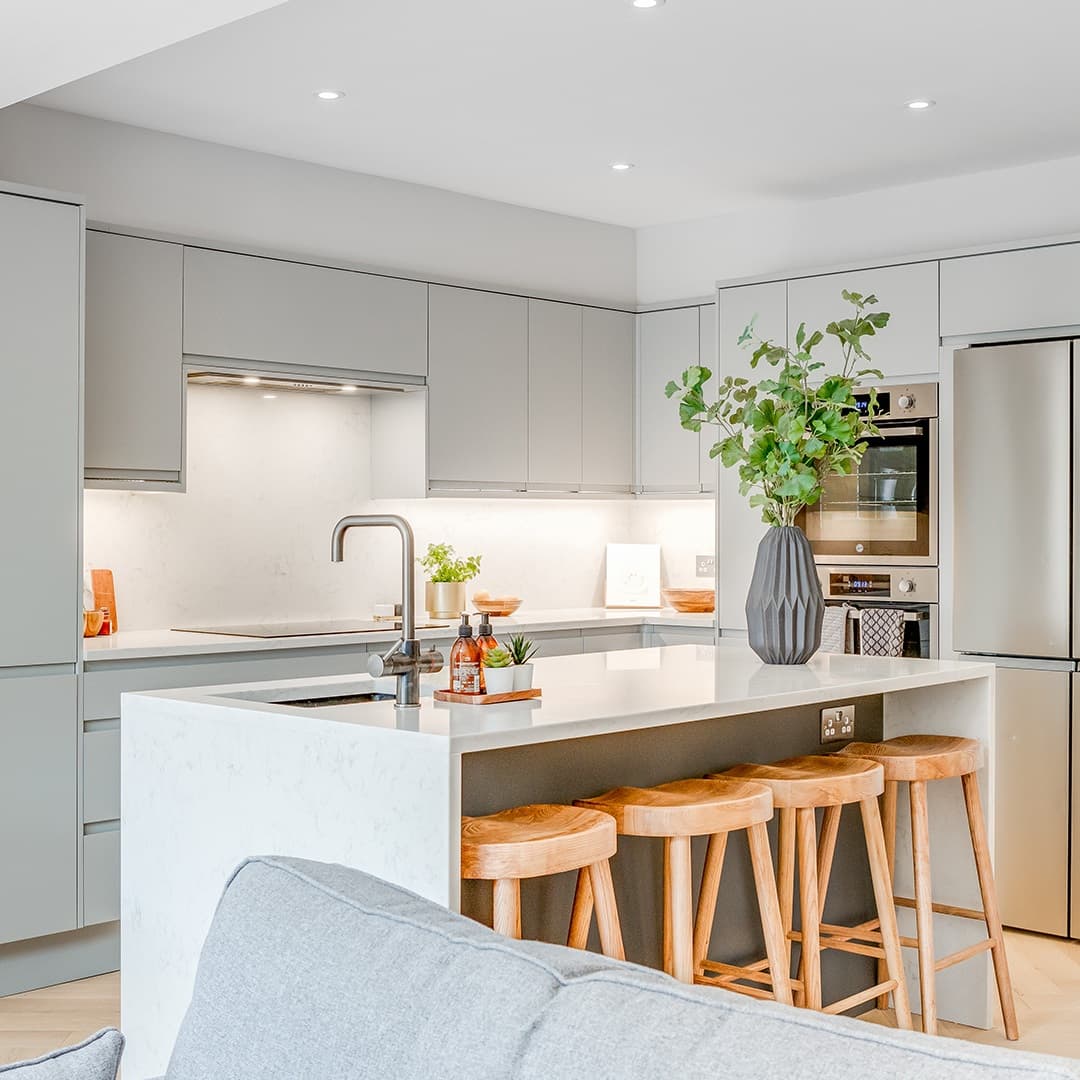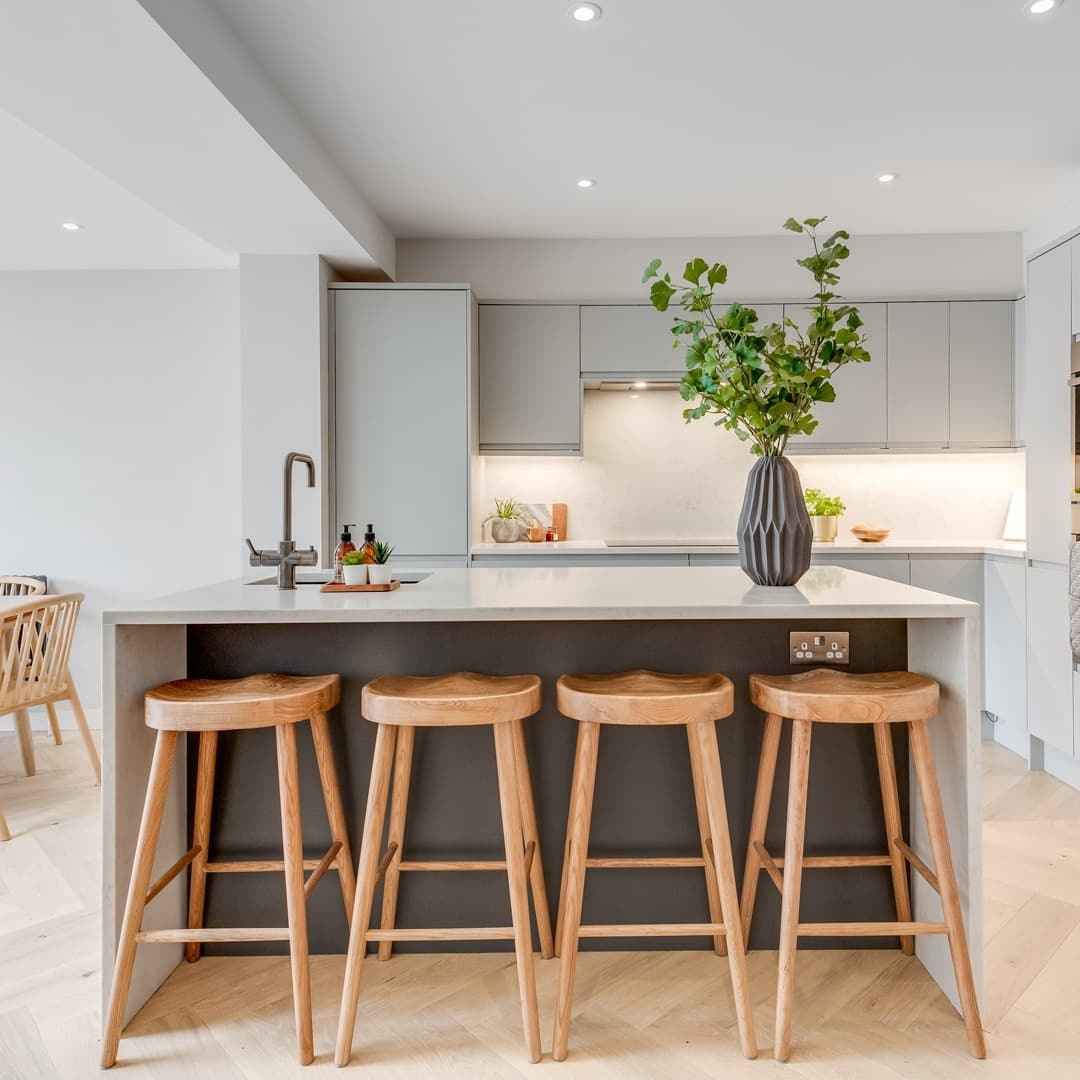 Calacatta Bianco Superior
Muted tones and simple colours are a go-to with the modern kitchen but if you are looking to add depth to your design Calacatta Bianco Superior is an excellent choice. This surface is from our marble collection and matches perfectly with darker tones. When accessorising why not look into a matt finish design for your taps and handles to really emphasise the dramatic veining that runs through.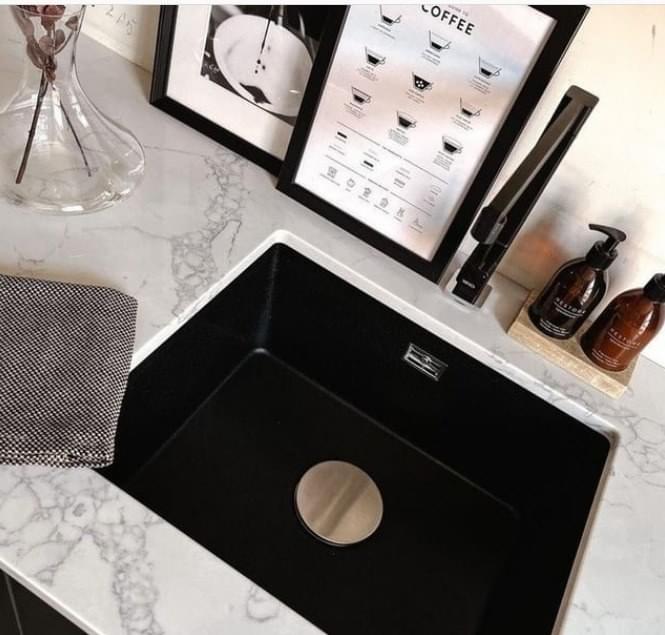 Aspen Ice
This style of worktop is a guaranteed wow factor from our sparkle collection. White shimmer quartz reflects light beautifully with an understated design. If you are going for a grey or darker colour palette the bright white aligns perfectly. This worktop is an ideal choice for the modern style, reflecting the clean and uncluttered look, this surface is sure to brighten any room whilst making a statement.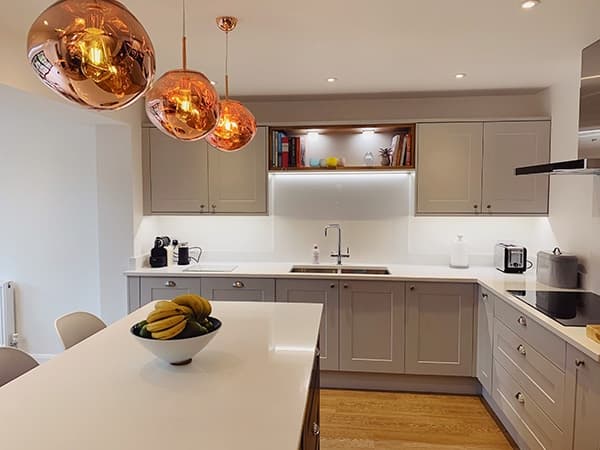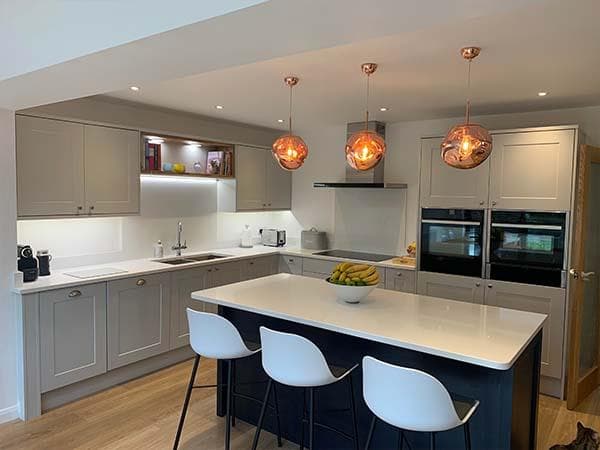 Falcon Ice
If you are wanting to stick with a muted colour scheme but do not want all white, Falcon Ice is a light and calm surface with a shimmering finish, adding a subtle appearance to the room. Paired with light wood flooring or simple tiles to really open the room whilst creating the illusion of more space. Falcon Ice is a subtle surface that will give that elegant clean look that modern kitchens are known for.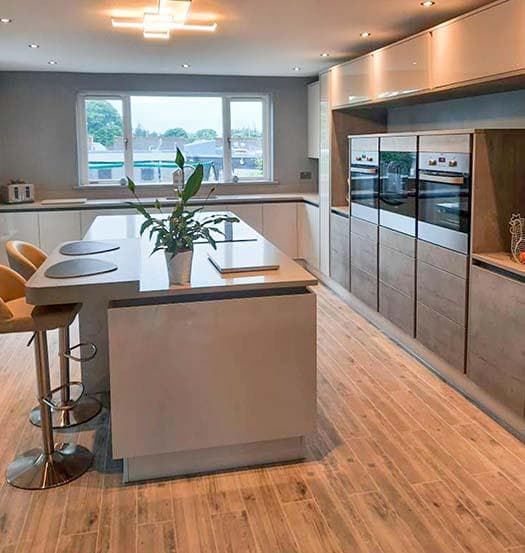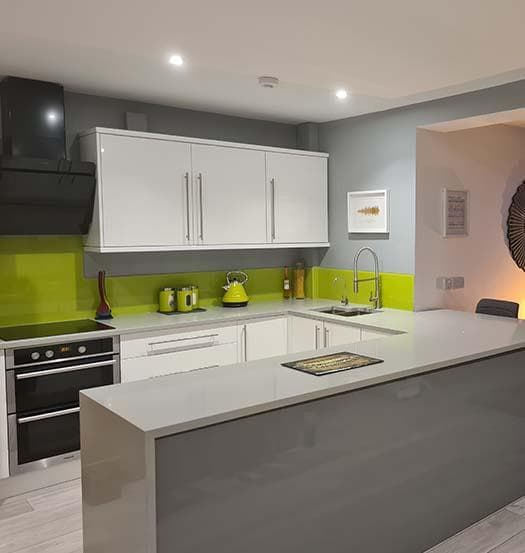 Ultra White
If you are looking for a simple and classic Modern style kitchen that is restrained in colour choice, Ultra White is the perfect surface to pair with your design. This surface is elegant in style and has a sophisticated finish, creating a bright style that will open any space.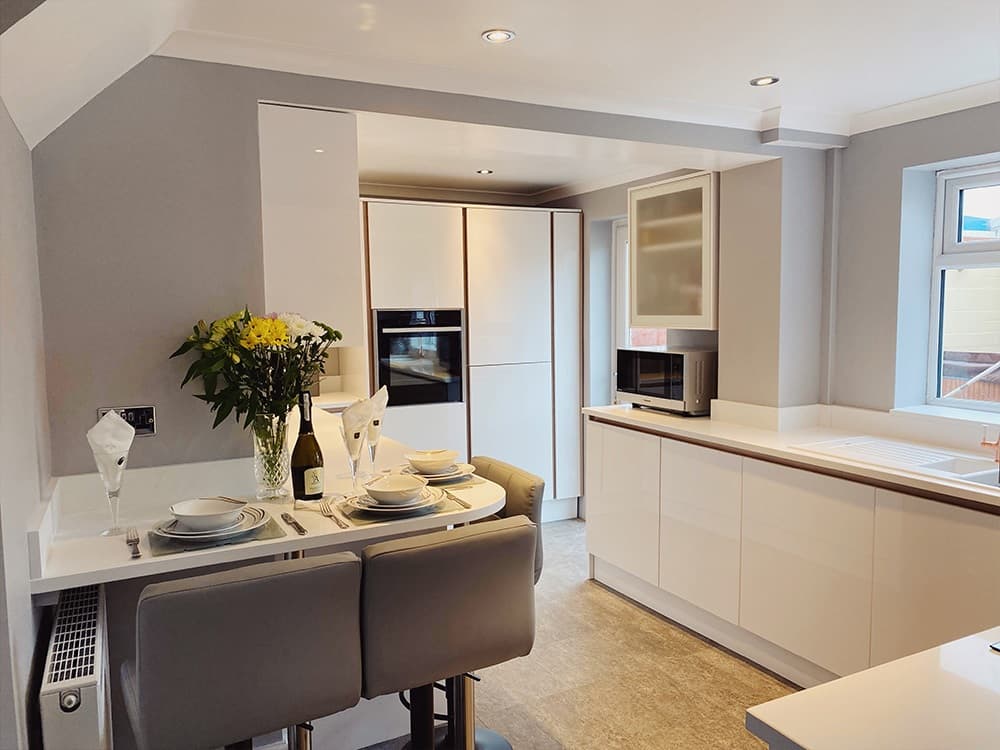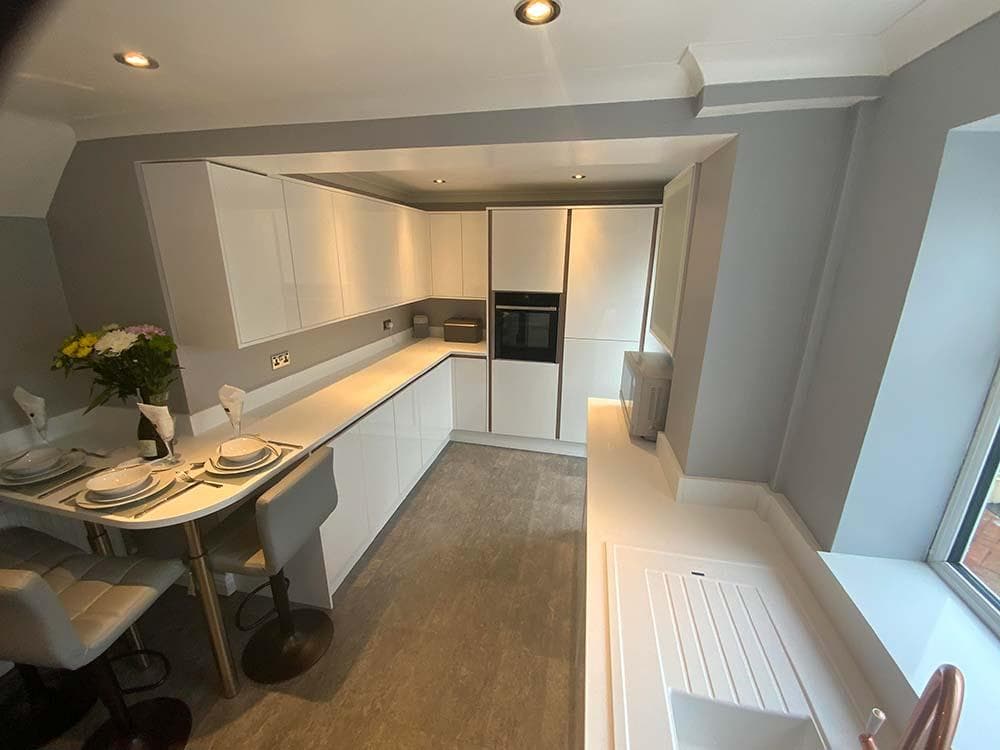 Three ways to bring the Modern style into your kitchen
Under Cabinet Lighting
Brighten up your kitchen with small touches such as under cabinet lighting. This is a modern way to brighten the room and add sophistication without always relying on the use of ceiling lights. The lighting does not just look aesthetically pleasing but they are also useful when cooking and meal prepping. The lights emit little to no heat, so they are perfect for keeping you cool in your kitchen.
Double Bowl Sinks

When keeping with the clean and timeless look of a modern kitchen, adding double bowl sinks to your worktop not only adds a feature but frees up counter space when multi-tasking, from rinsing dishes and cleaning vegetables, you have the option for both. Having a clean, clutter-free workspace is a must-have- especially in the modern kitchen!
Consider your handle options

A clean and streamline design is a key feature to a modern style kitchen, to get this look consider removing handles and having grooves within your cupboards instead. For a full modern look, choose to have handle-less cupboards with push system technology, flat cupboards and cabinets that can be opened by applying pressure on the doors- for a sleek and neat des
Request a free quote
Interested in one of our quartz surfaces for your kitchen? Get in touch for a free, no obligation quote today.

You may also like...