Kitchen Trends: Modern Country Style Kitchen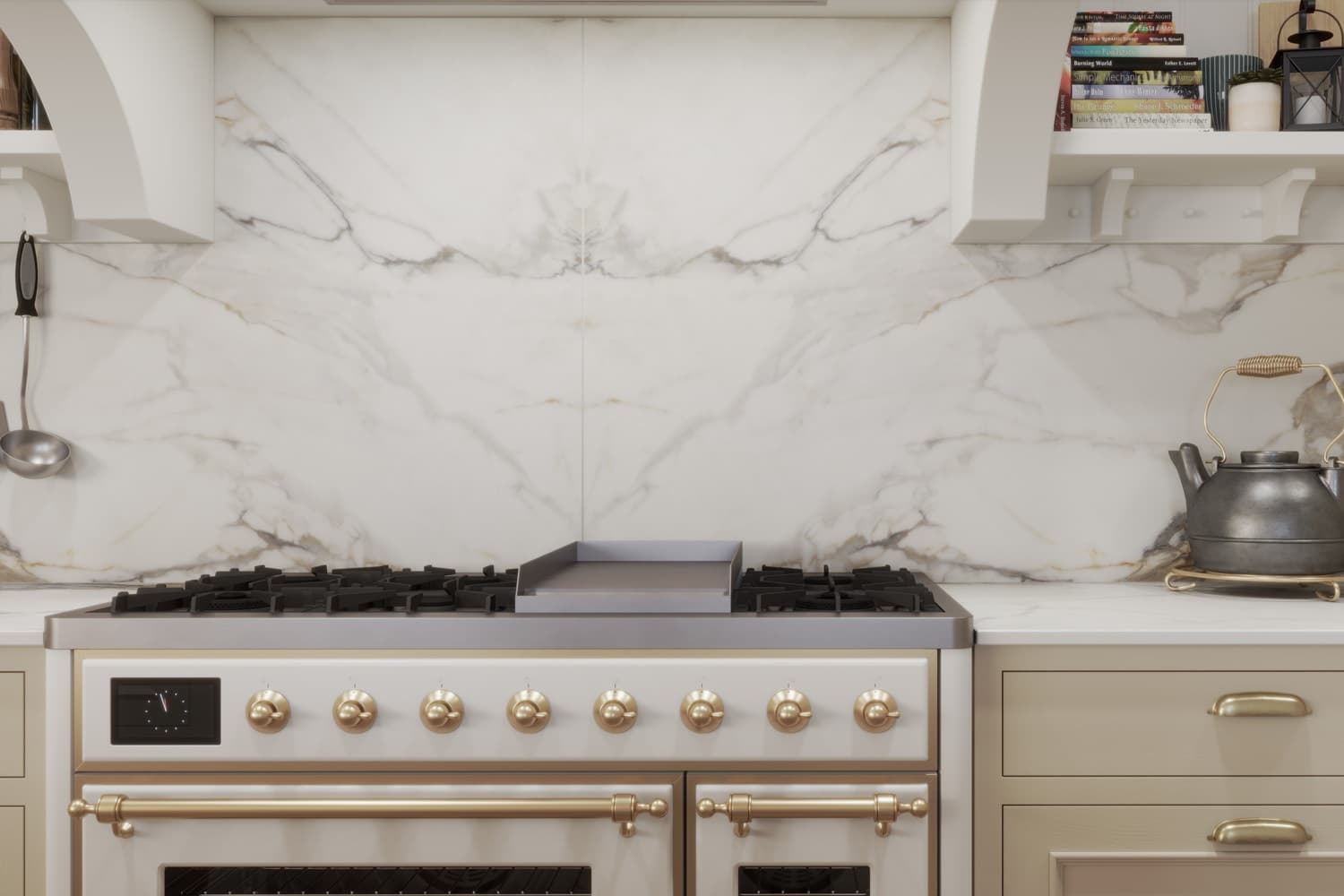 Country kitchens are timeless and classic and they add that rustic, warm feeling to the heart of any home. Combined with the abstract aesthetics of a modern kitchen, you can create an ageless classic with an innovative composition. Natural materials and shaker-style cabinets make a country kitchen a comfortable place to come home to. Using naturally aged materials adds character to the room. Modern country kitchens require maximizing storage space and utilizing the entire space, which can include pantries and open or glass-fronted display units.
Country kitchens have many distinctive design features, as the style is so simple to imitate that it integrates with modern styles as well.
What options do you have for your modern kitchen worktops?
Modern country kitchens are characterized by neutral colours such as whites, creams, and soft greys. However, pastel shades such as greens and blues can add a modern flair. Mellow yellows are also popular, adding a touch of sunshine to any room. You can create the perfect country-style kitchen by pairing your colours with exposed wooden beams, tiles, and open brickwork.
The worktops from Gemini Worktops are sourced from our manufactured owned quarries and are fabricated in the UK, ensuring unparalleled quality and performance. With our surfaces, you can make the most of your kitchen.
Get the Modern Country style look with Gemini Quartz
Need more advice?
Book Worktop Consultant Callback
Six Modern Country-inspired kitchens along with some Gemini Quartz surfaces to get the look:
Timberwolf
This worksurface reflects a modern country kitchen's stylish and streamlined design by using a misty, cloudy tone of gray. Wood accents and accessories perfectly complement the modern design, giving it that authentic country feel.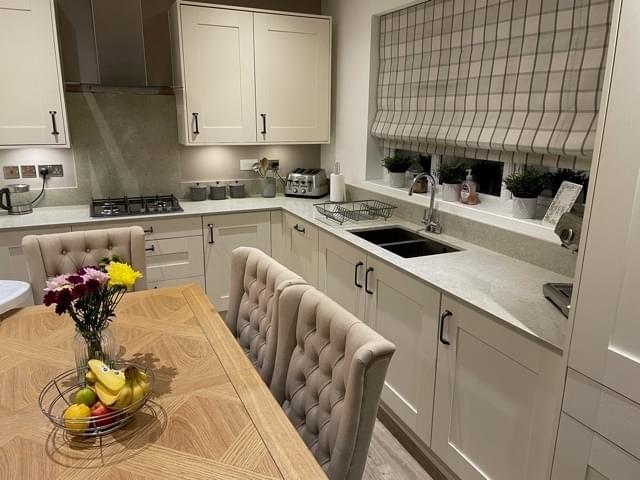 Venetian White
The luxurious and dynamic design of Venetian White makes it an ideal match for a modern country kitchen. The marbled design creates a subtle country style in a classic kitchen when combined with darker tones and wood panelling. With open shelving and utensils, you can make your kitchen a focal point, adding personality. Take advantage of all the space you have in your kitchen.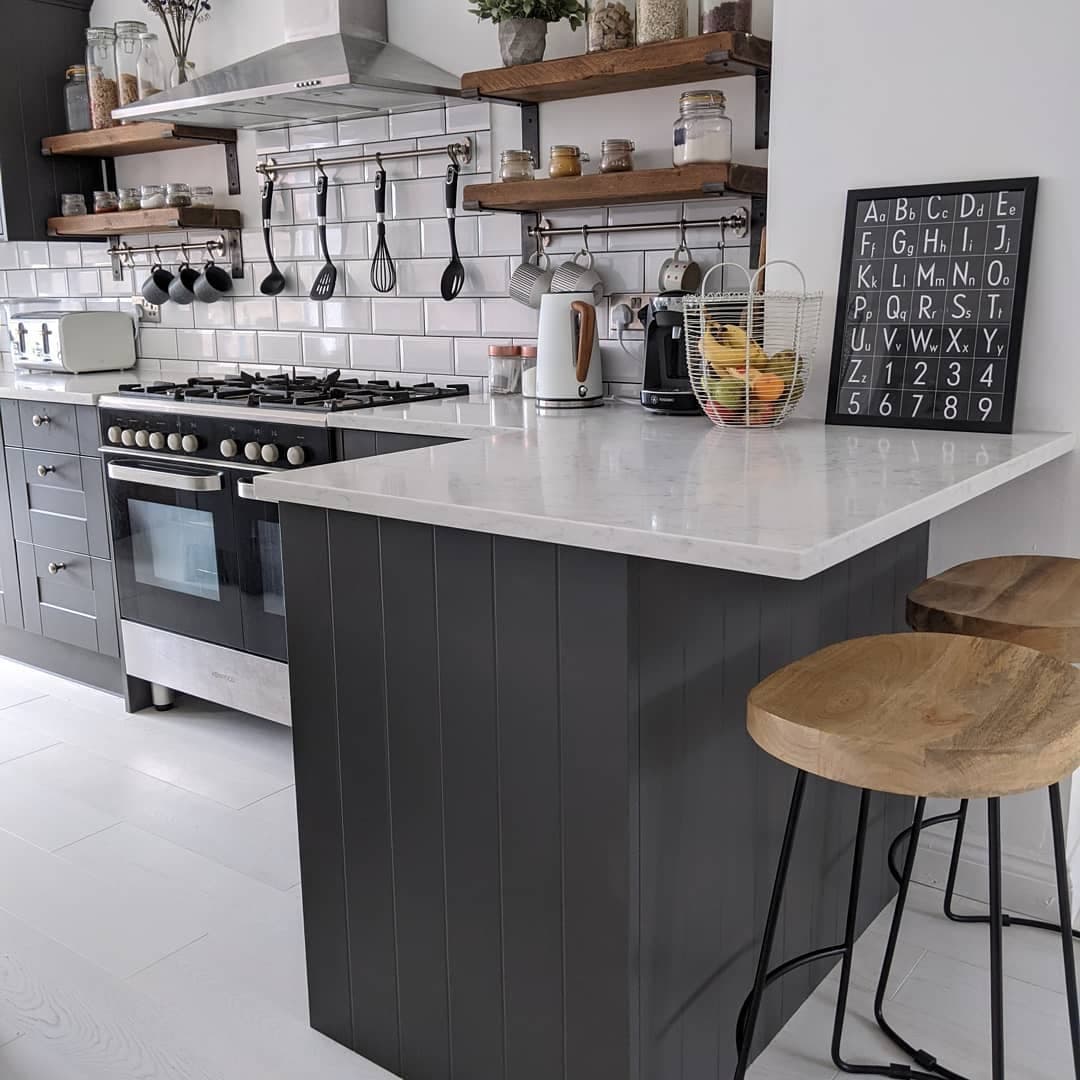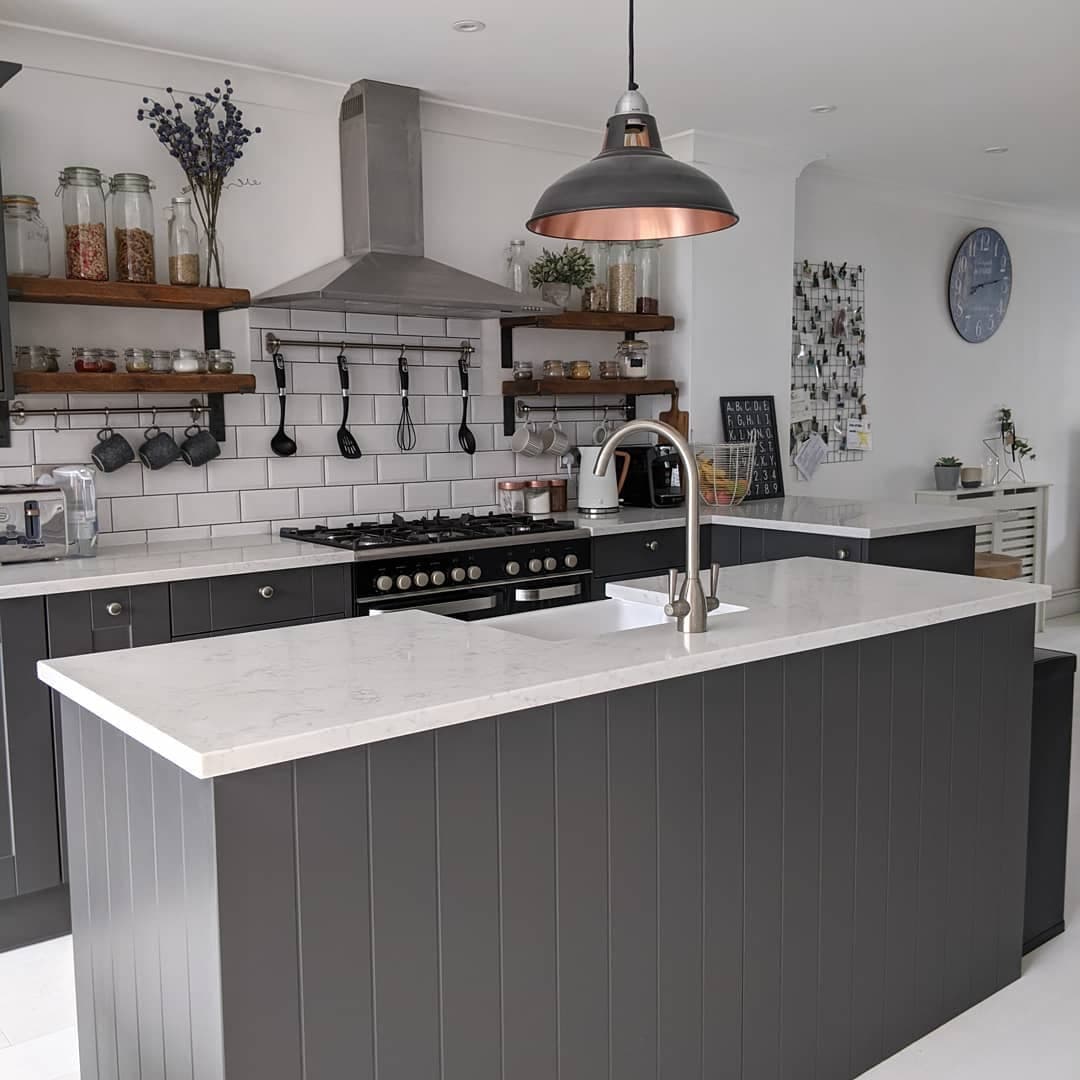 Arctic Starburst
With the introduction of a yellow hue into kitchen design, it offers warmth and friendliness of natural light without having to use large windows. Modern country kitchen designs embrace natural designs as part of the décor. Embrace the natural elements of wood and coving to enhance and personalize your design. Create focal points and conversation starters in your kitchen by using open space and cosy corners.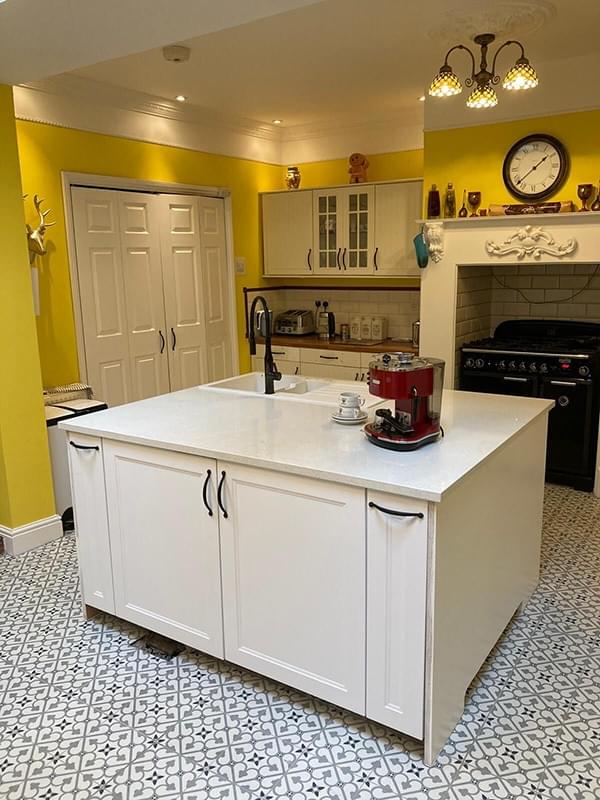 Capri White
Capri white is from our marble collection, with it's stunning white background and dark veins that have all the hallmark of a classic Italian marble! An understated design makes this quartz look timeless and classic in a country kitchen. It reflects light, giving the impression of a larger, more open room. Country kitchens utilize every inch of space, incorporating pantry-style cupboards that offer both aesthetic appeal and practical utility.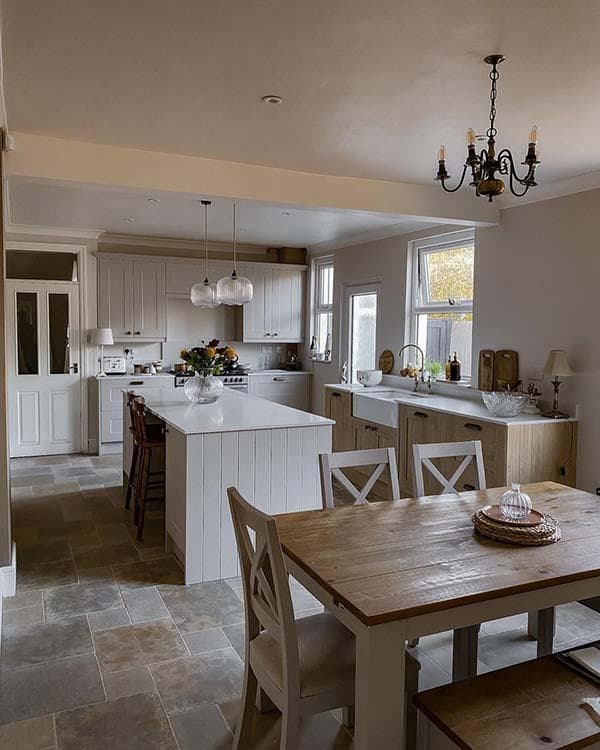 Calacatta Gold Superior
A stunning design highlighting the natural beauty of marble, the dramatic but beautiful surface will transform any kitchen into a stunning space. When paired with a simple, timeless design, it adds subtle depth and detail. White marble with gold veining perfectly complements brass hardware such as handles and accessories that are common to country-style kitchens.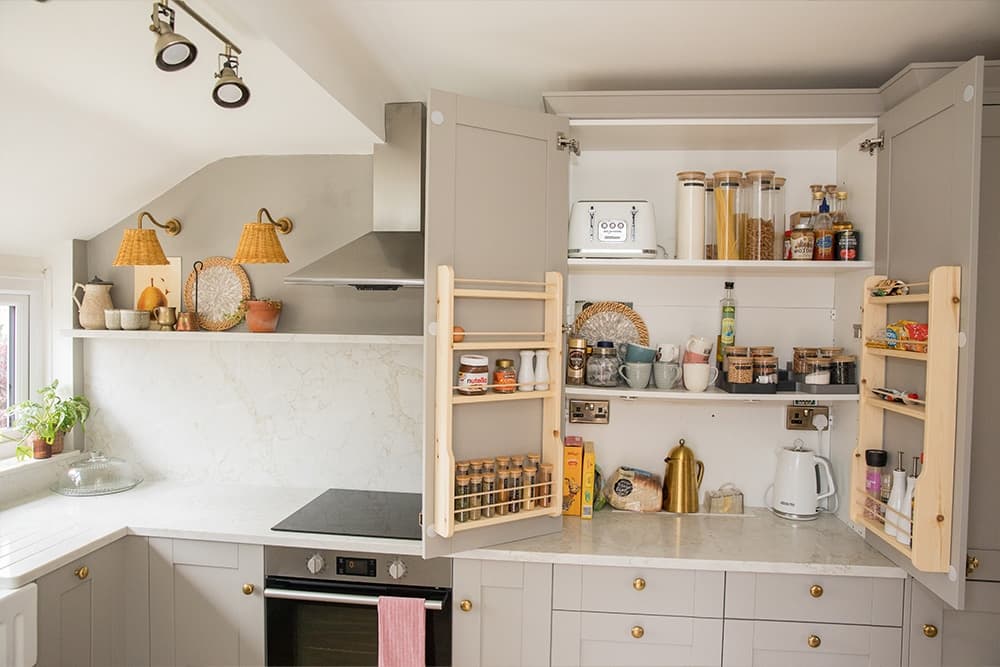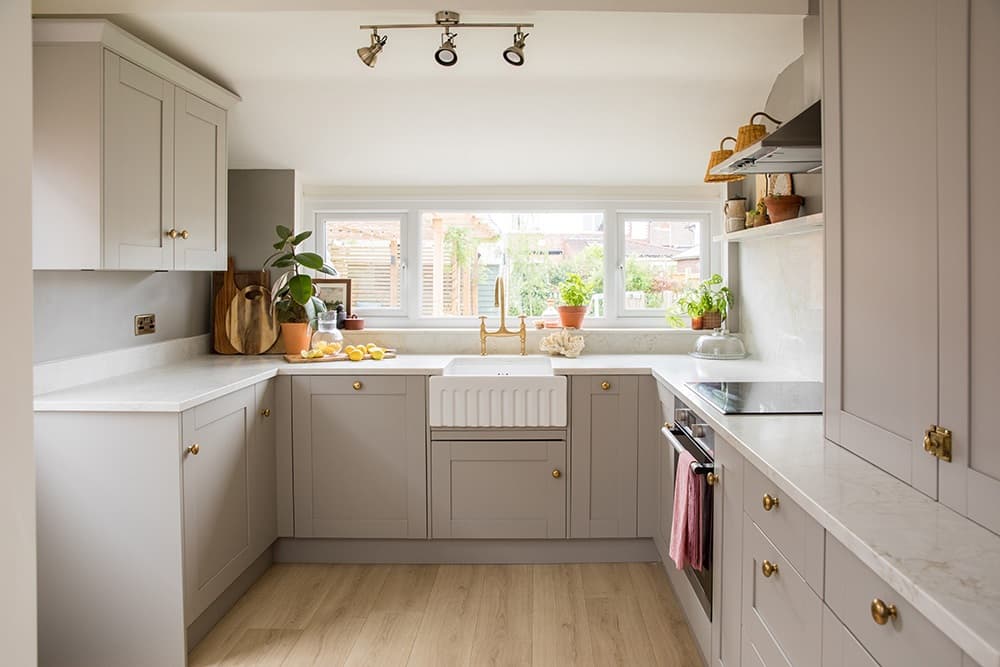 Galileo
Galileo is the perfect surface to create a dynamic and impressive aesthetic in your kitchen. Compared to the other surfaces it is not the most traditional for a country style, however, adding a modern twist to a classic style creates a room with sophistication and beauty.
Adding subtle wooden accents, open shelving and displaying pans create a subtle country feel, the way you accessorise amplifies your design and makes your kitchen a feature within your home.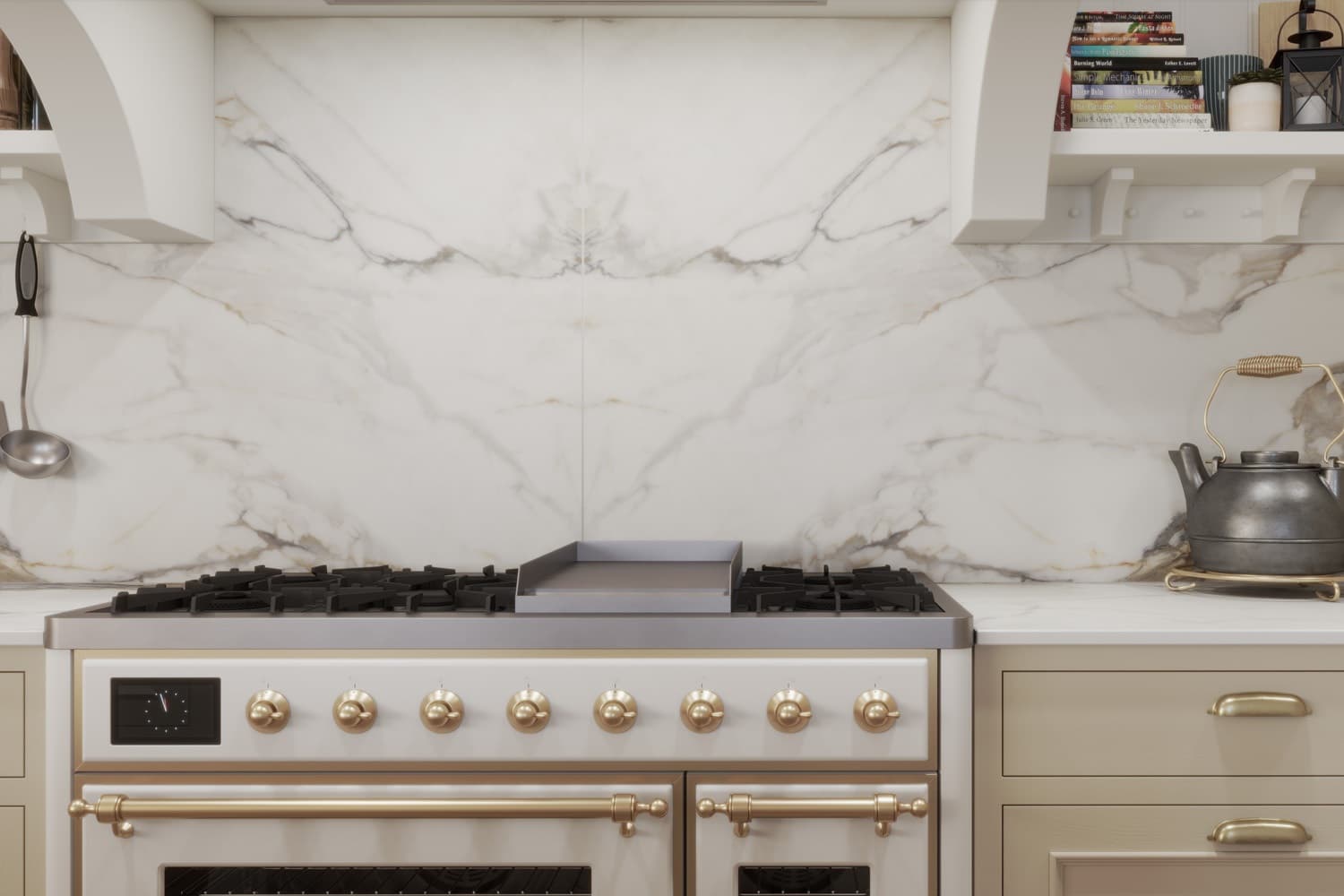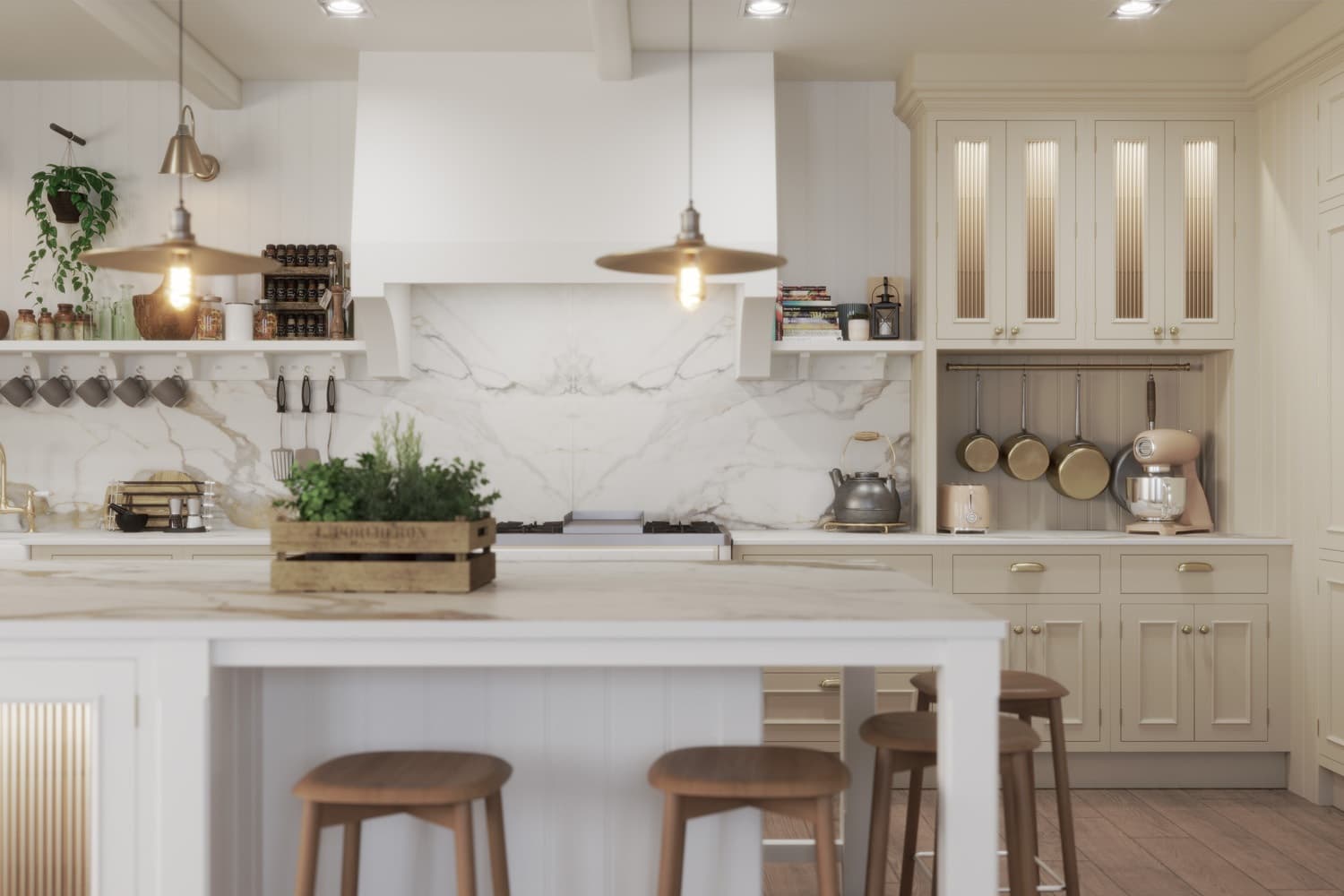 Three ways to bring the Modern Country style into your kitchen
Farmhouse and apron sink
The farmhouse or apron sink typically features in a country kitchen due to its sleek aesthetic and generous size. These sinks typically extend over the counter, creating a unique feature in any kitchen. Country kitchen resurgence has given rise to the popularity of these sinks. Their fireclay or cast-iron construction makes them incredibly durable and easy to maintain.
Pantries and storage
Both country and modern kitchens are renowned for their organisation and the way they maximise space. Pantries are becoming increasingly popular in kitchens as they create a feature whilst holding an abundance of practical value. The traditional pantry is integrated into the kitchen cabinets or can be free-standing giving you the opportunity to take advantage of the whole space.
Open, floating shelving and displayed items
Optimising the space in modern country kitchens is one of the key features. Reclaimed wood shelving adds a touch of country charm, if you want to modernise the space, why not opt for quartz shelving to match your worktops to create a seamless and cohesive design. With this kind of shelving, you can organise and display artwork, glass jars and canisters, adding character to the space. The addition of wall racks and holders for displaying utensils and accessories adds a casual yet creative aesthetic to any kitchen. Making the most of the entire kitchen space and maximizing it to the fullest is key to a modern country kitchen.
Request a free quote
Interested in one of our quartz surfaces for your kitchen? Get in touch for a free, no obligation quote today.

You may also like...