Kitchen Trends: Industrial Kitchen Design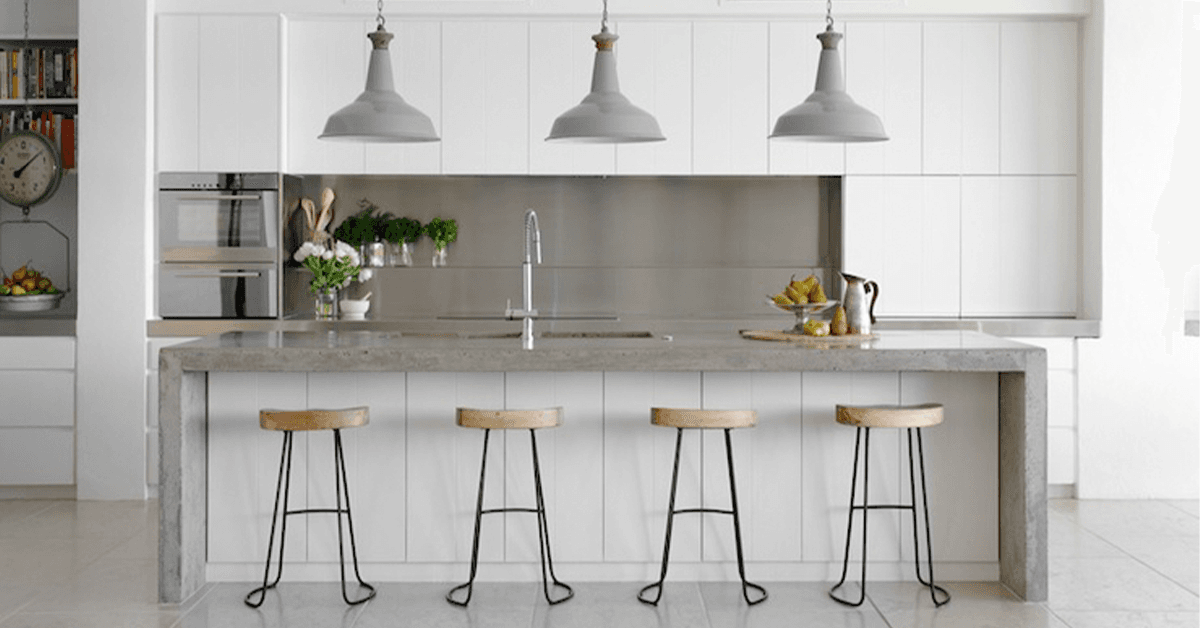 Industrial interior style is a trend that has surfaced over the last decade and is certainly here to stay. Celebrating an era of mechanical revolution beginning in 18th century Britain, Industrial style is both iconic and functional, perfect for application to the kitchen space. Exposed brick and concrete surfaces, reclaimed features like exposed copper piping and statement metal accessories are just a few of the defining features. This stripped back style will appeal to those looking to add edge to their interior style.
The industrial trend has been widely used across both commercial and home design. So how do you create an industrial style kitchen? We've been getting plenty of Pinterest honoured inspiration on how to get this design right in your home.
Options for your industrial kitchen worktops
Industrial design has a focus on function, celebrating the materials used in efficient, mechanised production born out of the industrial revolution. Textured and reclaimed surfaces such as concrete, cement and metal are used heavily in Industrial design. Ironically, as kitchen worktops these materials may look the part but aren't exactly up to the performance standards of a busy family kitchen. At Gemini Worktops, our quartz worktops come from quarries and through factories that produce the finest quality quartz worktops with unbeatable performance. Read more about the advantages of quartz worktops.
More specifically, our Gemini Quartz Industrial Collection has been created to accommodate specifically for this design taste, whilst offering the supreme performance of engineered stone. We will cover some of our industrial kitchen worktop colours in this article, along with a couple of alternative options from the other collections in our Gemini Quartz range.
Get the Industrial look with Gemini Quartz
Five Industrial inspired kitchens along with some Gemini Quartz surfaces to get the look
A classic example of making the most of features to define the aesthetic. The industrial kitchen worktops of this space are set centre stage against a pure white backdrop. Dropdown panels on the island carry the material to the floor, making the most of the surface application.
Want this look? We do support complete authenticity when it comes to industrial design but be careful in your choice of worktop. Not only is concrete dangerously heavy to place on top of cabinets in your kitchen, it is also prone to staining, marking and chipping easily. A sleek light grey textured quartz, Cool Cement will provide everything in terms of the look and feel of a concrete worktop, yet with all the advantages of a quartz surface; it's a win win.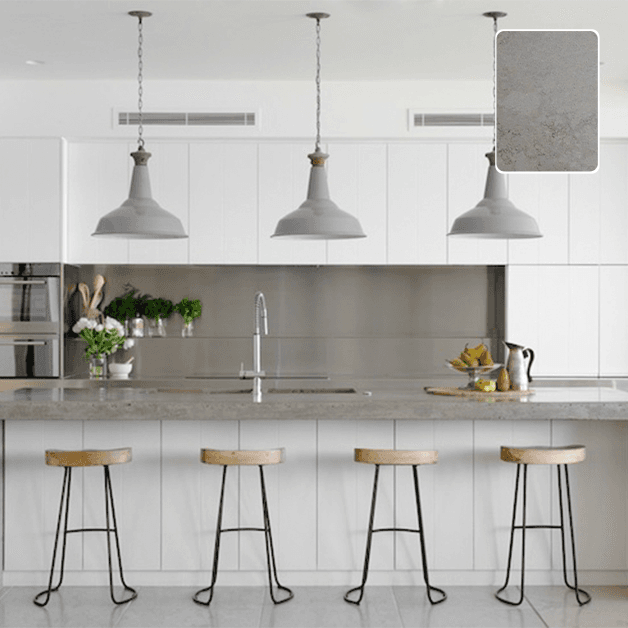 Urban Concrete offers a medium-dark shade of grey that contrasts well with metallic features, especially brushed copper or nickel. This colour has that same misty appearance and granular finish, characteristic of concrete. Again, the rustic surface is a central feature in this industrial style kitchen. An ultra-wide island unit with down panels and cladding creates a continuous flow of surface material. A full width factory pendant gives a neat and balanced monochrome finish.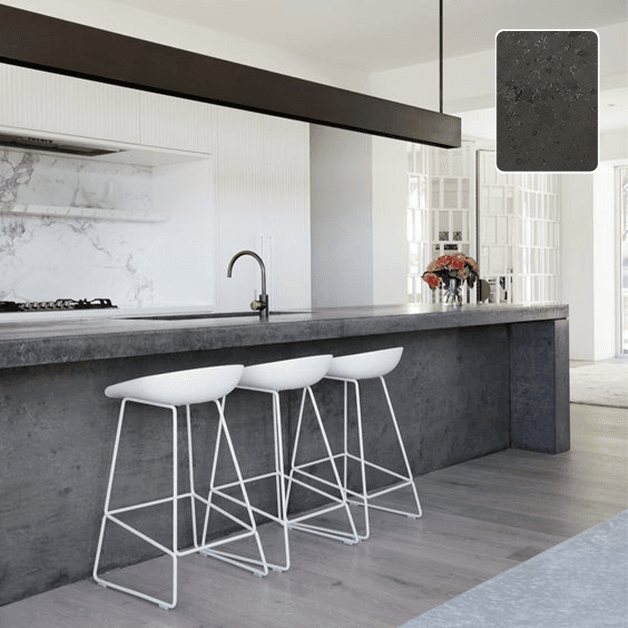 Request your free quote
Interested in one of our Industrial Collection quartz surfaces? Get in touch for a free, no-obligation quote today.
A light and spacious kitchen with high ceilings is the dream for industrial design application. It allows for the use of darker and unique colour options in your cabinet and worktop design. This is where you can get creative with your worktop choice. Opt for a textured concrete surface with added character like Iron Ore. This surface is darker than the other concrete colours and has a worn metallic supplement in the surface that creates the ultimate industrial appeal.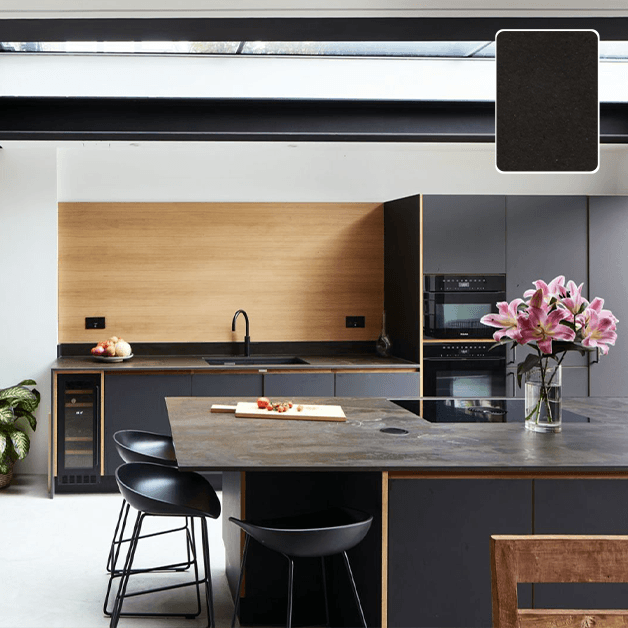 Don't want to go all the way with a textured worktop? Go for a neutral polished surface to frame the features of your industrial style kitchen. A monochrome colour pallet can really highlight this design theme. Gemini Quartz Ultra White will deliver a bright and pure white quartz with a tight grain and clean polished finish. opting for matching white cabinetry will highlight surrounding contrasting materials and textures.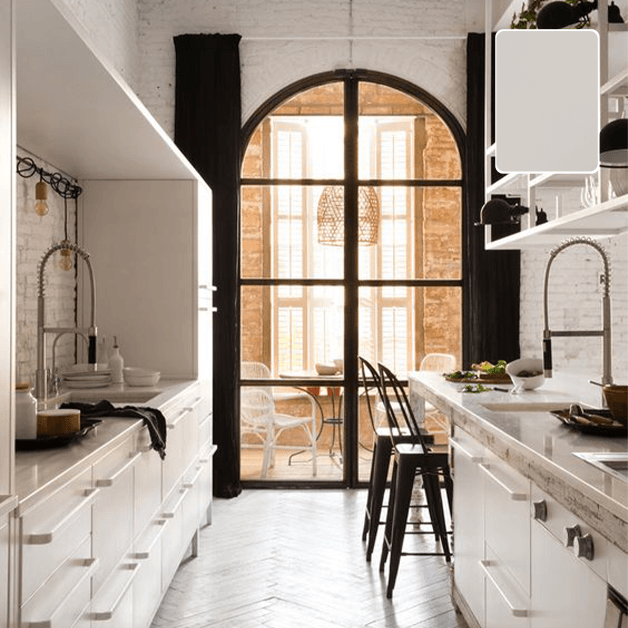 Finally, Falcon Ice will complement an industrial colour pallet and depending on how you accessorise and style your space, you can create a real edge with the right colour pairings. This light and calm shade of grey with a shimmering finish works well with exposed brickwork, concrete flooring and exposed lightbulb pendants.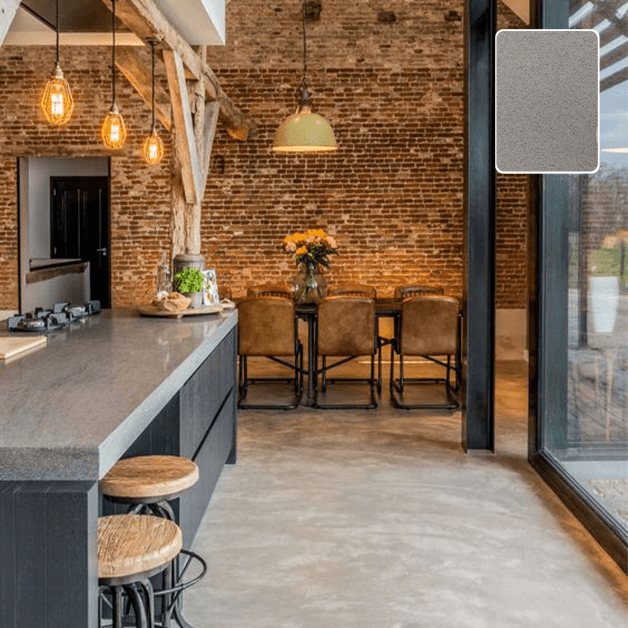 Three ways to bring the industrial style into your kitchen
Accessorise with reclaimed goods
Incorporating reclaimed goods will add a rustic industrial personality. Contrast the texture of hard concrete surfaces with the sheen of brushed metal or the gnarled grain of reclaimed wood. Merging different materials and textures typical to this look will help create an all-round look. Shop around at your local antiques dealer for oil lamps, vintage tin signs, brushed nickel or copper pendants and accessories. These types of materials bring character that can define the industrial style in your kitchen.
Industrial pendants
Lighting is not only important for this design theme, but in the balance and layout of the modern social kitchen. One of the major inventions to come out of the Industrial revolution was the breakthrough Edison lightbulb. A simple exposed lightbulb in a lamp or light fitting will instantly add an edge to your kitchen and give a nod to the infamous inventors of the Industrial era. Look out for pendants that don Ropes and chains in their design for added charm —low hanging pendants work well over a breakfast bars and dining tables.
Functional Layout
The desire for both a minimal and practical space is the key to why Industrial style kitchens are so popular. In fact, keeping your kitchen open will provide plenty of area for bold statements without overwhelming the space. Renowned for their accessible layouts and use of materials recycled from past purposes, Industrial kitchens are the epitome of function. So, the top tips here is to create plenty of space for your industrial features. Also, try incorporating open shelving and exposed cabinets in islands, breakfast bars and peninsulas to stay true to the aesthetic and provide plenty of storage.
Request your free quote
Interested in one of our Industrial Collection quartz surfaces? Get in touch for a free, no-obligation quote today.
You may also like...