A Guide to a Smooth Kitchen Worktop Installation with Gemini
Transforming or renovating your kitchen with new worktops is an exciting process, however, as you approach the installation stage, it's natural to have questions and wonder what to expect. This blog will take you through each step of the installation appointment, helping you prepare for the big day and providing valuable insights into what lies ahead.

Worktop Installation - Step by Step
Confirmation and Arrival Time
To ensure a seamless installation process, you will receive a confirmation text and email from us 24 hours prior to your appointment. This message will include a designated time slot for the arrival of our professional fitters at your home. While we strive to adhere to the given time slot, it's important to note that unforeseen circumstances such as delays from previous jobs or traffic may cause slight variations.
However, our installation team will stay in close communication with you and provide an estimated arrival time one hour before they reach your property. However, if the appointment is before 10:30 am the team will not call you, but you can request a call, so you are notified of when they are due to arrive.
We do also recommend that you are available all day for the installation appointment as we cannot guarantee your time slot until the day before. When we do arrive at the fitting address it is important to ensure that there is a suitable parking spot available for our team. If your local area requires parking permits, please obtain them in advance to prevent any potential delays or inconvenience during the installation appointment.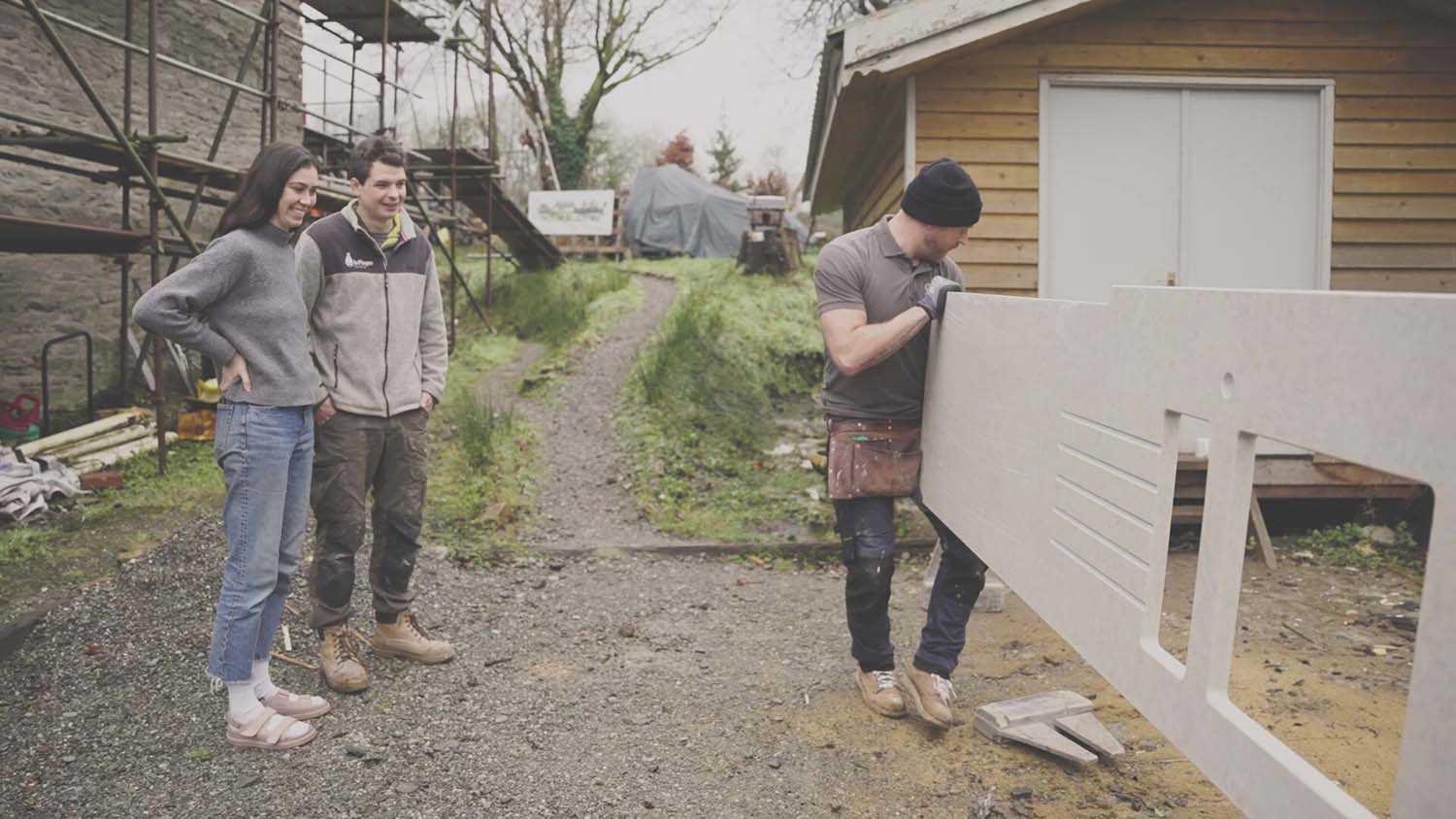 Preparing the Area
Preparing the area where the worktops will be installed is crucial for a smooth installation process. Before the installer's arrival, make sure to remove any old or temporary worktops and clear the space of any obstructions, appliances, or fixtures.
This step streamlines the installation and allows the installer to move around freely and work efficiently. It's worth noting that some worktops may require additional support, as advised during the template appointment, and stated in your final order confirmation. By completing the recommended advisory works, you can help ensure a seamless and successful installation experience.
Installing the Worktops
Once our skilled installers arrive, they will initiate the installation process for your new worktops. The duration of the installation typically ranges from 40 minutes to an hour per worktop, depending on the size and complexity of your kitchen. This stage of the process is truly exciting, as you will witness your vision coming to life and your kitchen transforming into a beautiful and functional space.
Fitting Sinks and Appliances
Our team of expert installers is dedicated to achieving a precise and seamless fit, especially when it comes to worktops that include sinks or other appliances. During the template appointment, precise measurements for cut-outs and necessary holes, such as those for taps, pop-up sockets, and fixtures, will be taken.
Rest assured; our team will double-check these measurements during the installation to ensure their accuracy. However, it's important to keep in mind that connecting the taps and appliances to the plumbing and electrical systems requires the specialised skills of a qualified electrician and plumber.
If your sink is an under-mounted sink, our team will securely attach it to the underside of the worktop, ensuring it is secure and in place. In cases where sink support bars are necessary, it is important to ensure that these are included in your order before making the final payment.
If you have purchased your sink from us, we automatically include these support bars, however if you have purchased these from elsewhere it is important that these are on site if required by the team. If you have been advised to add sink support bars, our team will make sure to install them on the day of installation if these are purchased directly from us, providing the necessary reinforcement and stability for your sink.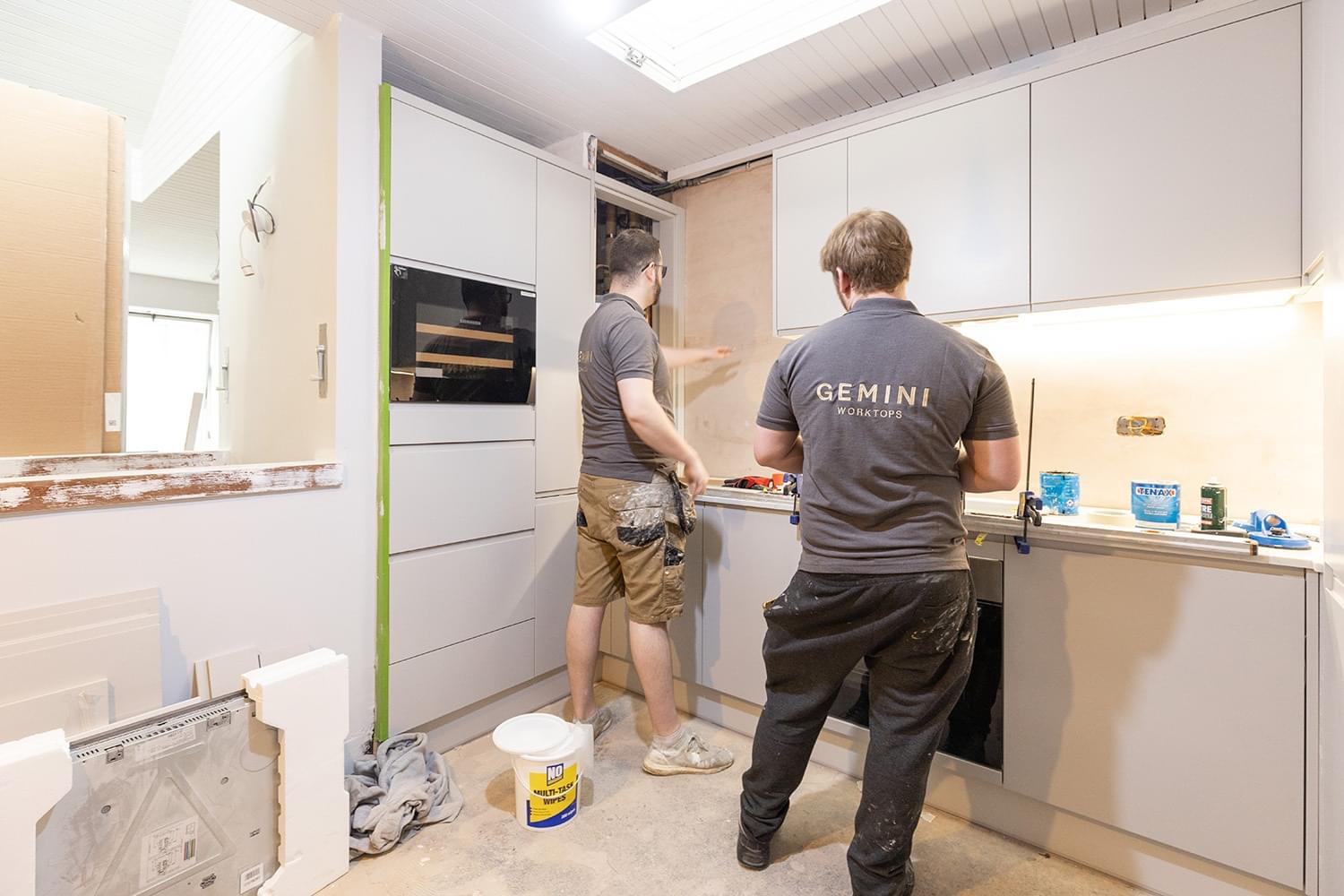 Finishing Touches
Once the worktops are securely installed, our professionals will carefully ensure that they are level and properly aligned. They will then proceed to fit any cladding, splashbacks, or upstands that perfectly complement the aesthetics of your kitchen. Before completing the installation, the installers will conduct a thorough clean-up, removing any dust or debris, and leaving your kitchen spotless and ready for you to enjoy.
Aftercare
To ensure that your new worktops maintain their long-lasting beauty and functionality, our dedicated installers will provide you with valuable aftercare advice. This guidance will include detailed instructions on how to effectively clean and maintain your worktops.
To assist you in day-to-day cleaning and maintenance, we highly recommend using the Gemini Quartz care kit specifically designed for your worktops. On the day of installation, we provide a courtesy care kit that includes essential cleaning products to help you keep your worktop in pristine condition. If you run out of these cleaning essentials, additional care kits can be ordered through our website, ensuring that you always have the necessary tools to preserve the beauty of your worktops.
In addition to aftercare instructions, our installers will inform you about any warranties or guarantees that accompany your installation. This provides you with peace of mind and assurance that your investment is protected. Should you have any questions or concerns regarding the aftercare or warranty, our team is always available to assist you and address any inquiries you may have. By following the recommended cleaning and maintenance practices and taking advantage of the care kit provided, you can enjoy your beautiful worktops for years to come, maintaining their stunning appearance and exceptional performance.
Navigating a kitchen worktop installation with Gemini is an exciting and rewarding process. Following these tips and effectively preparing for the installation appointment can ensure a smooth and stress-free experience. Trust in the expertise of our experienced installers, and before you know it, you'll be revelling in the exquisite beauty and functionality of your brand-new Gemini worktops. Get ready to transform your kitchen into a space you'll love for years to come.

Request a Quote
Interested in a quartz countertop for your kitchen? Get in touch for a free, no-obligation quote today.

You may also like...