Designing a kitchen from the tops down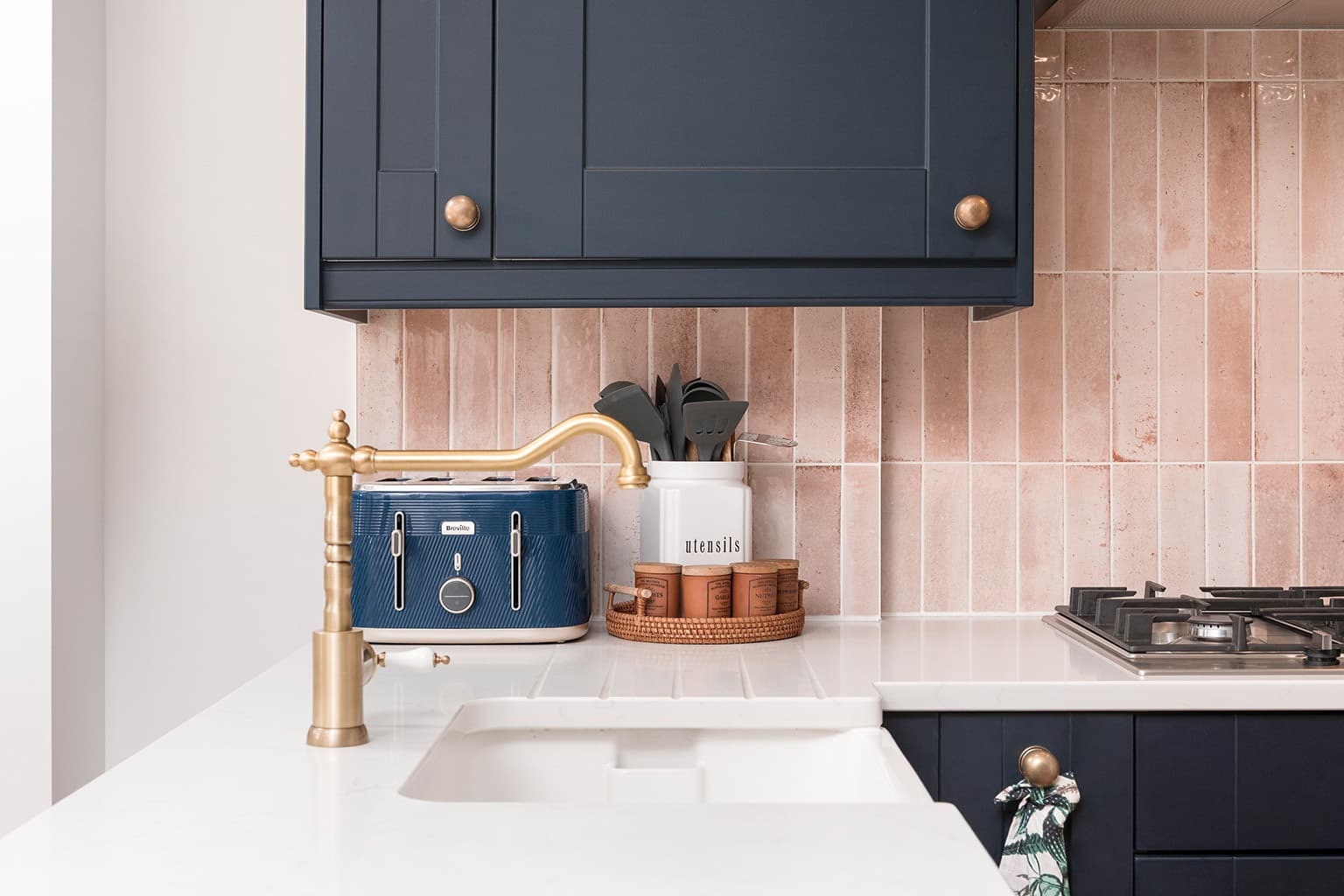 When it comes to kitchen design, there are 5 big-ticket items: 1) cabinets, 2) worktops, 3) appliances, 4) sinks & taps, and, 5) flooring. Each of the major kitchen areas has a slightly different purpose and importance depending on who uses your kitchen and how you live. There are a million different design elements we can choose from, starting with colour and material and including a lengthy list of features and benefits.
Start your kitchen design with the Worktops
We recommend that you plan your kitchen starting from the countertops. Although we may seem biased, we have some solid reasons for suggesting that the best kitchen designs put the work surfaces first. Just think about your own kitchen. You are either very lucky to live with tidy people or you already have plenty of surface area to work on if one of the questions you don't mention often is "why is there never enough space to put things down in the kitchen?".

Need more advice?
Book Worktop Consultant Callback
Depending on how you live and whom you live with, a kitchen countertop is much more than just a pretty picture to look at or a dirty, unyielding place to clean. The worktop is where the kitchen's function and space are defined first. In addition to the flow of traffic, they likewise contribute to the efficiency of the hub where many household activities take place. Water, heat, and food preparation all revolve around the surfaces on which they rest, sit, or integrate.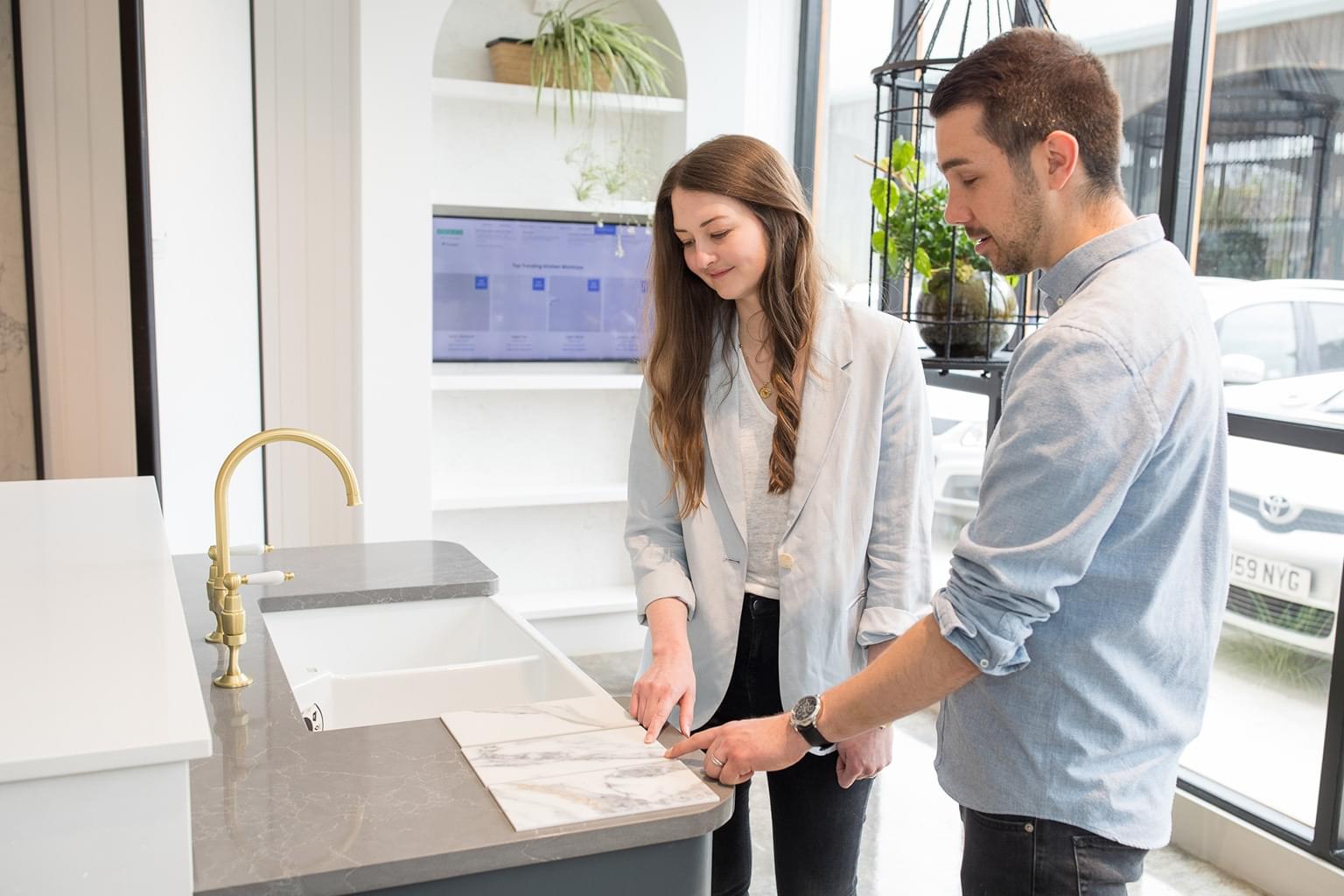 Design Tip: for more worktop space you can create an unsupported overhang in all Gemini Worktops materials up to 300mm, or use our clever concealed brackets to create floating overhangs up to 600mm.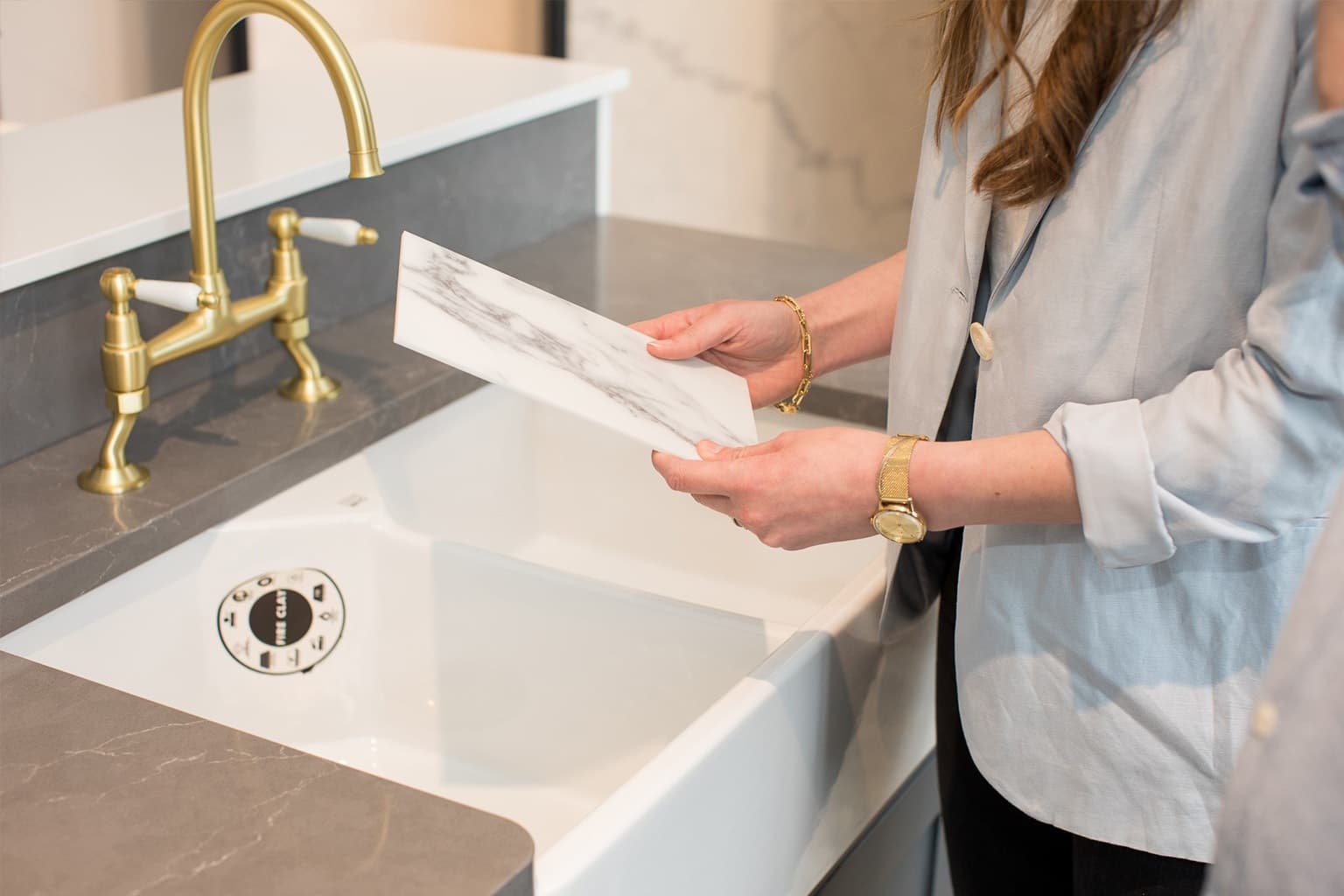 The kitchen worktop is the foundation of the entire kitchen and that's why it's important to choose these first. While it's good to have a design idea or a style in mind, designing around your surfaces will make it easier to choose your decor and will allow you to create your dream kitchen. The work surfaces set the tone and style for the kitchen and with so many design options and styles, it's hard to know which is right for you and your home.
If you walk into a kitchen, the worktops are the first thing you see, so you want to make a statement with something that's stylish and coordinates with your chosen design. When it comes to choosing your style and material of worktops, it's imperative to consider your vision and what the end results could be, if you are not sure about a specific design why not check out Pinterest for some inspiration.

Surfaces to inspire your design style
Gemini Worktops offers a wide variety of surfaces to inspire the exact design style you want in your home. When choosing a surface, the colour and pattern are probably the first things that come to mind so it's good to research what your options are? Marble surfaces are perfect for creating a clean, elegant kitchen.
They go well with muted colours, soft tones, and can showcase the patterning beautifully. For a more colourful and stylish worktop, consider quartz.
At Gemini, we offer our own brand of quartz worktops to suit any kitchen style so you are not short of choices. Your colour and pattern are key components when choosing your surface, but with your vision in mind, you may also want to consider the type of edge profiles, sink grooves, and any cutouts or shaping you want your worktops to have.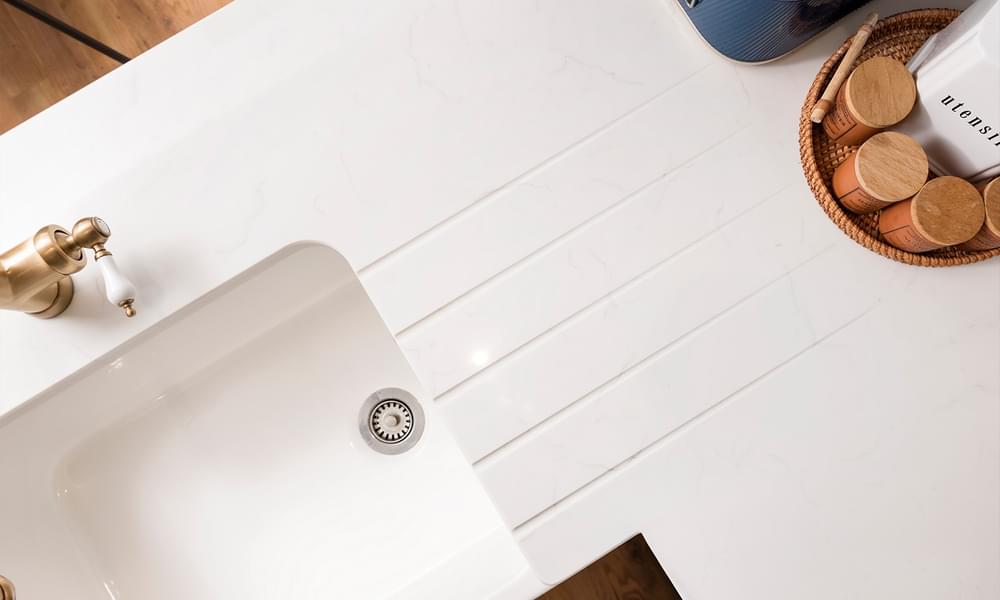 Design Options
There are almost limitless design opportunities with Gemini Quartz colours to ensure you can create the kitchen of your dreams.

Explore Design Options
At Gemini, we believe that starting your design journey at your countertops can simplify your kitchen remodel. Choosing your ideal kitchen style, and designing your kitchen around your worktops, enables you to match, coordinate and embrace a style you aspire to, creating a beautiful feature in the heart of your home.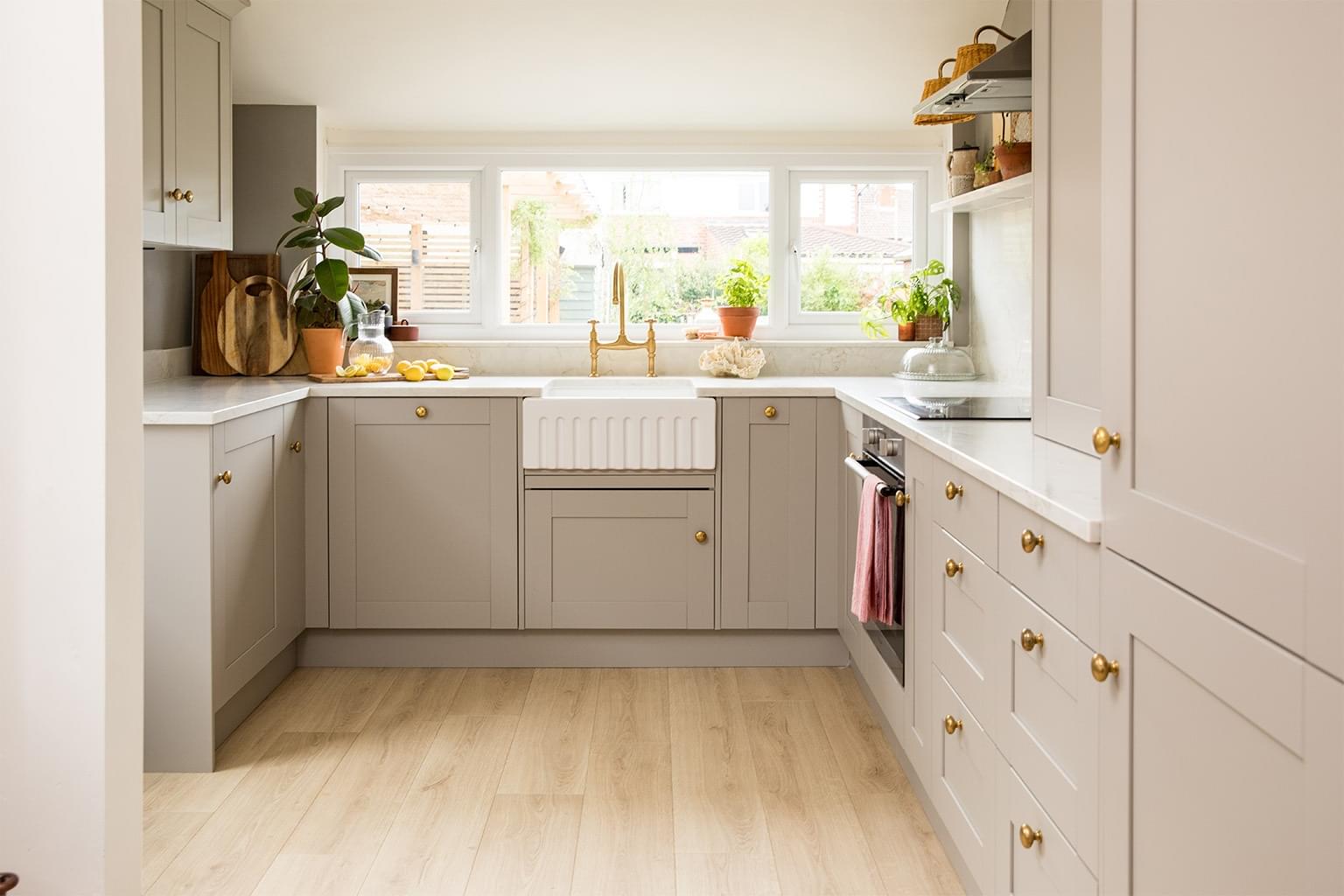 Sustainable option
If you are keen to save on costs and consider the environment, why not upgrade your existing cabinetry and replace worktops with the most durable option. Gemini are pleased to offer a 25-year material warranty as we are confident in the longevity of our surfaces.
Choose one of our classic colour styles and it'll stand the test of time. Time and time again, you can refresh your look by picking new cabinet colours, handles and accessories. Your worktop will take on a new personality when paired with a new colour palette. Not sure if you can make a design change? Try putting together a mood board and testing the same worktop colour with a range of different paint colours and accessories.
Follow Instagram accounts that focus on DIY on a budget with an emphasis on sustainability for inspiration - follow Instagrammers @banish_the_beige and @kylamcgrathinteriors for cost-conscious DIY inspiration!
Request a free quote
Interested in one of our quartz surfaces for your kitchen? Get in touch for a free, no obligation quote today.

You may also like...