All things gold - how to add gold to your kitchen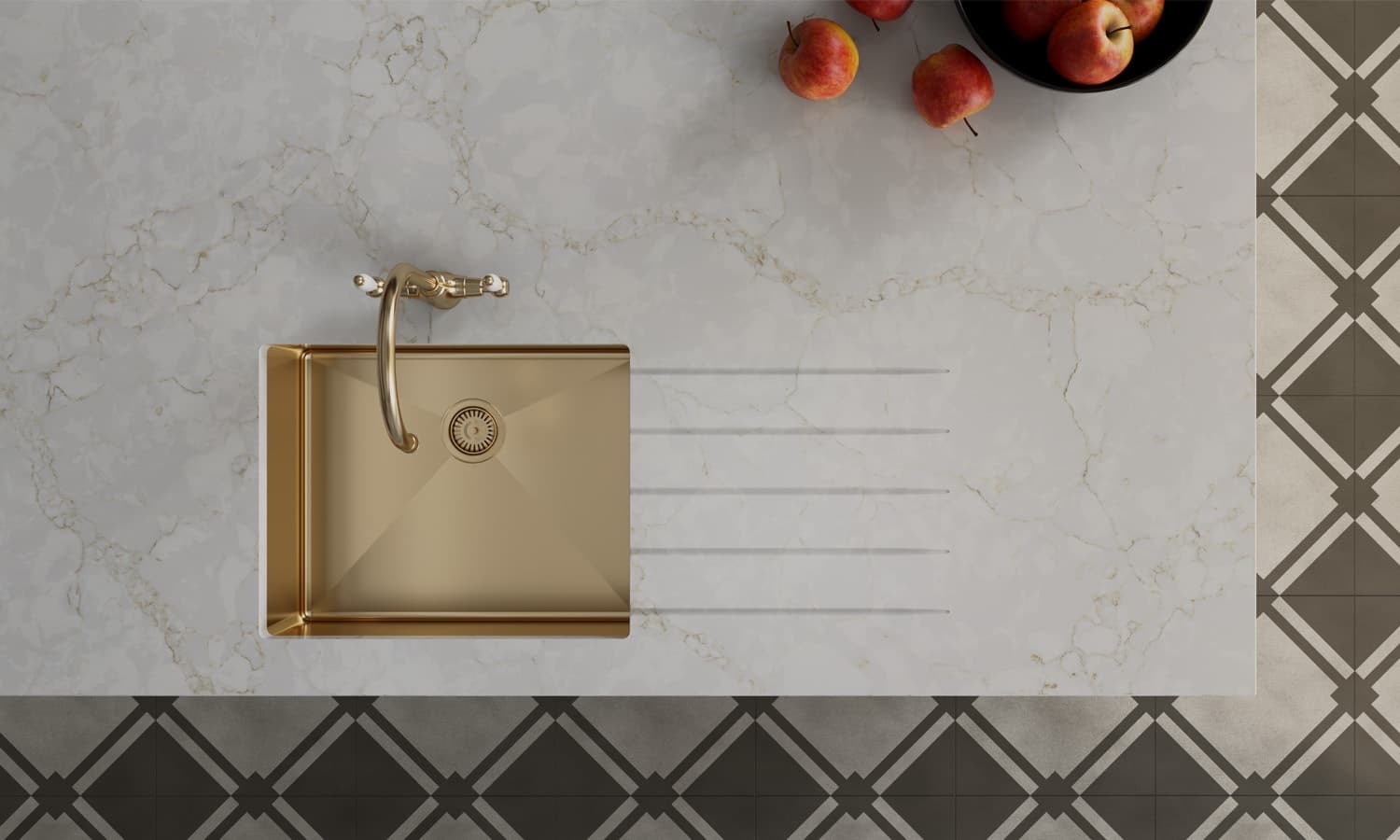 With the upcoming coronation just around the corner, it's no surprise that gold is on everyone's minds. It's a colour that symbolizes luxury, sophistication, and elegance, and can be used to elevate any space. We'll be highlighting all things gold and discussing the diverse ways of incorporating this regal colour into your kitchen design.
From gold worktops to lighting to accessories, we'll cover a variety of ways to add a touch of glamour to your kitchen and make it fit for royalty.

How to add gold into your kitchen
Worktops
One way to incorporate gold into your kitchen is through your worktops. Gold quartz worktops are a stunning addition to any kitchen design. This natural stone material is incredibly durable and resistant to scratches and stains, making it a popular choice for kitchen worktops.
Gold-toned countertops like our Calacatta Gold Superior can be a great way to add a bold statement to your space, creating a luxurious look that adds depth and interest. Depending on the specific type of quartz used, the gold tones can range from subtle and understated to bold and eye-catching which creates a timeless and on-trend design.
Due to the versatility of brass and gold, it can be paired with a variety of designs and colours depending on your style. Not only are gold surfaces aesthetically pleasing, but they are also low-maintenance and easy to clean, making them a practical choice for busy kitchens.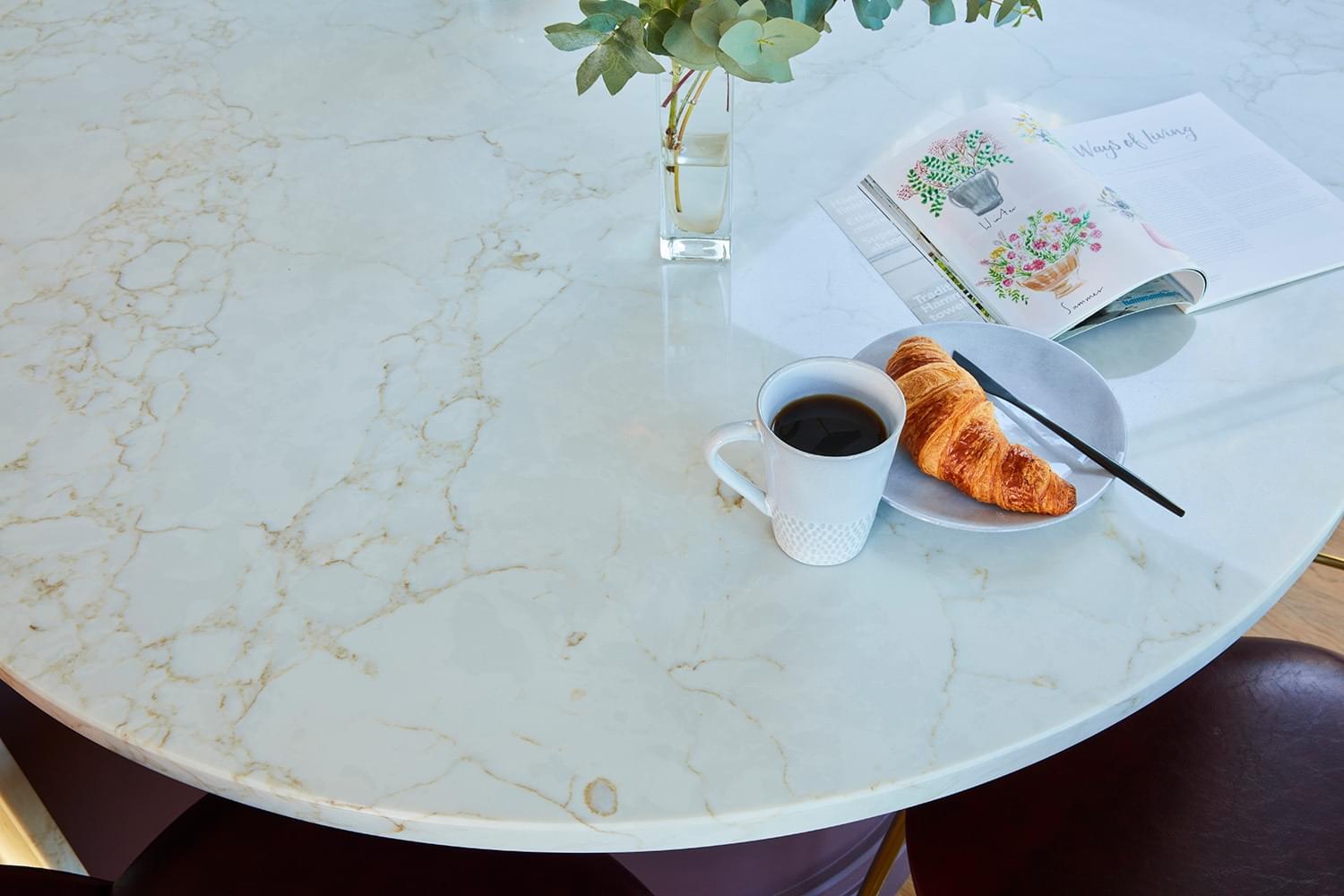 Gold sinks and taps
Brass and gold kitchen sinks and taps can be a stunning addition to any kitchen design - especially when paired with worktops that incorporate gold. These fixtures add a touch of elegance and sophistication to the space, creating a statement piece that draws the eye and elevates the overall aesthetic.
Depending on the specific shade of brass or gold, these fixtures can have a warm, inviting glow which can add a contemporary edge.
Additionally, brass and gold are durable materials that are resistant to tarnishing and corrosion, making them a practical choice for a high-use area like the kitchen. Whether you opt for a simple, streamlined design or a more ornate and intricate style, brass and gold sinks and gold kitchen taps are a luxurious addition to any kitchen design.
View our range of brass and gold AXIX Sinks and 1810 Taps.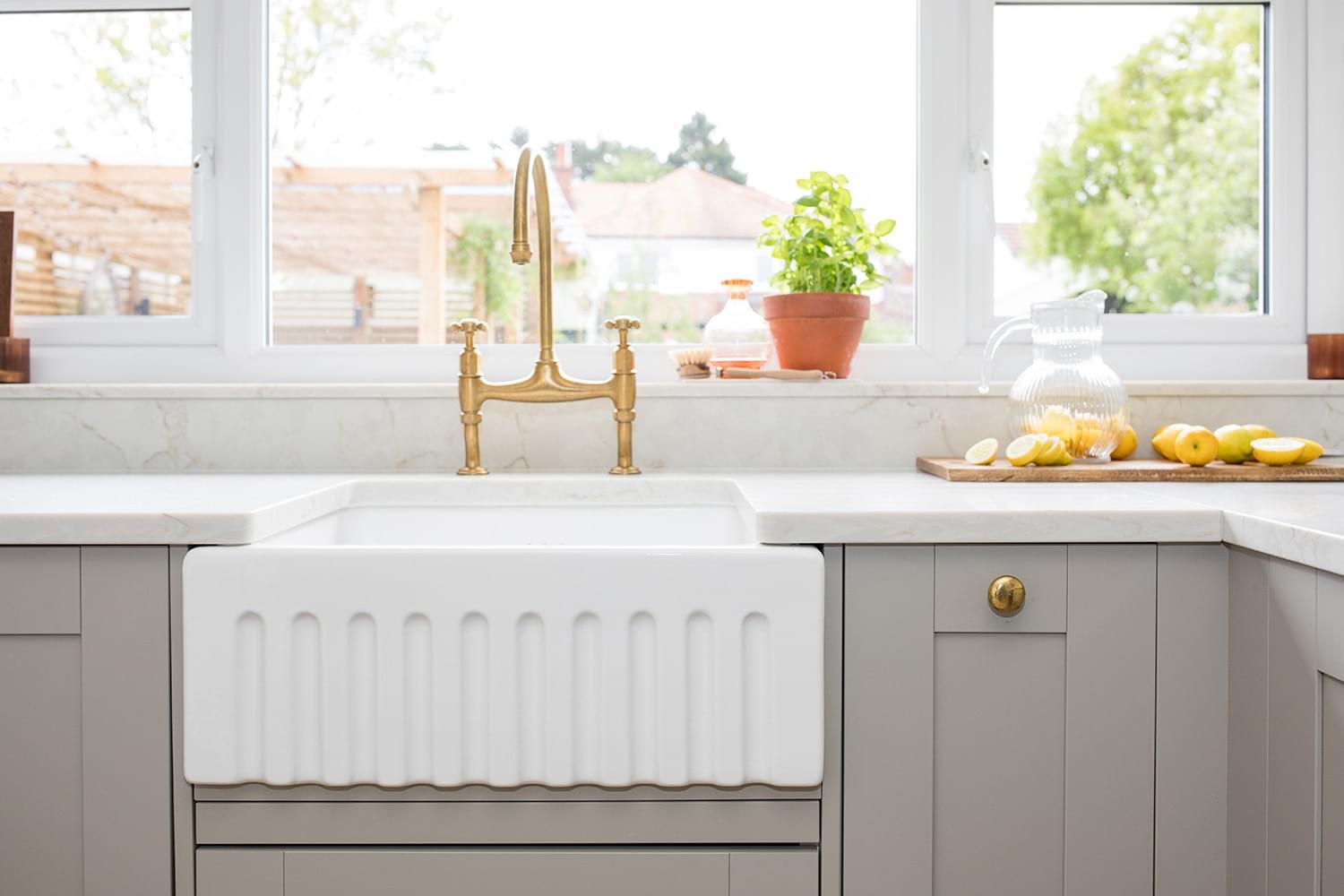 Lighting
Lighting is another great way to add gold accents to your kitchen. Consider adding pendant lights with gold or brass finishes over your kitchen island or swapping out your existing light fixtures for ones with a metallic finish. This can add a warm, inviting glow to the space and make the gold accents in your kitchen really pop. Gold and brass lighting fixtures offer a timeless, classic look that complements a variety of design styles, from traditional to modern.
Whether you choose a pendant light or chandelier, gold and brass fixtures can add a touch of warmth to the kitchen. Additionally, these fixtures are often available in a range of shapes, sizes, and styles, allowing you to find the perfect piece to complement your kitchen design. Incorporating gold or brass lighting fixtures into your kitchen design can be a stylish and practical way to enhance the space and create a welcoming ambience.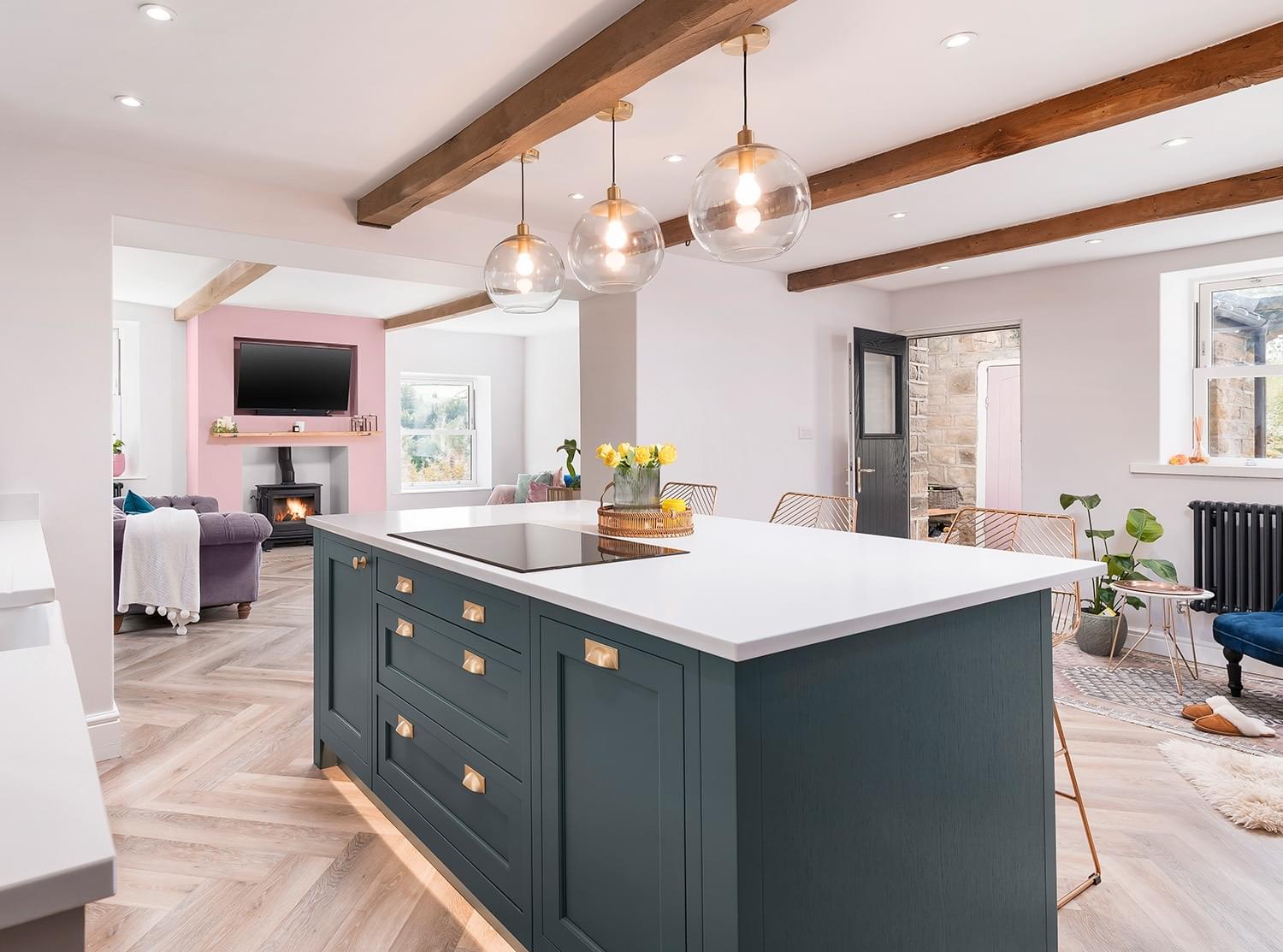 Barstools
If you have a kitchen island or bar area, consider incorporating gold or brass barstools into your design. This can add a touch of luxury to the space, creating a sophisticated and stylish look. Gold stools can be found in a variety of styles, from sleek and modern to more traditional with ornate details.
The warm tones of gold and brass create a welcoming atmosphere, making it an ideal choice for entertaining guests or simply enjoying a meal with family. Additionally, these finishes are versatile and can be paired with a variety of assorted colours and textures, making it easy to customise your space to fit your personal style.
So, if you're looking to add some sparkle to your kitchen design, consider incorporating gold or brass elements for a luxurious touch that will leave a lasting impression.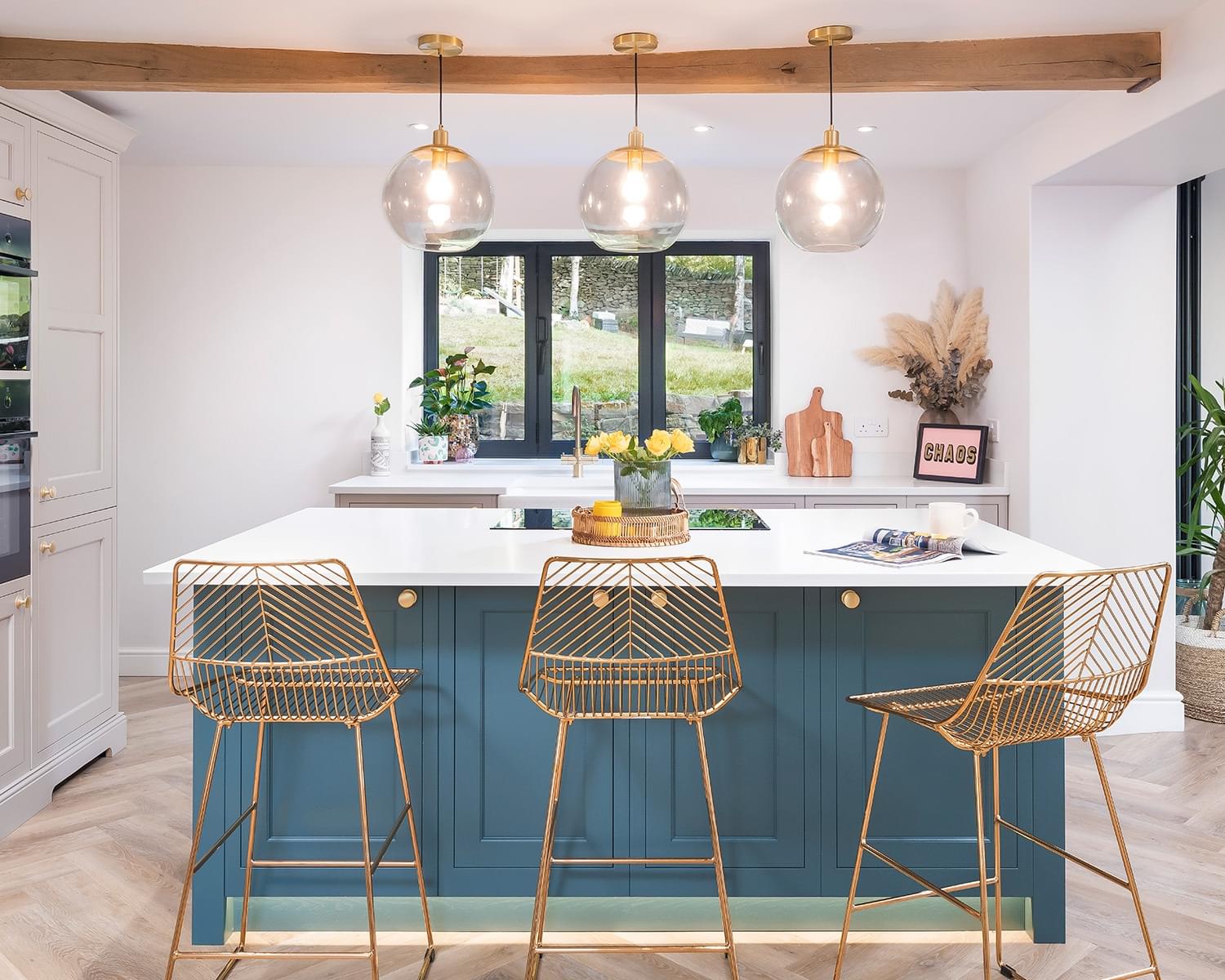 Gold Kitchen Accessories
Accessories are a great way to add gold accents to your kitchen without committing to a major renovation. Consider adding gold or brass vases, utensils, candle holders, or trays to your countertop or shelves to add subtle touches of elegance.
Adding gold or brass accents to a muted space can create visual interest and texture. By incorporating gold and brass accessories into your kitchen design, you can easily elevate the style of the room and create a cohesive, polished look. This can add a touch of subtle glamour to the space without breaking the bank.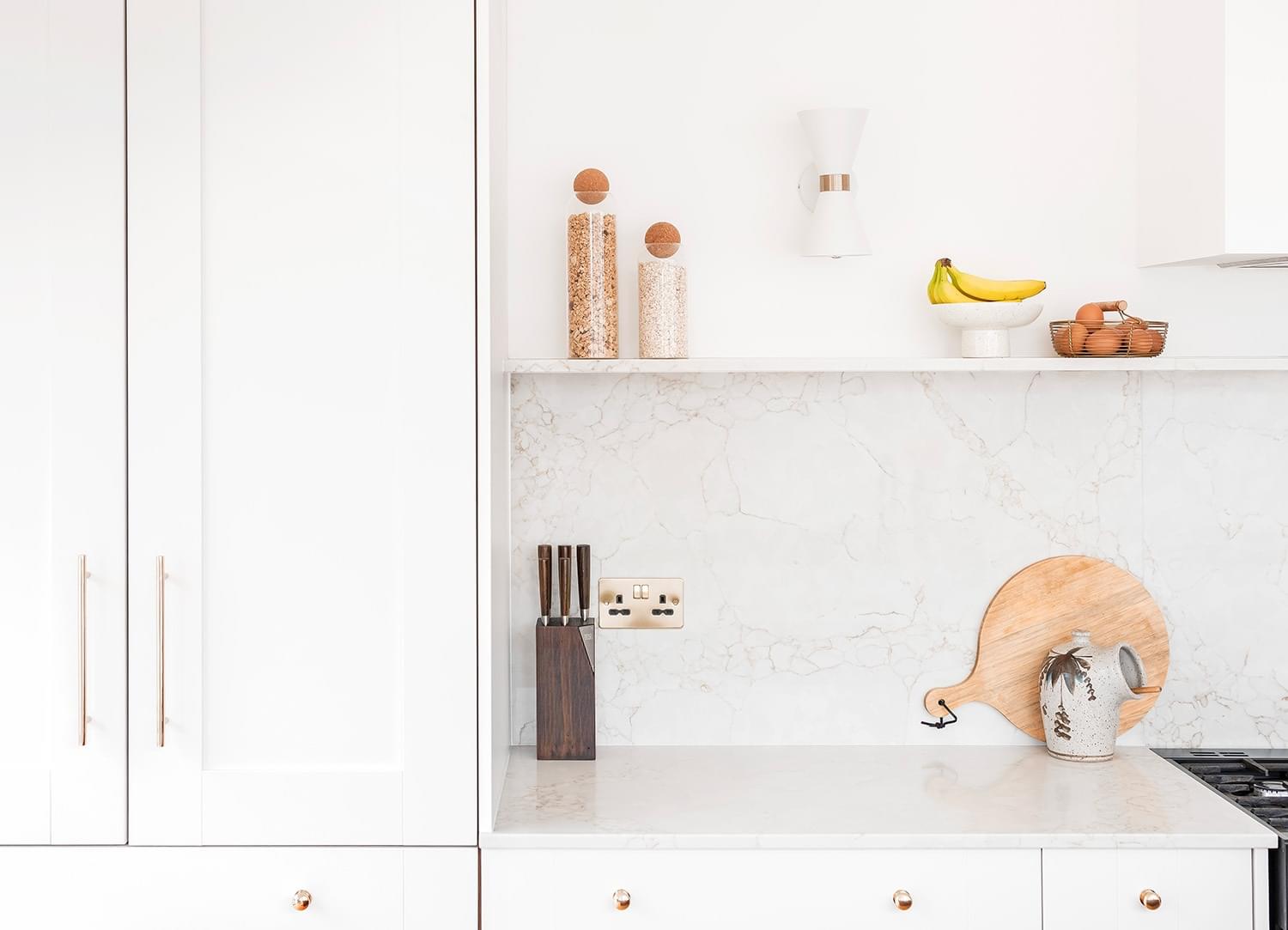 Hardware
Swapping out your cabinet hardware for gold or brass options is another way to add a touch of subtle luxury to your kitchen. Consider replacing your old handles or pulls with gold or brass options, or even adding gold accents to your existing hardware with a can of spray paint.
This can create a cohesive look in the space, if you have other subtle gold elements, tying together different design elements and adding a warm inviting tone to the kitchen.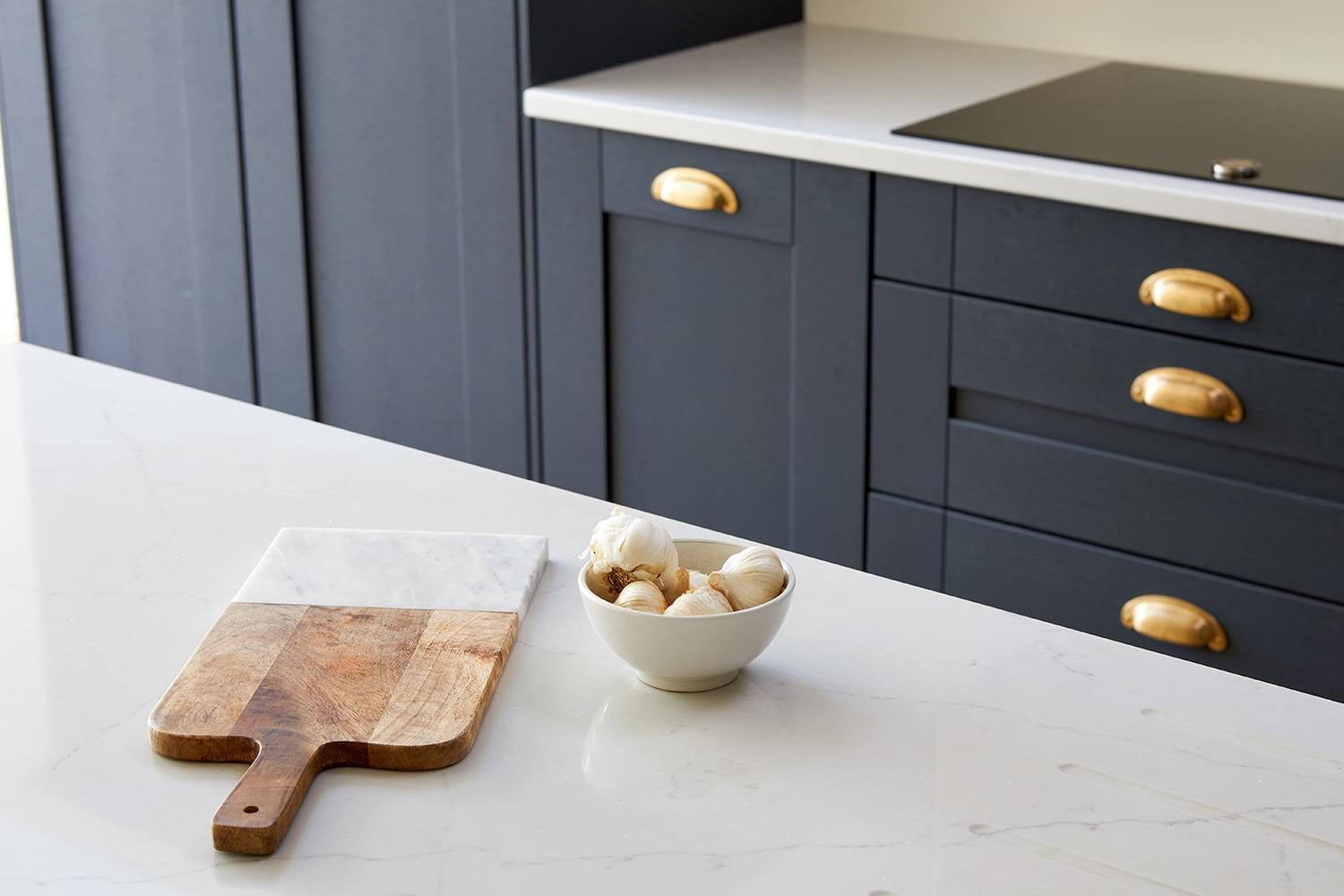 Appliances
While gold and brass appliances may not be as commonly available as other finishes, they can make a bold and eye-catching statement in your kitchen design. For a truly luxurious look, consider incorporating gold or brass appliances into your kitchen. Such as our EVOline sockets, which are incorporated into your worktops for a discreet yet fashionable design.
These can be a more expensive option, but they can create a stunning look that's both elegant and on-trend. Look for appliances with gold or brass finishes, like refrigerators, ovens, or range hoods to create focal points and accent pieces.
In conclusion, there are many ways to incorporate gold and brass into your kitchen design, from worktops to lighting to stools to accessories. By incorporating gold elements in a variety of ways, you can create a luxurious and sophisticated look that's both on-trend and timeless.
Adding gold fixtures is an effortless way to add brightness and warmth to the space, whether you opt for a bold statement like gold worktops or more subtle accents like gold hardware, incorporating gold into your kitchen design is sure to add depth and interest to the space.
Request a Quote
Interested in a gold quartz countertop for your kitchen? Get in touch for a free, no obligation quote today.

You may also like...