Accidental Renovators Part 3: Claire and Cal's final kitchen reveal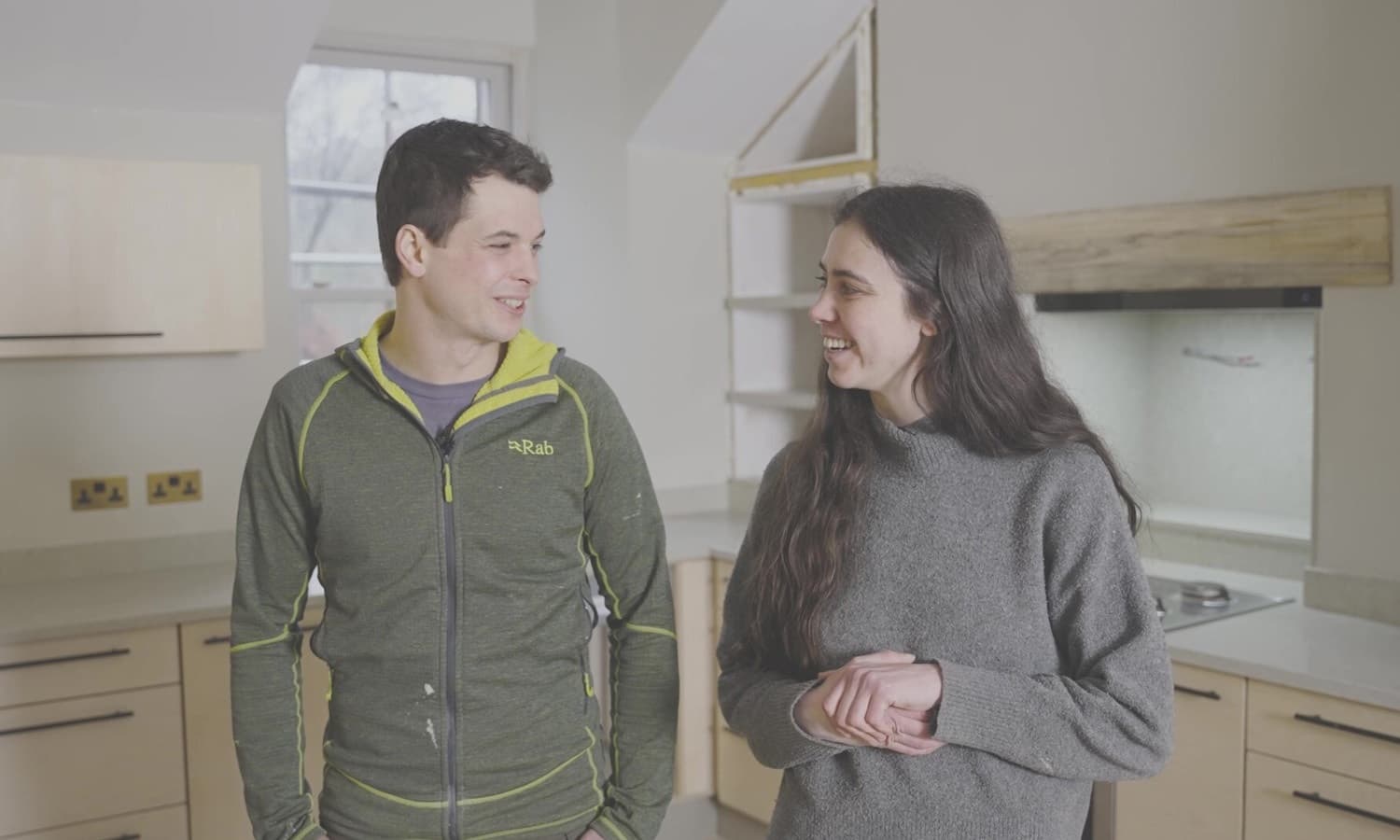 Who's been following the BBC's Accidental Renovators journey? This determined couple took on the daunting challenge of renovating Jameswood Villa, a neglected mansion in Dunoon, Scotland. We have been closely following their kitchen journey since the start of the year, and we are thrilled to unveil the third and final instalment of their kitchen story - the magnificent reveal of their beautiful, stylish, and inspiring worktops.
If you missed out on their kitchen and worktop design choices, you can catch up with parts 1 and part 2 here.
Following Cal and Claire's design consultation at our showroom, the next stage of their Gemini journey as Accidental Renovators was the template appointment. Our team of dedicated experts utilised state-of-the-art laser technology to complete all the necessary templates, a process that typically takes between 1 to 3 hours.
To ensure that the designs were perfected, and all details were finalised, we requested the presence of both Claire and Cal on-site during the template appointment. This gave them an opportunity to add any special touches they desired and sign off on the final design.
Cal expressed his gratitude, stating that "it was really nice to have this experience just to guide us through some of the design choices". However, designing a kitchen for a 120-year-old property building presented some complications, including shelves, cladding, and upstands that needed to be considered for a kitchen that wasn't perfectly square. But with our expert guidance and top-of-the-line technology, we were able to overcome these challenges and bring their dream kitchen to life.
As their kitchen slowly took shape, Cal and Claire were eager to be a part of the entire Gemini Journey from start to finish, including the fabrication and production of their kitchen worktops. To give them an exclusive, behind-the-scenes look at our factory in Middlesbrough, we invited them for a special visit where they could witness the creation of their kitchen worktops first-hand.
This was a significant moment in their renovation journey as the worktops were the only aspect, they weren't undertaking themselves, so they had a vested interest in the production process. During their factory tour, they had the opportunity to meet some of our stonemasons and learn more about the state-of-the-art CNC machines used to create not only their own worktops but also the stunning worktops that Gemini is proud to feature in homes across the country.
Cal and Claire's visit to the factory was a truly unique experience that allowed them to gain a deeper understanding of the intricate work and expertise required to produce top-quality kitchen worktops. It was a crucial part of their Gemini Journey and one that they will cherish for years to come.
The installation was the ultimate phase of Cal and Claire's incredible renovation journey, and they were ecstatic to finally receive their beautiful quartz worktops. This was the final piece of the puzzle that would complete their dream kitchen, and they couldn't wait to see the finished product.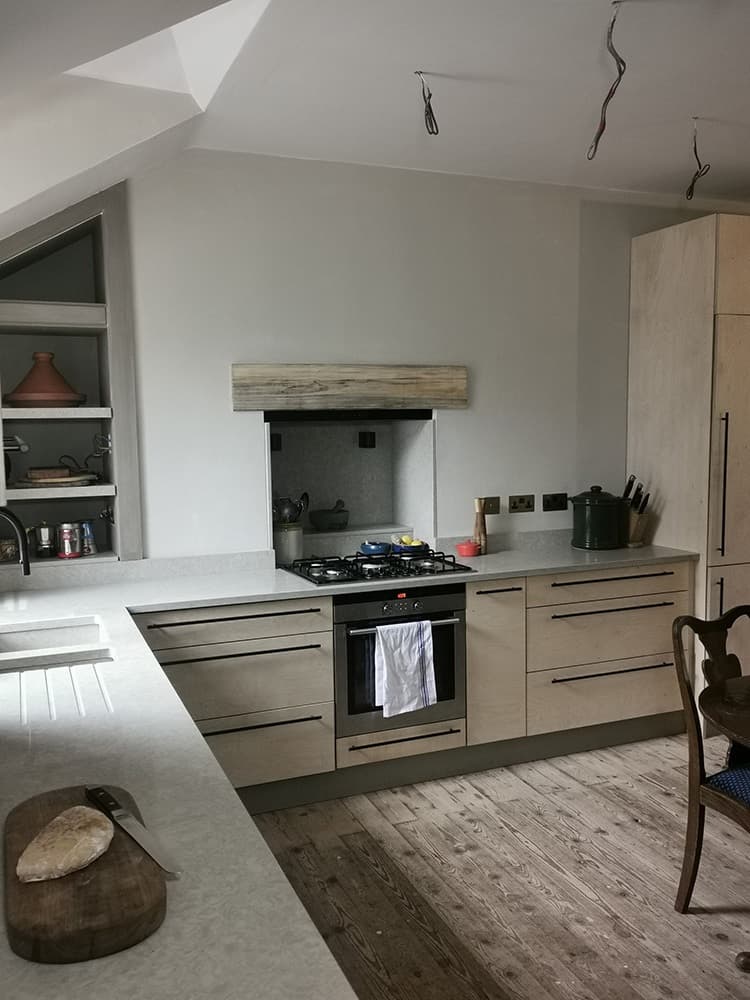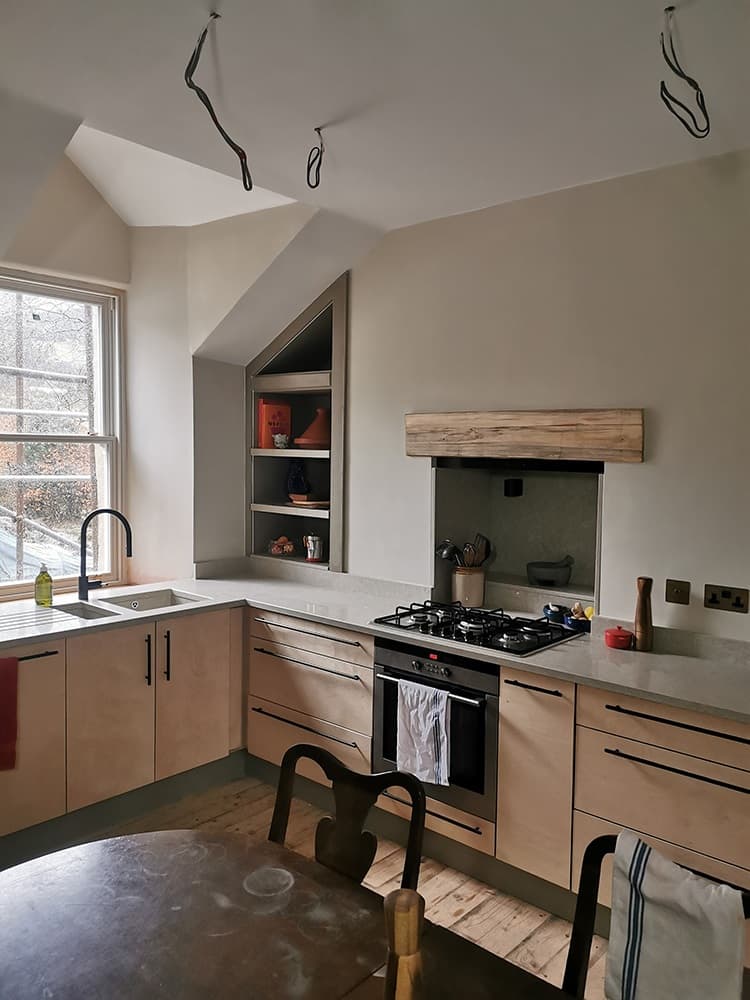 At Gemini, we take great pride in our commitment to quality and aesthetics. Our goal is to provide our customers with the finest worktops that not only look amazing but also stand the test of time. As Cal and Claire marvelled at their new worktops, they couldn't help but appreciate the expert craftsmanship that went into their creation.
Claire and Cal were in search of a surface for their kitchen that would not only provide functionality but also exude durability, timelessness, and beauty. They ultimately decided on Gemini Quartz Timberwolf as it fulfilled all their requirements.
To further elevate the appearance of their kitchen, Claire and Cal decided to go with a 30mm worktop thickness that was complemented by a double-bevelled edge profile. This combination gave their kitchen a classic and premium finish, making it stand out from the rest.
As they were planning the design of their kitchen, Claire and Cal identified several areas of unused space that they were keen to make use of, such as the chimney nook and Edinburgh press cabinet. By adding these features, they were able to create a true focal point in their kitchen while also providing additional storage space.
To ensure continuity in the space and to create a sleek aesthetic, they decided to add interior quartz shelves to the cabinet. This not only added to the overall design of the kitchen but also maximised the storage capacity of the cabinet.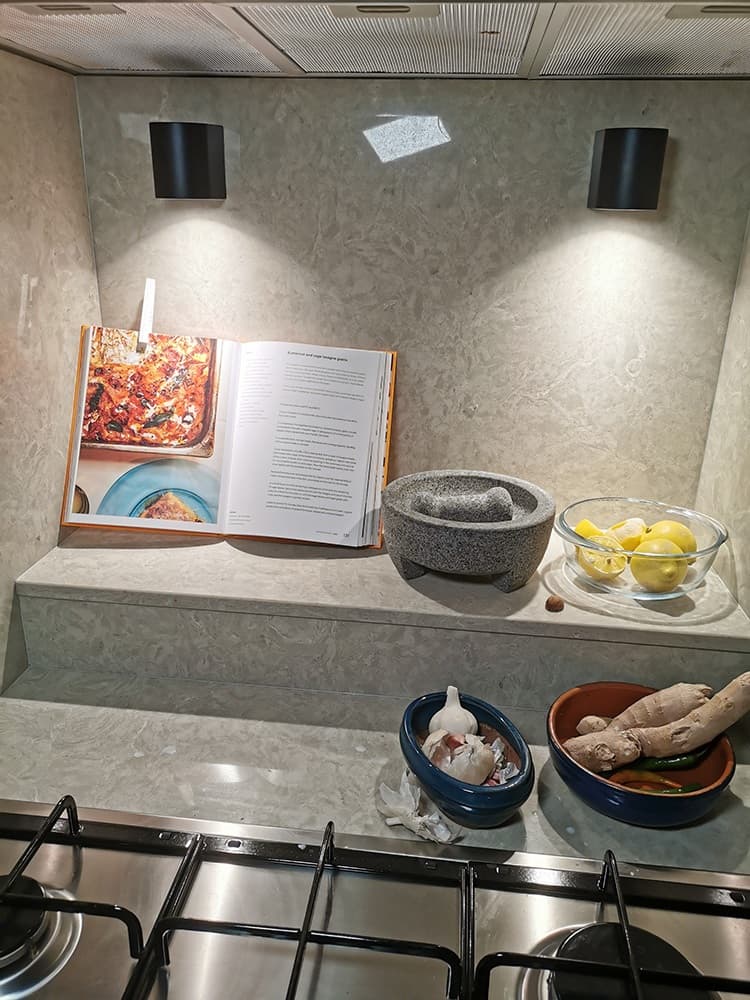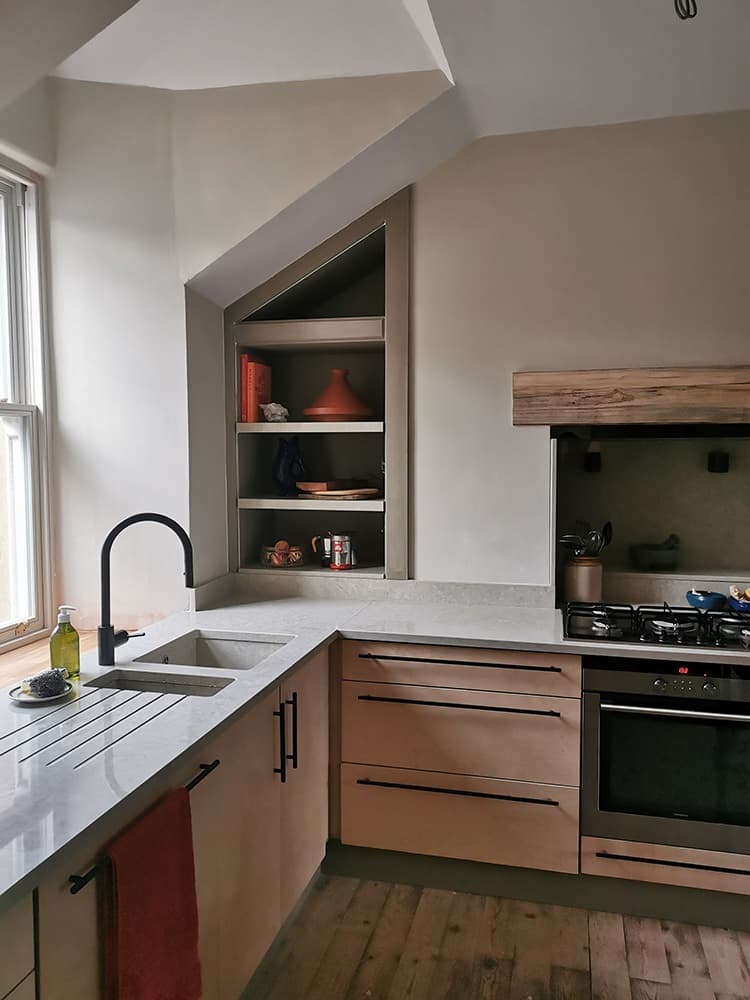 Overall, by carefully considering the material, thickness, and edge profile of their worktop, as well as making strategic use of previously unused spaces, Claire and Cal were able to create a kitchen that was both functional and visually stunning.
"They're beautiful, durable, and in terms of sustainability, they are going to last forever!" said Cal, beaming with pride. And he was absolutely right. Our worktops are made with the highest quality materials and are expertly crafted to withstand the wear and tear of everyday use. With their new worktops in place, Cal and Claire's dream kitchen was finally complete.
The joy and satisfaction on their faces were truly heart-warming, and we were thrilled to have been a part of their journey. At Gemini, we are dedicated to providing our customers with the best possible experience from start to finish.
We are proud to have been a part of Cal and Claire's renovation journey, and we look forward to helping many more homeowners realise their dream kitchens in the future.
Request a Quote
Interested in one of our quartz worktops for your kitchen? Get in touch for a free, no obligation quote today.

You may also like...